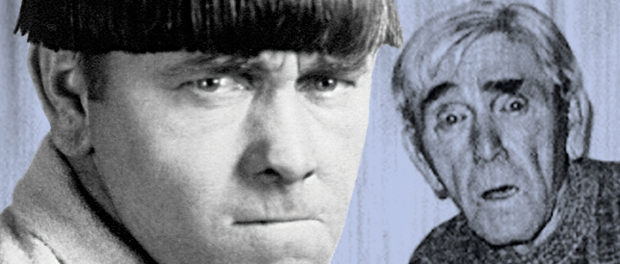 Founding Stooge kept his bowl-cut to the end
I don't have to hunt for bargains; they find me. On Halloween, I bought a cool old book for a lousy four bucks at Cranford Library in Union County: Moe Howard's posthumously published memoir, "Moe Howard and the Three Stooges" (Citadel Press, 1990).
The book is quaint, fun and informative, and it really is in Moe's voice, though it's more of a photo album than a proper, in-depth book. Reading it sent me down another rabbit hole: Ever since, I've undergone a Three Stooges renaissance (not my first). I've watched a lot: the Stooges' film debut, "Soup to Nuts" (1930), with Moe, Larry Fine and Moe's brother Shemp Howard opposite their original stage boss Ted Healy, which was written by cartoonist Rube Goldberg; the early shorts with Healy, which introduced another of Moe's brothers, Curly Howard; the '30s Curly shorts; Shemp's final shorts (including the four infamous, so-called "fake Shemps" made with a stand-in following his 1955 death); the final shorts with Joe Besser; and a couple of the '60s movies with Curly Joe DeRita. It was a deep dive.
I became enamored of the fact that Moe never really gave up on the Stooges — until shortly before his 1975 death from lung cancer.

The end of the line for the Stooges was the trio's final, uncompleted film, "Kooks' Tour" (1970), above left. It was a pilot for a TV series directed by Moe's son-in-law, Norman Maurer, who illustrated Stooges comic books (with partner Joe Kubert) beginning in 1949, and later produced and/or directed the Stooges' '60s movies. During the shooting of "Kooks' Tour," fate intervened. Fine, the Stooges' frizzy-haired middleman, had a stroke from which he partially recovered, but not enough to return to professional performing. Moe kept a hand in show business with personal appearances, including several on "The Mike Douglas Show," above right, in which he reminisced about the Stooges career and gave lessons on the art of  pie-throwing.
I saw Moe in person around this time. I was a second-semester high-school freshman, so it would have been 1973. Moe made a one-shot, Saturday-afternoon appearance at a small, old-fashioned, downtown movie theater in Oaklyn in Camden County. Likely, this booking dovetailed off of an appearance on "The Mike Douglas Show," which was taped in Philadelphia, a quick hop across the Ben Franklin Bridge. Attending were me, my brother Brian and two or three neighborhood friends. First, the theater showed "Flying Deuces" (1939) starring Laurel and Hardy; then a Curly short; and then the man himself walked out to a roaring ovation. There was no mistaking it — this was Moe. He actually re-created Three Stooges bits by himself, slapping imaginary Larrys and Curlys to his left and right. It was awesome.
During that theater appearance, Moe did something he also did on "The Mike Douglas Show": He extracted a comb from his suit jacket and combed his hair into a perfect Moe-style bowl-cut. In other words, the guy was always ready to become "Moe."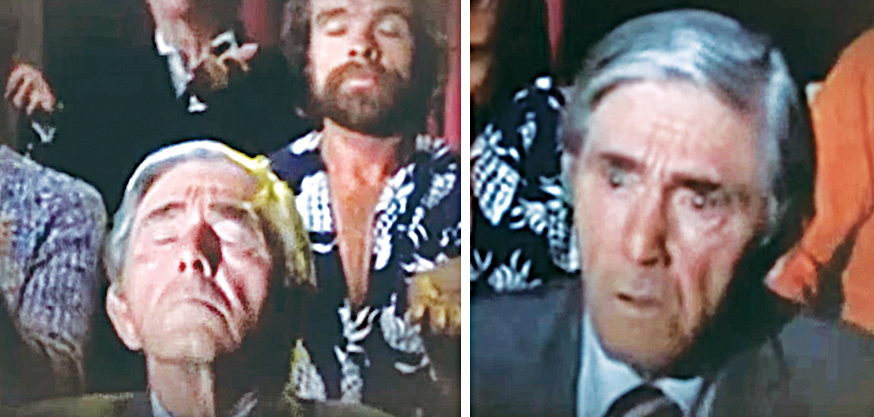 During this period, Moe made his final movie appearance in the low-budget horror film "Dr. Death: Seeker of Souls" (1973), which starred John Considine (older brother of Tim Considine of "My Three Sons" fame) as the suave title fiend. Above are two close-ups of Moe giving his all in "Dr. Death" wearing his go-to suit in those days, an old-guy-friendly plaid number.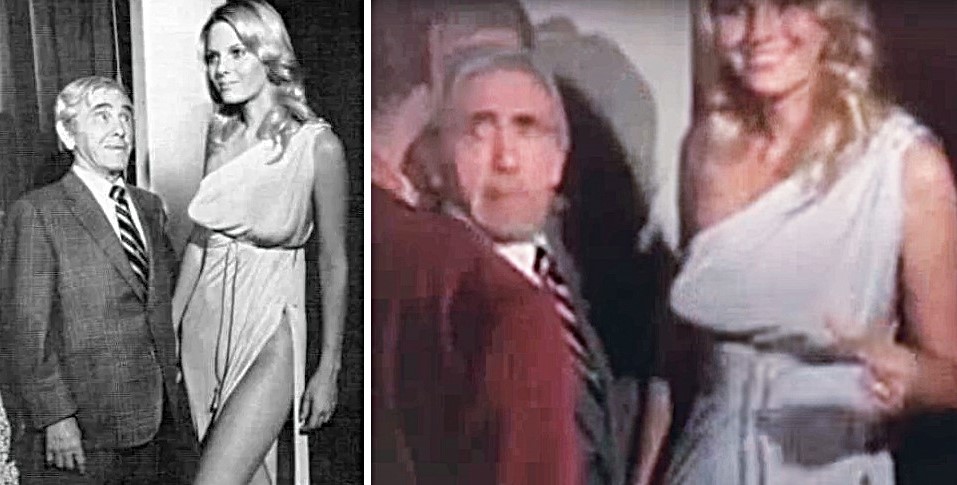 At left is a "Dr. Death" still of Moe with Swedish knockout Sivi Aberg. Think of it: Of all the movie stills for which Moe posed throughout a film career that dated back to 1909, this was the last. (And doesn't Moe look delighted?) At right is the corresponding scene from "Dr. Death."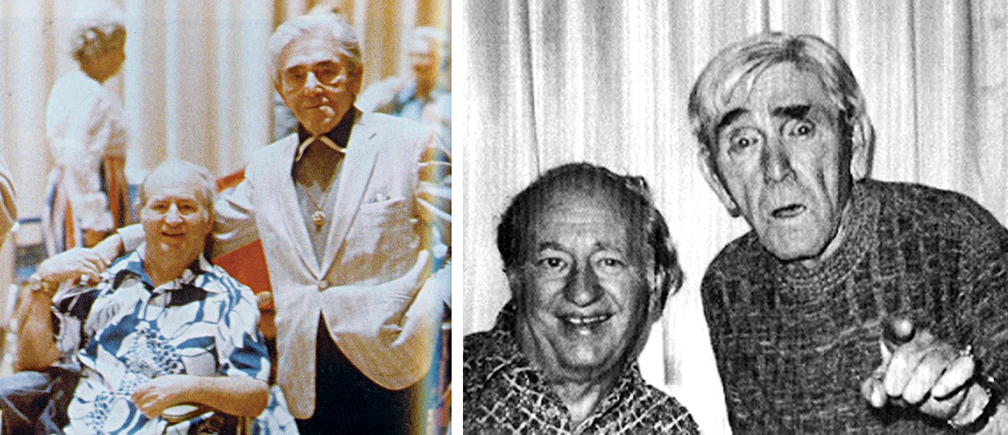 Meanwhile, Moe often visited Fine at the Motion Picture Country Home Hospital in Woodland Hills, California. Said Moe in his memoir: "Every visit to him became more trying. He would tell me jokes which were very hard to understand because of the thickness of his speech. (My hearing problems didn't help.) But I would yock loudly to cover the tears welling in my eyes."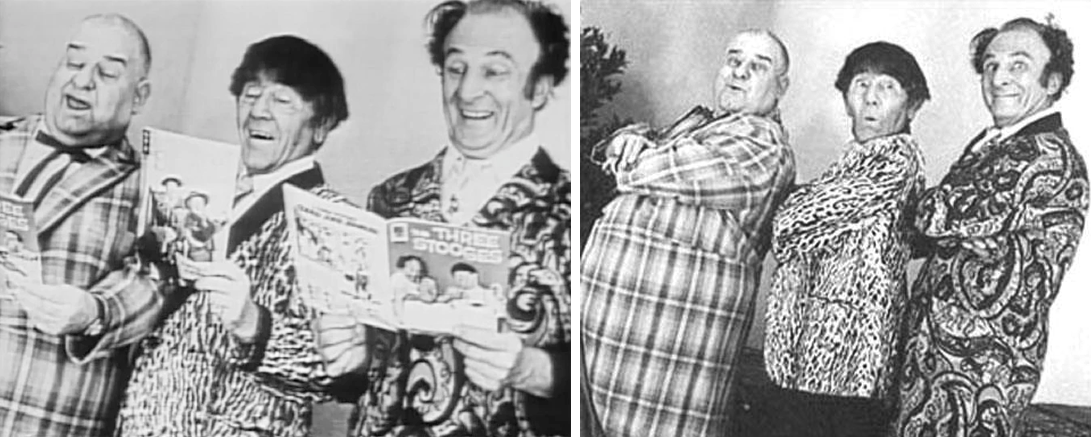 On two occasions near the end, Moe tried to revive the Stooges without Fine, though it is not mentioned in his memoir. Both times, it was with DeRita and longtime Stooges foil Emil Sitka standing in for Fine (see above). Sitka first appeared with the Stooges in Curly's final short, "Half-Wits' Holiday" (1946).
In "The Three Stooges Scrapbook" (Citadel Press, 1982) by Moe's daughter Joan Maurer with Jeff and Greg Lenburg, Norman Maurer recalled a meeting he and this latter-day Stooges lineup had with producer Alan J. Factor and investors to discuss a film to be shot in the Philippines titled "Make Love Not War." Said Norman Maurer: "Moe, Joe and I were shocked at the way Emil acted at the meeting. Suddenly, it was star time. While executives announced what days we would be filming in Manila, Emil said, 'Well, I don't know if I'm available' and 'I'll need a limousine.' Moe and I were slack-jawed. Joe was shocked."
The deal fell apart.

The second attempt, still involving Sitka, followed Fine's death on Jan. 4, 1975. Moe, DeRita and Sitka were set to appear in "The Jet Set," a racy comedy from director Al Adamson and producer Samuel M. Sherman of Independent-International Pictures. IIP was a feisty, low-budget outfit with a penchant for providing work to actors who were forgotten by the Hollywood mainstream. Moe's ravaged appearance in the preceding photos lead me to believe that they were taken for this project (not the earlier Filipino one). Animated though Moe is in the photos, that shoe-black hair dye and those flashy jackets could scarcely hide the sad truth: Moe was by then suffering from lung cancer. According to "The Three Stooges Scrapbook," he pressed on without disclosing his illness. Ever the Stooges' leader, Moe kept in touch with DeRita and Sitka about when they would be filming their "Jet Set" scenes.
Inevitably, Moe's condition deteriorated. According to David Konow in "Schlock-O-Rama: The Films of Al Adamson" (Lone Eagle Publishing, 1998), Sherman asked if he could shoot some footage of Moe in his backyard "to edit in later, a la 'Plan 9 From Outer Space'" (Konow's quote). Alas, by then, Moe was too far gone.
"The next call I got was from Moe's son," said Sitka, as quoted in "The Three Stooges Scrapbook." "He told me the sad news that Moe was dead."
This all tells us that, for the record, Moe was, in his final weeks, preparing to become "Moe" again in front of a film camera, even as he was dying of cancer. That's a pro for you.
"The Jet Set" was renamed "Blazing Stewardesses" and released in 1975. The surviving Ritz Brothers, Harry and Jimmy, took the Stooges' place, more or less.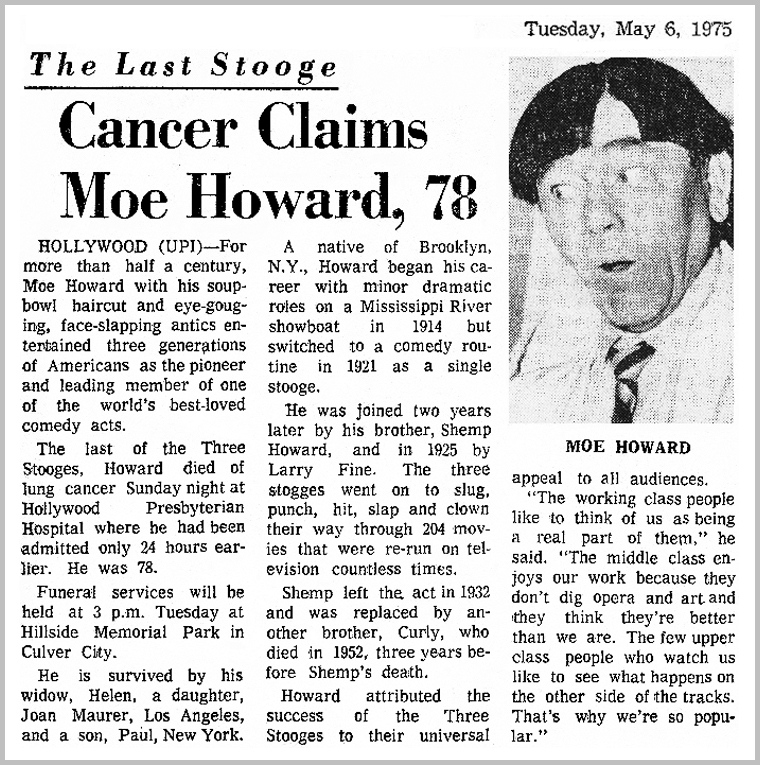 An addendum was provided by Besser in "Not Just a Stooge" (Excelsior Books, 1984), his memoir written with the intrepid Lenburgs. According to Besser, Moe — who was not the most emotionally demonstrative of people — reached out to him in those final weeks and days. Following is a passage from Besser's book:
In January of 1975, Larry died of a stoke and several months later, Moe was ill with cancer and he began to write me. Moe would recall working with Ernie (Besser's wife, dancer Erna Kay Kretschmer) in "A Night in Spain" in 1929, plus our first meeting on the stage of "The Passing Show of 1932." Moe's letters interested me because during our years together, I found him unable to express his feelings. Now, with his days truly numbered, I think he wanted to express those feelings to me that he never could before.
In fact, in late April of 1975, Moe found the strength to call me.
"Joe, this is Moe," he said, his voice sounding tired and weak. "How have you been?"
"Moe, I couldn't be better," I said, touched by his call. "It's been a long time — 18 years!"
Moe chuckled a bit. "Yes, it has, Joe. Those years were great times," he said. "I've been real sick lately, so I'm sorry that I haven't answered yours and Ernie's letters, but I think about you daily."
Moe started sounding weaker by the minute, so finally, I decided to cut the conversation short. "I'll keep you in my prayers, Moe. God bless you and goodbye."
Five days later, on May 4, 1975, less than four months after Larry's death in January, Moe was dead of lung cancer. He was 78."
What else is there to add but: Good night, funnyman.
---
VIDEOS
Below, Moe combs out his bowl-cut on "The Mike Douglas Show" in 1973.
Below, Moe dishes out punishment in a compilation from Shane Saldana.