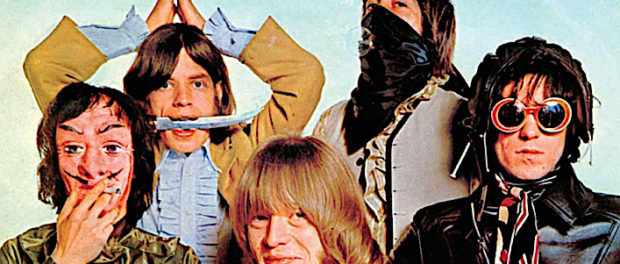 58-year-old band still at it
I was a Rolling Stones freak. Why do I say "was?" I still am. My favorite album is still "Exile on Main Street." I still get a thrill from the Brian Jones-era songs "Street Fighting Man," "Jumpin' Jack Flash," "Under My Thumb," "Paint It Black" and "Sympathy for the Devil" … and from the post-Jones, pre-Mick Taylor-era song "Gimme Shelter" (not to mention the documentary of the same title) … and from the Taylor-era songs "Midnight Rambler" (the 1969 live version), "Brown Sugar," "Sway," "I Got the Blues" and anything on "Exile" … and from the Ron Wood-era songs "Hand of Fate," "Start Me Up," "Black Limousine" and "No Use in Crying."
The Stones are always in my bloodstream. Long may they rock — make that longer may they rock. It's hard to believe the "boys" have been around since 1962. Mick Jagger turns 76 today. Charlie Watts is 79.
There have been some recent developments for the 58-year-old band. The Stones have a new studio-recorded song out, which isn't terrible, and they performed (while socially distancing) for a live COVID-related event.
---
'Living in a Ghost Town' video
Musically, the Mick Jagger-Keith Richards composition "Living in a Ghost Town" makes its point early on. But it's the Stones, yo. Jagger's phrasing and vocal elasticity are at least as good as they were in the '80s. The lyrics clearly reference the pandemic : "You can look for me/ But I can't be found/ You can search for me/ I had to go underground/ Life was so beautiful/ Then we all got locked down/ Feel a like ghost/ Living in a ghost town …"
Apparently, no one thought to inform the Stones that Adam Lambert has a song titled "Ghost Town" with some similar lyrics. "Living in a Ghost Town" will be on the Stones' in-progress forthcoming album, the recording of which has been interrupted by … you-know-what.
I couldn't track down an official video, but the nicely-edited one above captures the sentiment by laying bare the empty (thanks, COVID-19) streets of Paris, New York City, Wuhan, Milan, Istanbul, Lisbon, Sao Paulo, India, Los Angeles, London, Buenos Aires and Madrid.
---
'One World' video
The boys socially distanced by performing "You Can't Always Get What You Want" from their respective domiciles for the "One World: Together at Home" event broadcast April 18. (Also contributing were Stones contemporaries Paul McCartney, Stevie Wonder and Elton John, as well as a mess of flashes-in-the-pan.) Jagger held the whole thing together by strumming on acoustic guitar. The idea of having Charlie Watts play "air drums" sounds precarious on paper, but works like a charm.
---
'Rocks Off' video
When I first saw this video a coupla weeks ago, I thought it was an "Exile"-era promotional film that escaped my notice all these years. Turns out it was cut in 2009 from 1971 black-and-white footage of the boys shot in New York City and Los Angeles by Robert Frank, the "Exile" photographer who directed the notorious — and largely unseen — Stones documentary "C***sucker Blues." (I once had a bootleg VHS copy.)
"Rocks Off" is the sweet rocker that kicks off "Exile on Main Street," with Nicky Hopkins banging away on piano and driving horns. This video is stolen by the gentleman with the stubby cigarette and rag wiping windshields for change and "directing" traffic. I believe this fellow invented the moonwalk.
---
10 Stones shows
So I've been thinking about the Rolling Stones again. I saw the band an even 10 times. The shows I attended:
JUNE 29, 1975: The Philadelphia Spectrum
(I clearly recall puking in the men's room while Jagger sang, "Wild horses … couldn't drag me away-y-y.")
JUNE 17, 1978: JFK Stadium in Philadelphia
(It was the same day my Cousin Dennis got married, also in Philly. Me and my brother, wearing our go-to-wedding suits, cut out of the reception early and, without tickets, easily strolled into the stadium to catch the final four songs. My brother was fairly lit from the open bar at the wedding, and must've shaken the hands of 20 concert attendees while exclaiming, "The f***in' Stones, mann!")
SEPT. 25 & 26, 1981: JFK Stadium
(These shows were the tour openers. On Friday the 25th, I got a free ticket by chaperoning two teenagers: future screenwriter David Bar Katz, then about 15, and his older sister. This was at the behest of my then-boss, notorious Philadelphia playboy Harry Jay Katz.)
AUG. 31 & SEPT. 1, 1989: Veterans Stadium in Philadelphia
SEPT. 22 & 23, 1994: Veterans Stadium
(I had front row on the 22nd, thanks to my generous sister-in-law.)
JAN. 14, 1998: Madison Square Garden
(It was the band's first Garden show since the 1981 tour. "It's good to be home again," said Richards, a staunch New Yorker.)
SEPT. 28, 2002: Giants Stadium in East Rutherford, NJ
(Jagger sprinted right by me on the catwalk. There he was, big as life. This will probably go down as my final Stones show.)
In recent years, the Stones became too much of a cash cow for my wallet to bear. I wish I could see the Rolling Stones one more time before I die. But as a great philosopher once observed, "You can't always get what you want."