On the air, online and in print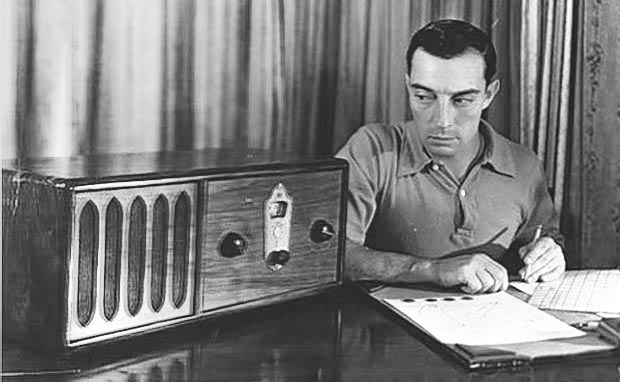 ---
JUST ADDED: 'Groovy' Bobcast interview
I'm a two-time guest on Bobcast, a weekly pop-culture podcast by my "old" friend, writer/musician/educator Bob Cahill. We recently spoke about "Groovy" HERE. Last year, we spoke about Batman and "Abbott and Costello Meet Frankenstein"  HERE.  
---
'Classic Movies With Ron MacCloskey' appearance
I was a guest on "Classic Movies With Ron MacCloskey" on Edison TV, in an episode that began airing in Sept. 2016. The guest picks the movie; I chose "The Devil Bat" (1940) starring Bela Lugosi. Watch the program HERE. Read a transcription of the program HERE. 
---

Monster Magazine World interview
Monster Magazine World, John Navroth's addictive blog about all things Monster Craze (with a focus on the monsterific mags of the era), posted an interview with me about "Monster Mash" on Feb. 20, 2016. Read the interview.
You can spend months just catching up with what MMW's been doing. The tag cloud is immense. MMW puts up entire issues of rare old magazines. You can click on every page and savor them. There's a lot of great humor, graphics and gifs, too. This exploding-with-content blog is updated constantly. Even non-monster people would dig it. Visit Monster Magazine World.
And John was a terrific interviewer. (No one else asked about using the Shock Monster as a cover boy, or whether I designed the pages in old-fashioned paste-up.) I had a blast.
---
Star-Ledger review
"Monster Mash" was reviewed by Jacqueline Cutler for The Star-Ledger on Sept. 6, 2015. Read the review. If you're a luddite like me, maybe you'll want to see the review as it appeared in print. See the page. 
The review also ran in The Times of Trenton on Sept. 11, 2015.
---
Collinsport Historical Society podcast
I was interviewed by Wallace McBride for his content-rich "Dark Shadows"-themed website, on its Oct. 31, 2015, podcast. Listen to the podcast HERE. Read the abridged transcription HERE.
---
'Mr. Media' interview
I traded quips with 'Mr. Media,' a.k.a. Bob Andelman, on his video podcast interview show. (Previously, Mr. Media interviewed the woman I wanted to marry when I was in seventh grade: Raquel Welch.) I brought along my Frankenstein, Wolf Man and Mummy Soakys for show-and-tell, and had a great time with Bob. Watch the interview above.
---
'Too Much Scrolling' interview
I was interviewed for the Oct. 27, 2015, edition of "Too Much Scrolling," the pop culture mashup hosted by Steve Fodor and Chip Hessenflow. Listen to the interview below. (My 17-minute segment begins at the 19:12 point).
---
'Too Much Scrolling' bumper, discussion
Earlier, "Monster Mash" was a subject of the Oct. 13, 2015, edition of "Too Much Scrolling." Steve and Chip had me tape a "bumper" for the occasion, which they played right after one by horror host Svengoolie. Thanks, guys, that's good company to be in! Listen to the podcast below. (The 10-minute segment about "Monster Mash" begins at the 20:53 point.)
---
'Monster Maniac' video review
Check out this video review of "Monster Mash" by "The Monster Maniac." (OK, I wouldn't put this video up if he had slammed "Monster Mash.")
---
WRAT-FM interview
My brother, Brian Voger, and I were guests on "The Electric Ballroom" — a rock 'n' chat show on 95.9 WRAT-FM hosted by Keith Roth — to talk about our album "From the Heart," benefitting Steven's Walk in the fight against Spinal Muscular Atrophy. Read the interview. Brian put the audio on his website, which includes nice, crisp versions of seven "From the Heart" songs. Listen to the interview.
---
NJArts.com coverage
NJArts.net, an invaluable go-to source for the arts scene in New Jersey, helped to spread the word about "From the Heart" in a post you can read HERE. Find out more about "From the Heart" at my brother's website, Vogerland.com.
---
View 34-page "Monster Mash" preview
Order "Monster Mash"