PRE-ORDER "Holly Jolly" at TwoMorrows, Barnes & Noble, Amazon and other outlets.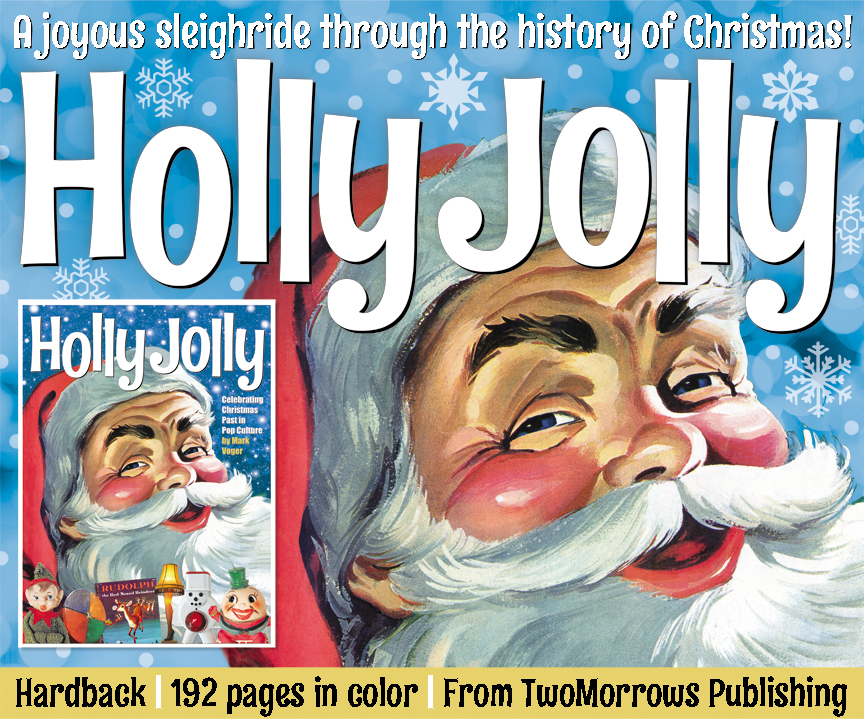 Break out the candy canes!
"Holly Jolly" is a joyous sleigh ride through the history of Christmas, from its religious origins to its emergence as a multimedia phenomenon. Subtitled "Celebrating Christmas Past in Pop Culture," this full-color hardback explores movies ("Miracle on 34th Street," "It's a Wonderful Life"), music ("White Christmas," "Little St. Nick"), TV ("Rudolph," "The Grinch"), books (Charles Dickens' "A Christmas Carol"), decor (1950s silver trees), comics (super-heroes meet Santa) and more. Featuring interviews with Charles M. Schulz ("A Charlie Brown Christmas"), Andy Williams (TV's "Mr. Christmas"), Darlene Love ("Christmas, Baby Please Come Home") and others. Written and designed by Mark Voger ("Monster Mash," "Groovy"), the profusely illustrated "Holly Jolly" takes readers on a time-trip to Christmases past that you will cherish all year long. [$43.95, TwoMorrows Publishing, ships Nov. 4]
Hark! 'Holly Jolly' trailer by Ian Voglesong
Read "Holly Jolly" excerpts HERE.
---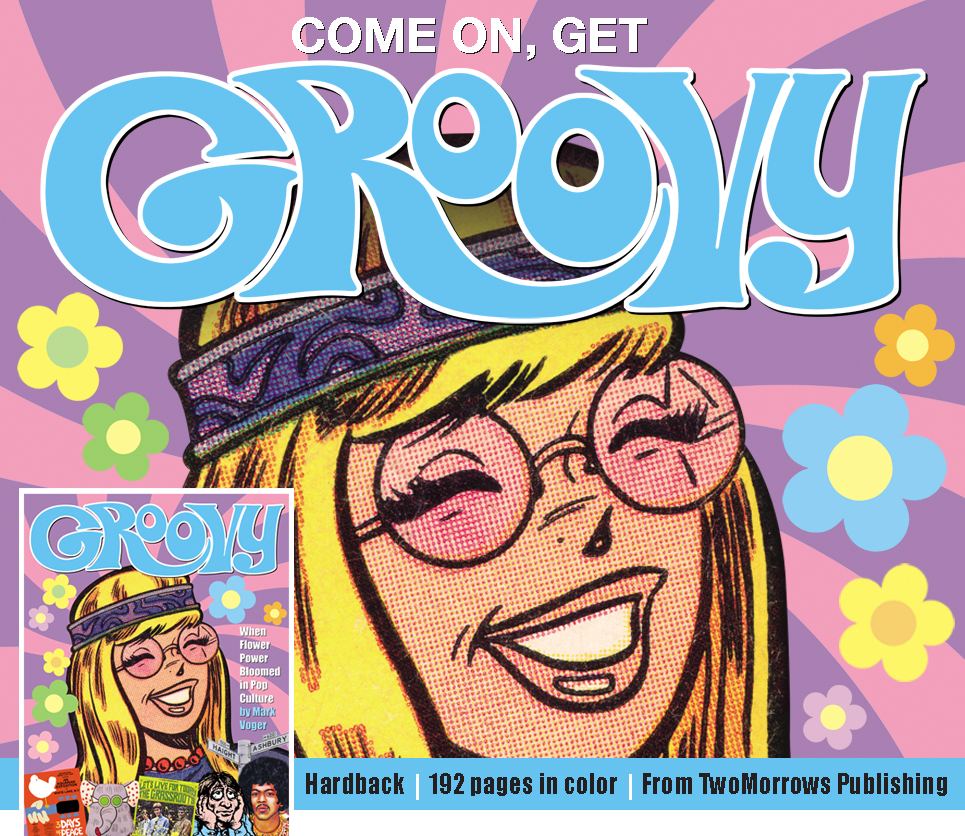 It's all too beautiful!
From Woodstock to "The Banana Splits," from "Sgt. Pepper" to "H.R. Pufnstuf," from Altamont to "The Partridge Family," "Groovy" is a far-out trip to the era of lava lamps and love beads. This profusely illustrated hardcover book — in psychedelic color — features interviews with icons of grooviness such as Peter Max, Brian Wilson, Peter Fonda, Melanie, Donovan, David Cassidy, members of the Jefferson Airplane, Cream, the Doors, the Cowsills and Vanilla Fudge; and cast members of groovy TV shows like "The Monkees," "Laugh-In" and "The Brady Bunch." "Groovy" revisits the era's rock festivals, movies, art — even comics and cartoons, from the 1968 "mod" Wonder Woman to R. Crumb and the underground. A color-saturated pop-culture history written and designed by Mark Voger (author of the Rondo Award-winning "Monster Mash"),"Groovy" is one trip that doesn't require dangerous chemicals.
SEE 'Groovy' preview HERE  |  ORDER 'Groovy' at TwoMorrows.com, Amazon.com, Target.com, Walmart.com, BarnesAndNoble.com
---
Dig the 'Groovy' trailer by Ian Voglesong

---
'Groovy' coverage
LISTEN: Talkin' about "Groovy" on the Comics Alternative podcast HERE.
LISTEN: Talkin' about "Groovy" on my return to Too Much Scrolling HERE.
LISTEN: Talkin' about "Groovy" on my return to Bobcast HERE.
READ: Jacqueline Cutler's "Groovy" review for The Star-Ledger HERE.
READ: Mike Segretto's "Groovy" review on Psychobabble HERE.
READ: Steven Thompson's interview with me on Forces of Geek, HERE.
READ: Steven Thompson's review of "Groovy" on Forces of Geek HERE.
READ: Ed Catto's ComicMix column "Groovy" interview with me HERE. 
READ: Donovan's Bookshelf' "Groovy" review (scroll down a bit) HERE.
READ: MonkeesLive Almanac's "Groovy" preview HERE.
READ: KC Carlson's "Groovy" preview on the Westfield Comics Blog HERE.
READ: ComicMix column's "Groovy" preview item HERE.
READ: ComicList's "Groovy" preview HERE.



---
What people are saying about 'Groovy'
■ "This isn't really my thing." — Wallace Stroby, author of "Some Die Nameless"
■ "The book is packed with '60s ephemera and lovingly designed with mindful respect of the source material." — Ed Catto, ComicMix columnist
■ "A fun, colorful book, crammed with interviews and interesting art. Save a place for it under the Christmas tree — or next to your lava lamp." — Jacqueline Cutler, The Star-Ledger
■ "Mark Voger's 'Groovy' — a book as fascinating a read as it is glorious in its layout — goes well beyond the nostalgia of psychedelic peace, love, and the Banana Splits so many of us a certain age grew up with in the late 1960s and early 1970s. Voger, as he has so masterfully done in his previous books, explores the details as well as the importance of each subject, from the Beach Boys and the Doors, from 'Yellow Submarine' to 'Easy Rider,' and from Vietnam to Altamont. The best part of the book is his examination of the co-opting of Jesus as a hippie. Groovy is a treasure, a true and deep examination of a decade of American pop culture, recognizing it not as merely ephemeral, but as lingering and permanently imprinted on the American psyche."
— Bradley J. Birzer, Catholic World Report

■ 5 stars Amazon customer rating (five reviews  … there was a sixth, but it went away)
■ "I feel like it's 1967 just by looking through these pages."
— Keith Roth, host of WRAT-FM's "The Electric Ballroom"
■ "Another masterpiece."
— Larry Corley, host of WQNA-FM's "The Larry Corley Show"
■ "Super groovy!"
— Laura Allred, colorist of the forthcoming graphic novel
"Bowie: Stardust, Rayguns and Moonage Daydreams"
■ "The many interviews with these iconic figures, paired with 'before and after' color photos throughout, makes 'Groovy's' walk through time a revealing, important discussion recommended for any definitive reader of 1960s pop culture and for public libraries' popular history sections."
— Diane Donovan, Donovan's Bookshelf
■ "A highly entertaining read for fans of both '60s pop culture and The Monkees."
— Monkees Live Almanac blog
■ "I love, love, love the fact that Voger makes room for the things Jann Wenner types consciously leave out of the discussion. Our author betrays no snobbery, placing the perennial critical darlings beside the less revered but no less lovable sorts. So in this lively, ping-ponging survey of the late '60s and early '70s, there are places for the Buckinghams next to the Beatles, the Guess Who next to The Who, the Cowsills next to the Beach Boys, Tommy James next to Dylan, and Tiny Tim next to Hendrix." — Mike Segretto's review on Psychobabble
■ "The nostalgia factor is way over the top, with the bright colors that only our pasts can ever show us. The pure entertainment factor of the book is equally high, with behind-the-scenes stories and legends told that even an old pop culture maven like myself had never heard."
— Steven Thompson (a.k.a. "Booksteve"), Forces of Geek review
■ "If you're into '60s music, then this book is a must as Mark Voger did his own interviewing over the years, so this is a direct source. If you were too young to appreciate the time period, then this book will give you insight into the culture of the time. As Bob Dylan sung, 'Times were a-changing,' and the 1960s was the place it started." — Geoff Willmetts, SFCrowsNest.com
■ "An awesome anthology of the '60s … It's quite an extensive and colorful look at those times." 
— Jim Krut (aka the "helicopter zombie" in George A. Romero's "Dawn of the Dead")
■ "This book is a joy to behold."  — Steve Fodor, Too Much Scrolling podcast co-host
■ "An explosion of color."  — Chip Hessenflow, Too Much Scrolling podcast co-host
■ "Author Mark Voger clearly knows what he is writing about. In his autobiographical introduction, he recalls how it was to be 12 years old in 1970, and how revelatory it was to visit the head shop at a New Jersey shopping mall … ultimately decorating his bedroom with selected purchases: a skull ashtray and a black-and-white poster of Raquel Welch in her animal-skin bikini from 'One Million Years B.C .' He also relates a June, 1969, encounter at the Moorestown Mall in New Jersey with Tiny Tim, who was on a tour to promote his book 'Beautiful Thoughts.' Voger was a firsthand witness to Tim's adroit handling of some dismissive 'mall hoodlums.' Any Baby Boomer reading Voger's memories of adolescence during the Groovy Era will undoubtedly smile with their own recollections."  — J. Higgins, Amazon review (five stars)
■ "Fully illustrated in color and featuring interviews, history and more on topics as diverse as 'The Brady Bunch,' the Beatles, 'Jesus Christ Superstar' and comic book artist Jim Steranko, 'Groovy' is as trippy as its name implies, taking readers on a psychedelic pop-culture romp through a controversial, yet colorful time. I loved it."  — Brett Weiss, Amazon review (five stars)
■ "What a great book."  — Ron Howden, founding (and only) drummer for Nektar
■ "I just read the introduction and it brought tears to my eyes." 
— David Burd, "Uncle Floyd Show" cast member
■ "Congratulations to Mark Voger on writing such a funny, affectionate and entertaining memoir of '60s culture." — Scott Peters, "Groovy" proofreader (he's from England)
---
FARRR OUT! When "Groovy"
world-premiered at the 2017
New York Comic Con. Details
---
'Monster Mash':
Get your creepy/kooky on!
SEE: 'Monster Mash' preview HERE  |  ORDER: 'Monster Mash' HERE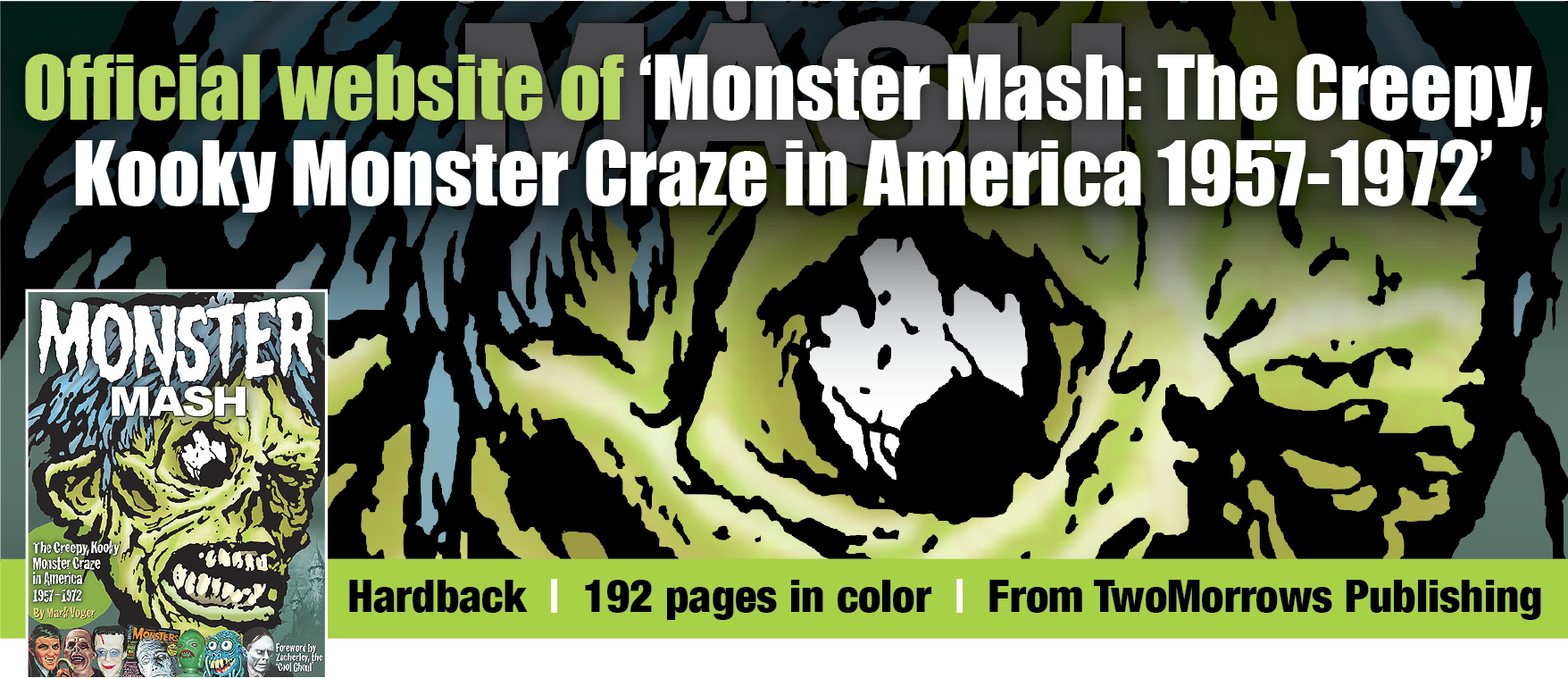 ---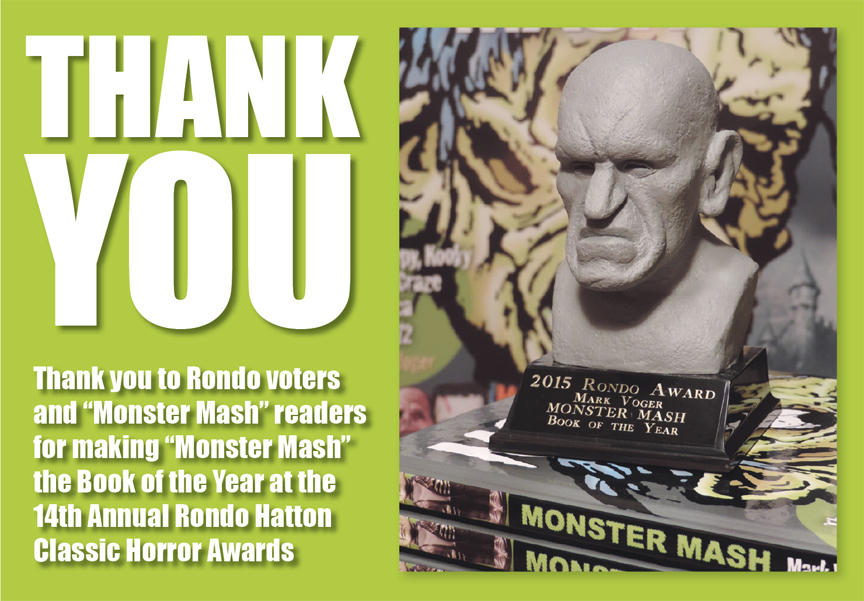 See the acceptance speech HERE. Read about the awards ceremony HERE.
---
Watch the 'Monster Mash' trailer by Ian Voglesong
Read about how Ian created it HERE.
---
About 'Monster Mash'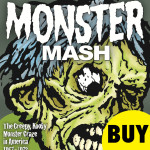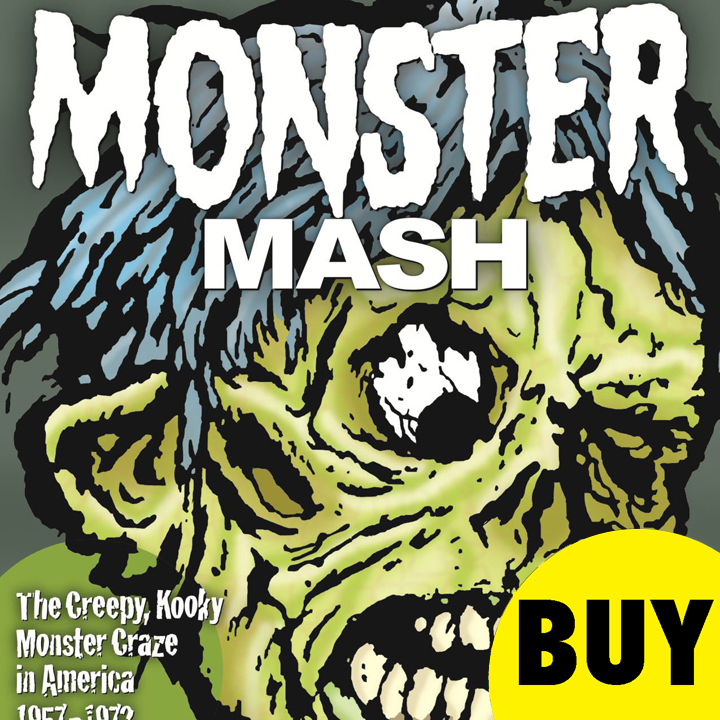 Time-trip back to the amazing era when monsters stomped into the mainstream. Once Frankenstein and fiends infiltrated TV in 1957, an avalanche of monster magazines, toys, games, trading cards and comic books crashed upon an unsuspecting America. From Famous Monsters of Filmland magazine to the #1 hit "Monster Mash" to Aurora's model kits to the TV shows "The Addams Family," "The Munsters" and "Dark Shadows," the Monster Craze reigned with a creepy, kooky flair. This profusely illustrated 192-page hardback in full color features interviews with James Warren, Forrest J Ackerman, John Astin, Al Lewis, Jonathan Frid, George Barris, Ed "Big Daddy" Roth, Bobby (Boris) Pickett and many others, with a foreword by Zacherley, the "Cool Ghoul." Written and designed by Mark Voger. (TwoMorrows, $39.95)
---
Milestones for 'Monster Mash'

■ 4.7 out of 5 stars Amazon customer rating (68 reviews)
■ Amazon sales rank: 3,631 in all books on July 25, 2015
— in your face, "The Da Vinci Code" (at 6,223 the same day)
■ #1 New Release on Amazon in 2015
■ Previews World staff pick
■ Winner, 2016 Rondo Hatton Classic Horror Book of the Year Award
■ Now in its second printing
---
What people are saying about 'Monster Mash'
■ " 'Monster Mash' is more fun than a party at Lionel Atwill's."
— Wallace Stroby, author of "The Devil's Share"
■ "A party at George Zucco's, maybe, but not Lionel Atwill's." — Mark Voger
■ "My office is filled with one-sheets, Aurora kits and now your tome."
— Greg Nicotero, "The Walking Dead" director/zombie designer
■ "I almost cried when I looked through it. … I appreciate the way you connected the dots, from the horror hosts to Famous Monsters to Ed Roth and the Weird-Ohs. … Thank you for doing this book." — Pat DiNizio, the Smithereens
■ "Voger is more than someone with a love for pop kitsch and an artful eye (he designed the book himself). He's also a veteran journalist who was smart enough to keep his notes from decades of entertainment reporting." — Jacqueline Cutler, The Star-Ledger
■ "Your book is a mirror. In it, you have stolen my soul. It is so nice to have it back.
Thanks for taking such good care of it all these years."
— Richard Noll, Ph.D., Associate Professor of Psychology, DeSales University
■ "The best thing to come out since the original Famous Monsters magazine."
— Kevin Clement, founder of the Chiller Theatre expo
■ "This is really a labor of love. I really want people to see this book, because I just never get tired of picking it up and flipping through it."
— Jason Henderson, author, HarperCollins' Alex Van Helsing novel series
■ "Beautiful layout! A treasure trove of images!" — Yoe Books publisher Craig Yoe  
■ "This is a sensational book for its illustrated trip down Memory Lane … I knew I would love this book." — "Mr. Media" host Bob Andelman
■ "It's just a feast for the eyes from cover to cover … The array of material in here is just staggering." – Larry Corley, WQNA in Springfield, Ill.
■ "All I can say is 'WOW'  … a first-rate look back at the Monster Craze."
— Greg Bazaz, onetime Famous Monsters of Filmland kid columnist
■ "Every page just strikes to where we were 50 years ago."
— Rondo Awards founder David Colton
■ "Looking at 'Monster Mash' is like having a giant nostalgia bug lay lovely eggs in your eye sockets." — Psychobabble.com
■ "I would buy this as a Christmas present for you if you didn't write it." — Mark Voger's brother
■ "Every page is a wonder." — Mark Voger's old college roommate
■ "This is like walking into a candy store!" — A blogger
■ "You should get on Facebook." — A colleague
■ "Seriously, you really need to get on Facebook." — Another colleague
---
Watch Mark on the 'Mr. Media' video podcast
---
 Watch Mark on Edison TV's 'Classic Movies'

---