LISTEN: "Shock Show" preview on Bobcast
VIEW: The "Monster Mash" book trailer
ORDER: "Monster Mash" here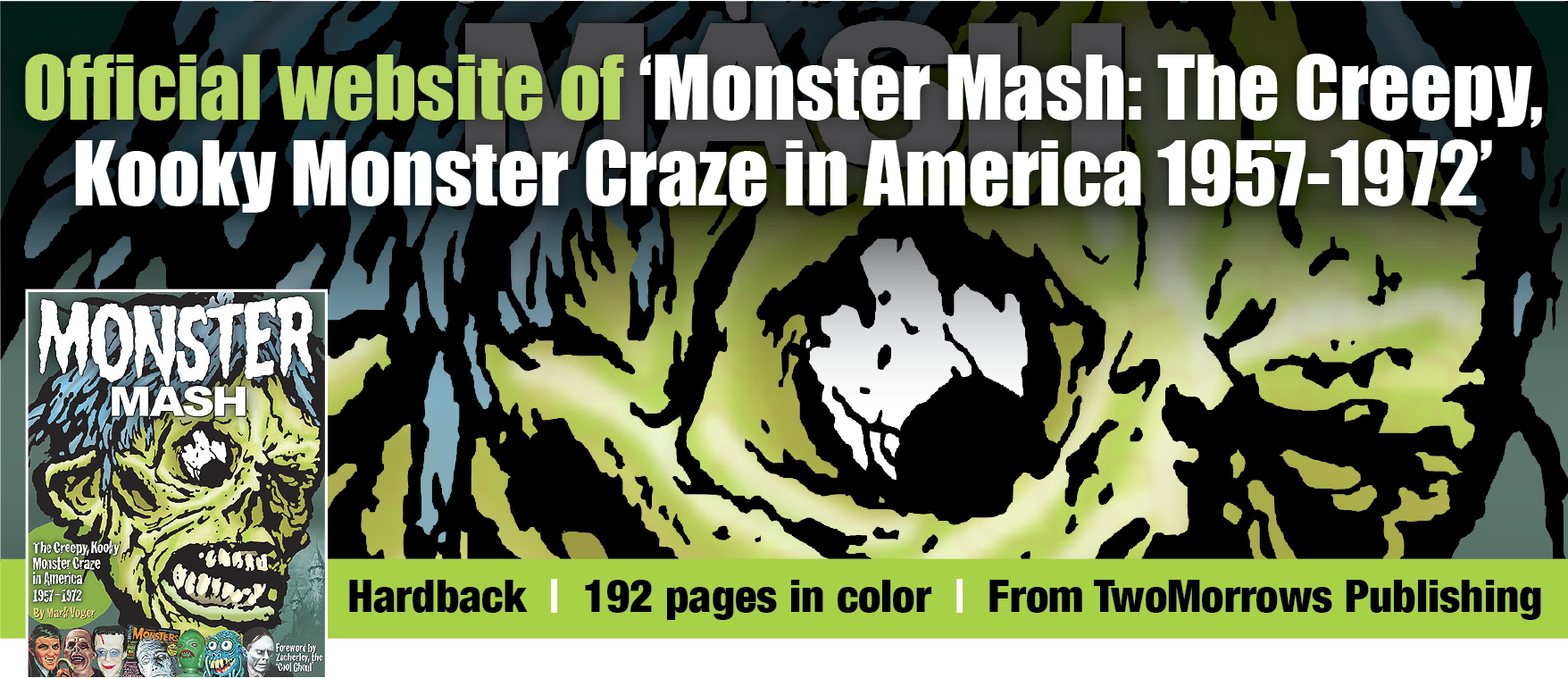 ---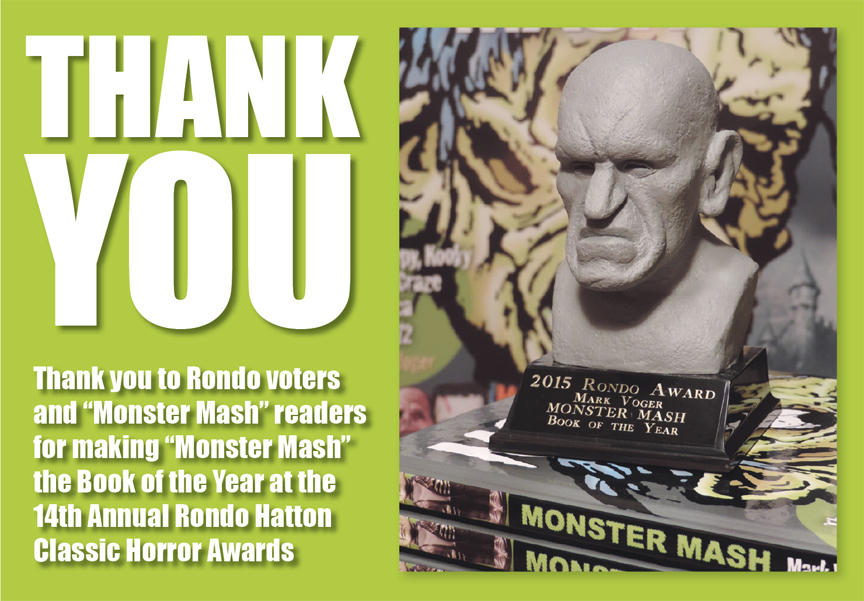 THANK YEW! "Monster Mash: The Creepy, Kooky Monster Craze in America 1957-1972" has won Book of the Year from the 2016 Rondo Hatton Classic Horror Awards.
(I knew it was a good idea to put the Shock Monster on the cover.)
What can I say? Thanks to everyone who voted for "Monster Mash."
The Rondo Hatton Classic Horror Awards were first presented in 2003. The award is, of course, named for the great Rondo Hatton (1894-1946), who played a character called the Creeper in three unrelated films, "The Pearl of Death," "House of Horrors" and his final film, "The Brute Man." See the acceptance speech HERE. More winners HERE.
---

Monster Magazine World interview
Monster Magazine World, John Navroth's addictive blog about all things Monster Craze (with a focus on the monsterific mags of the era), posted an interview with me about "Monster Mash" on Feb. 20, 2016. Read the interview.
You can spend months just catching up with what MMW's been doing. The tag cloud is immense. MMW puts up entire issues of rare old magazines. You can click on every page and savor them. There's a lot of great humor, graphics and gifs, too. This exploding-with-content blog is updated constantly. Even non-monster people would dig it. Visit Monster Magazine World.
And John was a terrific interviewer. (No one else asked about using the Shock Monster as a cover boy, or whether I designed the pages in old-fashioned paste-up.) I had a blast.
---
Watch the 'Monster Mash' trailer by Ian Voger
View 34-page "Monster Mash" preview
Order "Monster Mash"
---
About 'Monster Mash'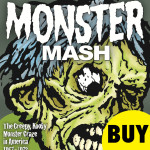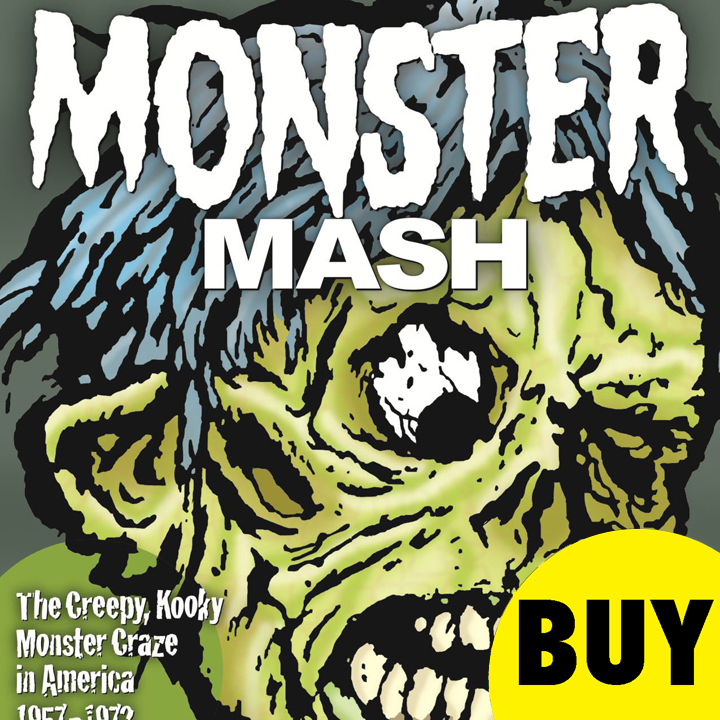 Time-trip back to the amazing era when monsters stomped into the mainstream. Once Frankenstein and fiends infiltrated TV in 1957, an avalanche of monster magazines, toys, games, trading cards and comic books crashed upon an unsuspecting America. From Famous Monsters of Filmland magazine to the #1 hit "Monster Mash" to Aurora's model kits to the TV shows "The Addams Family," "The Munsters" and "Dark Shadows," the Monster Craze reigned with a creepy, kooky flair. This profusely illustrated 192-page hardback in full color features interviews with James Warren, Forrest J Ackerman, John Astin, Al Lewis, Jonathan Frid, George Barris, Ed "Big Daddy" Roth, Bobby (Boris) Pickett and many others, with a foreword by Zacherley, the "Cool Ghoul." Written and designed by Mark Voger. (TwoMorrows, $39.95)
---
Encouraging signs for 'Monster Mash'
■ Amazon sales rank: 3,631 in all books on July 25, 2015
— in your face, "The Da Vinci Code" (at 6,223 the same day)
■ Winner, 2016 Rondo Classic Horror Awards Book of the Year
■ Now in its second printing
■ #1 New Release on Amazon in 2015
■ 4.8 out of 5 stars Amazon customer rating (based on 61 reviews)
■ Previews World staff pick
---
What people are saying about 'Monster Mash'
■ " 'Monster Mash' is more fun than a party at Lionel Atwill's."
— Wallace Stroby, author of "The Devil's Share"
■ "A party at George Zucco's, maybe, but not Lionel Atwill's." — Mark Voger
■ "My office is filled with one-sheets, Aurora kits and now your tome."
— Greg Nicotero, "The Walking Dead" director/zombie designer
■ "I almost cried when I looked through it. … I appreciate the way you connected the dots, from the horror hosts to Famous Monsters to Ed Roth and the Weird-Ohs. … Thank you for doing this book." — Pat DiNizio, the Smithereens
■ "Voger is more than someone with a love for pop kitsch and an artful eye (he designed the book himself). He's also a veteran journalist who was smart enough to keep his notes from decades of entertainment reporting." — Jacqueline Cutler, The Star-Ledger
■ "Your book is a mirror. In it, you have stolen my soul. It is so nice to have it back.
Thanks for taking such good care of it all these years."
— Richard Noll, Ph.D., Associate Professor of Psychology, DeSales University
■ "The best thing to come out since the original Famous Monsters magazine."
— Kevin Clement, founder of the Chiller Theatre expo
■ "Beautiful layout! A treasure trove of images!" —Yoe Books publisher Craig Yoe  
■ "This is a sensational book for its illustrated trip down Memory Lane … I knew I would love this book." — "Mr. Media" host Bob Andelman
■ "It's just a feast for the eyes from cover to cover … The array of material in here is just staggering." – Larry Corley, WQNA in Springfield, Ill.
■ "All I can say is 'WOW'  … a first-rate look back at the Monster Craze."
— Greg Bazaz, onetime Famous Monsters of Filmland kid columnist
■ "Every page just strikes to where we were … 50 years ago." — Rondo Awards founder David Colton
■ "Looking at 'Monster Mash' is like having a giant nostalgia bug lay lovely eggs in your eye sockets." — Psychobabble.com
■ "I would buy this as a Christmas present for you if you didn't write it." — Mark Voger's brother
■ "Every page is a wonder." — Mark Voger's old college roommate
■ "This is like walking into a candy store!" — A blogger
■ "I predict 'Monster Mash' will be in the thick of things for a Rondo Award Book of the Year."
— Monster Magazine World
■ "You should get on Facebook." — A colleague
■ "Seriously, you really need to get on Facebook." — Another colleague
---
Watch Mark on the 'Mr. Media' video podcast
---
 Watch Mark on Edison TV's 'Classic Movies'

---
Coming soon: A groovy announcement
(I don't mind being cryptic, since nobody reads down this far, if they look at this site at all. I can say anything in this space, and it wouldn't matter. I have a small weiner. I once bought a Carpenters album. I like JLo movies, but only the romantic comedies, not the "serious dramas." I just like to look at her. I even watched "The Backup Plan" for this purpose. Let's see, what else? I've had three dreams about death in the past week. "Hazel" is one of my favorite shows. Journalism is on life support. Pop Tarts are my Waterloo. There are people I hate. Just two. That doesn't seem so bad, does it? Only two in a world of billions? I'm Irish. We can't help it. We forgive, but we never forget.)