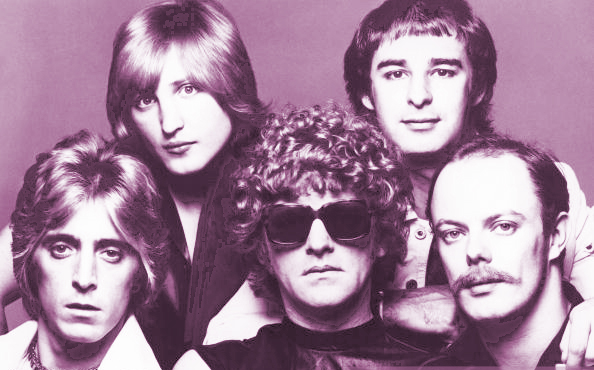 This is terrible. First Bowie. Now Dale "Buffin Griffin. Who's next? Steve Harley?
Buffin, the drummer for Mott the Hoople, has died at age 67 of complications from Alzheimer's Disease. Buffin played on "All the Young Dudes," "All the Way From Memphis," "Honaloochie Boogie," "The Ballad of Mott the Hoople," "Roll Away the Stone," "The Golden Age of Rock 'n' Roll," "Roll and Roll Queen," "Walkin' With a Mountain" and "One of the Boys," to name just a few of the classic tracks to feature his sleepy snare.
Mott was our band. "All the Young Dudes" was our anthem.
When Mott finally reunited in 2009 for a couple of shows in England, Buffin played on a few songs. It was all he could muster, as he was already quite ailing. (The Brylcreem-and-Pepsodent guy from the Pretenders played the rest. He did a great job.) I'm grateful that the reunion happened.
"Buffin lost his childlike dreams" went a lyric in "The Ballad of Mott the Hoople," a song which also name-checks Mott members Mick Ralphs, Verden Allen, Overend Watts and the song's author, Ian Hunter. I don't know if Hunter has ever been asked what that lyric means.
Another important thing Buffin did: He was a co-writer, with Hunter and Watts, of Mott's melancholy masterwork "Rest in Peace." It's very sad and very beautiful, especially as played on the 1974 album "Mott Live" (video below). I once saw Hunter open with "Rest in Peace" at The Stone Pony in Asbury Park. Quite the ballsy move, but then, Hunter is nothing if not ballsy.
Anyway, thanks for the "quiet little ditty," and all the rest, Buffin. Rest in peace.