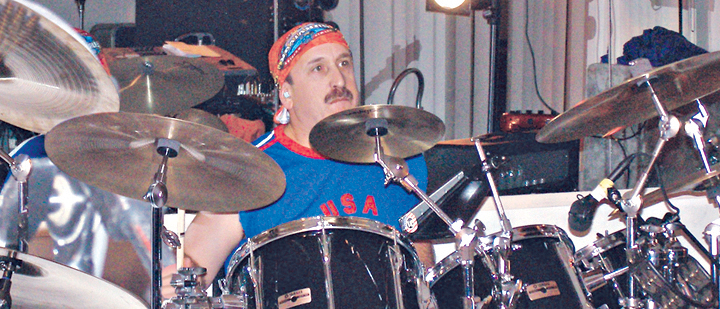 When Mad Jack drummer
met 'Born This Way' singer
By Mark Voger, author
"Groovy: When Flower Power Bloomed in Pop Culture"
---
Fro, who I've known for 47 years, is my "brotha from anotha motha" and the drummer for our band, Mad Jack.
Fro plays powerfully and innovatively — you should hear the drum parts he created for our Black–Sabbath-meets-Spinal–Tap song, "Nurse Rachett" — and he's a showman on stage. He plays double-bass fluidly, which any rock band dude will tell you is a coveted skill.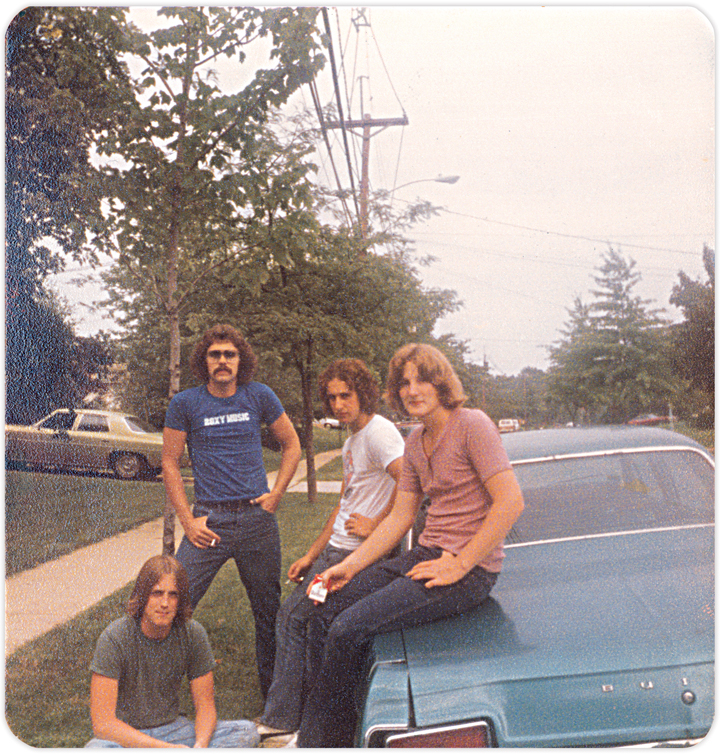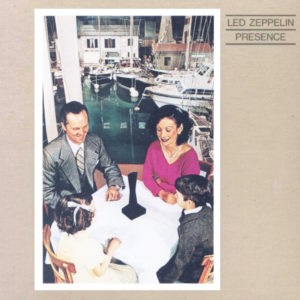 Led Zeppelin is one of Fro's specialties. I remember in '76, when Zeppelin's "Presence" album came out, we all sat in the "scav room" (Fro's teenhood bedroom, where his drums were set up) and watched him play along with a then-new Zep song titled "Nobody's Fault But Mine." (It was, in fact, the first time I ever heard the song, so that memory is brain-burned.) The song has a precise, tricky drum arrangement by John Bonham. Fro had it down.
Another thing about Fro's drumming: Nobody can end a song like David Arlen "Fro" Sendrow. He's a master of the Philadelphia Spectrum-style, protracted, rock-song ending. Know what I mean?
Anyway, me 'n' Fro are the kinda pals that, five years can go by, and we just pick it up like it was five minutes. Fro's big brother, Rabbi Benjamin Sendrow — who made national news for delivering an impassioned prayer at the behest of the president in the wake of the Tree of Life Congregation Synagogue shooting in Pittsburgh in 2018 — was one of my best buddies in high school. Their folks treated me and my brother like sons.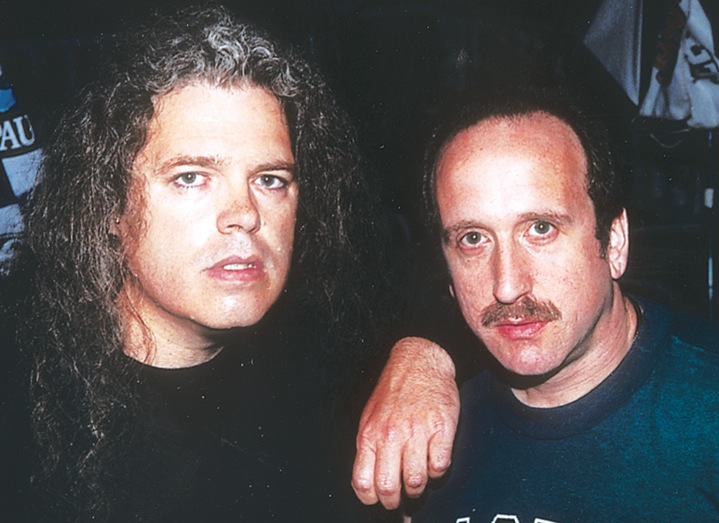 When me 'n' Fro went to see Mott the Hoople '74 at the Keswick Theatre in Glenside, Pa., in April, I finally asked him how he got the nickname "Fro." I'd always assumed it was because he had a lot of hair in the '70s, when we all attended Cherry Hill High School East. But that didn't make sense, exactly, because he didn't wear an actual Afro hairstyle.
Dave explained that some wise guy at school always called him "Sendfro," which was shortened to just plain "fro." It stuck. (Well, everyone in our gang went by nicknames: Bep, Toast, Zar, Bummahead, Skitzy, Slick-Slack, Tuborg, Rose, Duck, Foot, Bubbles. I was/am Elder.) So Fro is still Fro to his old buddies.
Here's where this little lovefest takes an unexpected turn.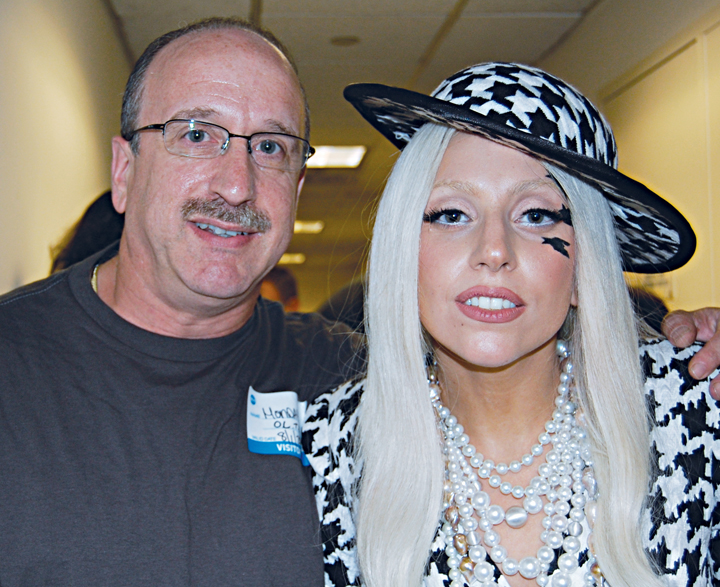 Fro, a man in his 50s, became a huge fan of Lady Gaga. I'm guessing that's not a common occurrence. What happened was, he was facing a formidable life challenge — it happens to all of us — and Gaga's lyrics spoke to him and helped him through it.
Best of all, he got to meet her once, and she looked him in the eyes, listened to him, responded to him and then posed for a photo with him.
We'll, that's all I needed to know. Anyone who helps my buddy is alright with me. Ever since, I've had a special place in my heart for Lady Gaga (though I'd still rather listen to Led Zeppelin).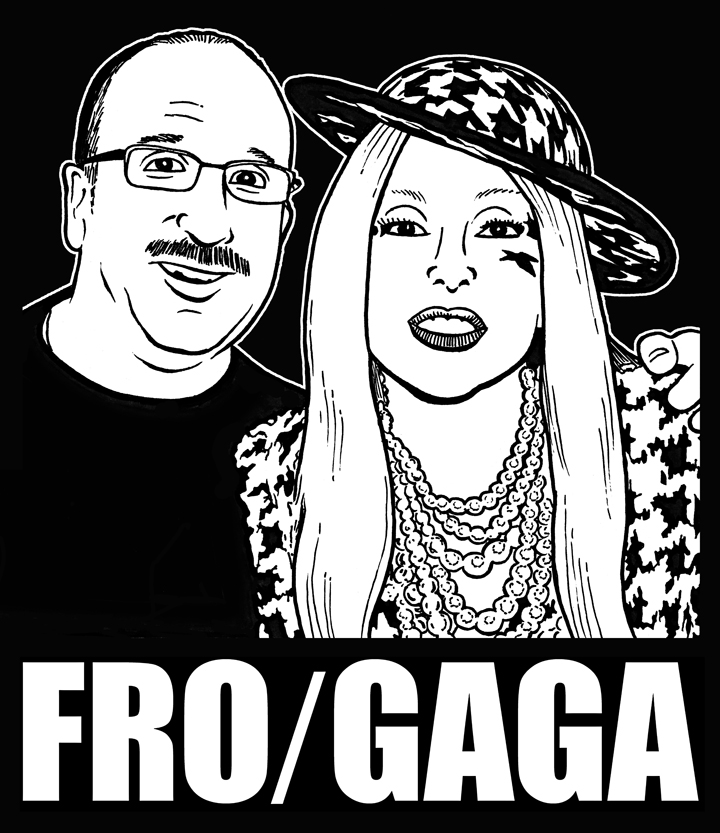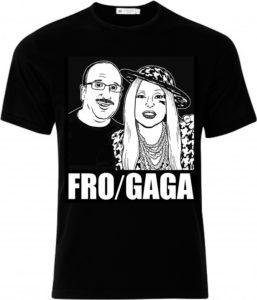 To celebrate Fro's Gaga moment, which I knew was important to him, I drew a T-shirt design based on the photo. I didn't tell him first. I just emailed it to him when it was finished. I then said to Fro, "No obligation to get the T-shirts printed. It's just something I needed to do." (Though I can't lie … I hoped he would print some up for, like, family and friends or whatever.)
Well, Fro went and did it. Below is a photo of us in the basement studio of my brother, bassist Brian Voger, with me wearing the shirt. Just wanted to share. Go, Fro! And thanks, Gaga!
P.S.: Mad Jack — that is, me, Brian, Karch (lead guitar) and Fro — are working on an album. We're doing fresh (and in some cases, updated) versions of the original songs we performed in 1988 and '89 at the unforgettable Galaxy nightclub in Somerdale, NJ — the bar that launched Cinderella, Britney Fox and Heaven's Edge. The Galaxy — where you couldn't swing a dead cat without hitting a high-haired honey in a miniskirt and heels.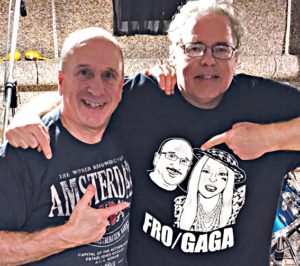 We're calling the album "Wicked Ways," after our song of the same title, itself named after Errol Flynn's memoir "My Wicked, Wicked Ways." The song's lyrics were inspired by Flynn's book, which recently came back into my life after 30 years. (For instance, there's a John Barrymore reference which actually gave our band its name: "Me 'n' Mad Jack, you know we'd throw a few back …")
We're two years into the project, I think. Maybe three? Mark my words: Fro's performance on "Nurse Ratchett" will steal the record. I'll keep you posted.
---
VIDEO: Mad Jack doin' Foghat, with a spot-on Fro performance.