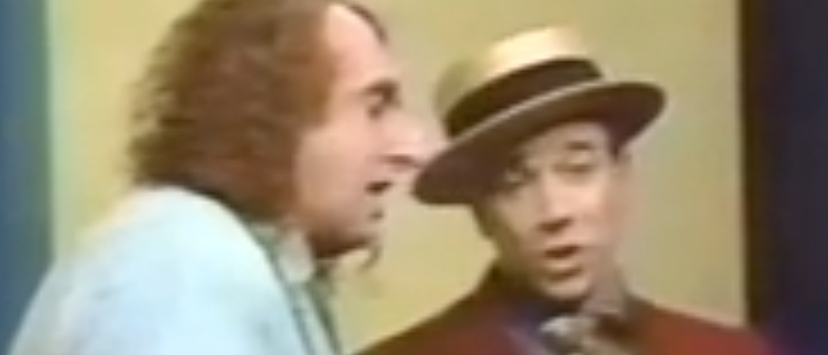 I've been thinking about Tiny Tim lately, and remembered that a Jersey guy I've known for years — actor/singer Michael Townsend Wright — got to know Tiny fairly well for a few years before Tiny's death in 1996.
It happened when the crooner appeared on "The Uncle Floyd Show" (of which Wright was a cast member) in 1989. Tiny and Wright dueted on "Bye Bye Blackbird." Thankfully, the short-and-sweet number has been preserved on YouTube.
"He didn't do many duets," Wright said. Tiny sang the high harmony, while Wright sang the melody — very un-diva-like on Tiny's part.
"It was kind of a warm thing," Wright told me of the relationship that developed. Tiny was drawn to Wright because both men knew the old crooners and the old songs. Tiny and Wright were vociferous fans of Rudy Vallee.
Recalled Wright: "In the middle of the night, he would call me up and say, 'Mr. Wright, don't you think Mr. Vallee lowered his singing voice to compete with Mr. (Bing) Crosby?' 'Yes, Herbert, I do.'"
Wright called him Herbert? (Tiny's birth name was Herbert Buckingham Khaury.)
"He let me," Wright said.
VIDEO: Here's Tiny and Michael singing "Bye Bye Blackbird."
Tiny a seemed like a walking encyclopedia of old songs, or, when performing, a walking jukebox of old songs. Strumming his ukulele, Tiny would perform a torrent of Tin Pan Alley tunes, one after another.
Said Wright: "He'd say, very seriously, 'Mr. Henry Burr recorded this song in 1909, and it was a tremendous hit. I'd like to do it in the original style.' Of course, it didn't sound like the original, really. In his mind, it did. He took it very seriously."
What about Tiny's mannerisms? He was apparently "like that" all the time. But on some of his '60s TV appearances ("Laugh-In," "The Ed Sullivan Show," "Hollywood Palace"), he seemed to be knowingly campy.
"He did play it up," Wright said. "Even he admitted it to me. The effeminate thing, the powder on his face. He was very shrewd. He was a showman. He knew he had to get their attention."
VIDEO: Here's Tiny with "Mr. Bing," showing off his encyclopedic knowledge of the old songs (albeit, in a largely scripted bit) on "Hollywood Palace."