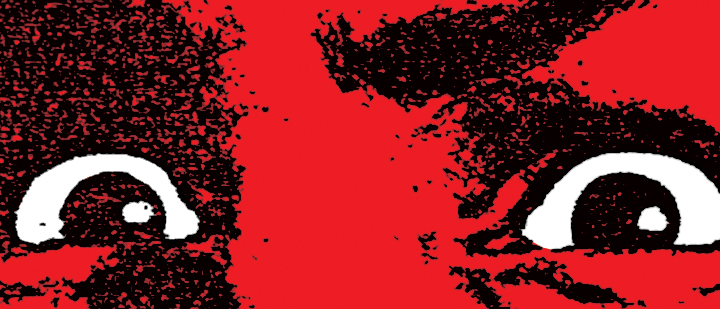 Where a studio film dared not go
---
'The Other Side of Madness:
Limited 50th Anniversary Edition'
The Film Detective
$29.95 (Blu-ray) and $23.95 (DVD)
81 minutes plus special features
Rated: R
---
By Mark Voger, author
"Holly Jolly: Celebrating Christmas Past in Pop Culture"
You might expect a low-budget, non-studio exploitation film about the 1969 Tate-LaBianca murder case, a.k.a. the Charles Manson murders, to be a cynically assembled, grisly mess — that it would use sensationalism and gore to compensate for a dearth of resources and talent.
But Frank Howard — director/cameraman/editor of "The Other Side of Madness" (1971) — crafted a film that is spellbinding and unique, with solid cinematography, innovative editing and a languid, patch-quilt storytelling style. (Howard cut his teeth on instructional films, and that experience shows.) As independent filmmakers, Howard and producer Wade Williams took risks that a big studio — with its armies of fretting lawyers and bean counters — never could.
The Film Detective has released "The Other Side of Madness" on Blu-ray and DVD in a new 50th-anniversary edition with a 4K transfer from the original 35MM negative.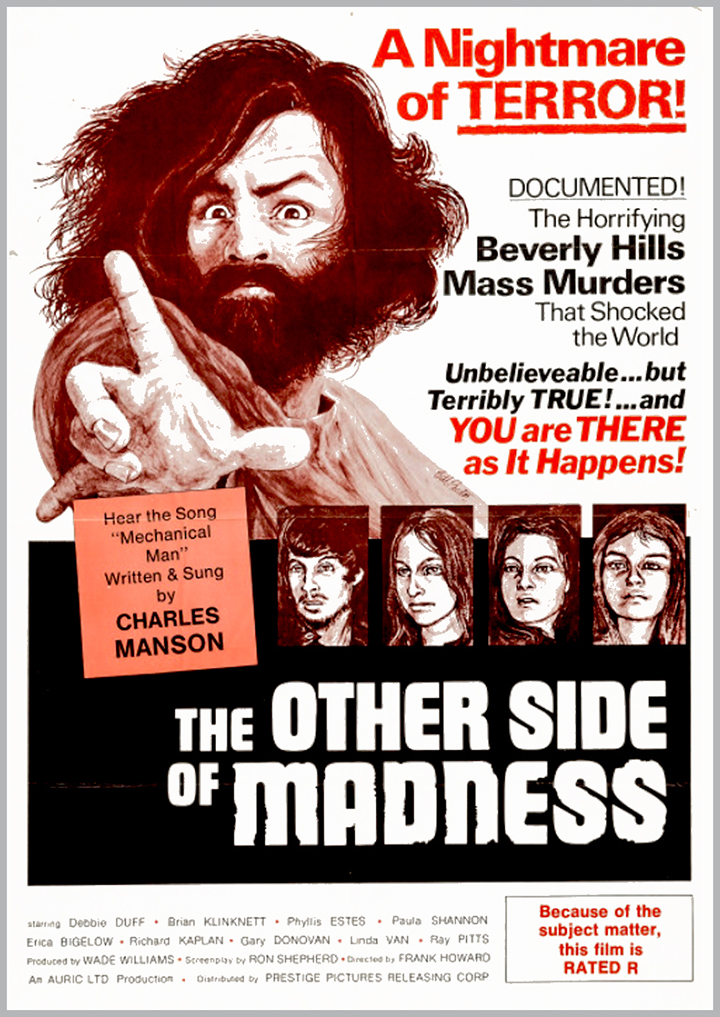 The film, which sometimes borders on avant-garde, isn't for everyone. "The Other Side of Madness" is largely a non-synch-sound film — that is, dialogue was dubbed after the fact. So this visually arresting film is occasionally betrayed by its less-than-convincing audio.
"Madness" plays a little passive-aggressive game with its viewers. The story is clearly — clearly — about the Tate-LaBianca murders, but no character is identified by name on screen. The closest "Madness" comes to naming names happens during chanting rituals heard in voiceover, which have references to "Charlie." (Guess which Charlie?) In an interview accompanying The Film Detective's release, producer Williams is candid about why real-life names weren't used: fear of lawsuits. It somehow makes this eerie, enigmatic film more eerie and enigmatic.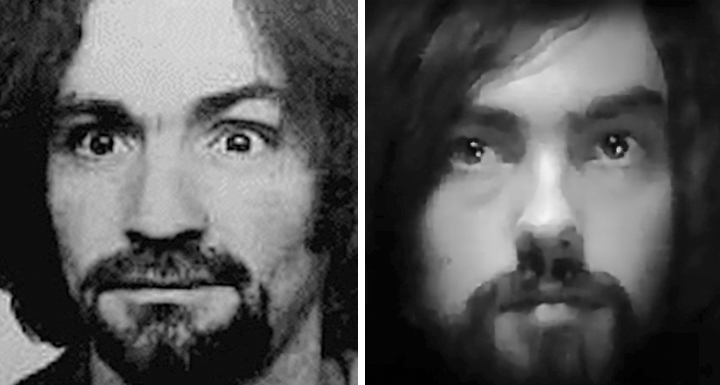 The film assumes that then-contemporary viewers — many of whom closely followed the Tate-LaBianca murders — were already up-to-speed on details of the case. The story is told in flashbacks sparked by court testimony. There are scenes of Manson family members at the Spahn Movie Ranch in Chatsworth, California (filmed on the actual location where the actual Manson cult actually lived), and an unblinking re-enactment of the murders.
In "Madness," the actor cast as Manson, Brian Klinknett, has the right hair and beard, but not enough "crazy." Klinknett's face is a bit too "soft."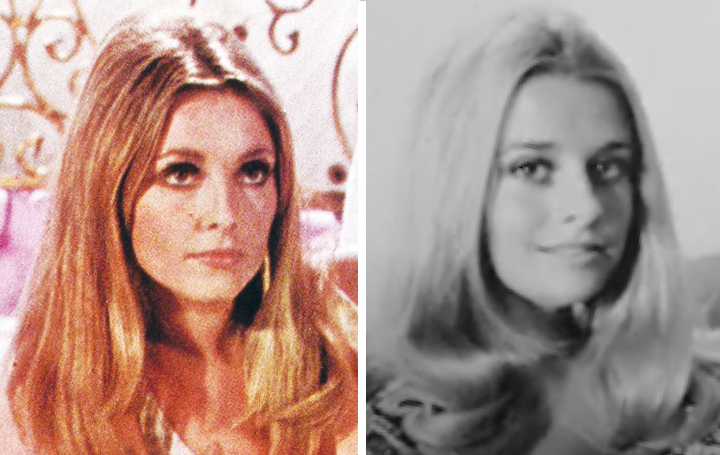 The Sharon Tate character, played by Debbie Duff, is called "Starlet." Her introduction in the film is pretty cool. As with the moment when Dorothy first steps into Oz, the black-and-white "Madness" suddenly changes into color — actual Technicolor, according to the end credits — for a sequence set at a Hollywood movie shoot, as a familiar classical minuet plays. It's beautifully filmed, with an opulent background and many extras in evening dress. (Some real money must have been involved.) The sequence is further proof that "Madness" has much on the ball — that it cannot be dismissed as mere low-budget exploitation.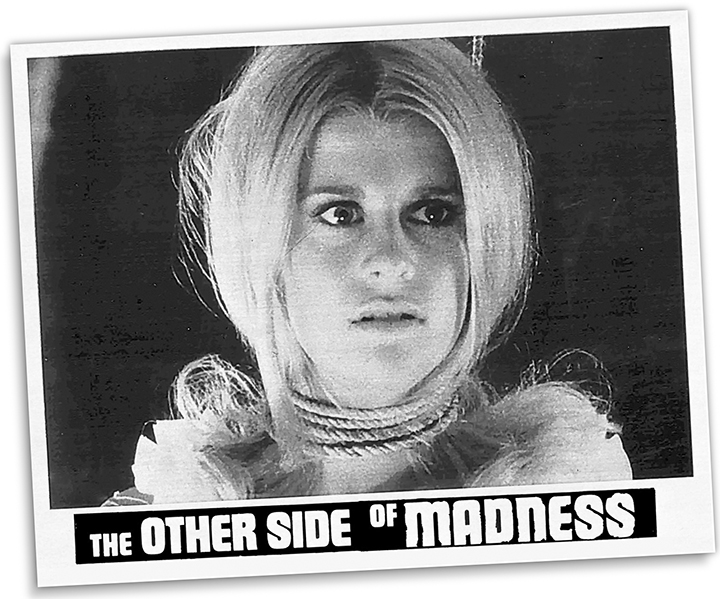 Just in case there's any doubt over who Duff is playing, her character is visibly pregnant beneath a sheer negligee during the murder sequence, and she begs of her killers, "Please let me have my baby."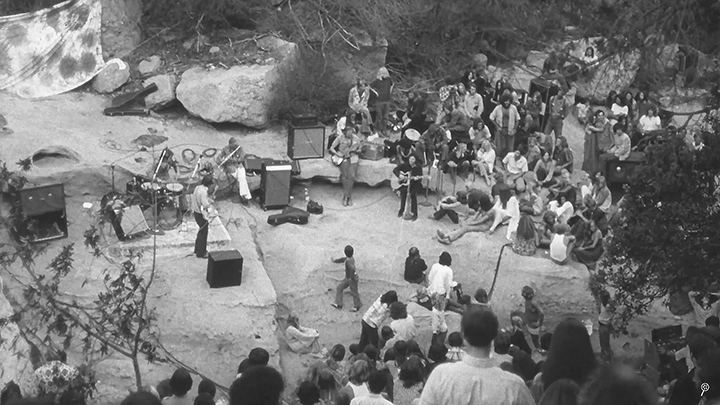 Howard and Wade traveled to Los Angeles for certain exteriors — the Ceilo Drive street sign, the Sunset Strip and, of course, the Spahn ranch  — but much of the film was shot in Williams' home base, Kansas City. There, Williams organized a large gathering of hippies in a craggy quarry which is used as a flashback.
The sequence is, itself, quite the time capsule. Hippies are shown assembling for this massive party; setting up a rock band; swimming; smoking grass; doing that crazy Woodstock-style dancing; and generally frolicking. But it should come with a "bad nudity" warning, or more importantly, a "dudity" warning.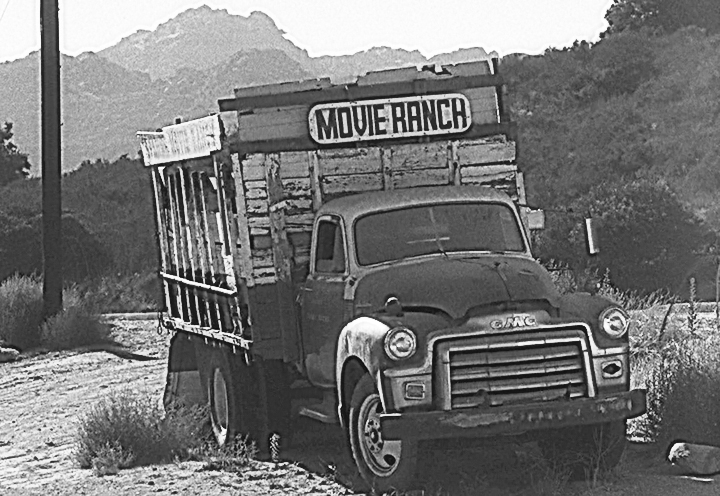 Sequences filmed at the Spahn Movie Ranch are most instructive. There's a shot of owner-operator George Spahn, who was then blind, walking while being led by a younger man. The ranch is clearly in disrepair; Williams called it a "fire trap." Indeed, the ranch burned to the ground in 1970, the same year "Madness" was filmed.
This makes "The Other Side of Madness" a last, lingering look at the once-bustling facility made infamous by its Manson association, and likely the only film to depict it "as is" (as opposed to, say, a setting for a western movie).
Not-so-fun fact: Director Al Adamson shot his 1969 biker flick "Satan's Sadists" at Spahn, and he once told me that Mansonites were always hanging around, trying to get parts in his movie.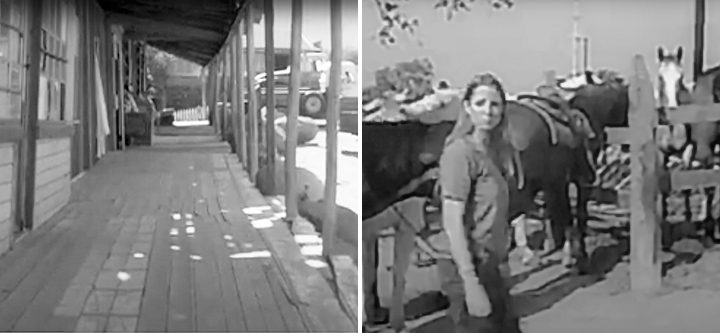 According to Williams, real-life Manson family members who were not on trial during the Tate-LaBianca murder case were still living at Spahn while the "Madness" crew was filming, and some of them are seen in the film.
Another thing "Madness" makes clear is that the ranch and many of its ramshackle buildings were close to a highway, not tucked away (as in Quentin Tarantino's re-creation of the ranch in his 2019 film "Once Upon a Time in Hollywood").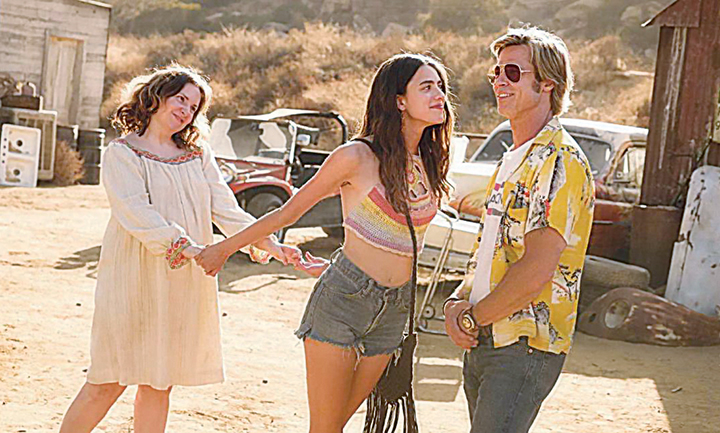 The centerpiece of "Once Upon a Time in Hollywood" is the sequence in which a stunt man (Brad Pitt) gives a hitchhiker (Margaret Qualley) a ride to the ranch, only to find it overrun by a hippie cult. The Spahn ranch footage in "The Other Side of Madness" gives viewers a clear picture of how faithfully Tarantino replicated the sprawling operation.
Though a departure from typical exploitation films, "Madness" does retain one vital trope of the genre: a disclaimer disguised as altruistic rhetoric. These are typically presented at the beginning or end of a given movie; in the case of "The Other Side of Madness," it's both. From the prologue: "The producers of this film do not intend to defame or prejudice any person or persons living or dead who are depicted or portrayed in this film." From the closing credits: "This picture is a grim warning. The use of drugs must be rigidly controlled if there is to be any future for our society … or for our country itself."
The Film Detective's Blu-ray and DVD releases include two interviews with Williams (one recounting his bizarre prison audience with Manson); a 12-page booklet; trailers; and a grim little collectible: a CD containing two songs written and sung by Manson, "Mechanical Man" and "Garbage Dump." Both songs are heard in the film.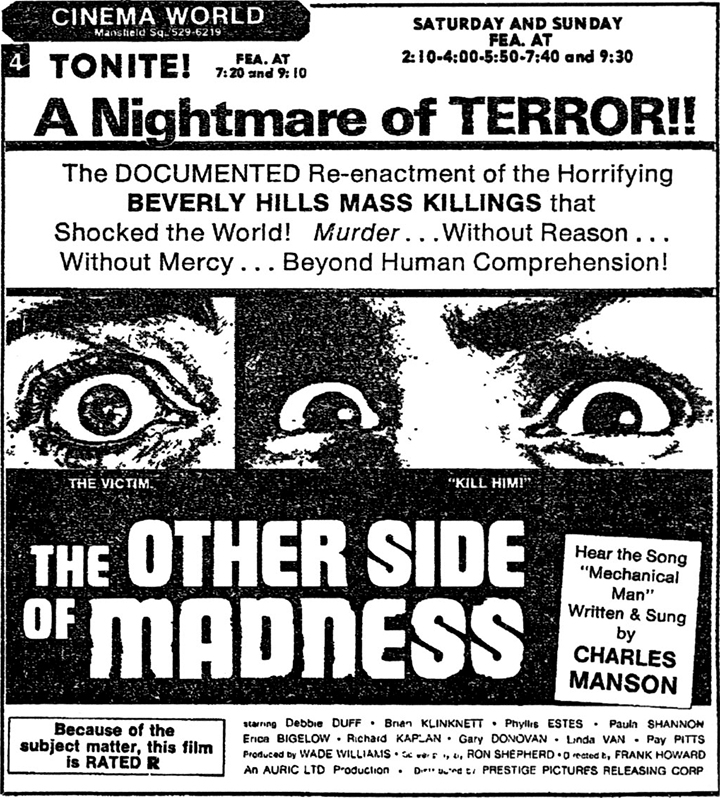 ---
TRAILER