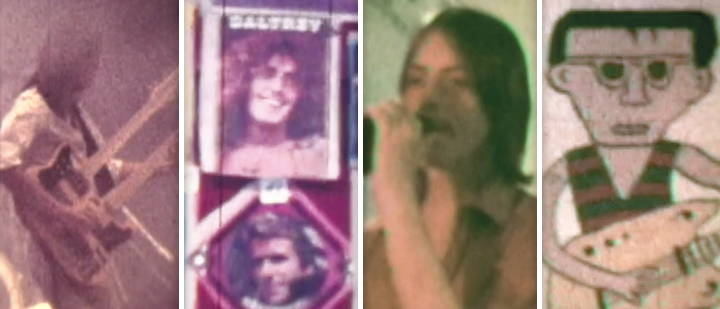 A time machine set for 1977
All these years, it was in a box 3,000 miles away.
In 1977, I was a second-semester freshman at The College Formerly Known as Glassboro State. My classmate/bandmate Joe Stewart and I made a student film titled "What Is Rock and Roll?" for our Film Theory and Technique class, which was taught by one Prof. Richard Grupenhoff, whose beard could only be called professorial.
The assignment was to make a film utilizing both non-synch and synch sound. Our film featured footage shot at the Philadelphia Spectrum and the Tower Theater (in Upper Darby, Pa.), and sound footage of my old band the Back Street Kids (though I do not appear in the film), performing "Purple Haze" in our cellar in suburban South Jersey.
I hadn't seen the film since those days. I never knew what became of it.
Lo and behold, another old college buddy, Doug Kirby (a video wizard and co-founder of the content-rich travel website roadsidemerica.com), randomly discovered it in a box about a week ago!
Doug, bless him, had "What Is Rock and Roll?" digitized. Now, 41 years later, here is all eight minutes and 10 seconds of it …
This is not just a digital transfer, but a restoration. (OK, it's not UCLA Film Archive level, but I love every scratch, and there are plenty.) The film was in pretty bad shape. Doug had his transfer guy do some re-splicing, after which Doug performed a bit of post-production magic.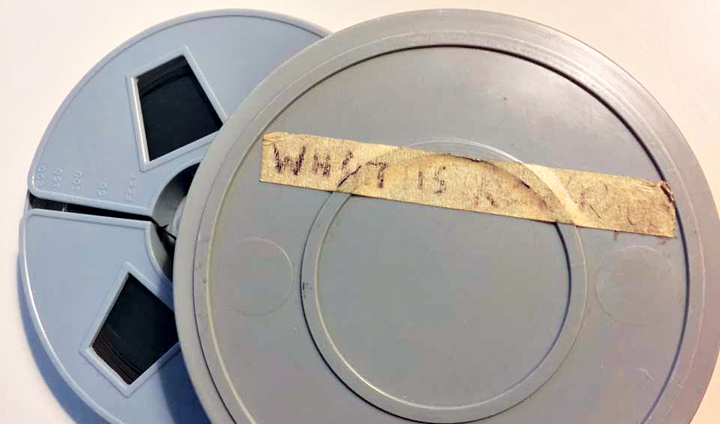 Here's Doug's report: "Splices in the film had dried up and split (so transfer guy fixed, but you can see the jumpiness). The Back Street Kids section was non-Kodak film (maybe Agfacolor) and had turned the dreaded magenta as the other colors faded away. However, I vaguely recall basement lighting might've been off-color/tinted in the original? I color-corrected a little to remove red, and it is watchable. Sound has lost some fidelity (though maybe we were living with that fidelity when brand new). In the Back Street Kids section, I slowed to 93% since it sounded kinda chirpy, but your ear may detect whether it sounds slow or fast."
Yep, I remember it being "chirpy" even back in '77. Doug's slow-down was a necessary, spot-on correction. Below are some shots from the film …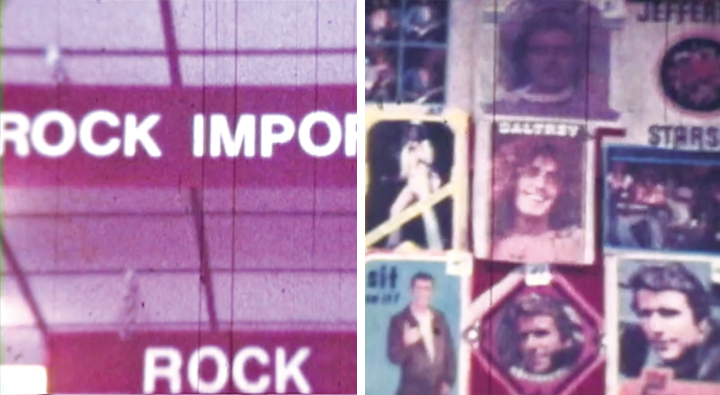 "What is rock and roll, you ask? Go to a record store." The film opens with footage shot by Joe (who also narrated) at Sound Odyssey, a record store at the Cherry Hill Mall where he was on staff. It's kind of a flip-out seeing what appear to be iron-on T-shirt designs of Roger Daltrey next to the Fonz. Such was '77.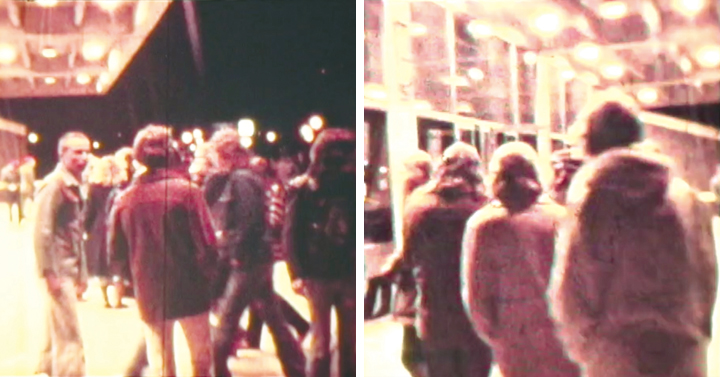 Gathering outside of the Spectrum was always a fun part of the ritual — meeting up, seeing Philly cops on horses and, later on, seeing the Rocky statue. This was shot on the chilly night of March 8, 1977, just prior to a show on Genesis' "Wind and Wuthering" tour. I was using an expensive movie camera signed out of GSC, which could have been confiscated at any moment.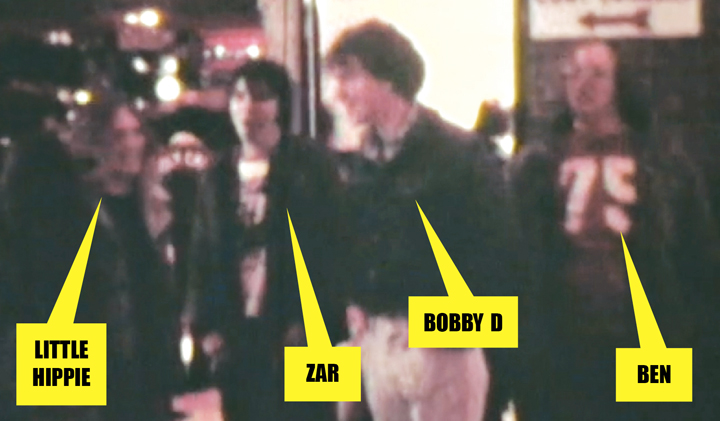 I grabbed a quick shot of my gang. From left are Little Hippie, Zar, Bobby D (who all worked at the Continental Restaurant at the Echelon Mall, a scene of constant drudgery and occasional debauchery) and Ben (yep, the very same Rabbi Benjamin Sendrow who recently delivered a moving prayer at the behest of President Trump; read all about Ben HERE).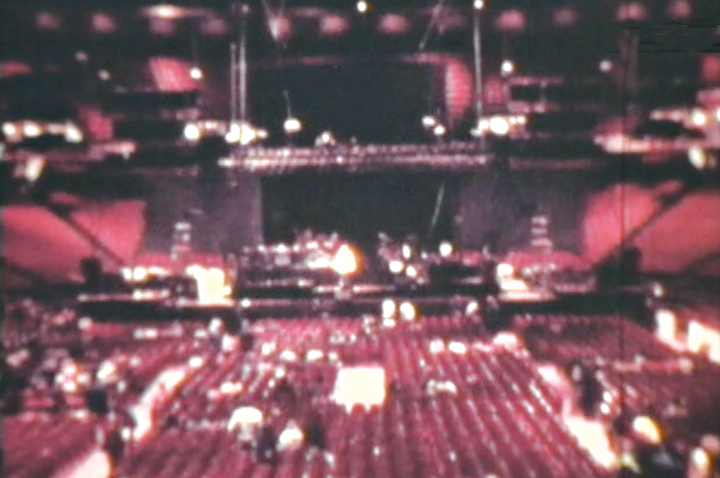 There it is: the Spectrum! Who didn't I see there? I caught the Rolling Stones, The Who, David Bowie, Pink Floyd, the Allman Brothers, Robin Trower, Blue Oyster Cult, the Electric Light Orchestra, Wishbone Ash, Deep Purple, Ian Hunter and Mick Ronson, Heart, the Kinks, Manfred Mann's Earth Band, Paul McCartney and Wings, George Harrison, Black Sabbath, Ted Nugent … even the Flyers once.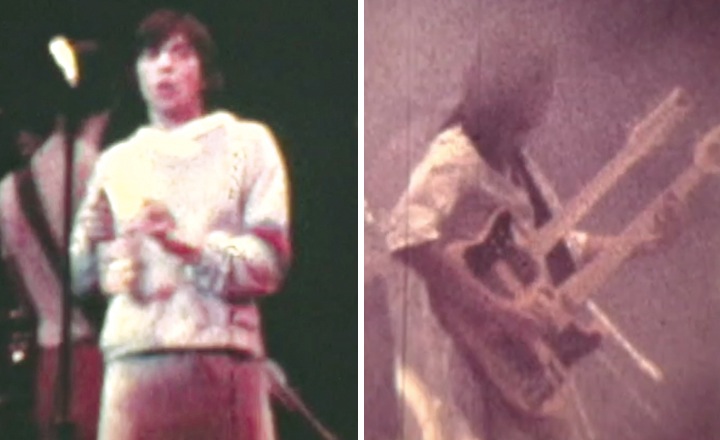 Joe shot Peter Gabriel (left) and Tom Verlaine with Television performing at the Tower. Meanwhile, at the Spectrum, I did something really precarious. When they turned on the smoke machine during Genesis' set, I bolted down to the front of the stage with that borrowed GSC camera and stole a sweet shot of Mike Rutherford playing a double-neck (right). I could have been ejected from the venue and lost the camera. Doug asked if there was more footage of Genesis on the "cutting room floor." I laughed and said nah, what you see is all I had.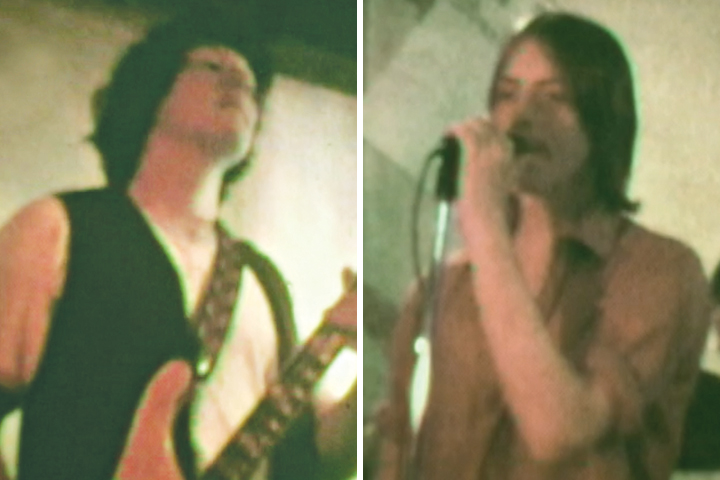 The film ends with BSK doing the Jimi Hendrix song. Trying for the "Let It Be" effect, I filmed the band setting up and bantering. But the editing in that section was generally "in camera," so you hear the camera turn on and off. The song, of course, was shot in one long take. Above is my brother Brian Voger (left) on bass and the Bummahead (right) singing.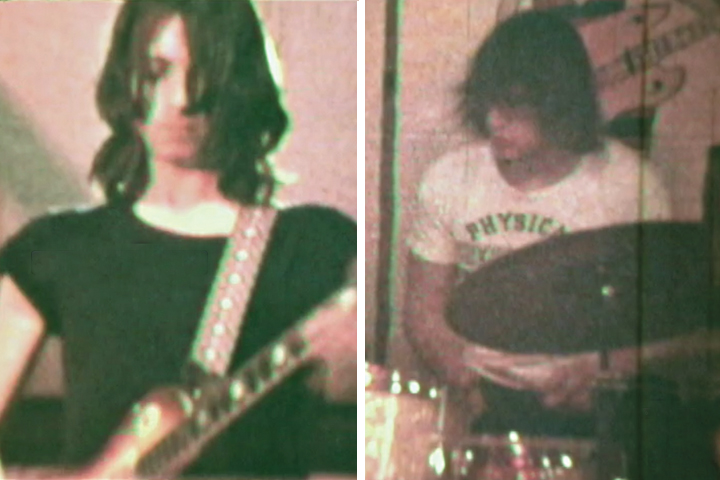 Here's Karch on guitar (left) and John Young on drums (right). Brian painted the Sha Na Na-influenced cartoons on the wall behind John Young. Y'know, all of these guys are still the best of friends and still sometimes play together.
"What Is Rock and Roll?" isn't genius, but it is a relic. It's been like a "Twilight Zone" episode to see the past again. Like seeing ghosts move, talk … and make music.