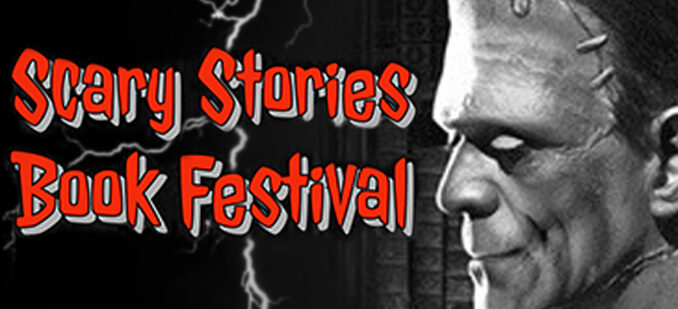 Seasonal scares in Asbury
I had a great time at the Scary Stories Book Festival held on Saturday, Oct. 8, at the Capitoline Basement, 639 Cookman Ave., Asbury Park. It was my first in-person gig since the COVID broke out. Author Steven Farkas, organizer of the event, was a perfect host, and the Capitoline folks made us feel right at home by decorating the basement to-the-nines in Halloween regalia. Topping it all off were the "zombies" who walked by our tables — participants in the annual Asbury Park Zombie Walk.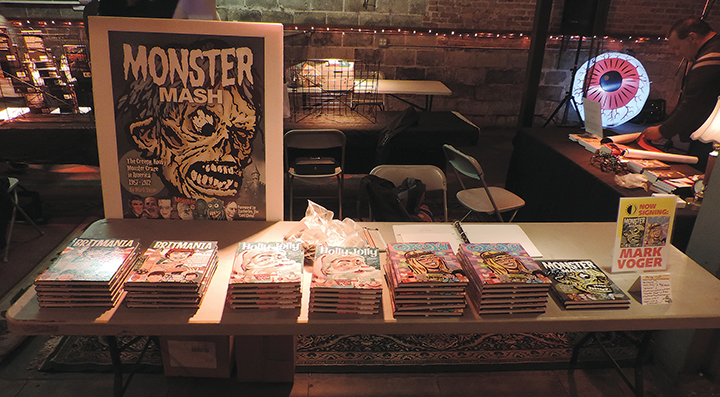 Here's my table during the "load in." Nuthin' fancy. I got my poster printed at the Staples. Affixed it to foam board myself using a spray can of product I'd had since the '80s, which I believe was long since taken off the market for health concerns.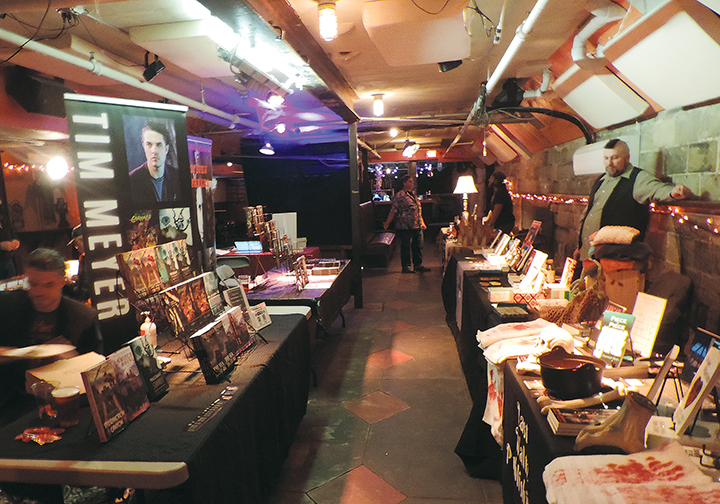 Here's one view of the layout. There was another row of tables to the left (off camera) … a full-service bar at the back … food was available straight out of the kitchen … there was even a coffee vendor with an event-appropriate moniker: Edgar Allan Joe Coffee. At left above is author Tim Meyer ("Paradise Club"), who advised me to approach Rob Zombie's "Munsters" reboot with an open mind. That was a relief to hear, after all the hating.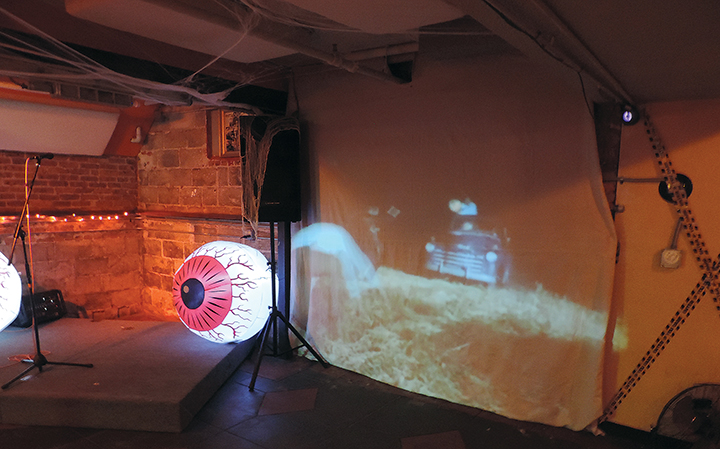 This was the open mike stage (with two giant eyeball lights for atmosphere) for author readings. You can also see one of three screens onto which movies were projected with the sound down. I saw "Eye of the Cat" (1969), the colorized "Night of the Living Dead" (1968, shown), "The Brain Eaters" (1958), and an episode of "One Step Beyond."
During all of this, garage-y rock 'n' roll music was played. Sample songs: "Tobacco Road" by the Nashville Teens; "Liar Liar" by the Castaways; "Money" by Jerry Lee Lewis (never heard this version before); "Surfin' Bird" by the Trashmen (thank you, John Waters, for putting that image in my head every time I hear the song); and "96 Tears" by Question Mark and the Mysterians. That raw kind of rock always sounds good around Halloween.
The first zombies walked by starting at about halfway through the gig. These Kiss zombies were really in the spirit. It was kind of funny to see blood-drenched zombies eating bar food and drinking.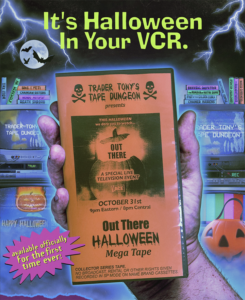 I also met a charming, talented couple, filmmakers Chris and Melissa LaMartina, who had a big event later that evening: the premiere of their horror film "Out There Halloween Mega Tape," which was to be held at the Atlantic Movie House in Atlantic Highlands. Chris wrote and directed; Melissa co-produced and played the role of Ivy Sparks.
From the official synopsis: "A daytime talk-show host finds herself placed on a new program, and investigating a farmstead with a long history of alien encounters." VHS (ah, memories) is a huge aspect of the scenario; the film has fake commercials, a la "Grindhouse." And here's something cool (to me, anyway): Chris also said he remembers my full-page comic strips in Fangoria, which were published from, oh, 1986 through, I think it was, 2001. (I'll have to write about that life chapter some day, lest it all die with me.) That warmed my heart. I hope to see their film.
I was only able to bring along a couple of copies of "Monster Mash," because the second printing has sold out and I'm down to my last-box-for-life. So for now, I'm gonna be hoarding the few I have left. Sorry!
---
Post script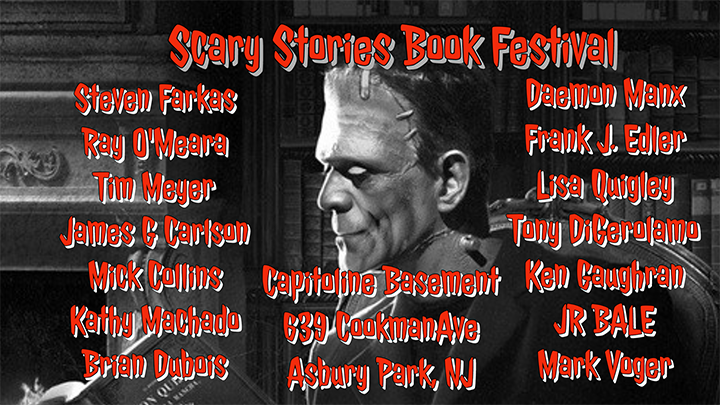 Here is the flyer for the event. More about the show HERE.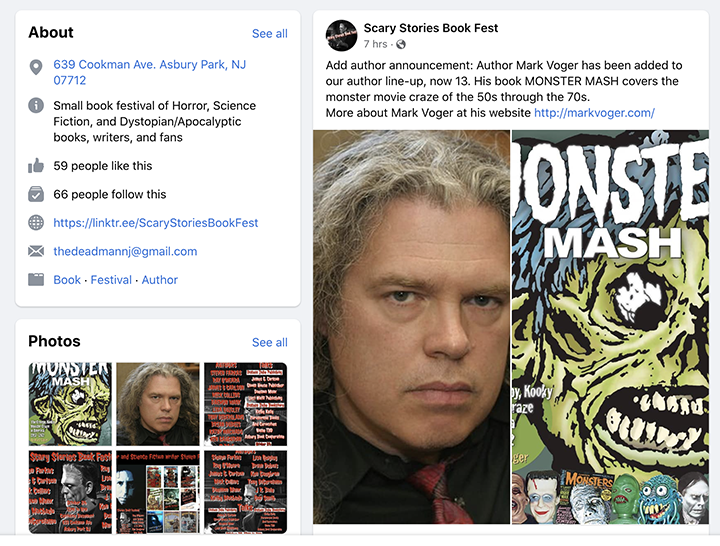 Scary Stories gave me a good ride on their Facebook page. (I've aged slightly since that photo was taken in 2005.)