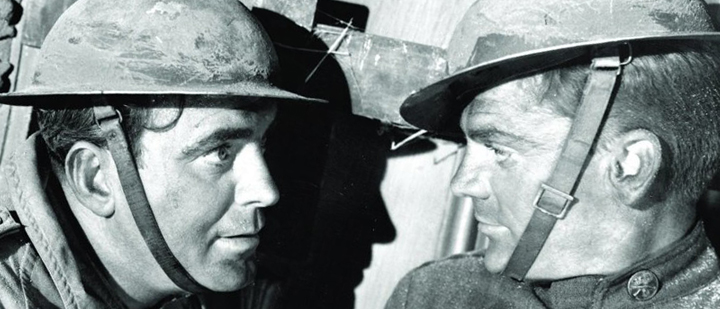 The watchin' o' the green
It's that Bizarro World time of year again, when beer is green and corned beef is a delicacy.
Are ye lookin' for some St. Patrick's Day movie picks? Even if ya aren't, lads 'n' lassies, a few are comin' yore way …
---
'Brooklyn' (2015)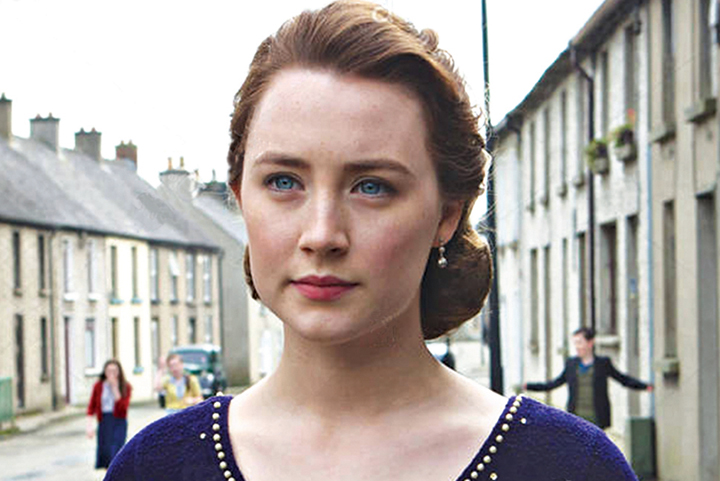 In John Crowley's "Brooklyn," Eilis (Saoirse Ronan) is an unassuming girl from tight-knit Enniscorthy who emigrates to America in the 1950s. Life is not exactly terrible in Enniscorthy, but there is financial pain and a dirth of opportunity.
She leaves behind a mother (Jane Brennan) who seems distraught but unable express it, and a sister (Fiona Glasscot) who, though heartbroken, knows this is the right move.
The voyage is a brutal one; she learns a bitter lesson not to eat when rough seas are predicted. Eilis lands in Brooklyn, and little by little becomes Americanized — somewhat, anyway. She meets a smitten Italian boy (Emory Cohen) who regularly attends Irish dances because, well, he likes Irish girls.
Eilis' new life in America moves bumpily along, until one day, her old life in Ireland comes calling. "Brooklyn" feels simultaneously like an epic about Irish emigration, and a small story about a young woman facing tough life choices.
---
'Shake Hands With the Devil' (1959)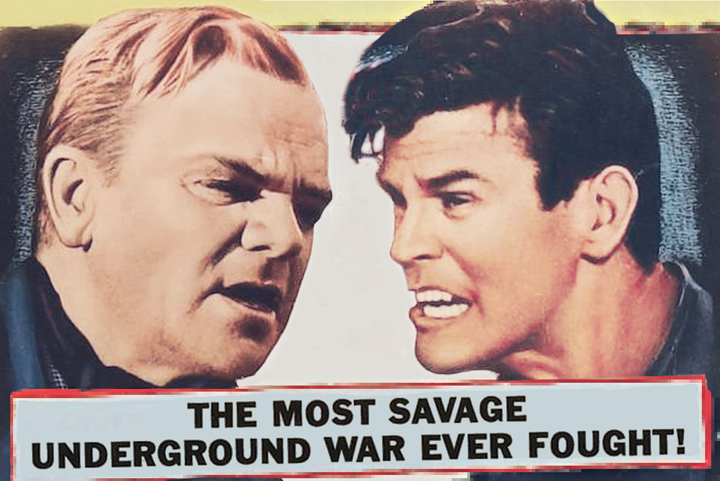 In his third-to-last movie before retiring from the screen, James Cagney recaptures the old fire in Michael Anderson's "Shake Hands With the Devil," a tale of the Irish resistance set in 1921 Dublin based on a novel by Rearden Conner.
Don Murray co-stars as the American son of Irish-born parents who returns to Ireland to study surgery under Cagney. Meanwhile, England has enlisted the iron-fisted Black and Tans to keep order, resulting in much bloodshed. Murray has no intention to join the Irish Republican Army, but is drawn into the conflict. After a nighttime skirmish, he learns that Cagney is an unlikely commandant of the IRA
Cagney's portrayal is nuanced in that he initially seems level-headed and heroic, but as events unfold, a darker, more complex figure emerges. The star seems right at home during some intense shootouts, and his affected Irish brogue is only occasionally betrayed by his Lower East Side rat-a-tat.
---
'The Luck of the Irish' (1948)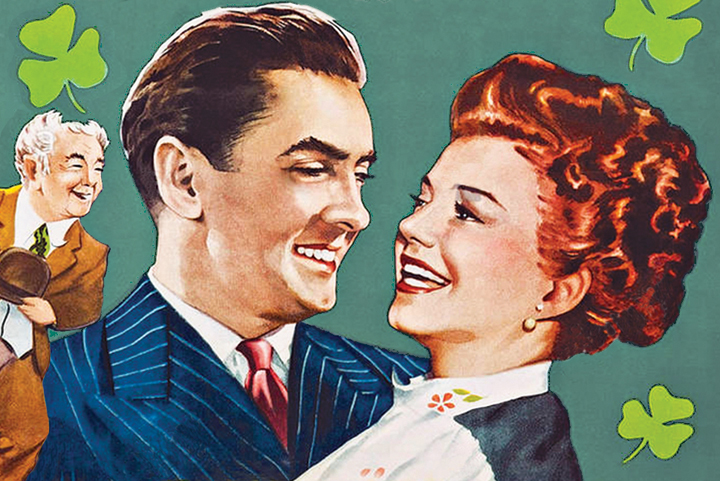 When an impatient American journalist (Tyrone Power) is stranded in an Irish village, he comes across a strange old gent (Cecil Kellaway) cobbling a shoe beneath a waterfall — he must be a leprechaun, say the locals — in Henry Koster's romantic fantasy "The Luck of the Irish." Power also meets the fetching young daughter (Anne Baxter) of an innkeeper.
Back in America, Power is hired as a publicist by a wealthy, manipulative publisher (Lee J. Cobb) who decides to run for office. This arrangement is just fine with Cobb's daughter (Jayne Meadows), who has dug her well-manicured nails into Power. Marriage to Meadows, and servitude to her father, seems like the path Power has resigned himself to — that is, until a new manservant shows up on Power's doorstep. Yep, it's Kellaway, who denies ever having met Power in Ireland.
"The Luck of the Irish" is good, old, cliché-ridden fluff — the kind that makes our relations in the old country cringe.
---
'Knute Rockne All American' (1940)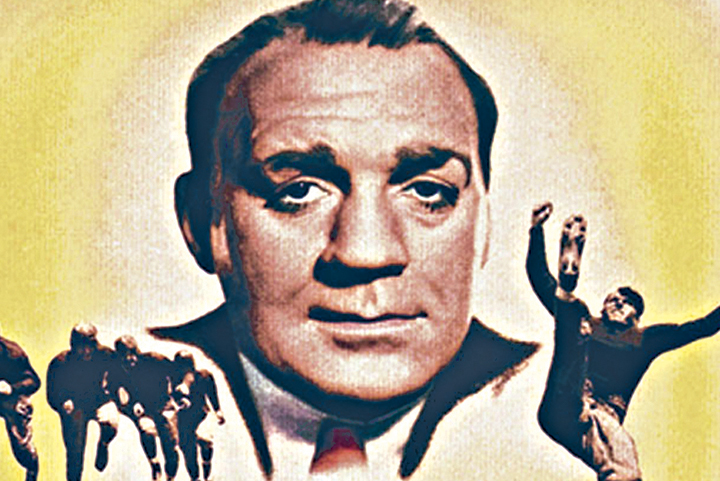 Long a staple of St. Pat's Day viewing, Lloyd Bacon's "Knute Rockne All American" has a Norwegian as its title character. Pat O'Brien wears a false nose as the legendary coach who guided Notre Dame to three national championships. The film opens as Rockne's father (John Qualen) moves the family from Norway to Chicago, where young Knute (Johnny Sheffield) falls in love with the American game of football.
Rockne is older than the average student at Notre Dame, where he studies chemistry and becomes captain of the football team. He chooses football over chemistry as his life's calling, with the blessing of his wizened dean (Donald Crisp).
As Notre Dame's coach, Rockne spots raw talent in the person of George Gipp (Ronald Reagan). Yep, this is the movie in which — spoiler alert — Reagan delivers the death- bed line, "Win just one for the Gipper." The nickname "the Gipper" followed Reagan all the way to the White House.
---
'The Fighting 69th' (1940)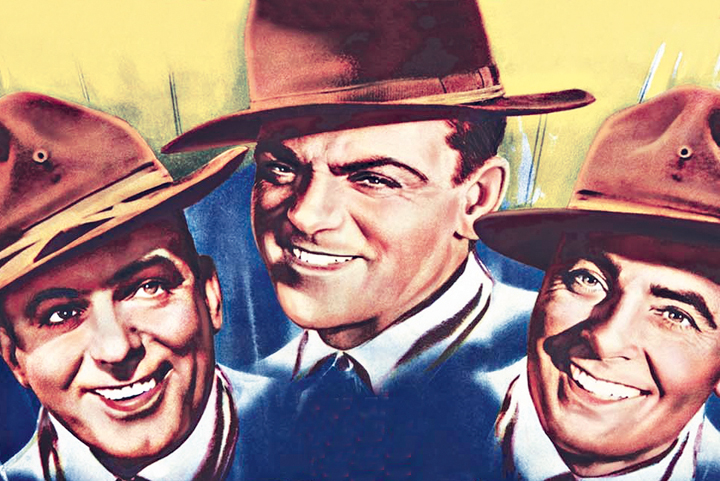 The story of a colorful Irish regiment in the U.S. Army during World War I, William Keighley's "The Fighting 69th" is one of a group of jingoistic war movies released as America's avoidance of the growing war in Europe was hotly debated. ("Sergeant York" is another famous example.)
James Cagney stars as Jerry Plunkett, a wise guy who joins the 69th for the wrong reasons; he dreams of returning home "covered in medals," but rejects the camaraderie and discipline of the 69th. Pat O'Brien plays Father Francis P. Duffy, who believes in Plunkett even as every man in the regiment turns against him, including the no-nonsense captain (George Brent) and the blustery sergeant (Alan Hale).
Comic relief is provided by Sammy Cohen as Mischa Moskowitz, who puts on an Irish accent and calls himself Mike Murphy in order to join up with the 69th. Jeffrey Lynn plays Joyce Kilmer, the real-life poet, New Brunswick native and 69th member who died in battle.
---
'Irish Luck' (1939)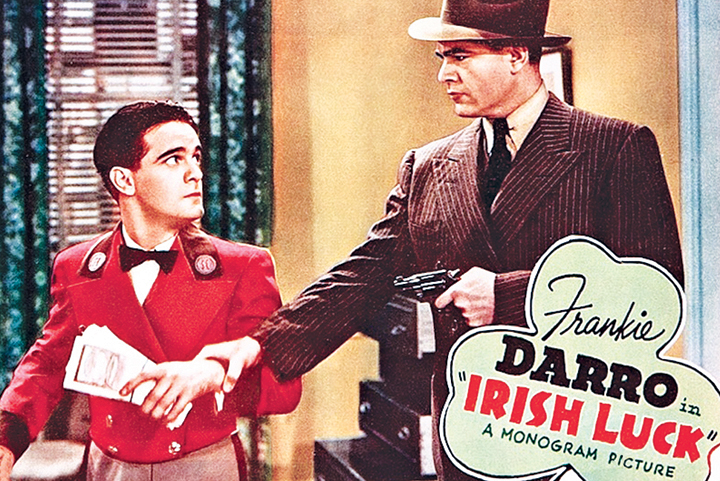 Howard Bretherton's low-budget comedy-mystery "Irish Luck" is one in a series of films starring diminutive Frankie Darro as a boisterous youth with a penchant for getting into hot water, and comic Mantan Moreland as his jittery wingman.
Darro plays Buzzy O'Brien, a hotel bellhop who has taken up amateur sleuthing in the hopes of becoming a detective. When a murder occurs at the hotel, Buzzy learns that the No. 1 suspect — a young woman in a floral dress named Kitty (Sheila Darcy) — is innocent, and sets out to clear her.
Buzzy smuggles Kitty home to his mother (Lillian Elliott), who is initially standoffish. But once she learns that Kitty's surname is Monahan, Mrs. O'Brien welcomes Kitty and like- wise casts doubt on the accusation. Coos Mrs. O'Brien in her bog-thick brogue: "The murder? With a name like Monahan? Well, then, she must have some good reason."
---
VIDEOS: Trailer and full movies