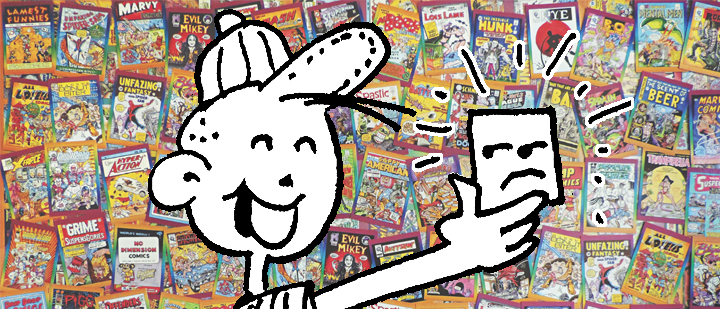 Sketch Card born in a drawing marathon
By Mark Voger, illustrator
Defective Comics Trading Cards
I could'a drawn the same image 500 times. Or the same five images 100 times each. Or … you get the idea. But for some insane reason — after having made the likewise insane suggestion that I draw 500 Sketch Cards for a trading-card series way back in 1993 — I decided that no two should be alike.
Defective Comics Trading Cards (Active Marketing International) made non-sport trading-card history as the first series to name, market and produce Sketch Cards. In the 27 years since, the Sketch Card format has exploded into a niche industry all its own. I illustrated the 1993 set, which presented parodies of classic and then-contemporary comic-book covers in the spirit of Mad magazine and Wacky Packages. Since going public with my side of the story in Back Issue #120 (June 2020), the Sketch Card community has begun to take notice. And now, some highlights of "The 500" …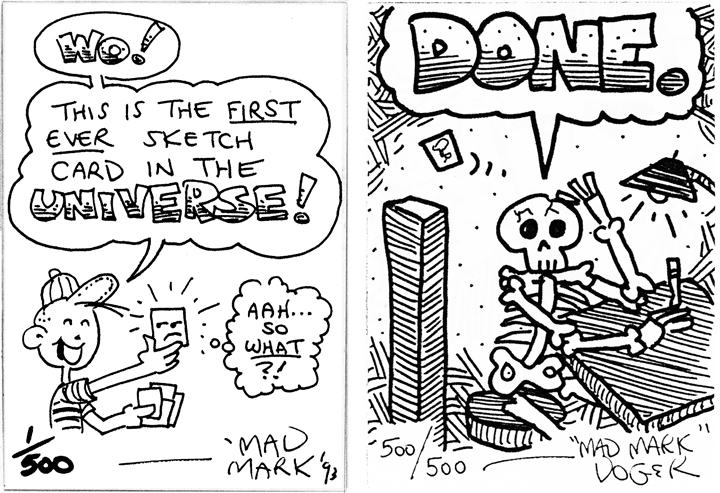 I had pitched the Sketch Card concept to Active Marketing after the Connecticut-based publisher asked if I had any ideas for a "gimmick" to help create buzz for Defective.
Active green-lit my proposal, and at my suggestion, shipped me 500-plus flat-white cards that were blank on one side, and on the other was printed: "Congratulations! You are the proud owner of a Defective Comics Sketch Card!" (Some extras were included in case I messed a few up; I still have some of those blanks.) Working against a two-week deadline, I drew, signed and numbered the 500 cards and shipped them back to Active for insertion into the Defective foil packs.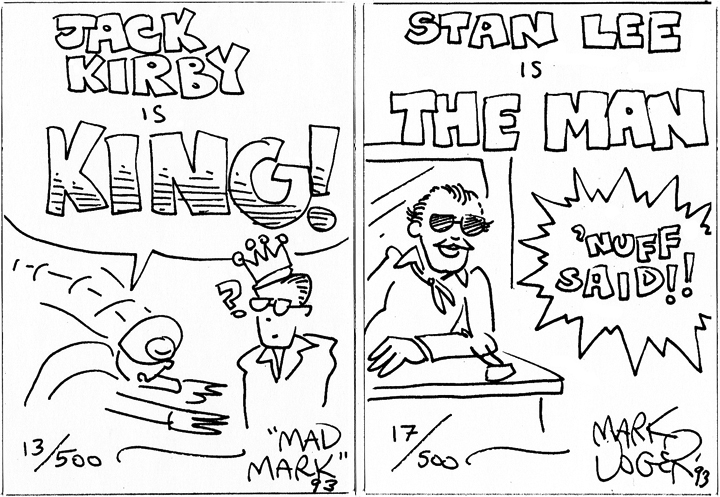 Before shipping, though, I did something almost on a whim: I Xeroxed the 500 cards. So these images, which represent the birth of an enduring art format, are not lost to the ages.
They're frequently stupid, but they're not lost to the ages.
But here's something odd: Of the 500 original Sketch Cards I drew for the Defective set, only two have turned up in the Sketch-Card-collecting community. (I've heard from both owners; these were indeed plucked from packs.) That's not many, I'm afraid, but they prove that it happened.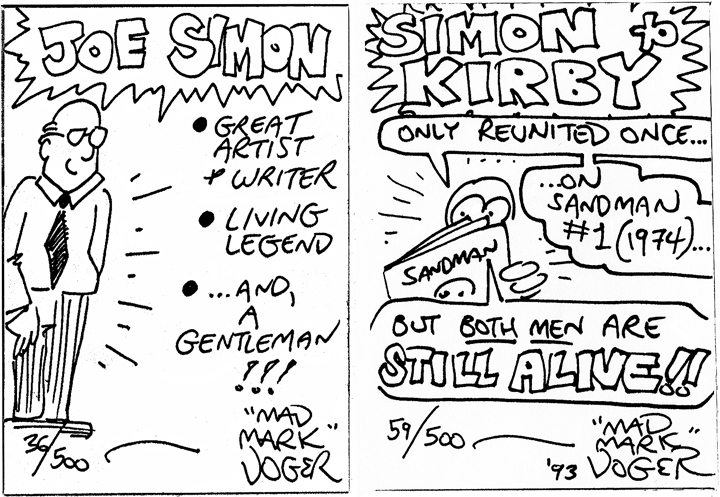 Getting down to work
The earliest of the 500 cards I drew were super-quick, slap-dash affairs with little-to-no variation in line width, nor any shading to speak of. I was just getting started on a gargantuan task, and didn't allow myself the luxury of doing nuanced work. Once I got a routine going – keeping in mind how many I must finish per day to make deadline – I relaxed a bit and did better stuff.
I do remember finding little ways to move it along quicker. For instance, I did all the numbering/signatures first, in a lighter pen width (as is fairly obvious). Also, I probably did the running gags about being 1/5th, 2/5ths, 3/5ths and 4/5ths finished in advance. But knowing me, I did not draw the 500/500 card until the very end. I'm Irish and superstitious. To me, it would have been a point of honor to draw the 500/500 card only after the other 499 were finished. I'd bet anything that's what happened.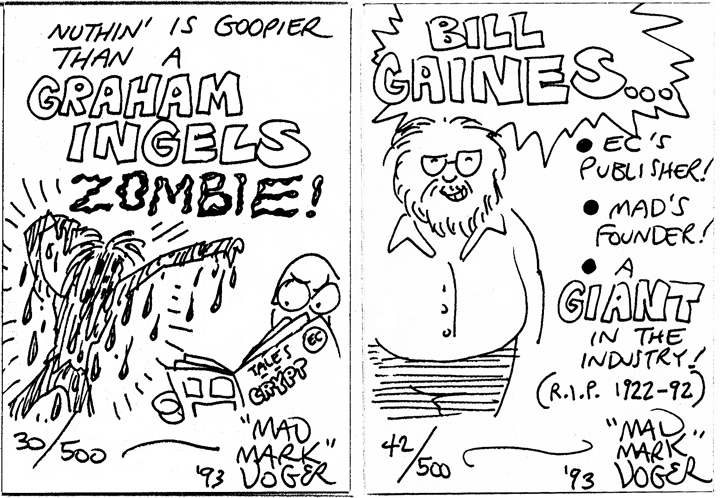 I was working too fast to put a lot of thought into topics for the cards. I made most of them "retro" and, in the spirit of Defective, many were comics-centric. Cases in point: I drew mini-tributes to comic book creators such as Stan Lee, Jack Kirby, Bill Gaines, Graham "Ghastly" Ingels, Marie Severin, Jack Kamen, Ramona Fradon, Kurt Schaffenberger and Murphy Anderson.
I mused about mundane aspects of the everyday lives of superheroes. Such as: Is it difficult for the Thing to wash his crevices? Or: Why don't the Hulk's stretched-out trousers drop when he changes back into Dr. Banner? And my fave: If Mr. Fantastic can stretch any part of his body, and the Invisible Girl can become invisible, think of the possibilities in the realm of doin' it.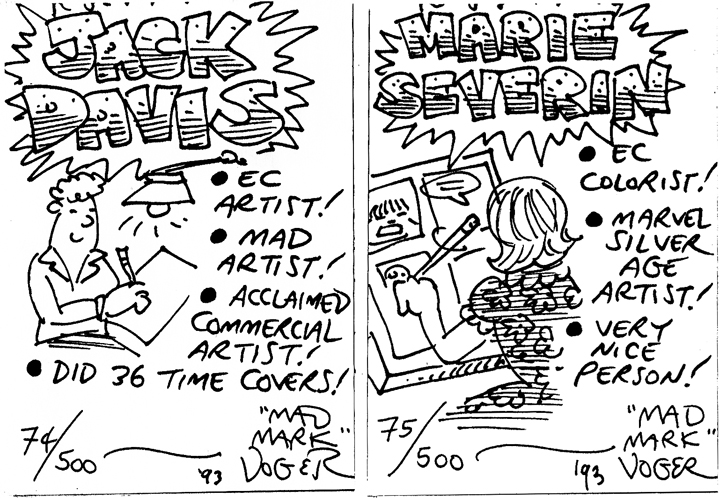 I also scribbled out stream-of-consciousness pop-culture shout-outs: "My Favorite Martian"; Cesar Romero's Joker; the Zanti misfits; the 1964-65 World's Fair; Quisp and Quake.
Many of the cards featured Spikey, the mascot for Defective Comics Trading Cards inspired by the subterranean monster from Jack Kirby's iconic cover for Fantastic Four #1 (1961). When I first drew Spikey, he was what I'd call a comical imitation of Kirby. But the more Spikey popped up in these Sketch Cards, the cuter and cartoonier he became — not to mention more distinctive and wacky.
Some day, I'll scan and publish all 500, but that's a huge project for another day. In the meantime, I hope you get a kick out of the ones I've randomly shared here.
---
More of The 500