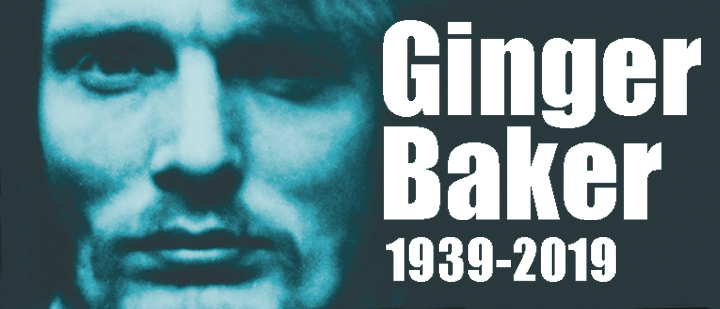 Encounter with a touchy rock god
By Mark Voger, author
"Groovy: When Flower Power Bloomed in Pop Culture"
---
Cream was one of those bands — you could never "replace" a member. The lineup was, and remains, Eric Clapton (guitar, vocals), Jack Bruce (bass, vocals), and Ginger Baker (drums).
So when Cream reunited in 2005 for seven shows — four at Royal Albert Hall in London, three at Madison Square Garden in New York City — it was, and had to be, those three guys. (My brother caught two New York shows.)
At the time, Clapton said he'd wanted to do the reunion because, after all, they were all getting on in years. Now Clapton is the only one left. Bruce died in 2014, and Baker died on Oct. 6.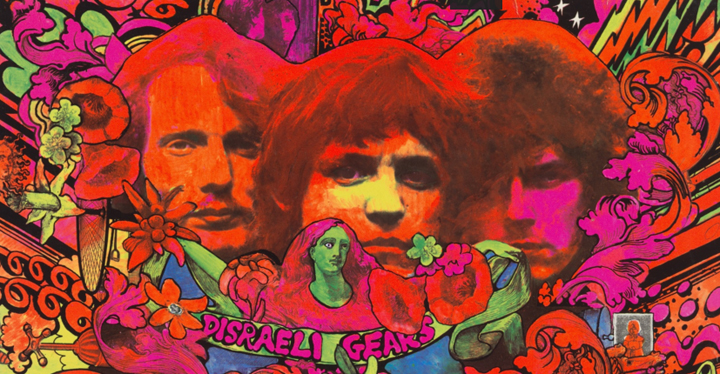 Ginger Baker was in two of the most important bands in what is now called "classic rock" — Cream and Blind Faith. As such, he played on some of the best-remembered songs of the era, among them "Sunshine of Your Love," "White Room," "Strange Brew," "I'm So Glad," "Badge," "Can't Find My Way Home," and "Sea of Joy." (A digression: I've always had a thing for the Baker-Gurvitz Army track "Hearts On Fire," which no one remembers.)
Baker's drumming style was always so rhythmic, so unexpected, so informed by jazz. On "Sunshine of Your Love," he's keeping almost a voodoo beat. On "White Room," his classically-tinged timpani work is singular among the classic rock canon.
Baker was also a real character in the world of '60s British rock. You get the impression that he was something of a maniac. His flashing eyes could be unnerving. Jack Bruce told me Baker once pulled a knife on him. I even have my own (albeit, relatively mild) Ginger Baker story.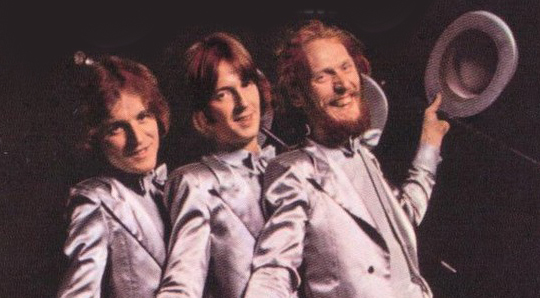 In December 1989, Baker gave a drum seminar at a music store in Wall, a town in Monmouth County, New Jersey. (If memory serves, it was a promotion for a drum manufacturer.) My late wife, the photographer Kathy Voglesong, and I were always on assignment, in a sense. If we got wind of something in the retro pop-culture realm, we just grabbed our equipment and flocked to it.
Prior to the evening of Baker's seminar, we made some tenuous arrangement with the music store, and arrived an hour before Baker went on. Access to Baker was not promised, but there he was, so we made our pitch. He graciously granted us an audience — a brief interview for me, a brief photo session for Kathy. At the time, Baker looked much older than his 50 years.
So here's how I found myself on the receiving end of Ginger Baker's legendary ire — if, as I said, only a mild dose of it.
During our interview, I asked Baker how he met Jack Bruce, not thinking I was poking a hornet's next. He flashed his ice-blue eyes at me and said, with undisguised annoyance, "Aw, shoot, d'ya want the whole story? It didn't go bang-bang-bang, just like that!"
It was excruciating having those intense, a-little-bit-crazy eyes trained on me, even for a moment. But then Baker told me the whole story, bless him.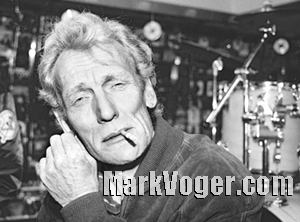 When we were finished speaking, Kathy began to work with Ginger. She was a pretty gal who had a way of charming her photographic subjects, putting them at ease. At the time, she had a bandage over one eye due to a home-improvement mishap. Ginger looked at Kathy and brightened up and said, very sweetly, "Have you been fighting?"
So I saw both sides of Ginger Baker.
The most dramatic photo from Kathy's session with Baker was the very last one she shot. Kathy took it almost as an afterthought, just to finish off the roll. (Before digital photography, these things called "rolls" of film were required to take photographs.) In the photo, Baker's eyes are at half-mast, and between his lips is nestled an inch-and-a-quarter of cigarette, from which dangles three-quarter-inch of ash — an unblinking portrait in black-and-white.
(We even named the photo: "Good to the Last Drag." The photo was an entrant in the 1990 New Jersey Press Association competition. It was one of Kathy's favorites of the thousands she took.)
Anyway, keep givin' 'em hell, wherever you are, Ginger.
---
GINGER BAKER ON VIDEO
BELOW: Here's "Heart On Fire" by the Baker-Gurvitz Army. I guarantee you this song was never mentioned in any other Ginger Baker remembrance. It rocks my world. Yeah, it's poorly recorded. Yeah, it's not Baker's best work. But there's something so raw about it. Dig that vocal. Dig that guitar solo. Dig how the drums lock with the bass on that "thump." I am alone in this world.