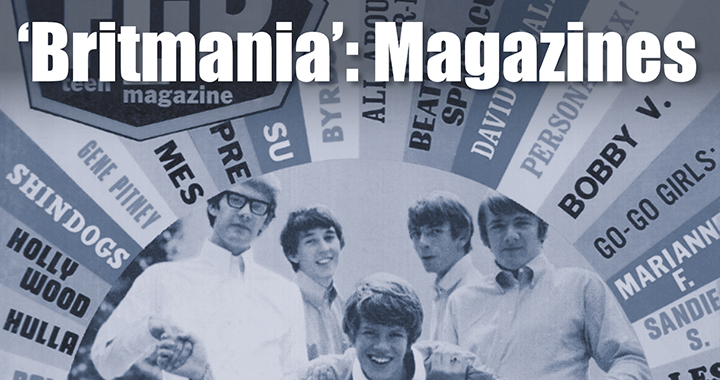 Following are excerpts from "Britmania: The British Invasion of the Sixties in Pop Culture" by Mark Voger ($43.95, TwoMorrows Publishing, ships Oct. 5).
---
Darlings & demons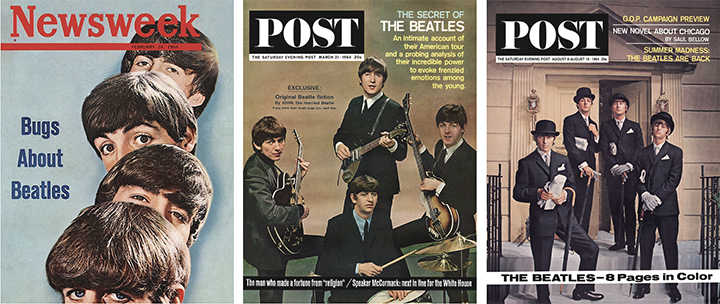 "Visually, they are a nightmare; tight, dandified, Edwardian-Beatnik suits and great pudding bowls of hair. Musically, they are a near-disaster: guitars and drums slamming out a merciless beat that does away with secondary rhythms, harmony, and melody. Their lyrics … are a catastrophe, a preposterous farrago of Valentine-card romantic sentiments."
There are few better examples of how the establishment media initially disrespected and derided the Beatles than that introduction to the cover story in the Feb. 24, 1964, edition of Newsweek.
There's lots more. From the cover of the March 21, 1964, Saturday Evening Post: "Exclusive: Original Beatle fiction by John, the married Beatle. If you think their music bugs you, read this." (Can you think of another instance in which cover type actually warns potential purchasers that something inside is not worth reading?)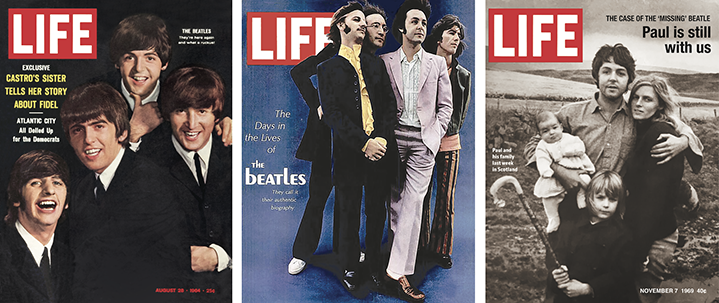 OK, so the old guard was hostile toward the Beatles. This was obvious. But media gatekeepers found that putting John, Paul, George and Ringo on their covers guaranteed a boost in circulation. And circulation is the golden calf to magazine publishers.
This unprecedented situation put mainstream American magazines in an inconvenient position. They wanted to maintain their position of moral superiority. But more so, they wanted to sell magazines. Thus the Beatles became both the darlings and the demons of the print-media machine.
The Saturday Evening Post double-dipped with two covers five months apart. (The Post's second Beatles cover had a come-on worthy of 16 Magazine: "THE BEATLES — 8 Pages in Color.") When the Beatles made their pilgrimage to India in search of enlightenment in 1967, Life made it a cover story. Beatle business was so good, lesser publishers began to crank out one-shots with suggestive come-ons ("A date with George, John, Paul & Ringo," "A message to you from the Beatles themselves," "The girls they want," "The love code they follow," "What it's like to be married to Ringo," "The Beatles answer your most intimate questions"). These were often transparent cash-grabs filled with photos and foldouts.
---
Controversial comment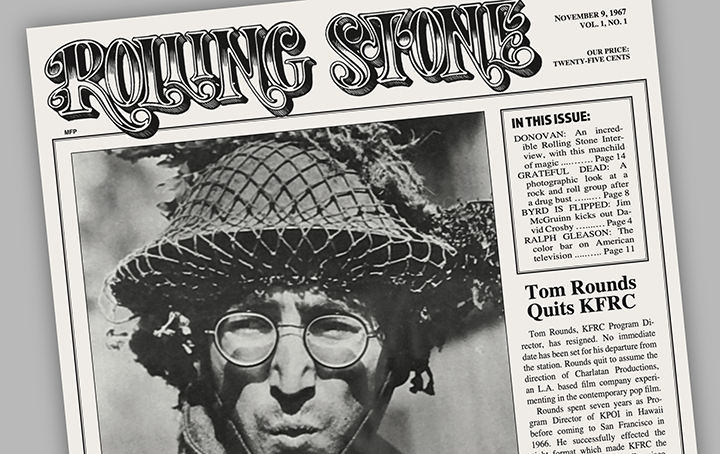 John Lennon's controversial comment that the Beatles were "more popular than Jesus" first came to the attention of Americans in the Sept. 1966 issue of Datebook. (Lennon originally made the comment to Maureen Cleave of the London Evening Standard.) The outrage was instantaneous. Beatles records were burned in bonfires, radio stations boycotted Beatles songs.
"If I'd have said television is more popular than Jesus, I might have got away with it," Lennon said at a press conference, to reporters' laughter. "I'm not sayin' we're better or greater, or comparin' us with Jesus Christ as a person, or God as a thing, or whatever it is." (In the same Datebook edition, Paul McCartney likewise courted controversy by taking Americans to task over ongoing Civil Rights abuses: "It's a lousy country where anyone Black is a dirty n*****.")
When Rolling Stone debuted in 1967, its first cover boy was Lennon as Private Gripweed from "A Hard Day's Night" director Richard Lester's comedy "How I Won the War." The price was 25 cents.
---
Rock and droll
Humor magazines like Mad, Sick, Cracked and Help! had a field day lampooning the group. (The Beatles were good sports, and answered with a cameo of the paperback "Son of Mad" in their debut movie "A Hard Day's Night.") But Mad opted not to parody "A Hard Day's Night" upon its release in 1964. Then again, who ever thought a Beatles movie would be a hit?
The oversight was corrected in Mad #93 (1965). The five-pager "The Flying Ace" — written by Dick DeBartolo and illustrated by Mort Drucker — was a parody of World War II epics "starring" John, Paul, George and Ringo, "co-starring" Natalie Wood, with "cameos" by Ed Sullivan, Barry Goldwater and Jimmy Stewart.
To teen magazines like 16, Flip, Teen Screen, Teen Talk and Teen World, the Beatles were their meat. Unlike the more respectable publications, 16 and company actually put other British Invasion faces on their covers such as Mick Jagger, Peter Noone, Chad and Jeremy, Peter and Gordon — as long as they were cute, natch.
---
SEE: 47-page "Britmania" preview HERE
READ: "Britmania" excerpts HERE
WATCH: "Britmania" trailer HERE
PRE-ORDER: TwoMorrows | Barnes & Noble | Amazon
Target | Walmart | Previews | WHSmith & others