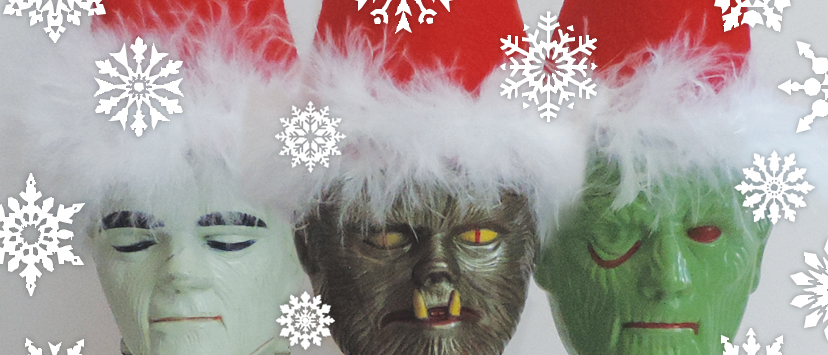 Holiday headwear for horrific hobgoblins
Text and photos by Mark Voger, author, "Monster Mash: The Creepy, Kooky Monster Craze in America 1957-1972"
How often has this happened to you? You want to include your monster Soakys in your fireplace-mantel holiday display, alongside your Nativity scene and your Santa Pez. But somehow, the monsters just don't seem festive enough. What to do? With this fun and easy craft project, you will learn how to create custom Santa hats for your monster Soakys.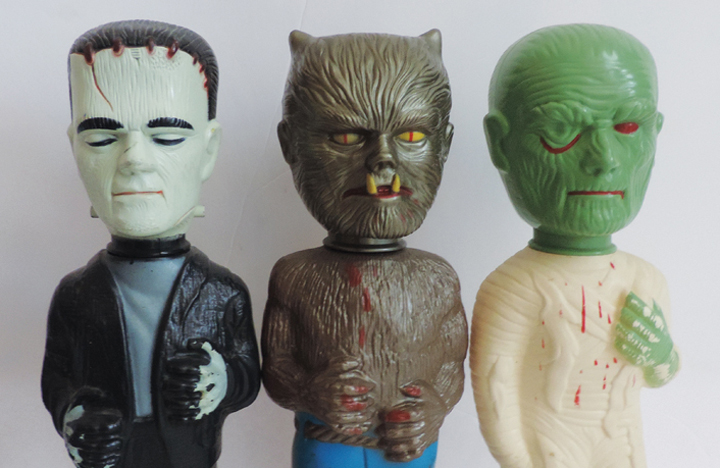 But first, you may ask: What are Soakys? These are bubble-bath toys manufactured in the 1960s by Colgate, based on popular characters of the day (such as Bullwinkle, Alvin, Pinocchio, Batman, even the Beatles). In 1963, Colgate released four monster-themed Soakys: Frankenstein, the Wolf Man, the Mummy and the Creature. (Note: A Creature Soaky was not available when this craft project was photographed, though a fourth hat was made for the missing monster.)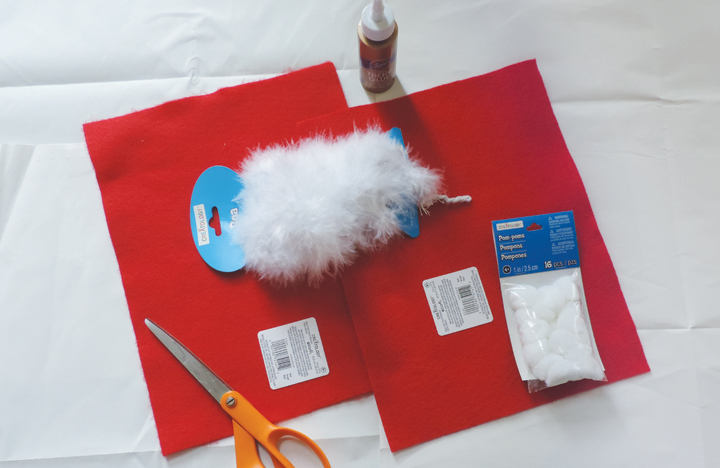 For this project, you will need two 9" X 12" sheets of red felt; four small white pom-poms; a miniature white feather boa (at least 40-inches long); scissors; and glue. (Note: We started out using Aleene's Tacky Glue, which we found did not work well with the felt. We decided to switch to Testors Cement For Plastic, fumes be damned.) Time needed: 60 minutes.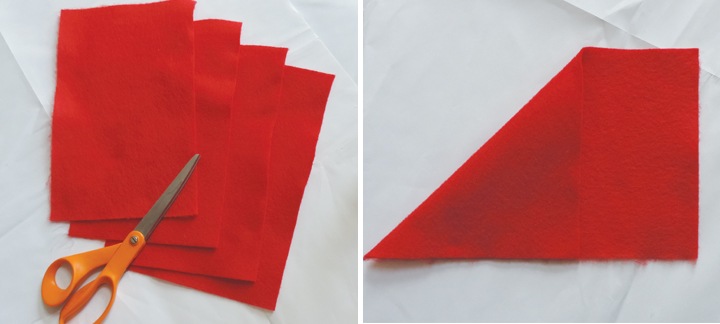 Cut felt sheets in half crosswise, yielding four 9" X 6" rectangles (as shown in photo left). Fold over each sheet to form a triangle (as shown in photo right).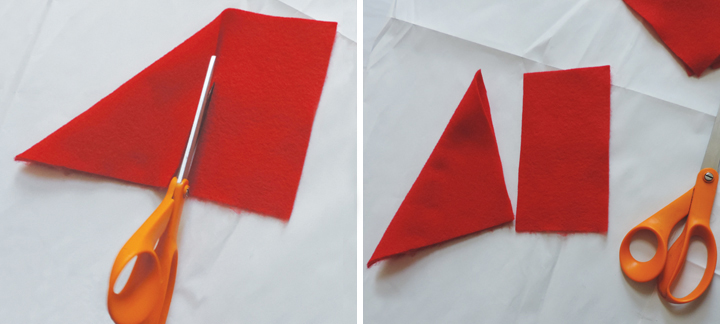 Trim unfolded material (as shown in photo left). The resulting squares will be 6" X 6".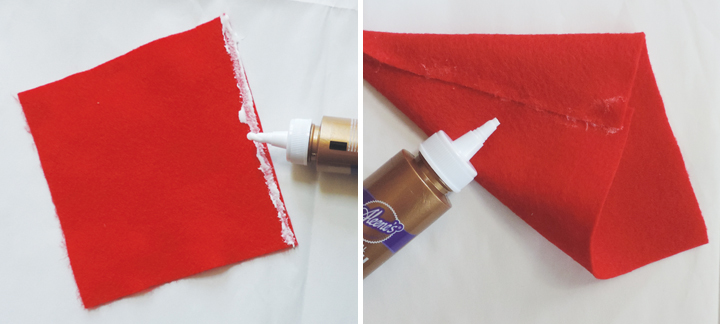 Apply glue to one edge of square (as shown in photo left). Fold over another edge to form a cone (as shown in photo right). Hold tightly until dry.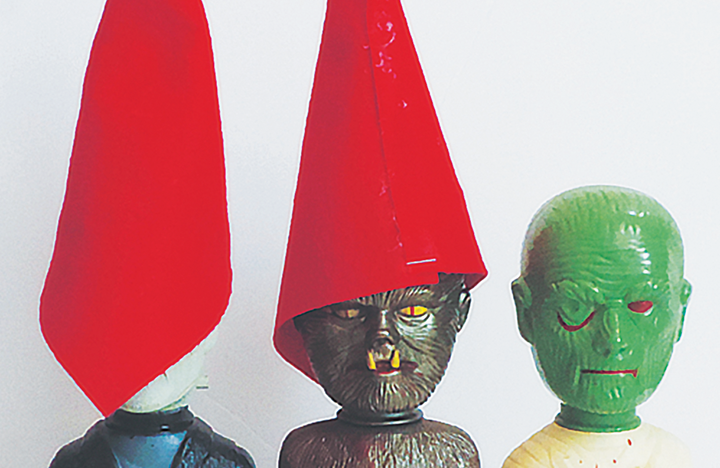 Note: There will be excess felt on one side of the "cone." (Frankenstein, left, is shown wearing the excess in front.) For extra hold, add two staples — one at the base of the seam, one halfway up. (Wolf Man, center, is shown with a base staple.)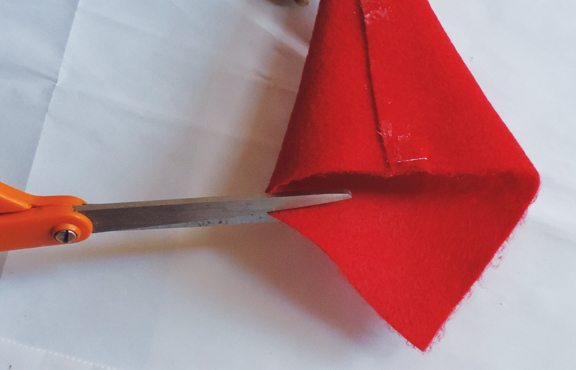 Trim the excess felt to make an even cone (as shown).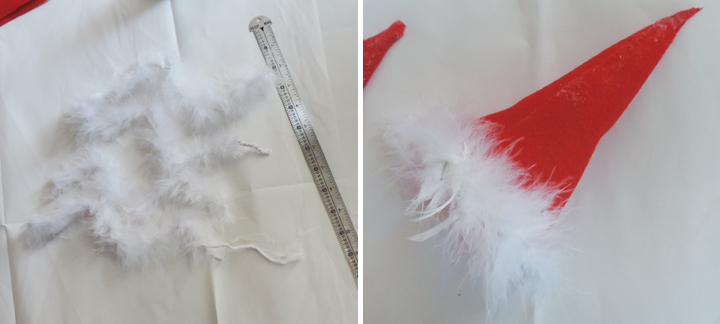 Cut the boa into 10-inch strips (as shown in photo left). Glue the strips around the base of the cones (as shown in photo right).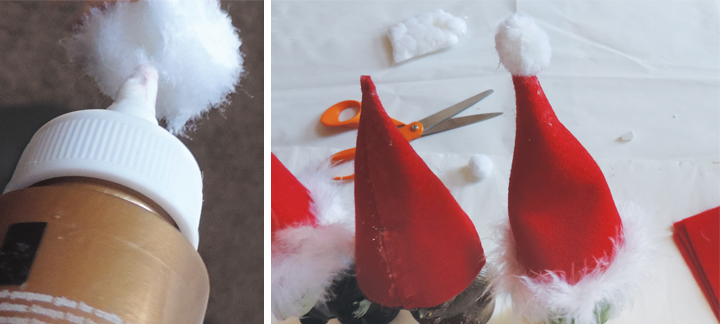 Snip a small opening into each pom-pom; insert glue (as shown in photo left). Place glued end of each pom-pom onto the tip of a cone; let dry.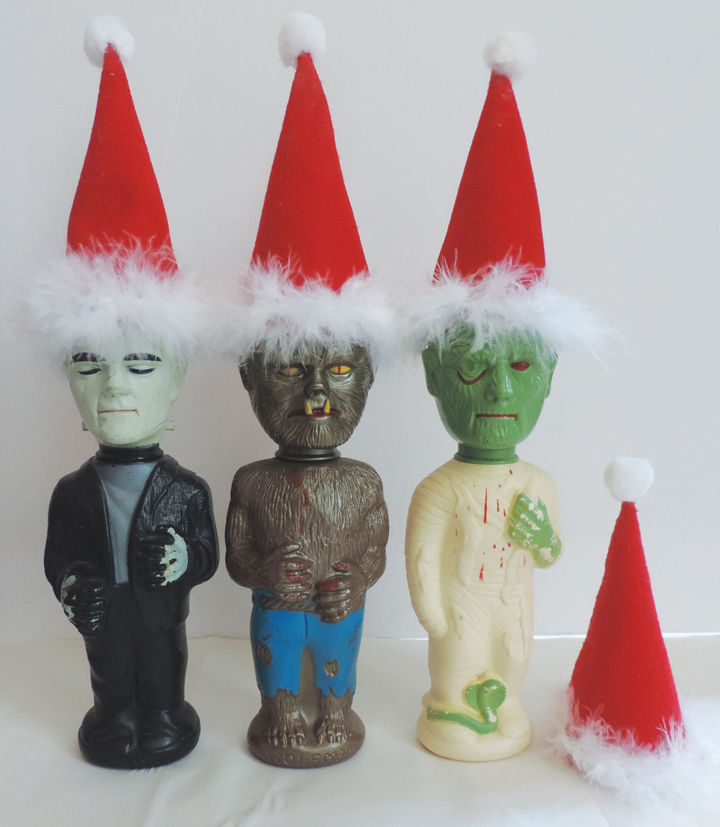 Your monster Soakys are now ready to don their holiday headwear. Even if you only own one monster Soaky, make four hats. You never know what will be under the tree on Christmas morning!
---
VIDEOS
Since we're in a monster-iffic holiday mood, click on the video above. It's the complete 1959 film "Santa Claus," a Christmas movie made by Mexican monster-movie specialists. It's bat-s*** crazy!
Next, have a listen to "Monster Holiday," the 1965 single put out by the only guy to play all the monsters shown in this activity: Frankenstein, the Wolf Man, and the Mummy. That would be Lon Chaney Jr., who sounds like he was hittin' the egg nog, bless his heart.
View 34-page "Monster Mash" preview
Order "Monster Mash"