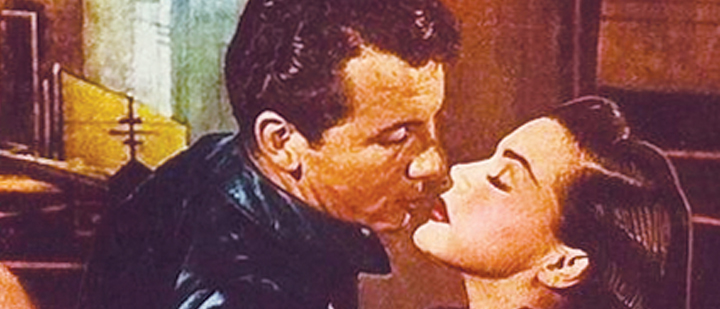 High heels and microskirts
---
'Flight to Mars' (1951)
The Film Detective
$24.95 (Blu-ray), $19.95 (DVD)
72 minutes plus special features
Not rated
---
By Mark Voger, author
"Holly Jolly: Celebrating Christmas Past in Pop Culture"
There was this weird sub-genre that began in the 1950s. To my recollection, it hasn't been properly named, so I'll take a stab: Let's call them "Planet of the Sexy Ladies" movies, until something better comes along. These are sci-fi movies — there was no dearth of them in the '50s — with guy astronauts who land on planets inhabited by … sexy ladies.
Five that immediately spring to mind are "Cat Women of the Moon" (1953), "Abbott and Costello Go to Mars" (1953), "Fire Maidens of Outer Space" (1956), "Queen of Outer Space" (1958) and "Missile to the Moon" (1958).
To this august roster, we can add one that preceded them all (and is just out on home video from the Film Detective): "Flight to Mars."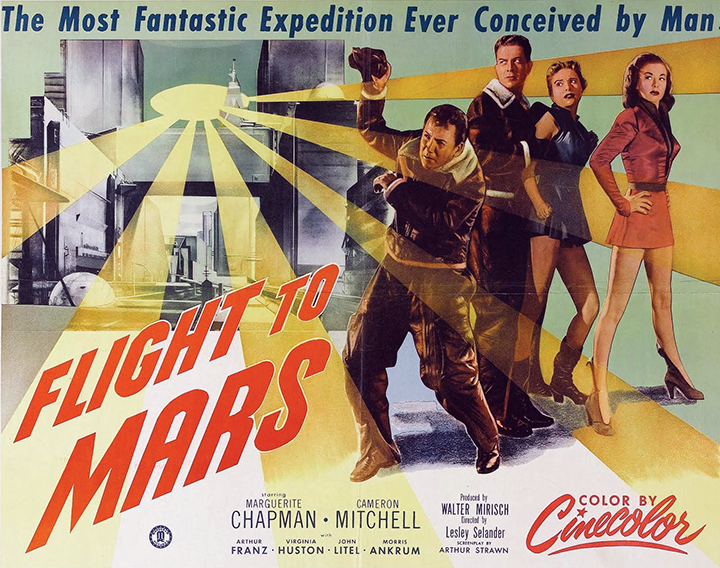 True, in Lesley Selander's film, the American astronauts who land on Mars encounter both genders, but — wowzy, wow, wow — the outfits on these Martian gals! High heels, microskirts and figure-hugging satin? Objectification was not only alive and well in 1950s America, but on 1950s Mars. (I'm being ironic.)
Interplanetary intimacy alert: One of the astronauts (Arthur Franz) falls in love with one of the Martian gals (Marguerite Chapman), and decides to bring her back to Earth to marry her. Reminds me of all those alien ladies Captain Kirk used to dally with. Wasn't he worried about outer-space STDs? (Well, I guess Dr. McCoy had his back.)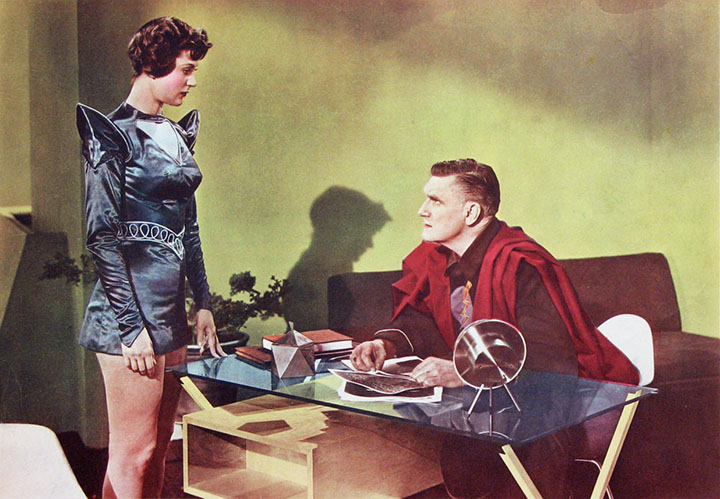 "Flight to Mars" is more or less straightforward science fiction — until it isn't. The film introduces a cast of characters who board a rocketship to embark on the first-ever flight to Mars. Among them are straight-arrow pipe-smoker Dr. Jim Barker (Franz); his efficient, long-suffering girlfriend Carol Stafford (Virginia Huston, who played Jane in "Tarzan's Peril" that same year); wise-cracking newspaper reporter (remember those?) Steve Abbott (Cameron Mitchell); and wizened sage (every '50s sci-fi movies needs one) Dr. Lane (John Litel).
There's drama, of course, or there wouldn't be a movie. Needy Carol is ignored by distracted Jim. Steve swoops in for a kiss (because, as everyone knows, newspaper reporters in the movies are, universally, cads). Meanwhile, everyone on board the rocketship trades life stories and philosophical mumbo-jumbo.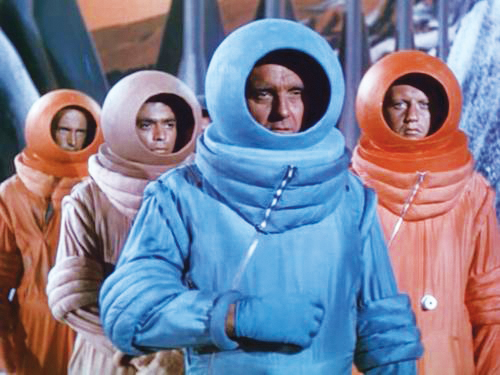 When the group finally lands on Mars, they are greeted by a party of Martian men wearing spacesuits in a variety of colors. (You've gotta exploit that Cinecolor.) When we spot Morris Ankrum among the Martians, we know this won't go well. The Martians pretend to befriend the Earthlings, and help them to repair the rocketship. But — are you sitting? — they aren't as friendly as they seem.
You've gotta hand it to the actresses who navigate "Flight's" precarious sets, with their many precarious ramps. In particular, Chapman — a telephone operator turned model turned actress — walks effortlessly on her long legs while wearing impossible heels.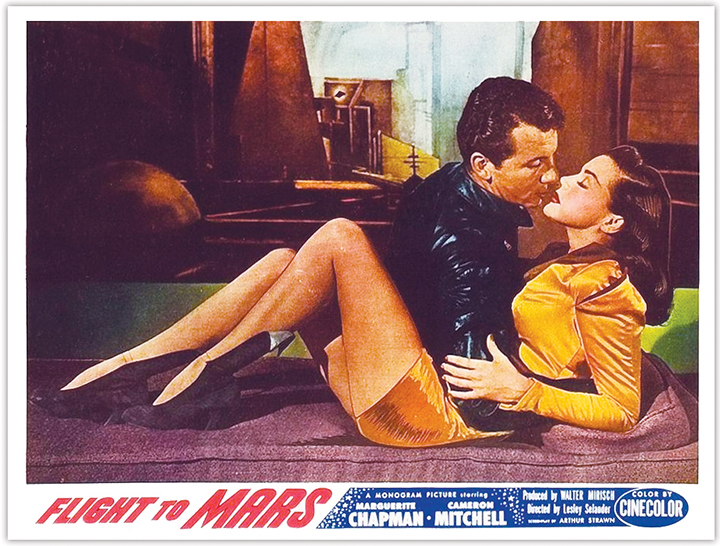 The Film Detective's 4K restoration of "Flight to Mars" was made from the original 35mm negative. You've never seen Cinecolor look this Technicolor-like.
"Flight" has an interesting backstory, which Ballyhoo Motion Pictures addresses thoroughly in the special features. How did Monogram Pictures — a "poverty row" studio that cranked out horror and comedy cheapies with Bela Lugosi and the Bowery Boys — come to produce such a visually impressive film? "Flight" has excellent production values that are sometimes Art Deco-ish, in a good way. Though you can see where "Flight" cuts corners, you have to applaud the film's industry; it sometimes conjures memories of — dare I say it? — "Things to Come."
The extra features are "Walter Mirisch: From Bomba to Body Snatchers," a profile of the producer who helped steer Monogram into more prestigious films (not to mention a rebranding as Allied Artists), and "Interstellar Travelogues: Cinema's First Space Race," an edifying look at how the movies envisioned space travel.
---
TRAILER
---
POSTER