From "Monster Mash: The Creepy, Kooky Monster Craze in America 1957-1972" (TwoMorrows Publishing) by Mark Voger

From "The Munsters" overview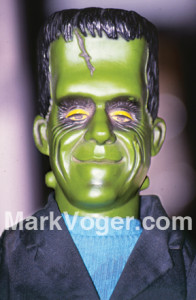 Created by the proven sitcom team of Joe Connelly and Bob Mosher — the guys who brought you "Leave It to Beaver" — "The Munsters" was less cerebral, more monsterific, than "The Addams Family." And since this was a Universal show, "The Munsters" had the license to borrow liberally from the Universal pantheon of monsters.
Fred Gwynne — last seen as Officer Francis Muldoon on "Car 54, Where Are You?" — played simple-minded undertaker Herman Munster, a comical Frankenstein with the flattop and neck-bolts to prove it. Yvonne De Carlo, a '50s "tit and sand" movie star (as Butch Patrick put it), played Herman's wife Lily, the daughter of Dracula.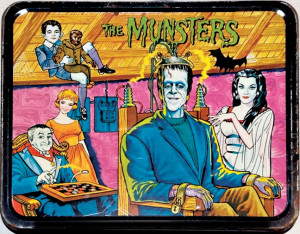 Al Lewis — last seen as Officer Leo Schnauzer on "Car 54" — played Grandpa Munster, a.k.a. Count Dracula, swapping Bela Lugosi's Hungarian ghoul-ash for Noo Yawk Yiddish.
Add to that Beverly Owen (half of Season 1) and Pat Priest (the remainder of the series) as the Munsters' "human-looking" blonde niece Marilyn, and pint-sized Patrick as their pointy-eared son Eddie.
Universal's two-time 1940s Dracula, John Carradine, appeared in two episodes as Herman's boss at the funeral home. Surf- and garage-rock guitarists have taken Jack Marshall's instrumental theme song to heart.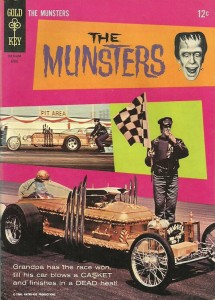 Al Lewis on being made up as Grandpa Munster: "(It took) approximately two hours. Got in at 6 in the morning, and had to be ready by 8. Perc Westmore made me up. Perc Westmore was the head of makeup at Warner Brothers for, I believe, 26 years. And then he was out of the business for a while, semi-retired. And I brought him back in. He was my makeup man. … I never wore green. A lot of people say that, but I never have worn green. It's hard to describe the color. It's a mixture. My color could best be described as battleship gray, kind of fading. It was no specific color. You see, in 'The Munsters,' we were made up for color but it was never filmed in color."

Butch Patrick on a hazard of playing Eddie Munster: "The only time I ever got hurt on that show was when Fred and Al built a big pit out in front of the garage, so nobody could sneak up and see their secret project. I went down into the hole, and Al came up with his size-12 feet, and kicked up a whole pile of dirt right into my eyeballs while my eyes were still open. They just washed my eyes out and let me off the hook for homework that night."

Pat Priest on whether the "Munsters" cast was jealous of her for not having to wear monster makeup: "I don't know if they were jealous, but I'll tell you one thing: I sure was happy. Because I only had to be in makeup for a half-hour. It took Uncle Herman two hours in makeup. And then at the end of the day, it took him an hour to get out of makeup. I could at least get in my car, get on the freeway and go home."

View "Monster Mash" 34-page preview