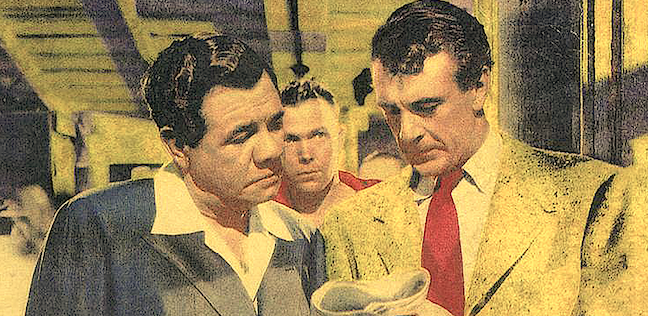 In The Summer of '20, there will be baseball. Albeit, it's a shortened season — July 23 to Sept. 27 — thanks to You Know What. To celebrate, or commiserate, here are six movies about America's pastime. (Be forewarned that they're not all home runs.)
---
'42' (2013)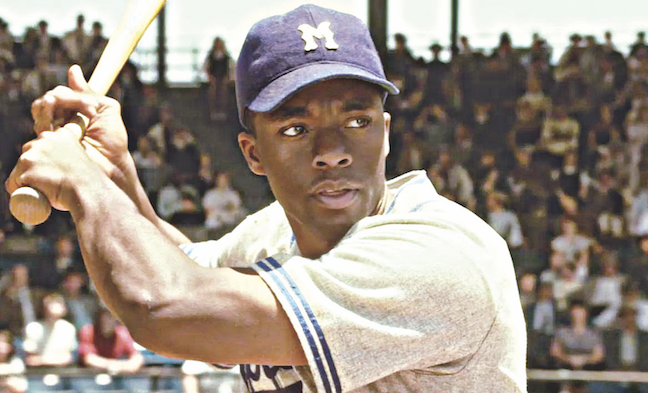 The well-intentioned but plodding "42" is like any number of dramatic bios set in the not-too-distant past. The vintage cars are polished; the actors look like they're playing dress-up; the inspirational music swells on cue.
What's different is that this is a bio of Jackie Robinson, the first Black man to play Major League Baseball. Much dialogue sounds like it was written in the 2010s, not spoken in the 1940s, but "42" can be heart-rending. As the story of Robinson — who faced many unimaginable trials — unfolds, tears will be coaxed.
Chadwick Boseman gives a praiseworthy performance as Robinson, but physically, he is miscast. Boseman still has the gangliness of a kid, whereas Robinson had the look of a mature man, even as a rookie. (Boseman later starred in "Black Panther.")
Harrison Ford plays the Dodgers honcho who made the bold decision to sign Robinson. But in his false nose, chin and wig, Ford resembles a "Dick Tracy" villain.
---
'Moneyball' (2011)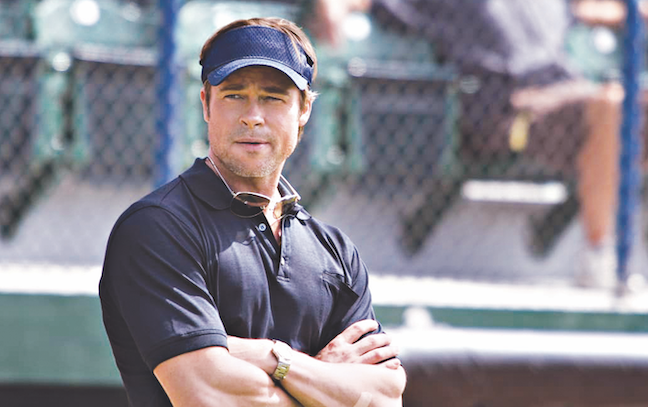 A movie about the wealth gap among baseball teams? And how one woefully underfunded team used stats and science to number-crunch its way to a 20-game winning streak? That could be dry. But right off the bat (pun intended), Bennett Miller's based-on-truth "Moneyball" makes clear its agenda.
In depicting a 2001 elimination game between our heroes, the Oakland Athletics, and the New York Yankees, the fiscal disparity is spelled out in white type on a black screen: $114,457,768 (the Yanks) vs. $39,722,689 (the A's). Just so there's no doubt where this movie is going.
Brad Pitt stars as real-life Oakland general manager Billy Beane, who has anger issues; he hates, hates, hates to lose. In broad daylight, Beane poaches player analyst Peter Brand (Jonah Hill in a standout role) from the Cleveland Indians.
The film sidesteps sports-movie cliches. We can be grateful "Moneyball" doesn't end with the slow-motion win.
---
'The Natural' (1984)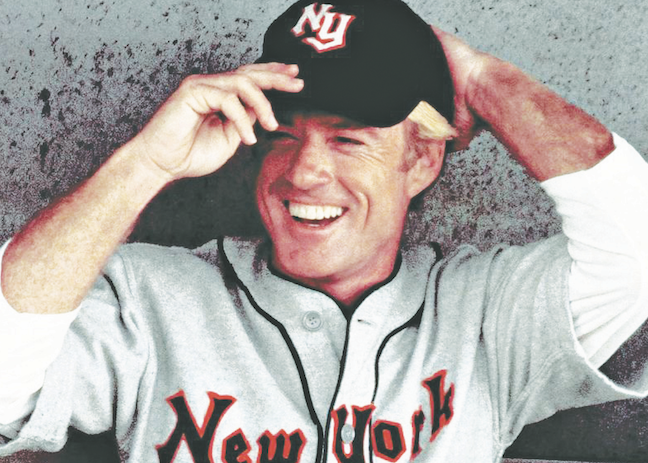 Barry Levinson's baseball-themed fantasy, "The Natural"— too dreamlike to be called a straightforward drama — is about the consequences of myth-making, about how baseball players can be idealized, idolized, coerced and corrupted.
Robert Redford clung to the leading-man looks that made him a movie star in the late 1960s, which Levinson exploits at every opportunity. Redford stars as Roy Hobbs, who learns early that dangers come with being a great athlete; his attempt- ed murder by a disturbed woman (Barbara Hershey) stalls his career. When Roy finally joins the New York Knights, he's an aging rookie out to prove he still has the heart of a ballplayer.
Our protagonist encounters characters who are shady (menacing bookmaker Darren McGavin, on-the-payroll femme fatale Kim Basinger) as well as principled (hometown sweetheart Glenn Close, folksy Knights manager Wilfred Brimley), all the while staying true to his dream.
---
'The Winning Team' (1952)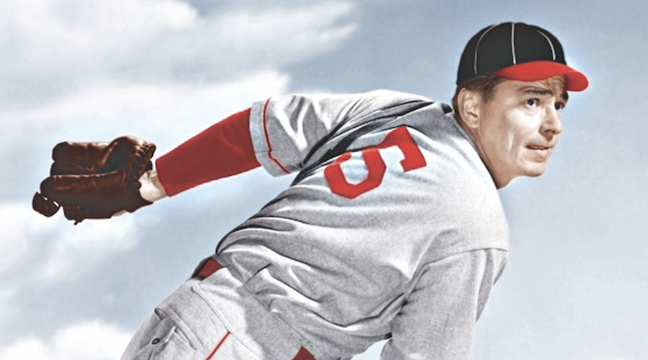 Ronald Reagan and Doris Day — it's a pairing that doesn't exactly promise dramatic fireworks. Still, Lewis Seiler's "The Winning Team" is a watchable baseball drama based on a true story, with echoes of another baseball-themed biopic made 10 years earlier, "Pride of the Yankees."
Day is top-billed as Aimee Alexander, devoted wife of Grover Cleveland Alexander (Reagan), a pitcher whose livelihood is affected by two injuries. As a young man, Alexander was beaned in the head during a game, triggering a lengthy bout of double-vision. As a World War I gunnery sergeant, his eardrums were rattled by constant bombardment.
Later in life, when these injuries catch up with Alexander and begin to affect his pitching, he takes to the bottle, drifting away from baseball … and his wife. Hokiness alert: This is the kind of movie in which the pitcher miraculously throws better whenever his sweetheart is present in the stadium.
---
'Pride of the Yankees' (1942)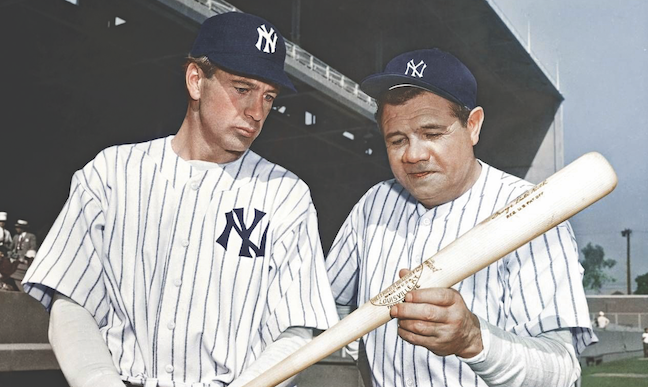 You don't have to be a baseball nerd to know Lou Gehrig. The Hall-of-Famer is the informal namesake of ALS, the disease that felled him in 1941 at 37. Hollywood wisely chose Gary Cooper, an actor adept at projecting quiet heroism, to portray this beloved athlete who faced the end with grace.
The story follows Gehrig's obsession with baseball as a youth (played by Douglas Croft) … his strong-willed immigrant mama (Elsa Janssen) pushing him to become an engineer … a sportswriter (Walter Brennan) spotting his talents at the plate … and Gehrig's bumpy "meet cute" with a glamorous socialite (Teresa Wright) who he later marries.
Several athletes play themselves, such as Babe Ruth (displaying a knack for humor), Bill Dickey and Mark Koenig.
Touching scene: Gehrig, his days numbered, comes face- to-face with a teen (David Holt) who was inspired by the athlete to defy doctors' gloomy predictions and walk again.
---
 'Elmer, the Great' (1933)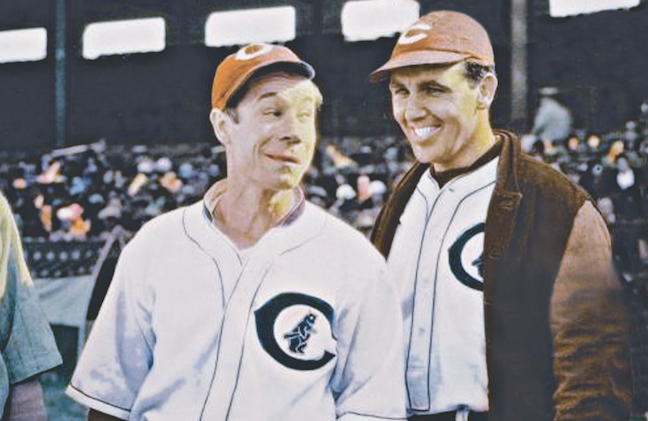 Rubber-faced Joe E. Brown had something in common with a predecessor in screen comedy. Like Buster Keaton, Brown was an athlete as much as a clown. Many of Brown's films centered on sports, including his quintessential vehicle — if you ask me — "Elmer, the Great" (1933).
"Elmer" has everything you could want in a Joe E. Brown movie. He plays a country bumpkin — a specialty of Brown's — who fancies himself the best hitter in the game of baseball. The Chicago Cubs must agree; they sign Elmer, and then do everything in their power to keep him happy.
Touching scene: In a hotel room, Elmer's teammates fool him into thinking he is talking on the radio. (The "microphone" is actually a lamp.) When trusting Elmer makes a heartfelt speech to his dear old Maw back home, the guys lose their smirks and look at the floor in regret.
---
 VIDEO