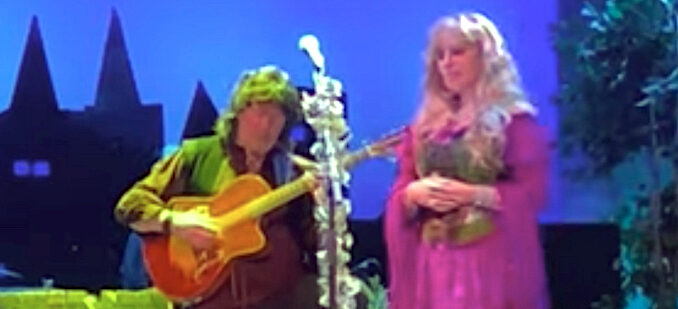 A video watched 'round the world
When you post something, you hope somebody will see it. One time, a video of our band doin' a Foghat song at a place called Moby Dick's Seafood Saloon — classy, right? — garnered 2.3K views. We were thrilled.
Well, my sister-in-law Smara Voglesong has us beat with a video she posted in late 2022 which has since racked up an amazing 89,000 views, with comments in at least four languages: Russian, Spanish, Japanese and English.
Above is Smara's video of Blackmore's Night performing the 1974 classic "Soldier of Fortune" (on Nov. 11, 2022, at the Borgata Event Center in Atlantic City). It apparently struck a chord around the world. For laughs, I ran some of the 92 (so far) comments through a translator. Below are the results.
---
Translated comments
■ Они великолепны,дай бог им здоровья
Translation: "They are amazing, God bless them."
■ Дай Бог здоровья Ричи!
Translation: "God bless Ritchie!"
■ Обожаю эту песню!Стилизация отличная!Спасибо за это!
Translation: "Love this song! The styling is great! Thanks for this!"
■ Круто
Translation: "Cool"
■ Ritchie el más grande de todos ,pero quiero verlo tocar HARD ROCK.
Translation: "Ritchie the greatest of all, but I want to see him play HARD ROCK."
■ Essa música é muito linda a banda é maravilhosa.
Translation: "This song is very beautiful and the band is wonderful."
■ どんな 誰が 歌っても カヴアーディルの寂声 太い雰囲気声のは及ばないと思って居たけど ナイトはただ者ではない❗前に聞いた時とは違う歌いまわし 認めた❗
Translation: "No matter who sings, the silent voice of Kavuadir. I thought my voice wouldn't reach the deep atmosphere. Knight is not just a person! When I heard it before … singing a different song accepted!"
(OK, that last one must'a lost something in translation. Google has never heard of "Kavuadir," which to my ears sounds like a "Game of Thrones" villain.)
---
Where are you, Sam the Sham?
There are several reasons why the video caught on. One is that fans of Blackmore's Night — a medieval-inspired band led by guitarist Ritchie Blackmore and his wife, singer Candice Night — are all over the globe. You can add to that the many diehard fans of Blackmore from his days playing with Deep Purple and Rainbow. But there's another, more likely explanation.
At the Blackmore's Night shows I've seen, Night is the undisputed emcee. (Sometimes Blackmore would say something off-mic to his wife, and it fell on her to share his words with the audience. It's a cute bit, actually.) But in November in Atlantic City, Blackmore was in a rare mood. He was loose and funny. Smara told me he had a running gag all night that his next song would be "Wooly Bully," the 1964 hit by Sam the Sham and the Pharaohs. Before long, audience members were shouting out requests for "Wooly Bully." Some of that is captured in the above video.
For longtime Blackmore fans, his demeanor on the video is a surprise, and a delightful one. Who knew? Shecky Blackmore over here!
"Honestly, I started YouTubing my videos 'cause it was free storage for my stuff," Smara wrote me via email. "I wanted to have them saved for when we're old and not going to concerts. It is cool that folks around the world are viewing and digging them. I do like sharing and believe in music."
Smara insisted she was just in the right place at the right time. But that's more than half the battle — getting to the right place at the right time. Lucky accidents happen, but as they say in film noir, you make your own luck. Smara goes to a lot of shows, and shares her love of music by posting videos with a "You Are There" vibe. I'll share a few more below, and will keep checking back on the Blackmore's Night video to see how many more thousands tune in to see Ritchie and Candice make like Martin and Lewis.
---
Heaven's Edge
Launched from the same South Jersey dive that gave us Cinderella and Britny Fox — though they call Philly their home town — Heaven's Edge had their 1990 breakout song "Skin to Skin" introduced by Steve Vai on MTV's "Headbanger's Ball," and a self-titled album (remember those?) on CBS Records. They're still at it, and still doing their Dead End Kids-inspired windmills. Check out Reggie Wu, a bona fide guitar hero.
---
Glenn Hughes
Blackmore's old bandmate, singer-bassist Glenn Hughes, played the Landis Theatre in Vineland, New Jersey. At 71, Hughes looks, sounds or moves like a man half his age. He does the sturm-und-drang rocker "Stormbringer"  (1974), the title track from the second of his three albums with Deep Purple.
---
Deep Purple
"Smoke on the Water" performed at the Count Basie Theatre (or whatever it's called now) in 2015.
---
Vanilla Fudge
Vanilla Fudge playing a tribute to Led Zeppelin in October in Millville, NJ.
---
Fat Mez
Smara's been singing the praises of these local boys based at the southern Jersey Shore. They're young'uns, but they play classic rock deep cuts with sincerity and skill. Here is Fat Mez doing Stephen Stills' "Love the One You're With" at Angelsea Pub in Wildwood, NJ.
---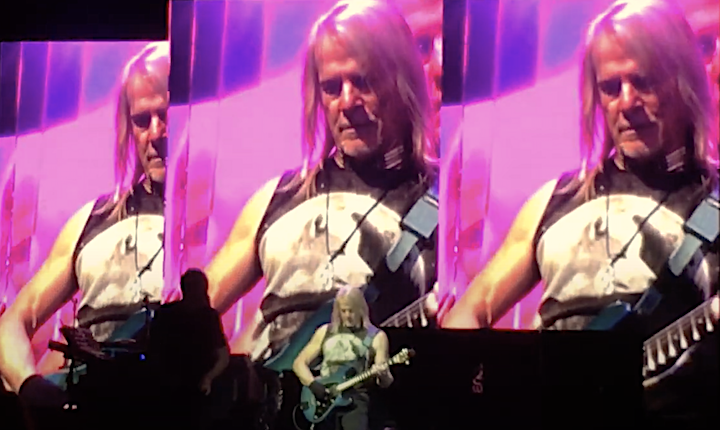 Parting shot: A screen grab from one of Smara's videos of Steve Morse, then the guitarist for Deep Purple.