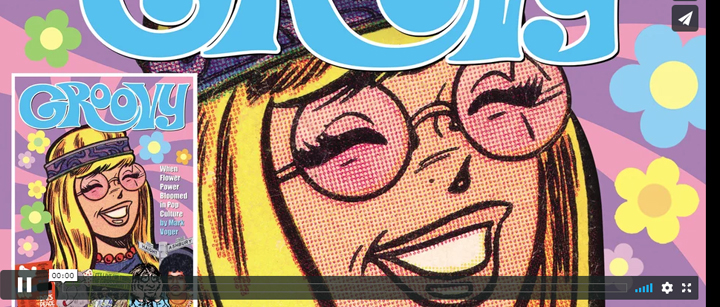 Spinning flowers, dancing Zealotes
Behold … the "Groovy" trailer!
My genius-filmmaker nephew, Ian Voglesong, outdid himself with this superbly edited two-minute, 10-second trailer that not only summarizes "Groovy," it darned near contains every image from it.
As in the case of Ian's "Monster Mash" trailer, I gave him a jingle, hundreds of images, about a dozen film clips, and then basically said: "Um, you do it."
The difference this time was that Ian wanted to start on an edit right away, even though the jingle wasn't ready. I had the jingle in my head (to be recorded later by my genius-producer brother, Brian Voger). Ian asked if there was a song with a comparable tempo that he could use in the meantime. That wound up being the 1968 psychedelic masterpiece "Pictures of Matchstick Men" by Status Quo.
Ian did a rough cut, and I was blown away by two things: His incorporation of an "Easy Rider" scene focusing on Peter Fonda's famous American-flag gas tank, and the way he sifted in a quick shot of "Simon Zealotes" from Norman Jewison's 1973 film "Jesus Christ Superstar." Also, Ian did this crazy "tiling" (my term) of images that would have taken me weeks to do for print, but he said went fairly quickly thanks to some zippety-doo-dah (my term) program.
Once the jingle was recorded, Ian re-edited his edit to fit the song (reducing the running time by almost half), adding some way-cool animation at the beginning that is perfectly married to the jingle intro.
One last cool thing: It was me 'n' Brinie who put the "Number nine, number nine" sound byte from the Beatles' "Revolution 9" into the jingle. (Of course, Brian, who counts George Martin and Alan Parsons among his idols, "separated" them in the left and right speakers.) But it was Ian, bless him, who tacked on the "brown acid" Woodstock moment as a coda to the jingle, the trailer, and indeed, "Groovy" itself. Sweet instinct, dude.
Anyway, please check it out at the bottom of this post. But first …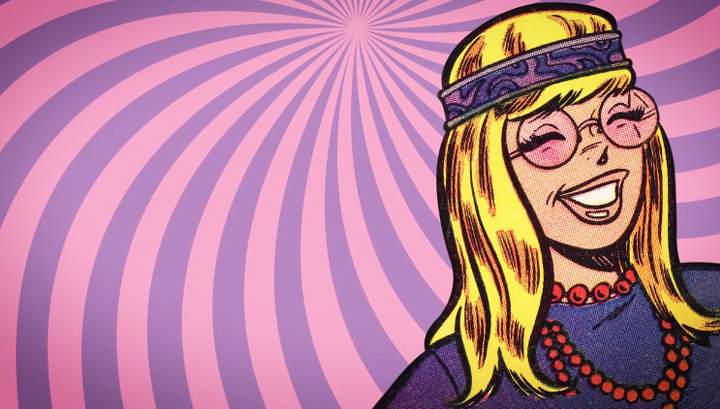 HIPPIE CHICK: Ian did great animation that complemented the introduction to the song while basically animating the "Groovy" cover. I named this chick Daisy, by the way. Drawn by the great Stan Golberg. I last spoke with Stan in Manhattan in November of 2008. He died in 2014. A Marvel and Archie legend.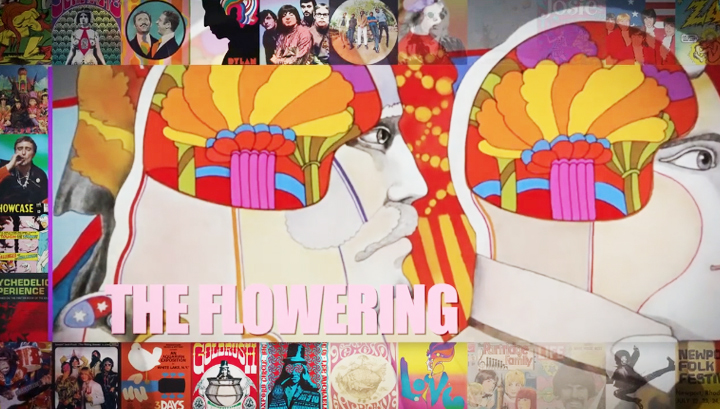 IN THE TOWN WHERE I WAS BORN: If you watch Ian's trailer and then page through "Groovy," you'll see that he worked to capture the book's themes. Here, he uses animation from "Yellow Submarine" to signal the section at the front of the book called "The Flowering."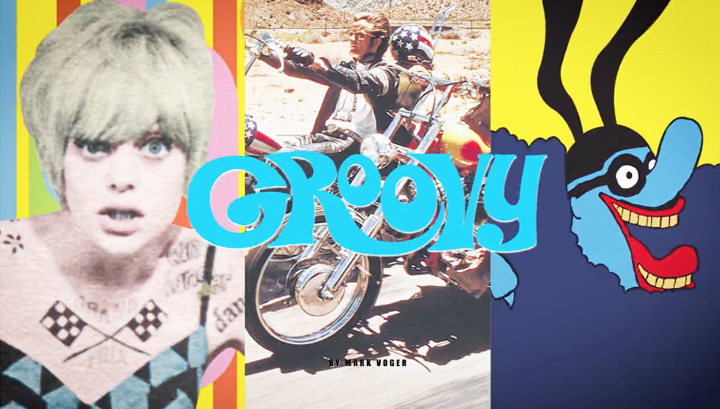 THREE'S THE CHARM: I love this juxtaposition: Goldie Hawn from "Laugh-In," Peter Fonda from "Easy Rider," the Blue Meanie from "Yellow Submarine." It all makes sense.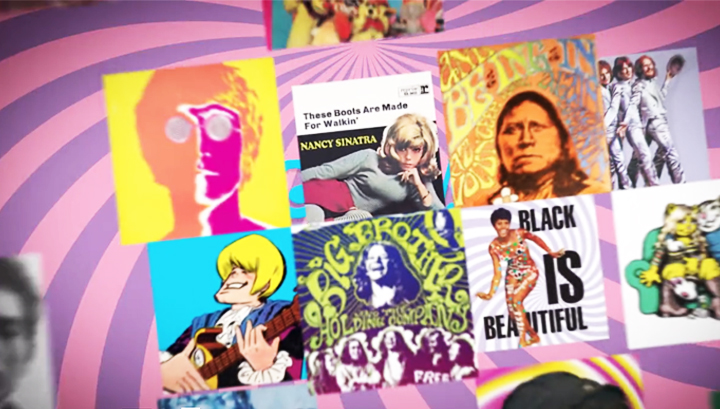 TILING 1 (OF 3): It would take me days to do these tiled effects just for print, let alone video. Ian told me he did it with a program. I love the random-ness of the juxtaposed art. But every image is in "Groovy."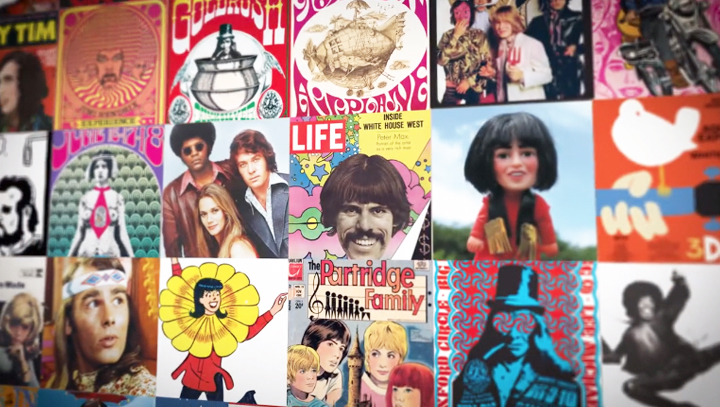 TILING 2 (OF 3): More great tiling with more cool random juxtapositions.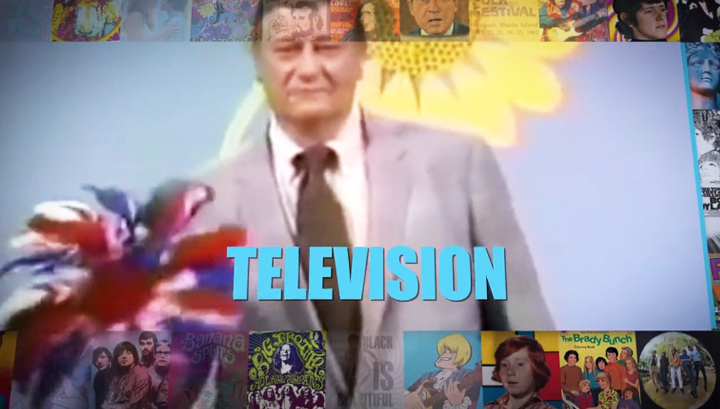 FROM 'THE SEARCHERS' TO 'LAUGH-IN': The Duke's only in "Groovy" for a moment, but I didn't object when Ian included this footage of him in the trailer.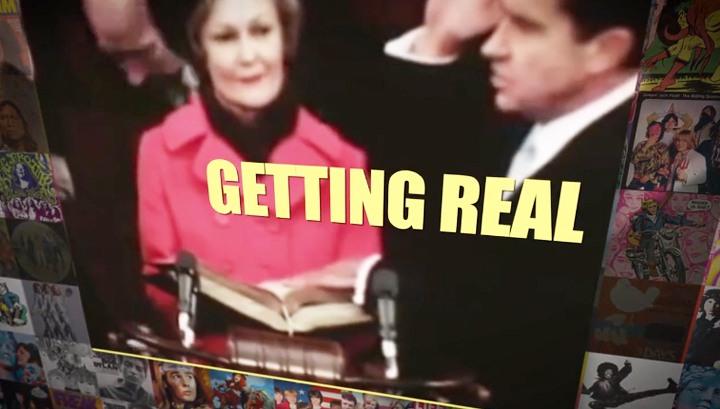 INAUGURATION '69: Nothing's changed, has it?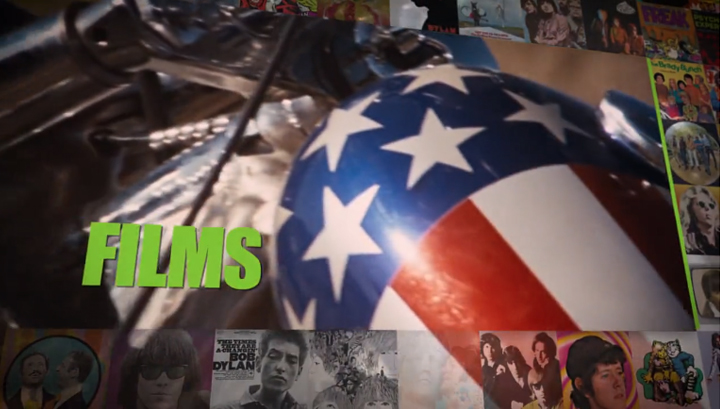 GET YER MOTOR RUNNIN': OMG, when I saw this little snippet in the trailer, I got chills. The "Easy Rider" American flag gas tank design is very meaningful, I think.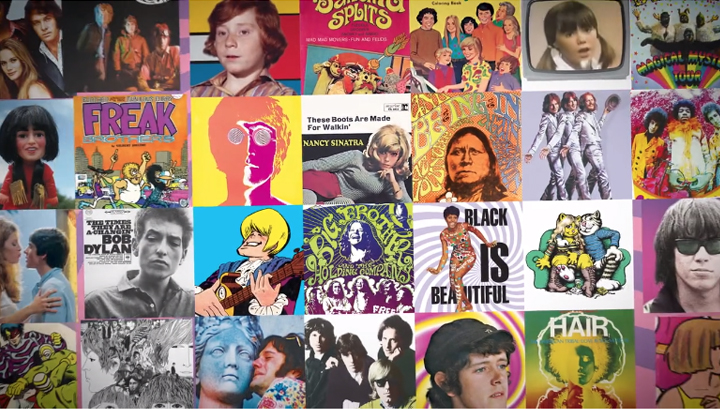 TILING 3 (OF 3): The Davy Jones doll … Peter Fonda sobbing … the "Hair" poster … the Dylan album … Super-Hip (a character from DC's "The Adventures of Bob Hope" comic book) … "Are You Experienced" … so random! Like life.
---
Finally, here's THE VIDEO. I hope you dig it, too, brothers and sisters:
Read about recording "The Groovy Trailer Theme" HERE.
See more films by Ian Voglesong HERE.
(I recommend the hilarious "Thanks a Lot, Jesus!" and the introspective "The Closed Door.")