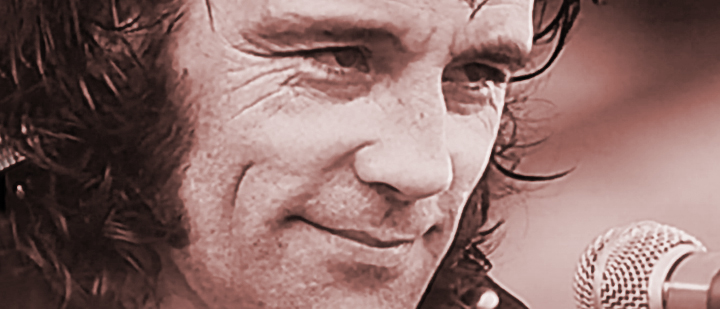 One-of-a-kind rocker
There's so much history, it's staggering. I've been doing a deep dive into the life and career of singer Alex Harvey (1935-82), a Glasgow native and namesake of '70s Scottish rockers the Sensational Alex Harvey Band. This dive happened as a result of my recently being reacquainted with the group's flashy 1974 TV performance on "In Concert," which blew my mind when I was a mere lad of 16.
Harvey's story has many twists and turns. Following are some highlights …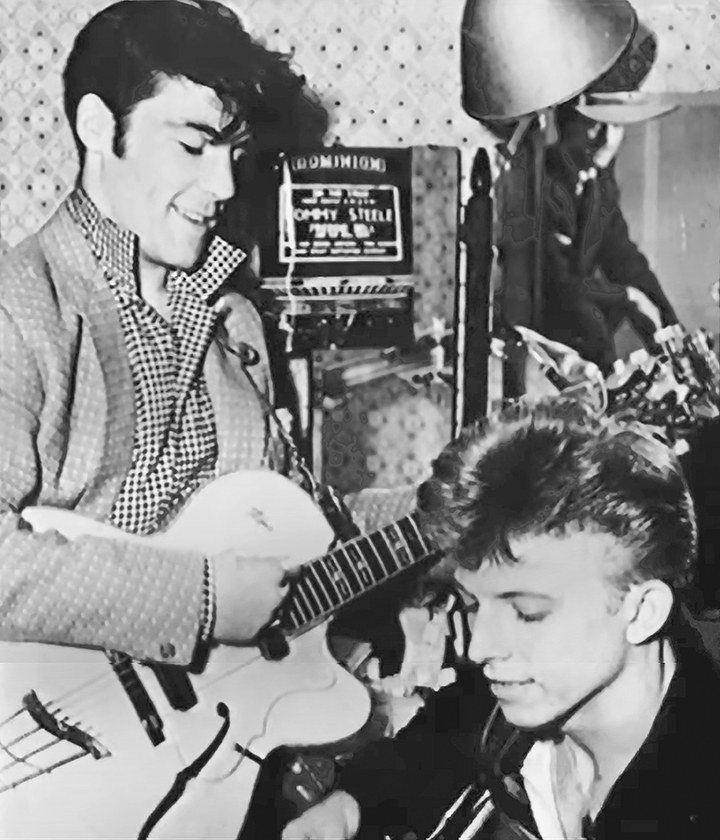 Above is a 1957 newspaper photo of Harvey with singer Tommy Steele ("England's Elvis Presley"), which was published after Harvey won the paper's contest to name "Scotland's Tommy Steele." A bit of foreshadowing.
Three years later came a Beatles connection for Harvey. In 1960, he was fronting a soul revue in Scotland which opened for singer Johnny Gently, whose backup band called itself the Silver Beetles. This was an early version of the Beatles comprising, from left in the above photo, bassist Stu Sutcliffe, John Lennon, Paul McCartney, drummer Tommy Moore (a one-month wonder in the band) and George Harrison.
Gently's Scottish shows represent the first time McCartney, Lennon and Harrison performed together in Scotland, putting Harvey on the scene for a moment in Beatles history. Gently and the Silver Beetles were all native Liverpudlians except for Sutcliffe, who was born in … Edinburgh.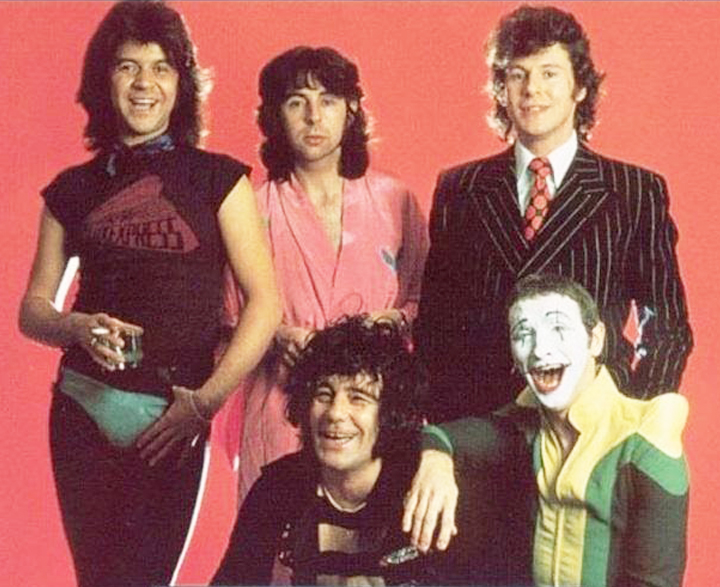 The Sensational Alex Harvey Band, or SAHB, formed in 1972, when Harvey joined forces with a younger, heavier group called Tear Gas. The founding and "classic" lineup comprised, clockwise from left in the above photo, bassist Chris Glen, keyboardist Hugh McKenna, drummer Ted McKenna (Hugh's cousin), guitarist Zal Cleminson (whose trademark was "mime" makeup, in case you were wondering) and Harvey. The band members were 22 or 23; Harvey was the grand old veteran at 37.
Around this time, a tragedy befell the Harvey family. Harvey's brother, Leslie Harvey, was the lead guitarist for Stone the Crows, which featured singer Maggie Bell. In 1972, Leslie was electrocuted on stage and died. Close associates of Alex Harvey believe the singer threw himself into SAHB as a way of dealing with his unimaginable grief.
SAHB put out eight albums — seven with Harvey — and scored a surprise #7 hit in the U.K. with its wacky cover of Tom Jones' "Delilah." Live, SAHB developed a reputation for wildly theatrical shows. Reportedly, Harvey could be a bit of a loose canon on stage. (One onlooker reported that in the beginning, Harvey attracted boos as well as cheers.) The band was a workhorse, touring extensively in England and Scotland, though not nearly as much in the United States.

According to ConcertArchies.org, SAHB played my old stomping ground, the Philadelphia Spectrum, on three occasions. This figures. Philly crowds had a reputation for violence and booing — have I got stories — but there was always a contingent, of which I was a member, that embraced "theatrical" acts like David Bowie and Mott the Hoople. Although, truth to tell, such acts were more at home at the nearby Tower Theatre than the monolithic Spectrum.
So SAHB opened for the J. Geils Band and Manfred Mann's Earth Band at the Spectrum in 1974; Lynyrd Skynyrd in 1975 (that must of been a clusterf***); and, later that same year on Nov. 3, Frank Zappa. (Drat! I saw Zappa at the Spectrum the following year, when his opening act was Flo and Eddie.)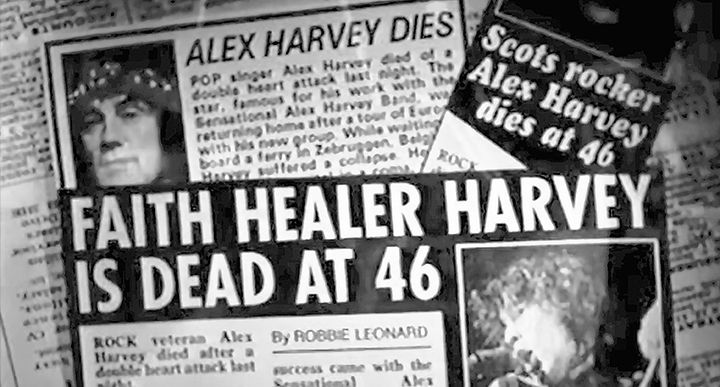 By the end, the Sensational Alex Harvey Band story gets a bit messy, but here goes nuthin' … Harvey quit the band in 1975 … the group renamed itself "SAHB (without Alex)" and put out the 1977 album "Fourplay" … (Get it? The quintet is now a quartet?) … later that year, Harvey rejoined SAHB, while keyboardist McKenna, who was vital to SAHB's sound, quit … this lineup released the 1977 album "Rock Drill" … then the group fizzled out … finally, in 1982, Harvey died of a heart attack on the eve of his 47th birthday … the sad event occurred in Belgium, while Harvey was waiting to board a ferry.
Good night, funny rock man.
---
VIDEOS

'Framed' (1974): A raw, electric performance of the Jerry Leiber/Mike Stoller-penned song first recorded by the Robins in 1954. The band's blues-rock roots, not to mention Harvey's ability to command an audience, are on full display, in this black-and-white footage from a festival in Norway. Harvey styles himself like some monstrous parody of Elvis Presley. The audience still has the look of wispy Woodstock hippies.
'Sergeant Fury' (1974): Harvey sends up swing and big band (ala the Beatles' "Honey Pie") with a title that puts his comic-book fandom on display. (Sgt. Fury is a Marvel Comics character.) A likelier title would have been the song's refrain, "I Wanna Be Rich and Famous."
'Delilah' (1975): The boys are wackier than ever as they perform their cover of the Tom Jones hit on British TV's "The Old Grey Whistle Test" (an alternative to "Top of the Pops"). Harvey sings to costumed mannequins. (There's no studio audience.) Glen and Cleminsky do a crazy dance. The song's arrangement amplifies the — what to call it? — polka-like qualities of Jones' original. It's pure nuttiness.
P.S.: SAHB's cover was never meant to be released as a single. The band kept it in the act as an excuse for that silly dance.
Harvey interview (1975): The singer sits with "Old Grey Whistle Test" host Bob Harris to discuss the formation of SAHB, of which he says, "They were a bit introverted on stage at first, and they were extroverted off stage. And I had to change that, roundabout."

Harvey bio, Part 1 (2001): The first installment of the BBC's probing biography of Harvey, featuring much archival footage, and then-new interviews with family members, band members, and onlookers.

Harvey bio, Part 2 (2001): The second of two installment of the BBC's biography of Harvey.