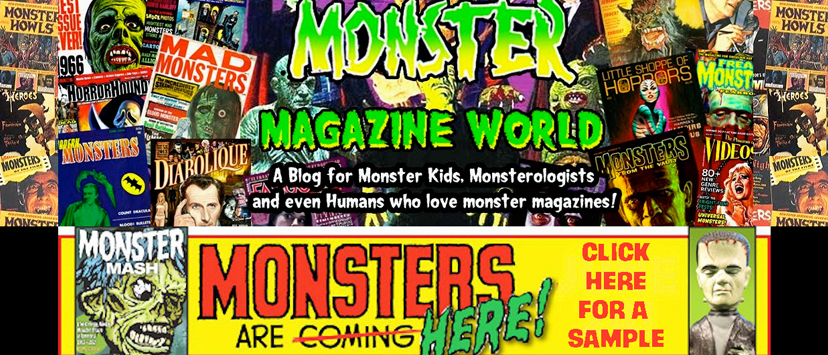 Order "Monster Mash" at TwoMorrows, Barnes&Noble, Amazon, Target, Walmart and other online outlets
---
Howling about 'Monster Mash'
■ "Voger is more than someone with a love for pop kitsch and an artful eye (he designed the book himself). He's also a veteran journalist who was smart enough to keep his notes from decades of entertainment reporting." — Jacqueline Cutler, The Star-Ledger
■ Your book is a mirror. In it, you have stolen my soul. It is so nice to have it back. Thanks for taking such good care of it all these years." — Richard Noll, Ph.D., Associate Professor of Psychology, DeSales University
■ "The best thing to come out since the original Famous Monsters magazine." — Kevin Clement, founder of the Chiller Theatre expo
■ "This is really a labor of love. I really want people to see this book, because I just never get tired of picking it up and flipping through it." — Jason Henderson, author, HarperCollins' Alex Van Helsing novel series
■ "Beautiful layout! A treasure trove of images!" — Yoe Books publisher Craig Yoe  
■ "This is a sensational book for its illustrated trip down Memory Lane … I knew I would love this book." — "Mr. Media" host Bob Andelman
■ "It's just a feast for the eyes from cover to cover … The array of material in here is just staggering." – Larry Corley, WQNA in Springfield, Ill.
■ "All I can say is 'WOW'  … a first-rate look back at the Monster Craze." — Greg Bazaz, onetime Famous Monsters of Filmland kid columnist
■ "Oh, wow, this is so good! Can't put it down!" — John Graziano, onetime artist for Dan Curtis Productions ("Dark Shadows")
■ "If the news of this book hasn't made you jump off your lab slab, you are in dire need of a new pair of electrodes, my friend. … This book gets Monster Magazine World's highest recommendation!" — John Navroth, Monster Magazine World
■ "A visual, heartfelt tome. Tremendously enjoyable. Great imagery and info. Top notch contents all the way."
— Monte Beauchamp, "The Life and Times of R. Crumb"
■ "Every page just strikes to where we were 50 years ago." — Rondo Classic Horror Awards founder David Colton
■ "Looking at 'Monster Mash' is like having a giant nostalgia bug lay lovely eggs in your eye sockets." — Psychobabble.com
■ "The lavishly illustrated coffee table book, full of interviews and stories, is a gorgeous sight to behold. … I found author Mark Voger's loving introduction quite relatable, despite us being separated by a generation. … It's clear that 'Monster Mash' is a labor of love, and Mark Voger is a hero for all his hard work." — Tim Murr, PopShifter.com
■ "I won't go into all that makes it awesome, because it is awesome. I honestly saw the Shock Monster cover and took a gamble, and it paid off. It truly is the Monster Craze in a book. And I don't mean articles written with nostalgia; I mean articles, photos, artwork, everything punching you full-steam in the chopper. It's a well-made, designed book. …  My only critique is it's not five times the size." — JollyGorilla on the Universal Monster Army forum
■ "This is an incredibly well put together, beautifully presented book. … It is a great immersion into this period of time. — Chip Hessenflow, "Too Much Scrolling" podcast
■ "(Voger) takes you on a journey through time, when sci-fi ruled, but the monsters squashed the bugs and became the rulers of the Earth once more. … This is definitely a graveyard smash!" — Amazon review by Lori Huckabey 
■ "Excellent, excellent book. Almost exactly the book I'd been looking/hoping to find for decades." — Amazon review by Stflacassier
■ "The perfect companion book to David J. Skal's 'The Monster Show.' " — Amazon review by MJB
■ "Paging through this book is like taking a trip back in time. Suddenly, I was 8 years old and trying to get more glue on my King Kong model kit than on my hands." — Tim Janson, SciFiMoviePage.com
■ "This is a wonderful look back at the movies, TV shows, books, magazines, Super 8 films, models and more of the many fun things that made monster kids happy in the 1960's and '70's. Looking through this book brings back a flood of happy memories, mixed occasionally with regret for the things we didn't (or couldn't) keep."
— GoodReads.com review by Norman Ferriere
■ "The title of this colorful walk down Monster Memory Lane is perfection, for truly what we get is a 'Monster Mash' of recollections, photographs, facts and interviews … A special recognition goes to the layout and design of the book (also by author Voger), which is some of the finest work I've seen in this kind of book."
— GoodReads.com review by Terry Collins
■ "I feel like I stepped into a time machine." — Amazon review by Sandra
■ "For me, gawking at the masks, lunchboxes, board games and comics evoked one of three responses: 'I had that,' 'I wanted that' and 'Oooh! I've never seen THAT!' The page layout (also by Voger!) is tasteful and clever, and the photos and printing are crisp, bright and rich. The text is informative, well-researched and extremely witty. … I expected to enjoy this book but found myself almost obsessed with it. … Well played, Voger." — Amazon review by Andrew Tonkin
■ "Really cool, well documented, and it takes me back to my childhood days." — Amazon review by Jean R.
■ "This is a love letter to our childhood … like a conversation with an old friend. Mark Voger has given us a book containing not only his tales, but a wealth of common nostalgia to which we all can relate, complete with some fantastic pictures, insider information and an overwhelming sense of respect and deep love for all things MONSTER. Highly recommended!" — Amazon review by Pueblo West
■ "This book is incredible! The pictures, the layout, the writing, everything, was tailor made for that wonderful wide-eyed Monster Kid that still lives inside my heart." — Amazon review by Steven V. Turner
■ "Jam-packed with photographs and illustrations. The book's graphic layout is in a magazine style with a high focus on images, yet the text is very meaty. … An extremely well put together volume … deserving a place on a collector's bookshelf." — Amazon review by Nicola Mansfield
■ "What an unbelievable mash-up of illustrations and prose about everything monster! You really have to use superlatives to get down to describing this book. … It is a monster fan's treasure chest. The excellently researched and written stories cover nearly every facet of golden era monsterdom. … Each page is thoughtfully and artistically designed. … At first glance, it almost overwhelms with information, but there is little doubt that you will eventually read every word in it. So much fun and memories from a world so achingly distant." — Amazon review by S. Rudge (a Top-500 reviewer)
■ "Awesome book for the old-school monster lover. A welcome addition to the library." — Amazon review by EvilJim
■ "If you love monster stuff in the '60s or '70s, buy this book!" — Amazon review by Crawdad McGoo
■ "Brought back a lot of memories … I highly recommend it!" — Amazon review by Kraevyn5060
■ "It is a joy from beginning to end." — Amazon review by Mark Buckmaster
■ "There's a fair bet that if you leave this book on your table-top with people of the right age, you're going to stir up a lot of memories. It even works for me, a non-American. … Don't forget to do body searches to ensure this book stays in your hands and not 'borrowed' by your friends." — G.F. Wilmetts, SFCrowsNest.com
■ "Like flipping through an issue of your favorite monster magazine, but even better." — Amazon review by Norman Ferriere
■ "Recommended for monster lovers of all ages!" — Chiller Theatre Toy, Model & Film Expo guest page blurb
■ "Thank you, Mark, for this excellent book." — Amazon review by Glenn G. Horner
■ "You'll be stunned at how much Voger was able to squeeze into this book." — Tony Isabella, TalesofWonder.com
■ "Okay, all you Monster Kids. You want Mark Voger's new book, 'Monster Mash.' " — Charles R. Rutledge, Singular Points blog
■ "Loaded with color photos, well-researched articles and informative sidebars, 'Monster Mash' is an extensive look at the heart of the Monster Craze in America. And it's a fine look back at a dark and sometimes parentally forbidden part of our childhoods." — Jerry Smith, HumbleOpinions
■ "Voger's look back at his frighteningly fun youth comes littered with colorful, collage-filled pages of eerie goodness … his passion (is) apparent in every page … a stunning array of images graced across each page …" — Mike Kenny, MikesPopCulture.com
■ "A visually stunning, colorful look back at the roughly 15-year span that monsters seemed to rule the world in American popular culture. … It's the stunning visual layout … with full-page spreads featuring monster masks, model kits, board games and vividly bloody monster art that will instantly trigger nostalgia for older readers and probably melt the monster-loving hearts of younger readers." — LouisvilleHalloween.com
■ "A delightful coffee table book filled with photos covering the breadth of monster mania in the 1950s and '60s." — Paul Castiglia, Scared Silly
■ "As a kid who came in when the Monster Craze was at its peak, this book is a fun stroll down memory lane— or was it Mockingbird Lane? If you remember when Karloff, Rathbone, Lorre, Carradine and Chaney Jr. were still alive and working, as well as rushing to get the latest issue of Famous Monsters, this book is for you. Grab it while you can, as books like this go out of print quickly." — Amazon review by Col. William Russell
■ "This extremely fun book celebrates the movies, TV shows, books, games, models, costumes, magazines and much more from the golden age of mainstream monsters. It's written with an upbeat and jokey yet also clear writing style. Every page has a photo of something wonderful … You don't need to be an academic or specialist to enjoy it. … I particularly liked the interviews (many famous figures like John Astin or Jonathan Frid) but also some not-so-famous painters or model-makers reminiscing and appreciating this great time in American pop culture." — Amazon review by David E. Goldweber
■ "This Book won the Rondo Hatton award for good reason. As a senior citizen, I fondly recall those years. I still love everything 'monster' and still watch monster movies. Even saw 'Shin Godzilla,' and I was the oldest person in the movie theater by 20 years." — Amazon review by MovieGuy
■ "The book is charming as heck, with quite a bit of 'Dark Shadows' content. It's right up my alley. I love it!" — B.T., commenting on the Collinsport Historical Society
■ "This gets five stars for everything: Clear writing, great visual design, good sense of history, fine images and solid overall production. … A lot of people these days merely market; they pick an audience and create a 'sausage' (to use a polite term) they can quickly sell to that audience. Mark Voger has done the opposite here: With a clear focus on quality, and on satisfying and respecting the audience (as well as giving it some credit for being quasi-intelligent), Voger has created a brilliant chronology and obsessively researched it, checking his facts all the way. This here is the book that DESERVES to be on your shelf. So take a look at all those green colors on the cover, interpret that as meaning 'GO,' and grab yourself one of these." — Amazon review by R.L. Matsui
■ "This is an exceptionally well-written book that, for me as a former Monster Kid growing up in the very late 1950's/early '60's, brought back a lot of pleasant memories. … I remember watching Zacherley on the old WWOR Channel 9 television station broadcast in the New York/New Jersey area around 1960, and introducing old monster movies. … Highly recommend this to any and all Monster Kids of my generation, as well as those interested in wanting to know what it was like growing up in the monster-filled atmosphere of those times, of which this book clearly celebrates." — Amazon review by Skip
■ "I picked this up as a gift for my brother, who is a big monster fan. He really liked the gift. The book is solidly constructed. It reminded me of a college textbook."— Amazon review by SanClementeJedi
■ "I was tempted to set up a card-table fort, crawl inside and read it illuminated with a flashlight. This a great gift for your friends who were fellow monster club members who exchanged and read copies of Famous Monsters of Filmland in the treehouse on summer afternoons." — Amazon review by T. Pelton
■ "As a kid who came in when the Monster Craze was at its peak, this book is a fun stroll down memory lane (or was it Mockingbird Lane?). If you remember when Karloff, Rathbone, Lorre, Carradine and Chaney Jr. were still alive and working, as well as rushing to get the latest issue of Famous Monsters, this book is for you. Grab it while you can, as books like this go out of print quickly." — Amazon review by Col. William Russell (retired)
■ "I can't say enough about this book! Mark Voger hit a home run out of the park with this one! — Amazon review by Destroyer (of Canada)
■ "What a fantastic book! I love the unusual paper quality (not glossy) that just soaks up the colors and reminds me of the old Famous Monsters of Filmland magazine. I also love the use of artwork that bleeds to the edges of the pages with very few squarely laid out pages with white borders. A hardcover worthy of anyone's coffee table who loves media monsters that are either horrific or kitschy. — Amazon review by TooNormal4Me (of Canada)
■ " 'Monster Mash' by Mark Voger is one of the coolest books I own … Definitely get your hands on a copy of this … an excellent read, beautifully designed, printed … one hell of a fun trip through the history of something that had a huge impact on myself personally." — Blogger Androidgr33n (of Australia)
■ "I would buy this as a Christmas present for you if you didn't write it." — Mark Voger's little brother
■ "Every page is a wonder." — Mark Voger's old college roommate
■ "This is like walking into a candy store!" — A blogger
■ "You should get on Facebook." — A colleague
■ "Seriously, you really need to get on Facebook." — The same colleague a few weeks later
---
Comentarios en español
■ "Nuevo habitante de la mostruoteca. Un libro delicioso, 'Monster Mash.' "
(Translation: "New inhabitant of the monster library. A delicious book, 'Monster Mash.' "
— Jordi Sánchez-Navarro, Visual Culture and Film Studies scholar, Universitat Oberta de Catalunya, Barcelona (on Twitter)
■ "Lo guai de muchos de estos libros profusamente ilustrados es que el digital no ha sabido reemplazarlos."
(Translation: "The cool thing about many of these profusely illustrated books is that digital has not been able to replace them.")
— Reply to Sánchez-Navarro from Carlos
■ "Imprimir para siempre! Digital nunca! Es una broma …. necesitas lo digital para ciertas cosas."
(Translation: "Print forever! Digital never! Just kidding … you need digital for certain things.")
— My reply to both of these gentlemen of impeccable taste
■ "Una gran lección de historia de cuando los monstruos gobernaban la cultura popular, similar a lo que sucede ahora con los superhéroes."
(Translation: "A great history lesson from when monsters ruled popular culture, similar to what happens now with superheroes.")
— Amazon review by Luis Ja of Mexico (where "La Momia Azteca Contra el Robot Humano" was made!) 
---
Order: TwoMorrows | Barnes&Noble, Amazon, Target, Walmart and other online outlets.
View 34-page "Monster Mash" preview