Following are excerpts from a section on Saturday morning cartoons presented in "Groovy: When Flower Power Bloomed in Pop Culture" (TwoMorrows Publishing)

When every cartoon had a band
Once again, you can blame it on the Beatles.
The songs in 1964's "A Hard Day's Night" were like little movies that could be enjoyed as stand-alones.
Then TV's "The Monkees" swiped the format, punctuating episodes with songs acted out using improvisation, choreography and slapstick.
Finally — here's where end-of-days theorists perk up — Saturday morning kiddie shows got in on the racket.
Series like, well, "The Beatles" (1965-67), "Frankenstein Jr. and the Impossibles" (1966-67), "The Archie Show" (1968-69), "The Banana Splits Adventure Hour" (1968-70), "Josie and the Pussycats" (1970-72), "Lancelot Link: Secret Chimp" (1970), "The Jackson 5ive" (1971-73) and "The Brady Kids" (1972-73) had characters performing pop. The "Scooby-Doo" kids (1969-70) drove the Mystery Machine, a psychedelic van. "H.R. Pufnstuf" (1969-70) had Jack Wild, a long-haired Brit who looked like Davy Jones' poor cousin.
And millions of Lucky Charms-eating rugrats came to the same conclusion: "When I grow up, I'm gonna be in a band and have groovy adventures like the Archies."
Oh, the agony that was in store for them.
---
On 'The Banana Splits'
"The Banana Splits Adventure Hour" made "The Howdy Doody Show" look like "King Lear."
There was barely any script in a given segment. Mostly, it was four guys in big fluffy costumes who probably couldn't see too well, running into walls accompanied by cartoony music, silly sound effects and a laugh track. (An unsavory irony is that many decades later, the wearing of similarly fluffy animal costumes during intimacy became a trend in the realm of kink. Eww.)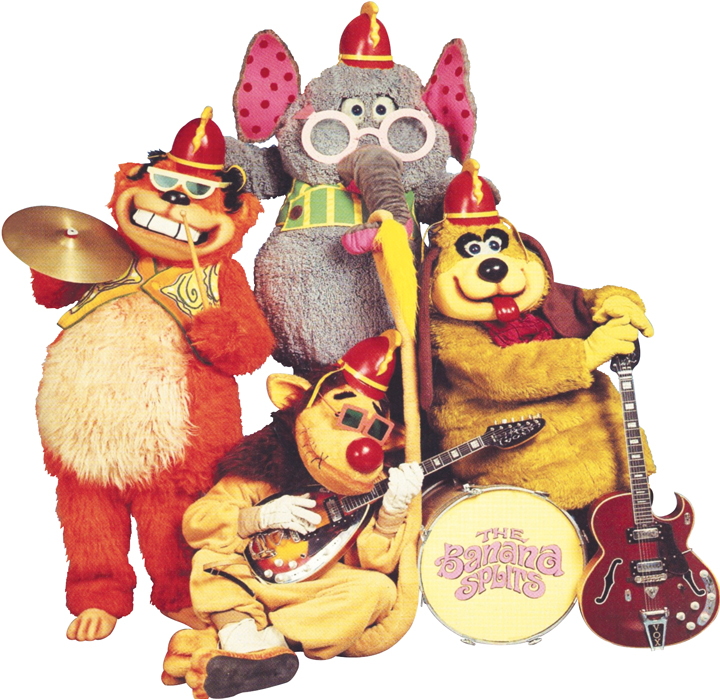 There was a thin premise, however. The Banana Splits was a pop band made up of animals which, species-wise, was quite integrated. Fleagle, the dog, tried to keep order (voice: Paul Winchell). Drooper, the lion, was a myopic hillbilly (voice: Allan Melvin). Snorky, the elephant, was the Harpo Marx of the band (no voice). Bingo, the gorilla, was the enigmatic one (voice: Daws Butler). No matter what calamity visited the Banana Splits, Bingo's toothy, banal smile never wavered. It was kinda creepy.
The weirdest, most watchable segments featured the Sour Grapes Bunch — talented little girls in lavender miniskirts and tights doing groovy dances. For some unexplained reason, the Splits cowered in the Sour Grapes' presence.
The Banana Splits traveled via Banana Buggies which, after all, went "over hill and highway." (Of course, the vehicles were customized by George Barris.) But where did the Banana Splits travel to? You never saw them in regular places like supermarkets or laundromats. Usually, they just went to amusement parks. (They seemed drawn to funhouse mirrors, slides and bumper cars.)
Did the Splits rock? You bet your giant plastic mallet! "The Tra La La Song," the show's theme, is indelible bubblegum — once you hear it, you can't un-hear it. "Wait 'Til Tomorrow" is the coolest psychedelic song you never heard; the Mamas and the Papas should have recorded it. "Doin' the Banana Split" is a pop-soul classic sung by none other than mack-daddy baritone Barry White ("Can't Get Enough of Your Love, Baby"). Another musical contributor was Al Kooper, the very guy who played the shimmering organ on Bob Dylan's "Like a Rolling Stone."
Yep, some accomplished folks worked on this dopey show. Director Richard Donner ("The Omen," "Superman") helmed several episodes — speaking of people you'd assume wouldn't be caught dead with "The Banana Splits" on their resumé.
---

On 'H.R. Pufnstuf'
It's Saturday morning in 1969, and children all over America are having breakfast — say, a bowl of Quisp and a glass of Tang.
They do so while sitting inches away from a warm, humming, radiation-emitting color TV. On comes a new show that's something like "The Wizard of Oz" on acid. It's "H.R. Pufnsuf," and it's a real groovy trip of a live-action kiddie show. There's a long-haired lad with an English accent interacting with crazy-looking characters on a psychedelic island, including Pufnstuf himself, the island's big, multicolored mayor. The show looks like a cartoon in 3-D, which is just what its creators — brothers Sid and Marty Krofft — intended.
"I wanted it to have the look of a cartoon," Sid Krofft (born 1929), a native of Athens, Greece, told me in 1996. "That's why the sets were done like that. Actually, it was animation, but in dimension."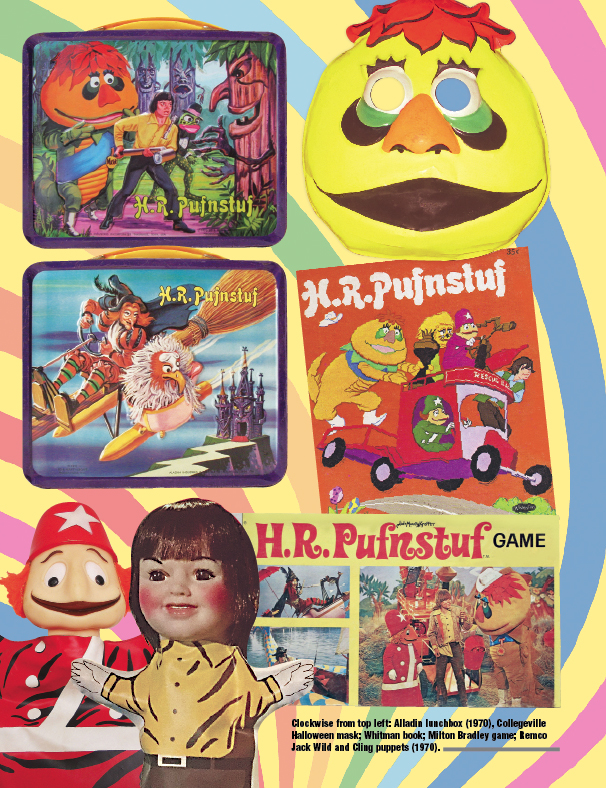 As for the show's psychedelic look: "Well, I'm the original hippie."
The Kroffts created "Pufnstuf" and other colorful kiddie shows such as "The Bugaloos," "Lidsville" and "Sigmund and the Sea Monster." Sid described himself as a "fifth-generation puppeteer" who was playing all over the world at age 7, and toured with Judy Garland — a thrill for Sid, since his favorite film was "The Wizard of Oz" (1939).
"The land of Oz, to me, of course, was really 'Pufnstuf" and all of our shows, with the talking trees and everything," Sid said. "Because you were transported, as a kid — and that was Judy Garland — into this world, this incredible world. That's what I always felt that I needed to do for children."
The Kroffts developed a premise about an innocent lad lured to Living Island by the evil Witchiepoo, who covets his magic flute. (Yeah, it sounds pervy.) Soon, the search was on for a young actor to play Jimmy. Coincidentally, Sid was in England watching a rough cut of "Oliver!" (1968), which had an unknown actor named Jack Wild in its cast. Sid had found his Jimmy.
He recalled: "When I saw that kid with an accent, I thought, 'Oh, America's gonna just embrace that.' Well, we couldn't even find the kid! Columbia did the movie — it was a kid that they picked out of a schoolyard. He was 15 years old. I think they paid him a coupla hundred bucks a week to do the Artful Dodger."
Wild was eventually located, and then exported to California, where he lived with Marty while filming "H.R. Pufnstuf."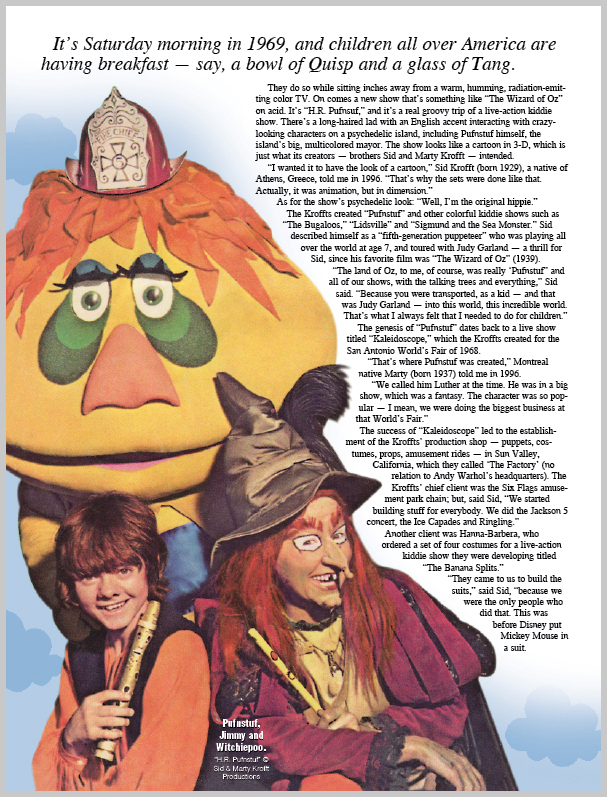 "I, unfortunately, kind of adopted him," Marty said.
"He came to live with us, and I had two little kids at the time. That was a disaster. He brought his brother (Arthur) with him. So I wound up stuck with this kid. That was a tough one for me, personally. I had him for a year in my house. And, I mean, the kid still calls me. I still hear from this guy."
(Marty sounded like he was joshing, but wouldn't crack. Years later, Wild said in a video interview for a "Pufnstuf" box set: "Marty has always treated me like a son. He still does now, even, irrespective of the fact of all the chaos I caused in his family home." Sadly, Wild died of cancer in 2006 at age 53.)
Wild soon became a teen idol, landing on the cover of 16 Magazine — and in the hearts of teen and pre-teen girls.
"He was the hottest kid in America at the time," Marty said.
"I'll tell you where that stuff started. He used to say, at the end of the show, 'Keep the cards and letters coming in.' So we got about 500,000 letters, and we had no way of answering them, because there were no computers then. So I think that these fan letters turned into these magazine things. I think they were radical about this kid. I still hear people that are grown up talking about Jack Wild, how they had a crush on him."
For the Kroffts, TV production presented a steep learning curve.
"We didn't know zip about it," said Sid. "As a matter of fact, we did it on film, at Paramount Studios, and we lost over a million dollars. We almost lost our company because of 'Pufnstuf.' "
"We were kind of run over the coals financially on the thing," Marty said, "but we survived."
Marty was most proud of the opportunities he and his brother gave to aspiring young talent over the years.
"My father left me with no cash, but some words to live by," Marty said. "The best thought he gave me was the following. He said, 'On your worst day, always help somebody else.' That's how I live my life."
<
SEE: 'Groovy' preview HERE
ORDER: 'Groovy' at TwoMorrows, Amazon, Target, Walmart
READ: More 'Groovy' excerpts HERE.