On the bill with Zach, 97 years young!
By Mark Voger, author, "Monster Mash: The Creepy, Kooky Monster Craze in America 1957-1972″
A line of fans waited in the Dover Room at the Sheraton Parsippany for the return of their hero: John Zacherle. This icon of monster culture, who'd just turned 97, has been a fixture at the Chiller Theatre expo since the first such event, a quarter-century earlier. I hadn't laid eyes on "Zach" since my last Chiller, in 2003. How would he look, I wondered, now that he's closer to 100 than 90?
Zach arrived in a wheelchair, and there was some difficulty getting him into his seat at the table. This might have been awkward or sad, but the entire time, Zach worked the crowd, doing light, non-verbal comedy. His facial expression, as he was helped into the chair, was something like: "Can you believe I have to go through this indignity?" But with a smile. Can you picture it?
Wearing a black dress shirt over a black "Zacherley" T-shirt — the need for "old man" makeup has long since abated — Zach then signed autographs (also with some difficulty) and posed for photos with fans, even making his "scary" face.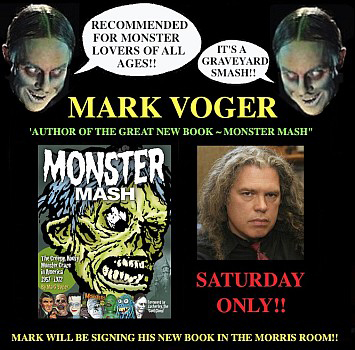 And the guy is 97! It's poetry.
Some of my childhood heroes — Batman (Adam West), Robin (Burt Ward), Major Don West (Mark Goddard) — were on hand at the Chiller Theatre Toy, Model & Film Expo on Oct. 24. But Zacherle — the man I made it my mission to see that day — provided his faithful with such a profound illustration of the indomitable human spirit, that he shot to the top of my hero list like a bat out of Transylvania.
I was fortunate to be a guest at this Chiller. Just hanging out in the lobby prior to the show, it felt like some sort of time warp. Antonio Fargas ("Foxy Brown") walked by twice; I think his scent was sandalwood. Trina Parks ("Diamonds Are Forever") looked fabulous in black accented with gold. Sara Karloff, daughter of Boris, was the very image of her father. (That sounds like an insult, but it's not.) I also spotted Goddard (who still has a trace of boyishness on his now-79-year-old face); and Dennis Dunaway (classic rock's most underrated bassist).

I was parked in the Morris Room, one table away from Ramones drummer Marky Ramone; next to Frehley's Comet guitarist Richie Scarlett; and across from Rascals guitarist Gene Cornish. I met a lot of cool people and even saw some old faces.
Pat DiNizio of the Smithereens, an avowed monster guy, stopped by and said something very sweet about "Monster Mash": "I almost cried when I looked through it." (Hearing that from DiNizio, I almost got teary myself.)
Ronald V. Borst, no stranger to aficionados of monster culture, came by and said, "I have a treasure to show you." From a very secure, hard-shell briefcase, Borst carefully extracted a copy of his 1992 book "Graven Images," which had page after page filled with autographs of famous names in the horror world. I can't recount many of the names— he flipped the pages, and it was true overload — but I did spot Christopher Lee and Peter Cushing's autographs on the same page. "That was the last day they were ever together," Borst said. Yes, the occasion was the narration of a Hammer documentary, which Lee and Cushing recorded in England. And yes, Borst was there.
When the show was over, I departed the hotel and headed toward an overflow parking lot on the other side of a massive berm — something that was easy enough to cross in the morning, but treacherous in the pitch black among the marching hordes. I was dragging my Harper Super Steel 700 hand-truck — it developed a flat at a most inopportune time — while balancing my huge "Monster Mash" sign. It was almost comical. Alongside me was a gentleman who was also tramping in the dark, pulling a hand-truck. As we both struggled, he said in a lovely British accent: "We're in the same boat." Said I: "At least we're sober." Said he: "Not for long, hopefully. Did you give a presentation today?"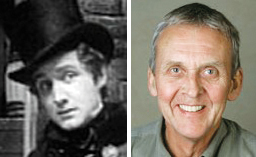 I answered, and then asked him the same. "Do you know Sara Karloff?" he said. "Her father and my father worked together in the '50s." He identified himself as Rupert Macnee, son of Patrick Macnee, the "Avengers" star who died in June at age 93. (I later learned that Rupert is an accomplished filmmaker.)
"I watch your father as Jacob Marley every Christmas," I told Rupert, referring to the classic Alastair Sim film "Scrooge" (1951). Rupert said Sara suggested he appear at Chiller to meet his father's fans, as a way of celebrating his life. All day long, Rupert said, people have been thanking his father through him. "You can imagine what that means to me," he said.
"Well, I'll say it, too," I told Rupert. "Please tell your dad — in your prayers and when you think of him — that I said thank you for warming my heart every year."
We finally crossed that massive berm, but my injured Super Steel didn't take the curb well; everything fell off of it in one slapstick-y motion. Rupert offered to help. "Thanks," I said, "but I know how it all fits back together." We bid each other farewell in the dark parking lot.
The guest list
Chiller feels like home to a lot of us nostalgia nerds. You get to see your favorite movie and TV stars from the golden days … rock stars from the golden daze … lotsa cool merch … and the occasional scantily clad hottie.
I really couldn't gallivant once the show commenced, but I wanted to at least remember some of the cool guests that, for one weird and wonderful day in my life, I shared a bill with. You know — to tell those grandchildren of mine.
This Chiller had West, Ward and Julie Newmar ("Batman"); Lisa Loring ("The Addams Family"); Bill Mumy, Angela Cartwright, Marta Kristen and Goddard ("Lost in Space"); Veronica Cartwright ("Leave it to Beaver"); Conrad Brooks ("Plan 9 From Outer Space"); Ace Frehley (KISS); and Barbi Benton from "Hee Haw." (Actually, I recall Barbi Benton in a different context, one that involved raging hormones.)
And Trina Parks. Everybody remembers her as Thumper, the yellow-bikini-clad hellcat in "Diamonds Are Forever" (1971). But I know her as roundhouse-kicking Syreena in the wackiest blaxploitation movie ever made, "Darktown Strutters" (1975). This chick took Sean Connery out with a knee to the nuts. Respect her.
This was the 25th-anniversary Chiller. I was present at the first one in 1990. So was Zach. Ah, memories …