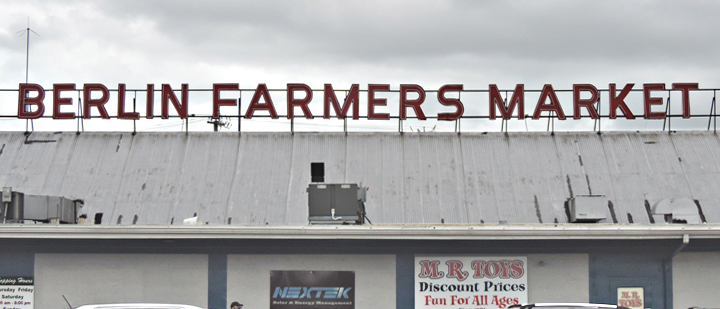 My own 'Gasoline Alley' in Berlin, NJ
One of the most salient memories of my childhood is the odor of clams giving way to the odor of tires, and the "sweet spot" in between.
Doesn't sound exactly complementary, does it? But it has always been back there in my cerebrum. It's part of who I am.
To this day, that olfactory phenomenon still occurs at the far end of the good old Berlin Farmers Market in Berlin, NJ.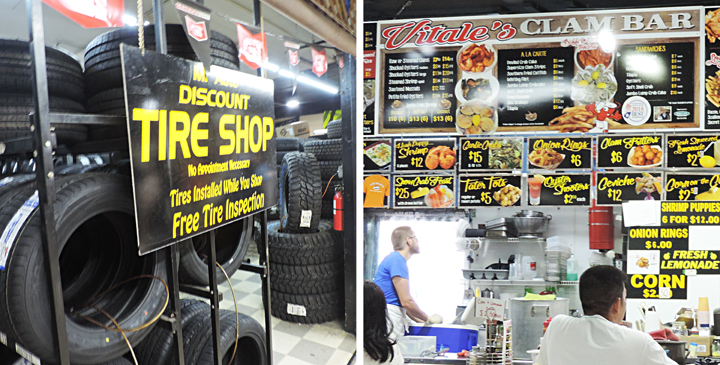 At the back end of the "Mart" you'll find Mr. Auto Discount Tire Shop, a massive store with thousands of shiny, black tires at the ready, and Vitale's Clam Bar, which is never without loyal patrons digging into seafood-y delicacies.
As you can imagine, both of these Berlin Mart institutions emit powerful scents. I'd know them blindfolded.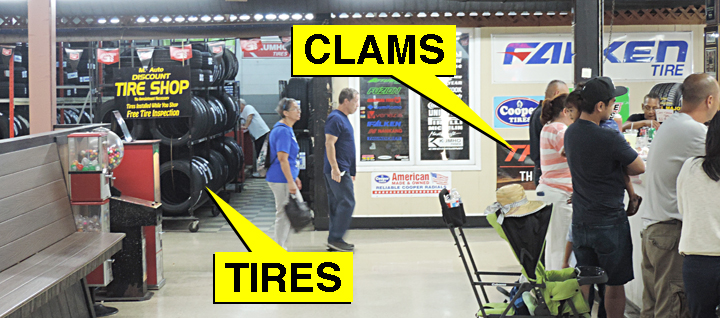 Since I was little, our family shopped at the Mart, and turning that corner — which we kids called the "corner of Clams and Tires" — was always a singular, treasured experience.
Recently, I made a pilgrimage to the Mart, and once again basked in the aura of the corner of Clams and Tires.

In many ways, the Berlin Mart is The Land That Time Forgot. It's like stepping back 50 years. But, of course, signs of the times are inescapable.
There are the "indoor" stores (Thurs.-Sun.) and hundreds of "flea market"-style outdoor vendors (Fri.-Sun.). Indoors at the Mart is largely unchanged, thankfully (though I don't remember there being a gun shop when I was a youngster).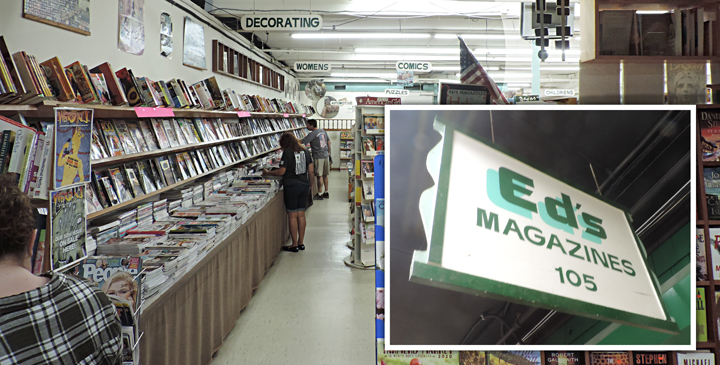 As a kid, my favorite Berlin Mart spot was the magazine store, which sold what collectors now call "torn cover" copies of then-current comic books. (I'm talking about the 1960s or, as comic-book geeks call it, the "Silver Age.") Back then, vendors would tear off the top-quarter of the covers of overstocked comic books, to discourage their resale. But people still bought them, "black market" style, at a steep discount. (I think a 12-cent book went for a nickel.)
It broke my heart when, in recent years, the magazine store relocated within the Mart. It's now known as Ed's Magazines — maybe it always was, but I don't recall that name — and the layout has reminders of the store in my memory, such as the walled porno section in the back.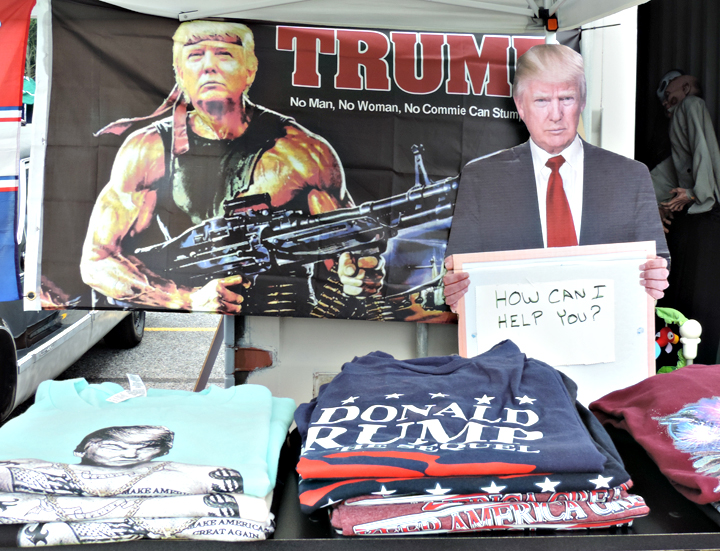 Outside, I spotted a vendor that exclusively sold "Trump 2020" merch, which I found fascinating. I asked the proprietor if I could photograph his wares, expecting him to "make" me as a bleeding-heart liberal and decline my request. But Angelo was cool. "Sure. It'll be 50 bucks a picture," he joked.
Without expressing an opinion on the current occupant of the White House, I told Angelo that his stand was a strong visual representation of a moment in history. I said, "I was 10 in '68 when Bobby Kennedy was killed, and Richard Nixon beat Humphrey Bogart — I mean, Hubert Humphrey." (Aging is a bitch.)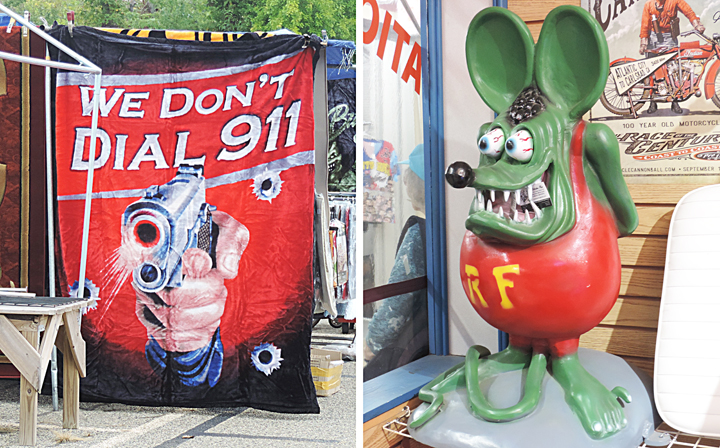 Above are two more visuals I felt compelled to document at the Mart. At left is another sign of the times: a provocative banner sold by an outdoor vendor. At right is a large, faithfully designed figure of Ed "Big Daddy" Roth's "Rat Fink" character in, of all places, an upholstery store.
Things have changed, but the Mart still feels like home. Whenever I hear Rod Stewart sing, "Take me back / carry me back / down the Gasoline Alley / where I started from," I think of the Berlin Farmers Market.
---
VIDEO: Check out my boyz JL Jupiter and Wanmiz doing a "food crawl" at the Mart! They even hit Vitale's!