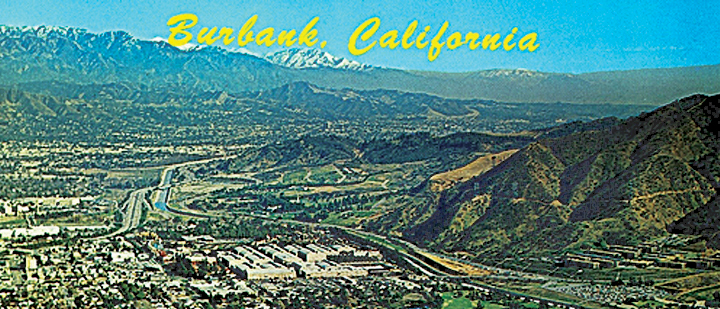 Brick-and-mortar sightings
Ya got me why "Monster Mash," the book, ain't for sale in Cracker Barrel gift shops every October. (Oh, that's right, the lady being dipped in acid on Page 165.) Where it does turn up, brick-and-mortar wise, is often in cool places. And this ain't reverse sour grapes, which I guess would be sweet grapes.
In the fabled entertainment hub of Burbank, California, are two stores that have carried my humble tome about 1960s Monster Culture. One is a "horror shop" that sells books, DVDs, posters, prints and collectibles. The other is a year-round Halloween shop that likewise sells spooky sundries. Perfect venues for "Monster Mash," both.
An old college friend — by that, I mean an "old friend," not an "old person" — Theresa Danna noticed "MM" in these establishments, and was kind enough to memorialize the occasions.
---
Dark Delicacies
822 N. Hollywood Way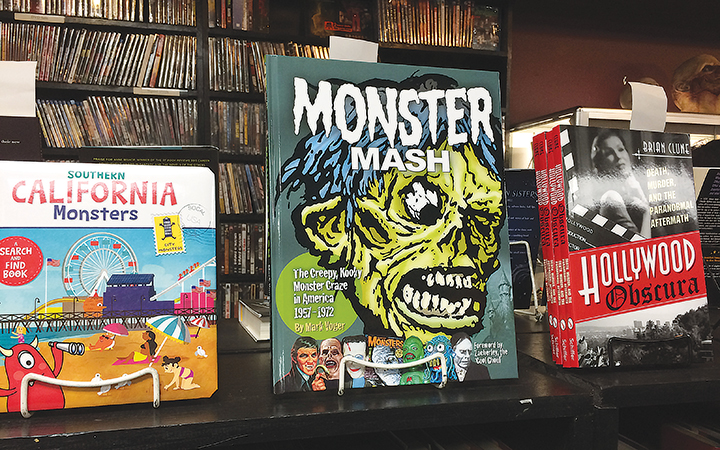 Above is a 2018 photo of "Monster Mash" at Dark Delicacies. Run by Del and Sue Howison, the shop calls itself the "Home of Horror." In-store guests include director Roger Corman ("Pit and the Pendulum," yo). Another horror director, Guillermo del Toro ("The Shape of Water"), is a fan of the store.

Del Howison is also an author of horror-themed books ("When Werewolves Attack") and an actor in horror films ("The Void"). Thanks for allowing "Monster Mash" to darken your doorstep, Del and Sue. Website
---
Halloween Town
2921 W. Magnolia Blvd.
Above is Theresa's recent photo of "Monster Mash" at Halloween Town. A year-round Halloween store — what a concept. And yet, Elvis Presley never sang a song titled "Why Can't Every Day Be Like Halloween."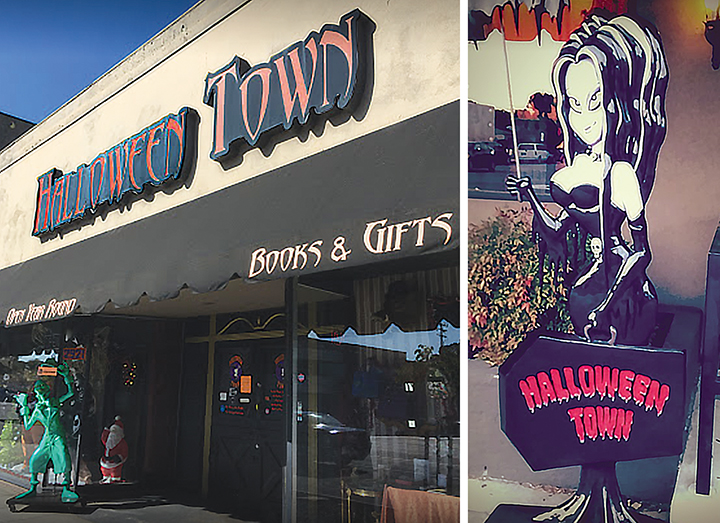 At left is the exterior of Halloween Town. At right is a cutout of the store's mascot inspired by, I would bet, Vampira. She stands outside the store, weather permitting. Facebook page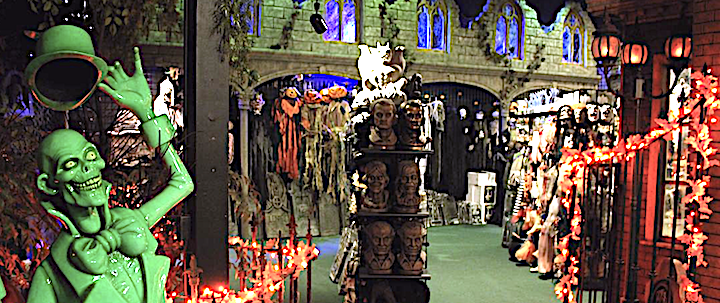 This lovely tableau beckons you inside.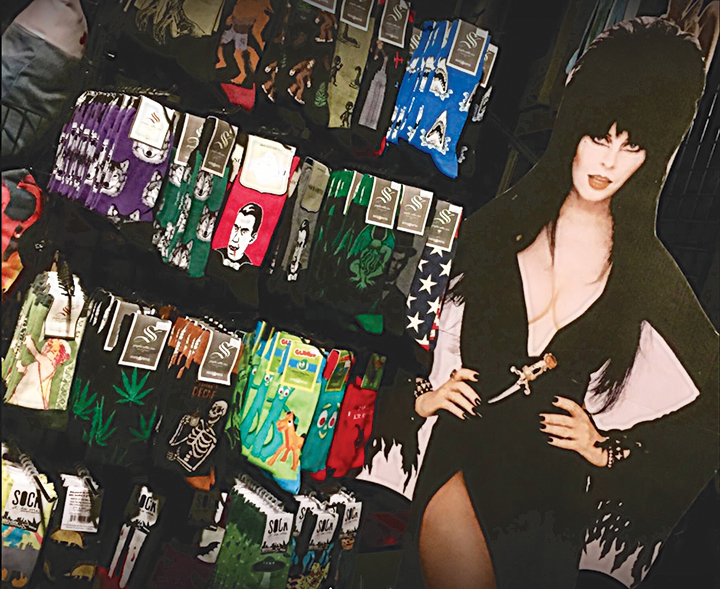 I'm sure many a customer has posed for a selfie alongside this cutout of Elvira. I remember about five years back, there was a cutout of Mike Lindell, the "My Pillow" guy, at the ShopRite in Neptune. It ain't there now.
Please enjoy a peripherally related tribute to …
---
Burbank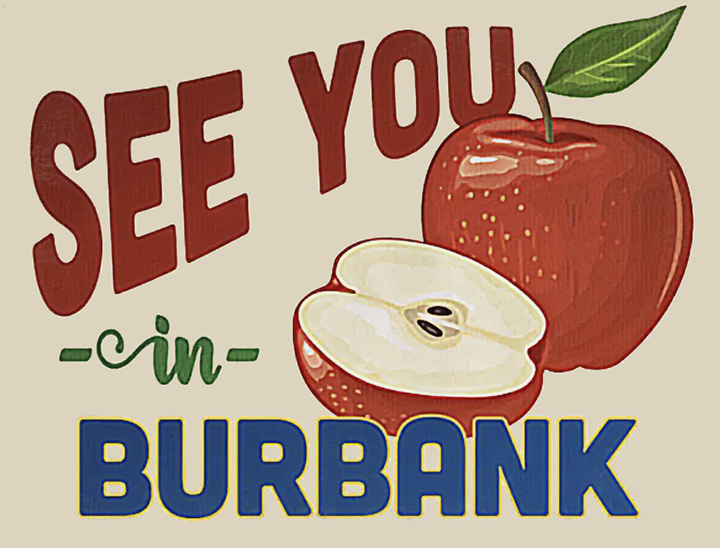 Here's a  vintage Burbank postcard.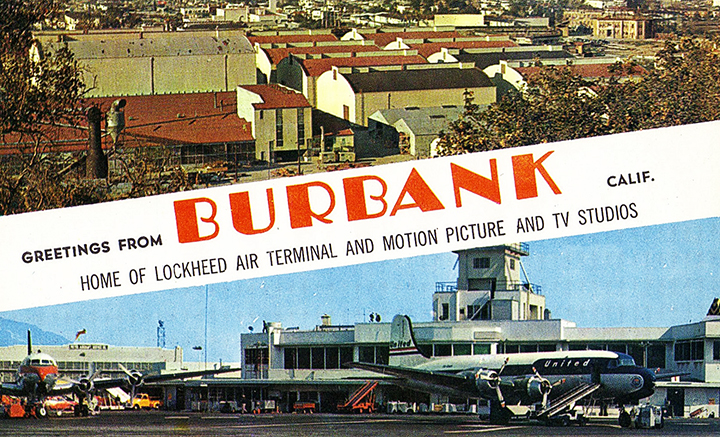 Here's another vintage Burbank postcard.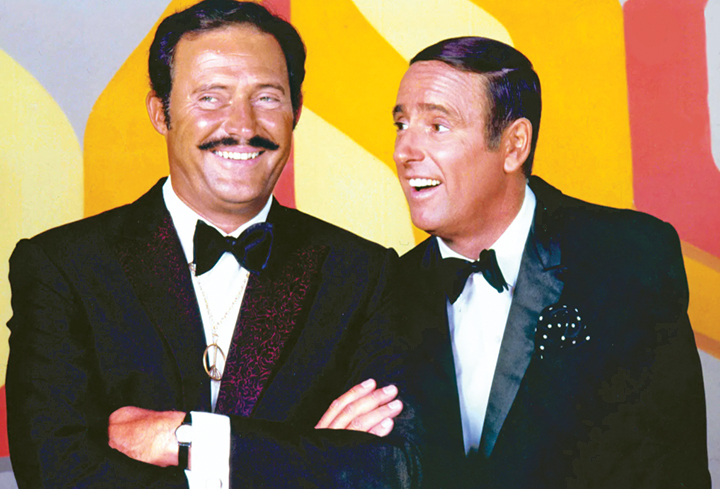 And just because I'm such a hillbilly, here are Dan Rowan and Dick Martin, co-hosts of the 1960s hipster comedy show "Laugh In." They would always say they taped "Laugh In" in "beautiful downtown Burbank." I'm sure the locals got sick of hearing it. But like I said: I'm a hillbilly. When I heard "Monster Mash" was in Burbank, my first thought was: "I finally made it to beautiful downtown Burbank." Hillbilly!
Ya gotta watch this. Phyliss Diller, Vincent Price, and Tiny Tim join the "Laugh In" gang to wax rhapsodic about You-Know-Where.