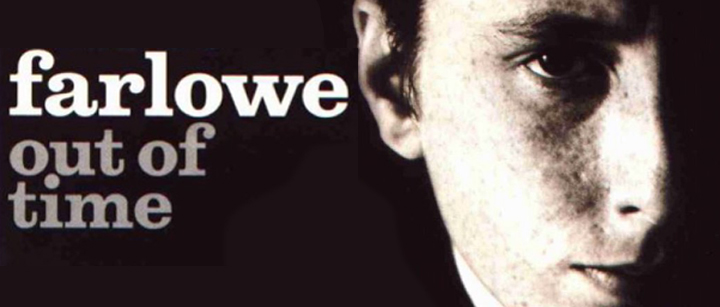 His 'Out of Time' is out of sight
By Mark Voger, author of
"Groovy: When Flower Power Bloomed in Pop Culture"
No matter how obsessively you study a given period of pop culture, if you didn't live it, there will be gaps in your knowledge.
I discovered such a gap in mine the other day, as I was listening to an oldies station on the Interweb.
On came a version of the Rolling Stones classic "Out of Time" that knocked my socks off. I'd never heard it before.
It has a killer arrangement with strings and horns, and it's absolutely true to the 1966 Stones song (from "Aftermath"), while taking it in very cool directions.
Best of all is the vocal: a slightly raspy, soulful voice that sometimes sounds a bit like Tom Jones. In fact, that's who I thought it might have been. Luckily, I caught the name of the singer just before it left my screen.
Chris Farlowe.
I re-listened (and re-listened and re-listened) to Farlowe's cover. I later found a recording he did of "Handbags and Gladrags" from 1967. In fact, Farlowe was the first to record the song, and then Rod Stewart did it. Again, super arrangement, super vocal.
Who is this guy?
I asked two music-history-savvy friends at the office. Both were at a loss, but when I mentioned that Farlowe cut a single with Jimmy Page on guitar, one of 'em said, "I was gonna say he had something to do with Jimmy Page!" ('Coz, you know, when you read something 40 years ago, sometimes a whisper of it will kind of stick somewhere in your lobes. Sometimes.)
I was thinking Farlowe could do no wrong until I heard his cover of the Stones' "Paint It Black," in which he does a weird read on the bridges. But I'm undaunted. I need to hear more, more, more.
Anyway, the Google and the Wikipedia sez he's a guy from North London; he was inspired by (who else?) Lonnie Donegan; he recorded on Andrew Loog Oldham's label; and he's still around at age 76. In other words, Farlowe is a contemporary of our favorite British pop and rock dudes and has a similar backstory. But somehow, he slipped through the cracks for a lot of us Yanks.
Anyway, I'm jazzed about Farlowe's "Out of Time," which was produced by Mick Jagger himself and went to #1 in the U.K., but only #122 on Billboard's "Bubbling Under" chart, whatever the hell that was.
Listen to this guy!
---
VIDEO: This is from a German music show called "Beat-Club." It's pretty weird how Farlowe's in the mix of all the dancers. It's kinda dreamlike. Farlowe's look is a bit goober-ish … the pointy nose, the buck teeth, the short hair … which may be why he wasn't an easy sell to we shallow, image-conscious Yanks … not as cute as McCartney, Jagger or Noone … anyways, music is meant to be heard, not seen (a bitter lesson from the MTV years), but check it out … P.S.: Am I smokin' crack, or does it sound like Jagger is doing some backing vocals?
---
VIDEO: "Handbags and Gladrags" (no visuals except record sleeve):
---
VIDEO: "Breakthrough" by Atomic Rooster (1972), with a long-haired Farlowe singing. This is freaky! Spinal Tap laughs at this video! If Deep Purple and Focus had a baby, it would be Atomic Rooster! Keyboardist Vincent Crane played that crazy Hammond on "Fire" by The Crazy World of Arthur Brown. (Um, Vincent? Halloween called. It wants its rock star costume back.) P.S.: This video ROCKS!
---
VIDEO: "Chris Farlowe the Film" teaser: Happy and sad.