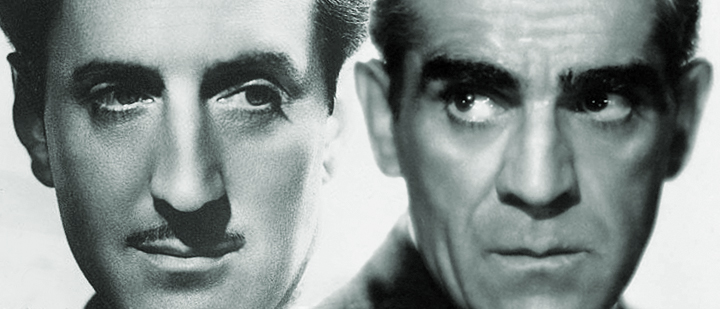 When Messrs. Karloff and Rathbone met on screen
Today — Feb. 2, 2019 — is the 50th anniversary of the death of Boris Karloff. Not a day to celebrate, but certainly one I've always remembered.
Here's what a nerd I was as a kid: I had a black-and-white poster of Karloff as Fu Manchu hanging in my bedroom, and I used to write, in small letters in pencil, "DOM" (for "Day of Mourning") on it every Feb. 2 faithfully. In 1970, I wrote "DOM II" … In 1971, "DOM III" … etc. So following that logic, today would be "DOM LI." (That's 51 in Roman numerals.) I'll have to write it somewhere in small letters in pencil.
Super nerd!
Anyhoo, I recently posted an article all about Karloff's role as Bishop Cauchon in "The Lark" on Broadway and television. (Please read the piece HERE.) Since another favorite actor of mine, Basil Rathbone, was in the TV "Lark" alongside Karloff, and the two worked together on at least five occasions, I took a deep dive down the Boris-and-Basil rabbithole. Check it out …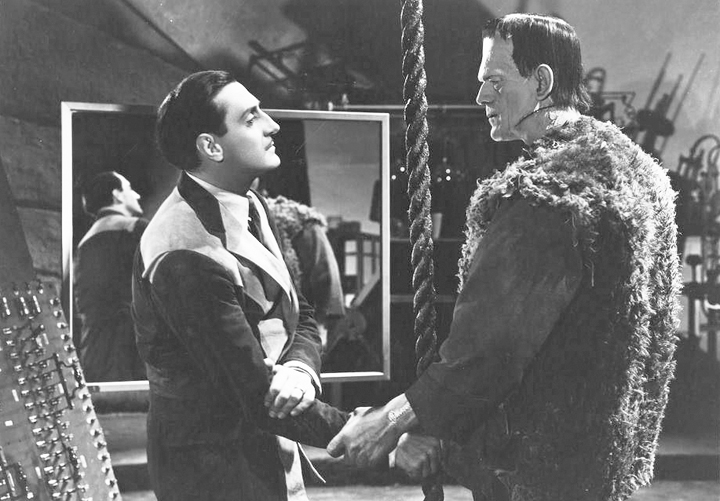 Here's Rathbone and Karloff in "Son of Frankenstein" (1939). This is the touching scene in which the monster (Karloff) brings Wolf Von Frankenstein (Rathbone) to a mirror as if to say, "You're handsome. I'm scarred and hideous. Is it any wonder I'm a monster?"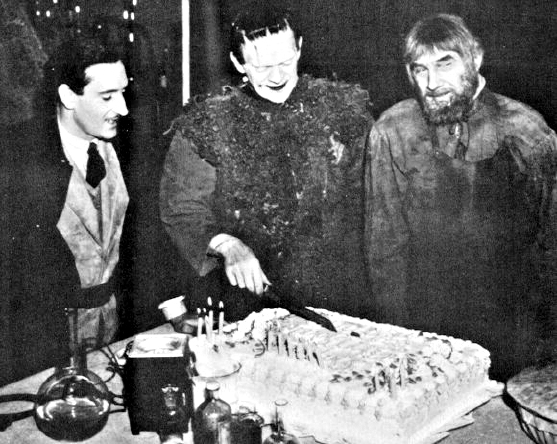 Here's a behind-the-scenes photo of Rathbone, Karloff and their "Son of Frankenstein" co-star Bela Lugosi — all in costume and makeup as their movie characters — celebrating Karloff's 51st birthday.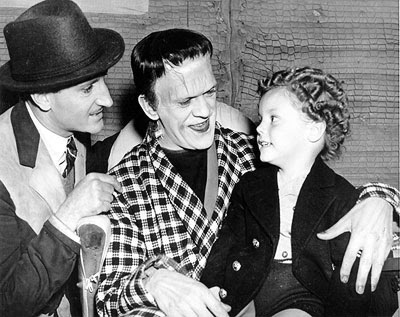 Here's Rathbone, Karloff and Donnie Dunagan (who played Rathbone's son Peter, the grandson of Frankenstein) during another backstage moment.
Some fans are annoyed by Dunagan's character in "Son of Frankenstein" — he's too cutesie for words, with his "Our Gang"-level cadence and curly locks — but I think he helps bring heightened emotion to the climax. Suddenly, adversaries Wolf and Inspector Krogh (Lionel Atwill) have a common goal — to save Peter from the bubbling sulfur pit!
Dunagan provided the voice of young Bambi in Walt Disney's 1942 animated classic "Bambi." Later in life, he was a Marine who served in the Vietnam War. Dunagan is still with us, and will turn 85 on August 16, God willing.
P.S.: Dunagan was also in Karloff and Rathbone's next film …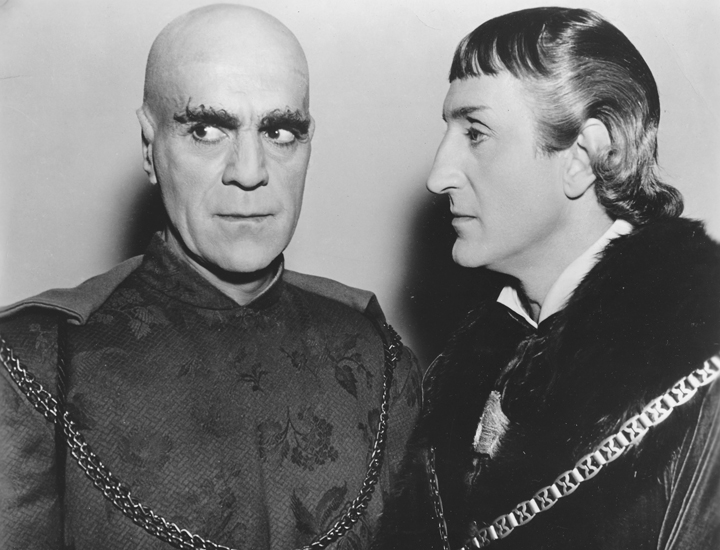 … "The Tower of London," which was made the same year under the same director (Rowland V. Lee). Karloff and Rathbone co-starred as gleefully sadistic Mord the executioner and murderous, conniving King Richard, respectively.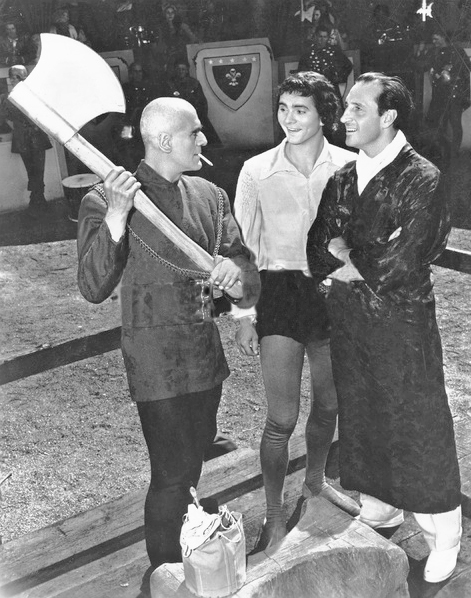 Between takes on the "Tower of London" set are, from left, Karloff, John Rodion and Rathbone. Yeah, Karloff smoked too much, like everyone in Hollywood in those days. Emphysema contributed to his death.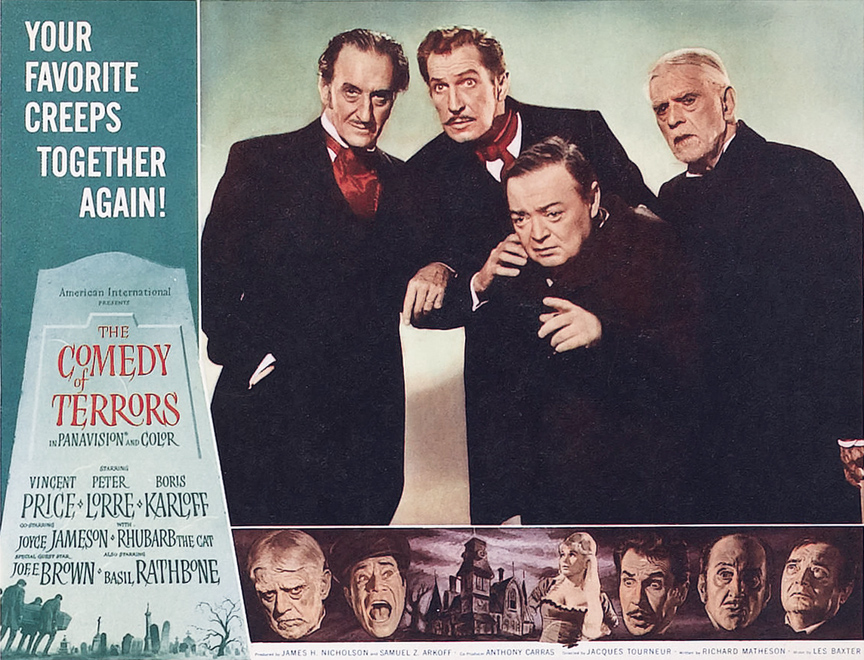 Then came the TV "Lark" in 1957, followed by "The Comedy of Terrors" (1963). Here is Rathbone, Vincent Price, Peter Lorre and Karloff in a lobby card for the wickedly funny black comedy written by Richard Matheson ("I am Legend"), directed by Jacques Tourneur ("The Cat People") and filmed by Floyd Crosby ("High Noon"). Tourneur collaborating with Karloff was a reunion of Val Lewton/RKO alums.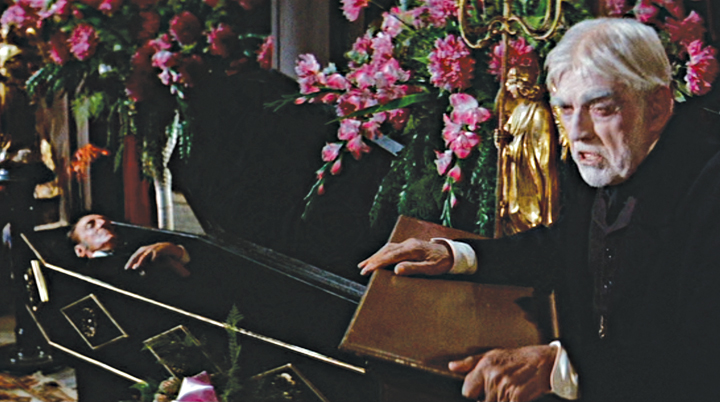 Karloff and Rathbone did not trade dialogue in "The Comedy of Terrors," but they were onscreen together in one sequence. Karloff, as ancient mortuary proprietor Amos Hinchley, delivers the eulogy of Rathbone, as Scrooge-like landlord Mr. Black. Karloff is a howl in the sequence. One wonders how Rathbone managed to retain his convincing corpse-like state without breaking up.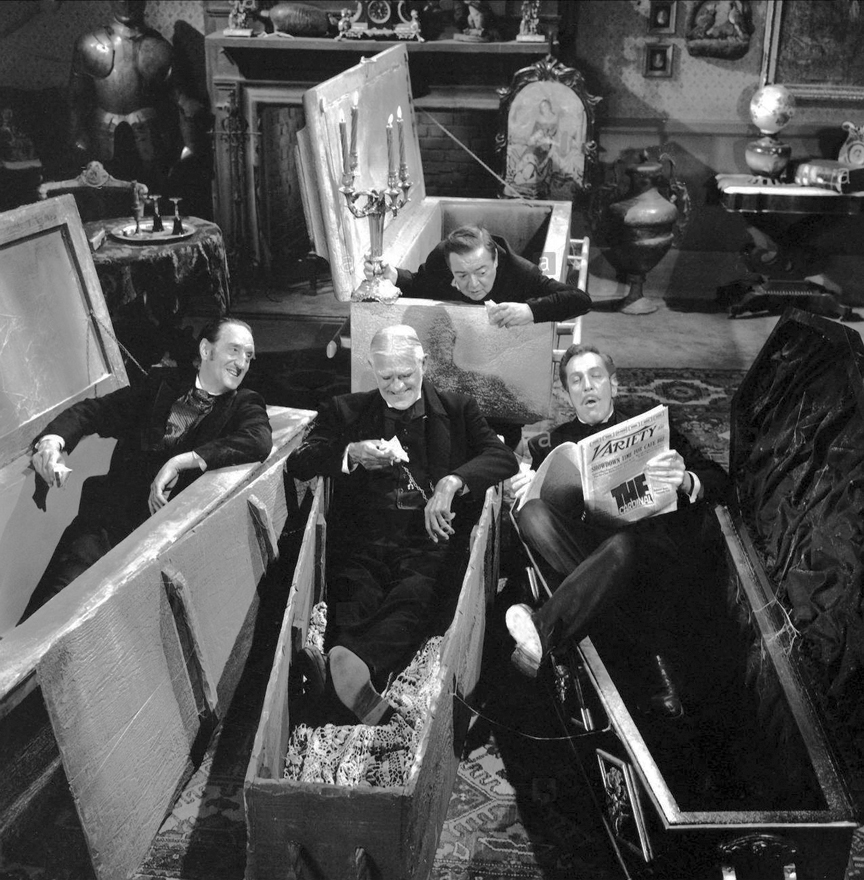 Though the four stars of "The Comedy of Terrors" were never in the same shot together, they posed for some rather elaborate publicity photos. Here they are relaxing in coffins holding white lillies, with Price reading Variety.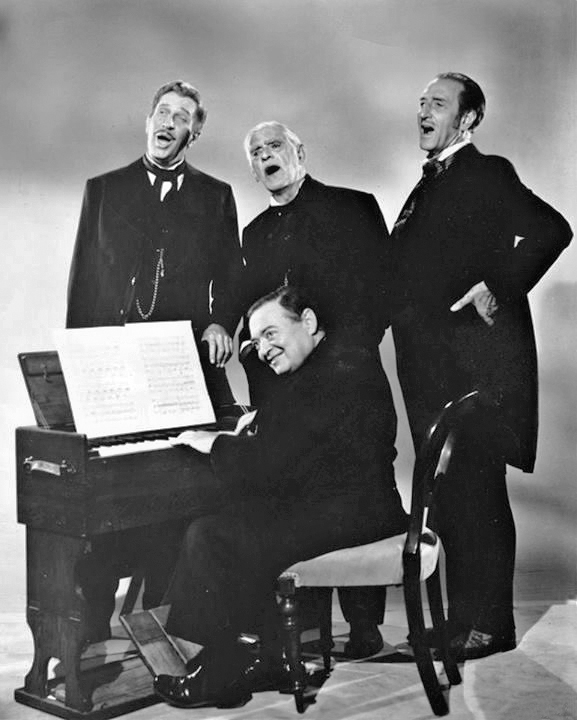 Here they are pretending to harmonize, with Lorre at the old 88.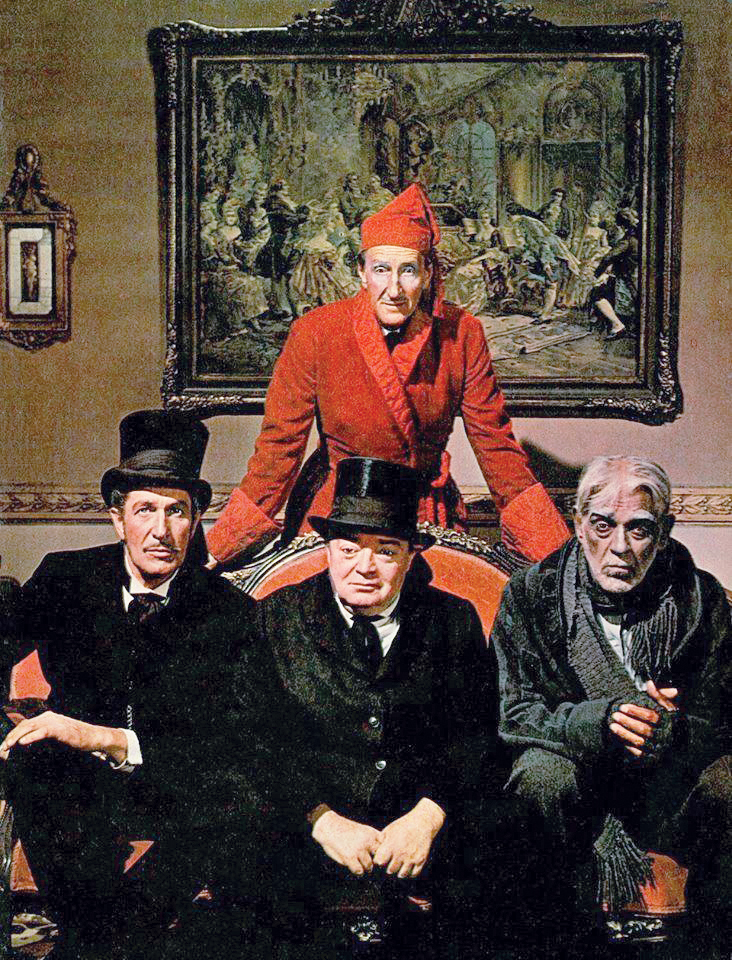 Here they are in costume and makeup as their "Comedy of Terrors" characters. You really sense that Karloff, Rathbone, Lorre and Price had a ball making this one, flexing their comedy muscles. Matheson gave them good words, and Tourneur left nothing to chance. Clearly, the film was lovingly storyboarded.  Joe E. Brown is even in it! My only quibble is the Les Baxter score, which I find overly "comedic" and gimmicky.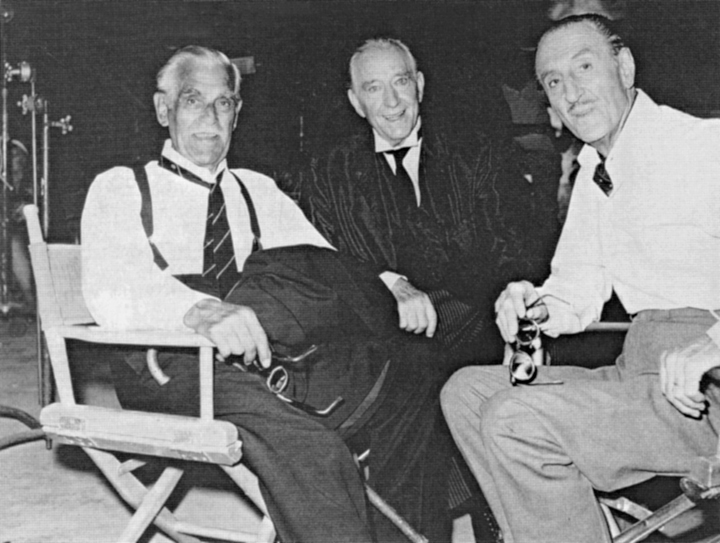 Here, from left, are Karloff, silent star Francis X. Bushman (in his final movie role, as Malcolm the butler) and Rathbone on the set of "Ghost in the Invisible Bikini" (1966), a youth romp from American International Pictures. Rathbone played Karloff's lawyer, though the two are never onscreen at the same time. Darn it!
I often lament that Karloff never acted in one of the Basil Rathbone-Nigel Bruce Sherlock Holmes films of the 1940s. So many horror stars did: Atwill, George Zucco, John Carradine, Henry Daniell, Rondo Hatton, Gale Sondergaard. Karloff would have made a fine Moriarty (a role Zucco, Atwill and Daniell all played in the series). Hey, Karloff was in a Charlie Chan movie and even a Dick Tracy movie, fer cryin' out loud!
VIDEOS: Trailers or scenes from "Son of Frankenstein," "Tower of London," "The Comedy of Terrors" and "Ghost in the Invisible Bikini."