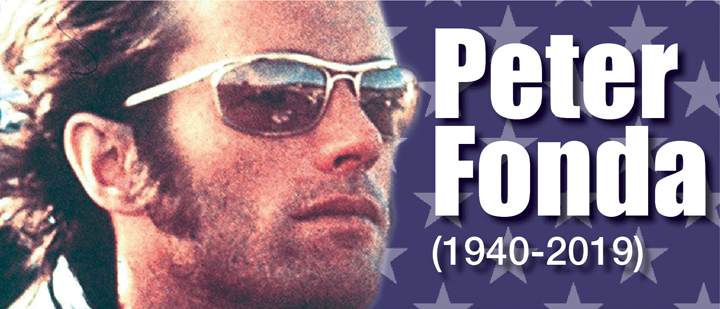 Farewell to the guy on the chopper
By Mark Voger, author
"Groovy: When Flower Power Bloomed in Pop Culture"
---
In 1970, when I was a 12-year-old trying to find out who I was, I bought a poster of Peter Fonda at A Shop Called East, a glorified "head shop" at the Echelon Mall in Voorhees in Camden County, New Jersey. The poster was a still from "Easy Rider," Dennis Hopper's hippie-biker classic of 1969. Fonda was shown riding that Smithsonian-worthy chopper — the one with the ridiculously long front forks and the "teardrop" gas tank with its American flag design. A matching helmet hung from the sissy bar.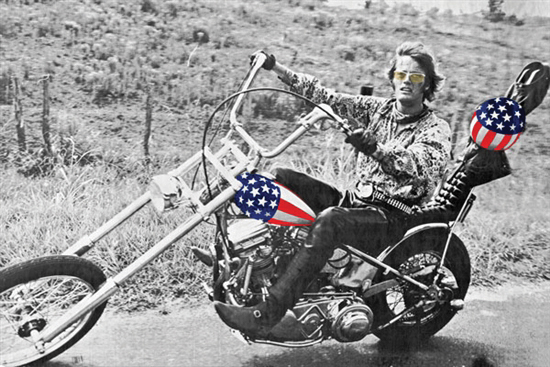 Recently, while exchanging messages with my brother Brian about Fonda's death Friday at age 79, we spoke about how influential that poster was in our lives. Just the poster. We didn't get to see the R-rated film for decades. But the poster held so much mystery, so much promise of a cool, rockin', adventurous, groovy adult lifestyle to come.
(That lifestyle never happened, of course, but it was nice to dream about.)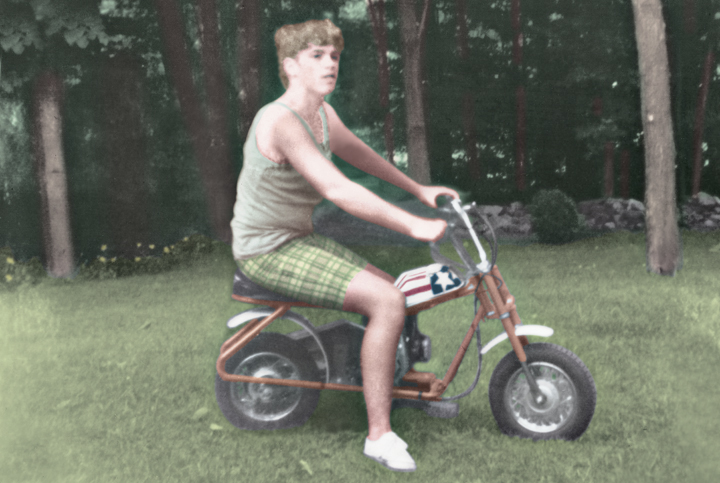 I painted an American flag onto the gas tank of my minibike, using Testors model-kit paint. I bought a pair of what were marketed as "Easy Rider motorcycle glasses," probably at Spencer's Gifts at the mall.
With the help of our Irish-immigrant grandfather, Brian installed ridiculously long front forks on his bicycle. (It involved a beach umbrella pole and a chrome rod from a Kirby vacuum cleaner, hammered flat on the ends with holes drilled into them — a real project.) It took Brian, who was gifted athletically, two whole days to master it. He rode that bike all over Woodcrest for six months until one day, a couple of cops spotted him on it. They asked him demonstrate riding it, and then brought him home to 301 Tearose Lane, where they informed our parents that the bike was unsafe to ride.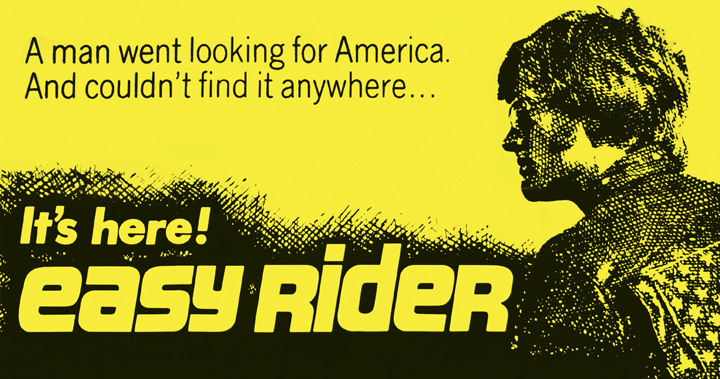 I finally saw "Easy Rider" as a young adult, and it was everything I could have hoped for. As laid-back biker Wyatt, Fonda was/is the coolest person in the movies. Who else could claim that mantle? Tom Cruise in "Top Gun"?
But I don't unconditionally love every Peter Fonda movie. It's when good material met the actor effectively that he was so damn … good.
I'm vouching for "The Wild Angels" (1966), Roger Corman's bleak early biker flick with spot-on second-unit work from novice Peter Bogdanovich; "The Hired Hand" (1971), a thoughtful western that Fonda directed; "Ulee's Gold" (1997), an engrossing drama with an understated, and Oscar-nominated, performance from Fonda; and "The Limey" (1999), in which Fonda played a kind of alternate-universe version of Wyatt, if he had lived and become a music mogul.
(The trailer for 1968's international Poe anthology "Spirits of the Dead" still looks sexy-creepy, but I can't comment reliably on the film itself, as I only saw it once, on UHF, when I was in grade school. It was certainly chopped to smithereens (though I do recall a scene of Bridget Bardot whipping someone that, young as I was, I recognized as being more fetish-y than horror-y). Fonda is in the sequence with his sister, Jane Fonda, which was directed by her then-husband, Roger Vadim.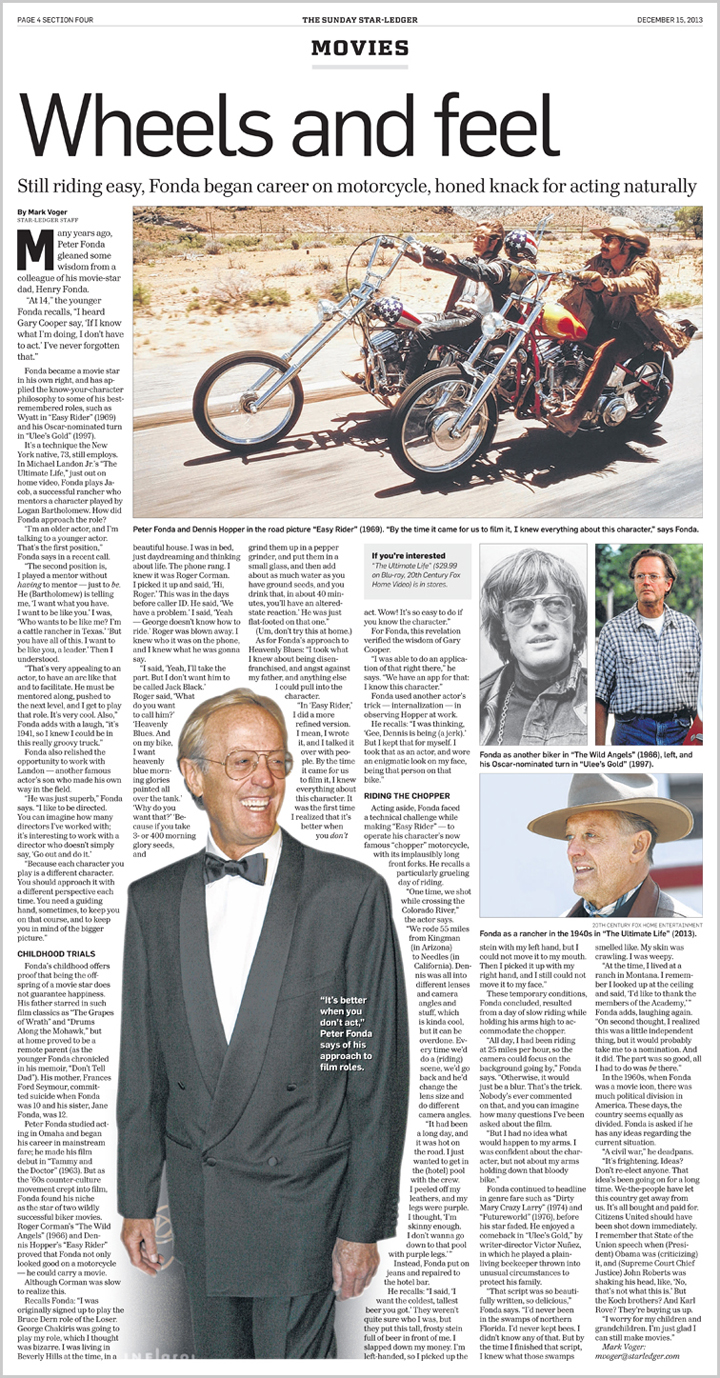 Middling movies include "The Trip" (1967), Corman's LSD opus; "Dirty Mary, Crazy Larry" (1974), a car crash flick channeled by Quentin Tarantino in the "Death Proof" half of "Grindhouse"; "Race With the Devil" (1975), a devil cult movie; and "Futureworld" (1976), OK sci-fi. Not great movies, and Fonda's not great in them, though "The Trip" is a cut above the rest.
I went to see the remake of the western "3:10 to Yuma" (2007) just 'coz I noticed that Fonda was in it. Glad I did. It was comforting to see him on the big screen again. And the movie was building to a pulse-pounding climax … until the ending that made no sense.
In 2013, a career dream came true when I interviewed Fonda for The Star-Ledger. (The thin timely hook was the home-video release of "The Ultimate Life," a movie in which he had a supporting role, but I fashioned a retrospective that took up a full Sunday page in color. This was my one chance to do Peter Fonda right, yo, and I wasn't about to choke.) It was so surreal to get a call, late on a weekday evening, that began, "Hi, Mark, this is Peter Fonda."
He was wonderful, never evincing a trace of annoyance when — no surprise here for Fonda, I imagine — I kept asking questions about "Easy Rider." He told me how, in preparing for the role, he recalled some wisdom gleaned from a colleague of his movie-star dad, Henry Fonda.
"At 14," he recalled, "I heard Gary Cooper say, 'If I know what I'm doing, I don't have to act.' I've never forgotten that." Fonda applied this know-your-character philosophy to the role of Wyatt.
"I wrote it and I talked it over with people," he said. "By the time it came for us to film it, I knew everything about this character. It was the first time I realized that it's better when you don't act. Wow! It's so easy to do if you know the character."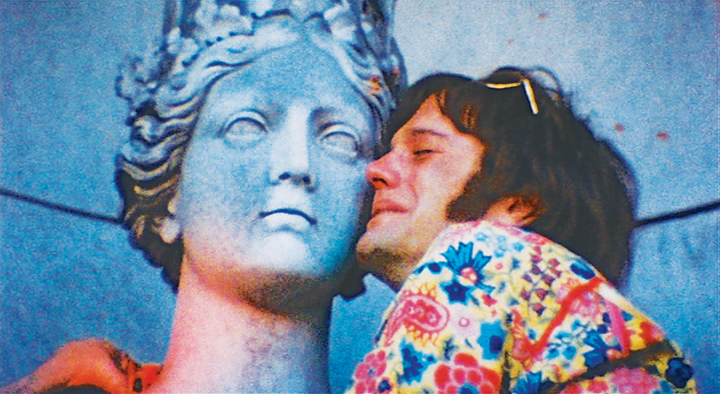 Fonda added that in the largely improvised "Easy Rider," he intentionally said little, and "wore an enigmatic look on my face, being that person on that bike."
After the film wrapped, Fonda and Hopper realized they needed to shoot one more sequence, a campfire scene that sets up the climax. Hopper had a lot of dialogue for Fonda, which Fonda basically boiled down to three words — again, in the interest of keeping his character enigmatic.
Recalled Fonda: "I knew the strongest line in 'Easy Rider.' In 'Easy Rider,' it was: 'We blew it.' No matter what else was said, 'We blew it' was the stunner. That was the real bag that captured everyone with, 'What?' and left them without an answer."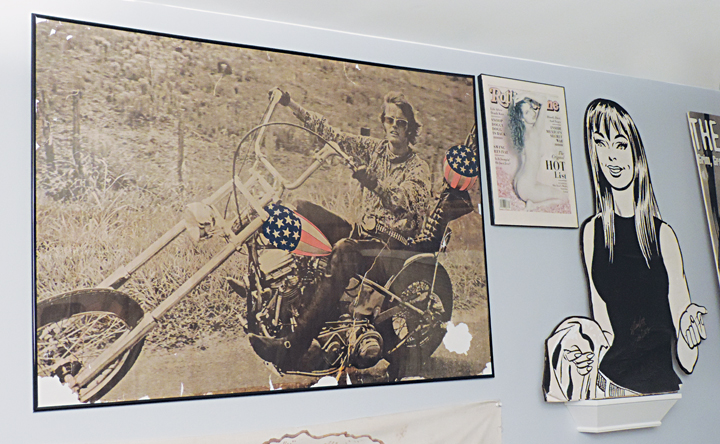 P.S.: Of all the posters from my circa-1970 bedroom, I only saved one. Here it is. Note the shredded condition. I carried the thing with me from my childhood bedroom to 10 more locations, rolled up with rubber bands. I finally framed it about 10 years ago. To me, it's like the Scroll of Thoth or the Shroud of Turin. If you're wondering, the poster is hanging next to French supermodel Laetitia Casta's Rolling Stone cover and a homemade enlargement of Mary Jane Watson (in her first appearance from 1966) signed by Stan Lee and John Romita.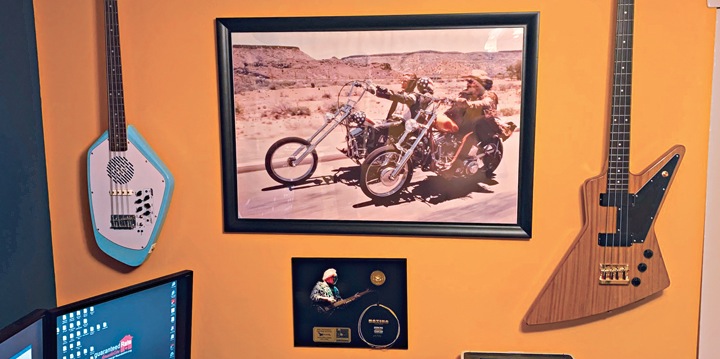 P.P.S.: Here's a framed print of Fonda and Hopper from "Easy Rider" hanging in my brother's home. (For much of Brian's adult life, he's ridden Harleys.) If you're wondering, the print is flanked by two bass guitars — a Vox Phantom on the left and an Epiphone Explorer on the right. Below the print is a bass string once owned, and played, by the late, great Who bassist, John Entwistle.
P.P.P.S.: Below is page 95 from "Groovy." my humble gift to fellow Peter Fonda fans in this time of grief.
---
PETER FONDA ON FILM