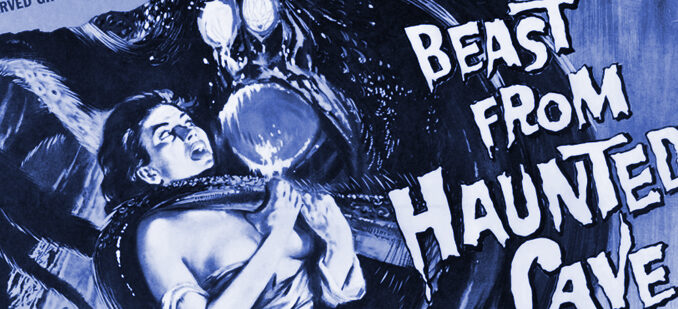 Two movies … lotsa snow
---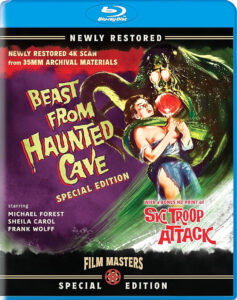 'Beast From Haunted Cave: Special Edition'
Film Masters
Two-disc set $29.95 (Blu-ray), $19.95 (DVD)
72 minutes plus bonus film and special features
Not rated
---
By Mark Voger, author
'Monster Mash: The Creepy Kooky Monster Craze in America 1957-1972'
---
In 1959, Monte Hellman's low-budget horror flick "Beast From Haunted Cave" was released as a double feature alongside Roger Corman's likewise cheaply produced "The Wasp Woman." It was an apt pairing — two cheesy monster movies with cheesy monsters.
Fast-forward to 2023. On Oct. 24, Film Masters will pair "Beast From Haunted Cave" with Corman's "Ski Troop Attack" (1960) on home video with gussied up scans of both films. Which may lead you to ask: Why pair a monster movie with a World War II movie?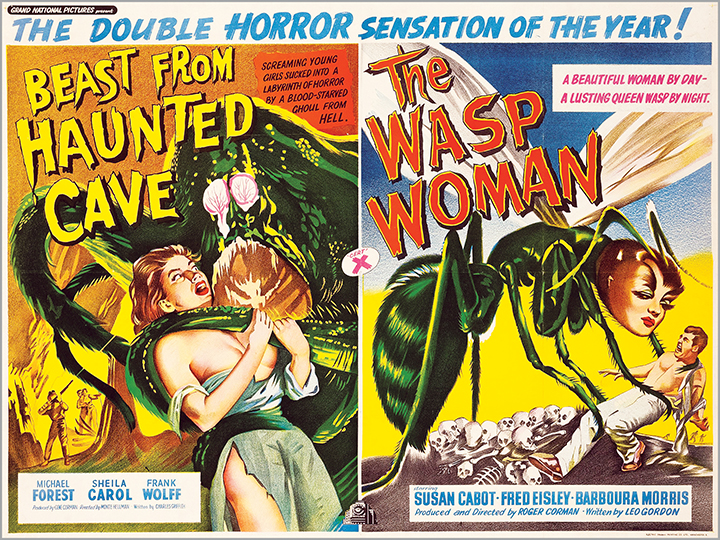 Glad you asked. Y'see, "Beast" and "Attack" were made back-to-back utilizing the same cast, crew and snowy South Dakota backdrop, and both were written by Charles B. Griffith ("The Wild Angels"). So these movies view like alternate-universe versions of one another. They belong together, Bruh!
Film Masters' forthcoming "Beast From Haunted Cave: Special Edition" — with a newly restored 4K scan from 35mm sources — will feature a bonus HD print of "Ski Troop Attack," and can be pre-ordered HERE.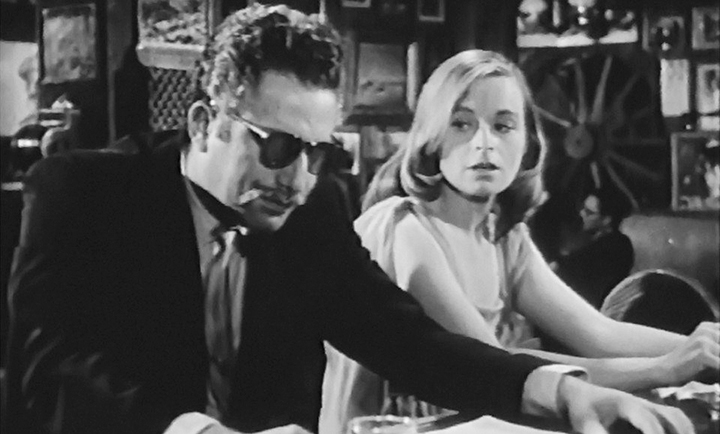 The elevator pitch for "Beast From Haunted Cave" could very well have been: "Key Largo" with snow … and a monster.
Just as Edward G. Robinson and his goons are unlikely candidates for a fishing trip in "Key Largo," the rough characters in "Beast" who book lessons and rooms at a ski resort in the Black Hills seem a little off.
They are: cigar-chomping boss Alex (Frank Wolff), his "secretary" Gypsy (Sheila Carol, who later billed herself as Sheila Noonan), and two henchmen calling themselves Mr. Smith (Wally Campo) and Mr. Jones (Richard Sinatra, a cousin of Frank Sinatra who was in "Ocean's Eleven" and "Robin and 7 Hoods"). The transparently phony names Smith and Jones pose a red flag for Gil (Michael Forest), the straight-arrow ski instructor at the resort. Still, Gil gives the group the benefit of the doubt and carries on.
Gypsy is a trim blond whose face is still pretty, but without question, she has been around the block more than once. She is first seen mixing drinks deckside while Gil imparts instruction to her cohorts. "Don't you ever get thirsty?" she goads Gil. "Not at 10 in the morning," is his terse replay. Gypsy later marvels to Alex: "People like that really exist?"

The gangsters take to calling Gil "cowboy," "nature boy" and "Davy Crockett" behind his back. But it behooves them to keep things nice and friendly with Gil for as long as they can; he is integral to the heist that has brought them to the Black Hills. (Spoilers follow.)
The men scheme to plant timed explosives in an old mine in the mountains to create a diversion while they rob gold bars from an (off-hours) bank in town. With split-second timing — and more diversionary tactics from Gypsy — Gil will think the men have been skiing the entire time. A credible alibi!
But they haven't bargained for two things. No. 1: A local old-timer is killed in the blast. No. 2: The blast upsets the title monster.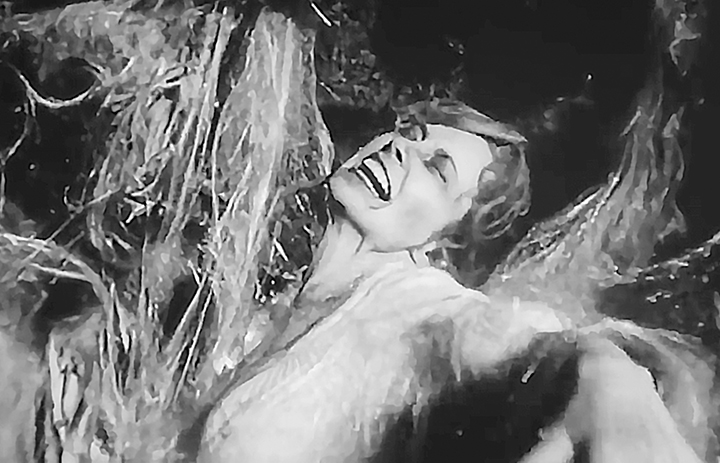 Mr. Jones — that is, Marty — takes a fancy to Natalie (Linné Ahlstrand), a cocktail waitress at the resort, and lures her to the mine for a little fun. When they are rudely interrupted by the Beast, Marty skeedaddles. He's no gentleman.
Marty later finds her still in the cave, bound in webbing and hovering somewhere between life and death. When Natalie opens her eyes slowly and peers at Marty, it's the creepiest moment in the movie.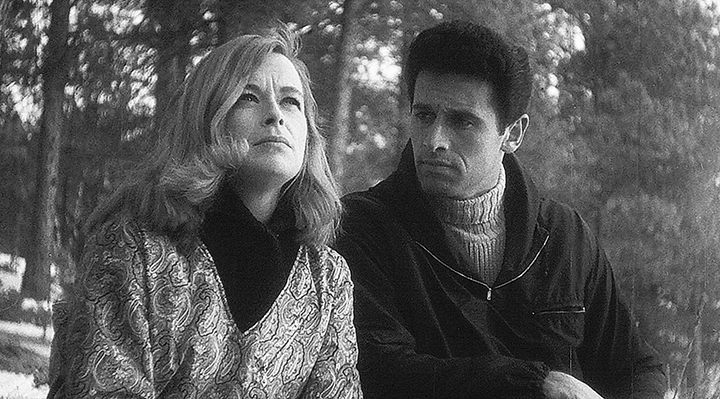 In a booklet accompanying Film Masters' release, Chris Robinson (who designed and played the Beast) told writer Tom Weaver: "I made the Beast costume with plywood, chicken wire, sheets, muslin, most of it painted black with vinyl paint, and then added angel hair for that 'cobwebby' look. … I had $29 to work with!"
Owing to Robinson's limitations, we cannot see the Beast's face, which adds a little mystery. (The poster art shows a contrived face that the movie itself does not.) Also, the Beast moves oddly — Robinson used cardboard tubes for its arms — and sometimes those movements are "undercranked" (sped up), again adding a weird effect.
"Beast" was shot in Deadwood, which explains why a radio announcer in the movie calls the bank robbery "the biggest story to hit the Black Hills since the murder of Wild Bill Hickok!" The film was the directorial debut of Hellman ("The Shooting," "Two-Lane Blacktop") and was produced by Roger Corman's brother Gene Corman. Its clever noir plot and rich character studies make it a superior film to "Ski Troop Attack." (More spoilers follow.)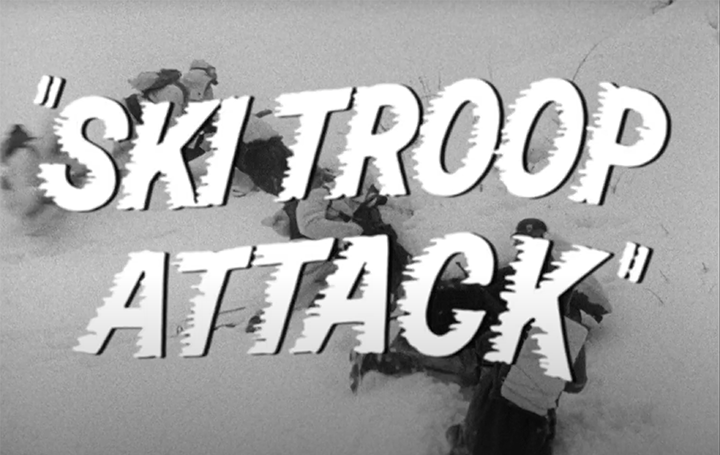 Meanwhile, the stock-footage-heavy "Troop" follows five American commandos as they ski through the German Alps on a mission to bomb a key train trestle. Forest plays cucumber-cool Lt. Factor, who does things by-the-book; Wolff is irascible Sgt. Potter, who shoots from the hip.
Carol/Noonan is effective as a German woman (likely a war widow) whose remote cabin is commandeered by the Americans. After the men eat her chickens and toy with her stockings, she pulls a pistol on Potter. I won't spoil what happens next.
After the mission is completed come the final lines of dialogue in "Troop," an exchange between the film's antagonists …
Factor: "Well, sergeant, get enough fighting?"
Potter: "I guess so, lieutenant."
Factor: "OK. Let's get outta here."
Corman once told biographer Ed Naha that an actual German former ski trooper was set to play a German officer, but broke his leg just prior to filming. Corman — who noted that he could neither speak German nor ski — filled in at the last minute, mumbling his lines which were later dubbed by a German accountant. You can't make this stuff up.
The forthcoming set includes a 65-minute (theatrical) print and a 72-minute (television) print of "Beast From Haunted Cave"; commentary on both films; trailers re-cut with restored footage; and a documentary on Roger Corman's upstart startup, Filmgroup, from Ballyhoo Motion Pictures. Schlock satirist Larry Blamire splits commentary duties with Weaver; I can't wait to hear Blamire's take on good old "Beast From Haunted Cave."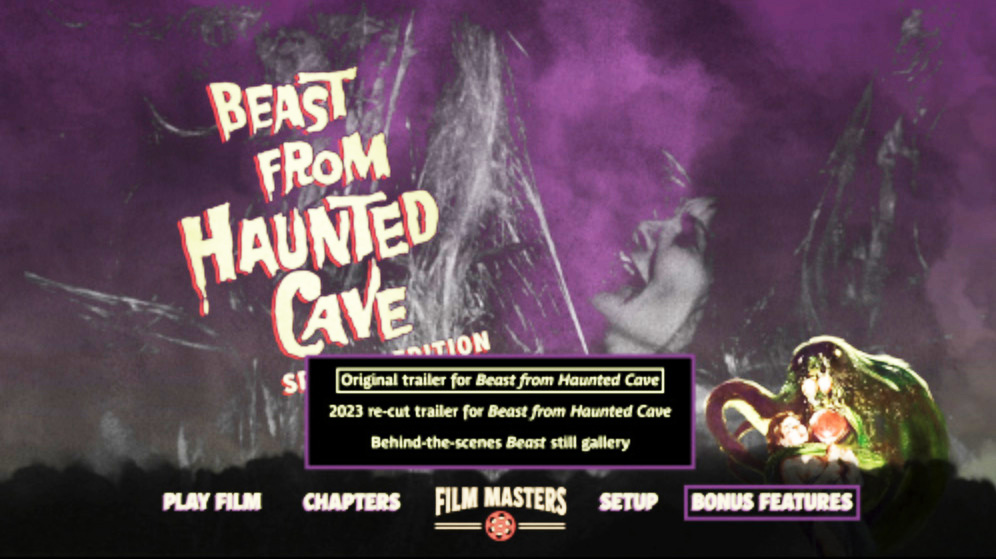 Yep, there's an Easter Egg, and if yer goin' crazy lookin' for it, I can hook you up … just scroll to the right on the menu page … then click on the Beast itself (see art above) … and you'll find that pesky Easter Egg … but don't tell 'em I sent you … (I don't wanna get in trouble) …
---
Post script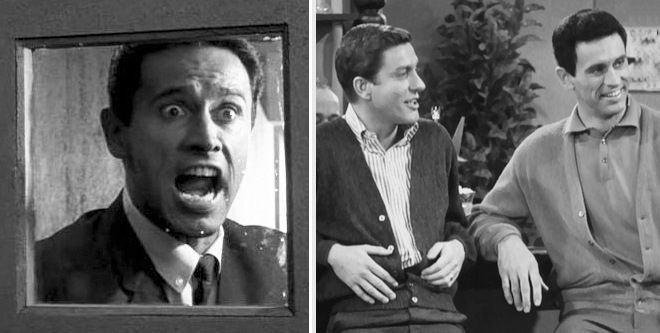 I've gotta say a little something about Michael Forest. At above left, he is having a very bad first day on the job at a mysterious research lab in the 1963 "Outer Limits" episode "It Crawled Out of the Woodwork." It's one of four "Outer Limits" episodes that still, to this day, scare the friggin' bejesus out of me, just like they did when I was a tapole. (The other three are "The Zanti Misfits," "The Man With the Power" and "The Sixth Finger.")
At above right, Forest scored sitcom immortality on an episode of "The Dick Van Dyke Show" (1964), as an old flame of Laura (Mary Tyler Moore) who used to write her love sonnets and … well, I don't wanna spurl it.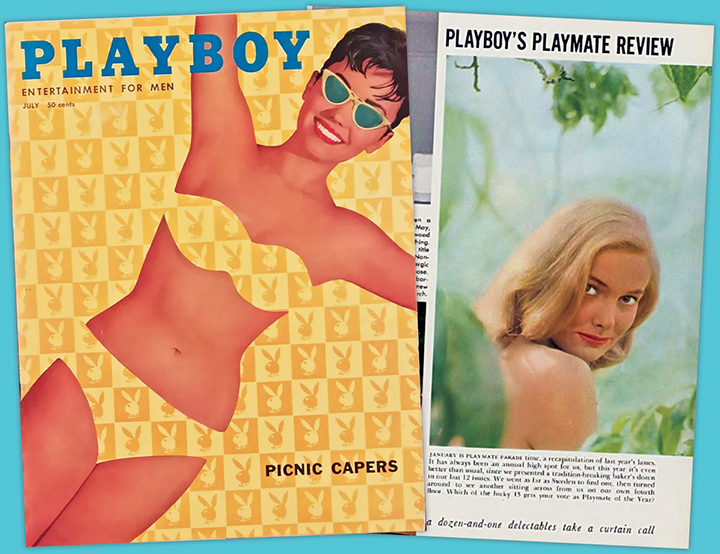 A digression: Ahlstrand, who gave her all as wrong-place-wrong-time cocktail waitress Natalie, was the Playboy Playmate of the Month for July 1958. (I was then 2 months old.) The model-actress died at age 30 of cancer in 1967.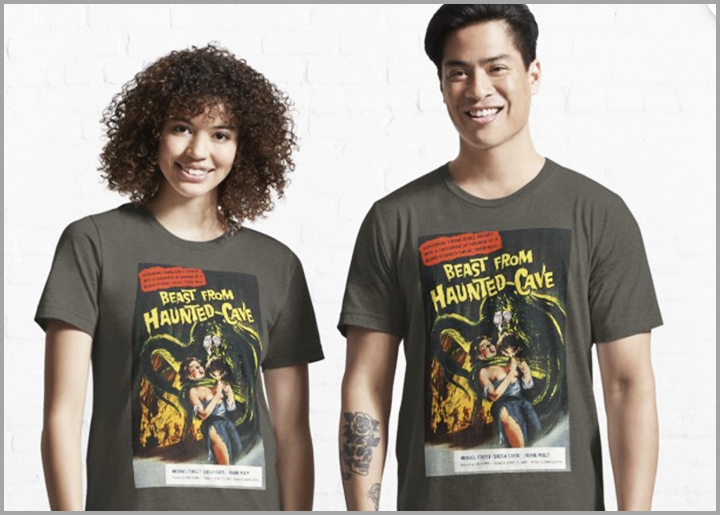 These two again. Y'know, they've been around for a while now hawking T-shirts, but they still seem fresh and hip. And although I know better, I somehow believe they really are wearing "Beast From Haunted Cave" T-shirts, probably to watch the movie for a stay-at-home date night.
---
VIDEOS
---
POSTERS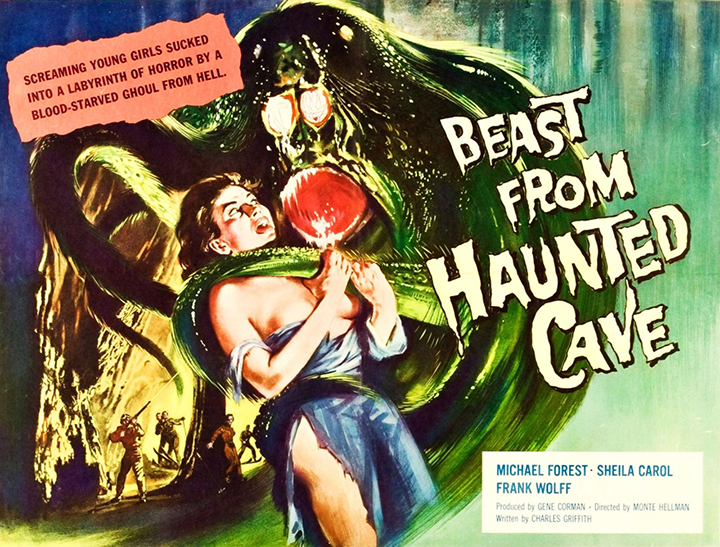 Hmmm … Isn't the above image is a little bit racy for a 1959 movie poster? Maybe it's down to Ahlstrand's Playboy connection. And that monster don't look nuthin' like the one in the movie!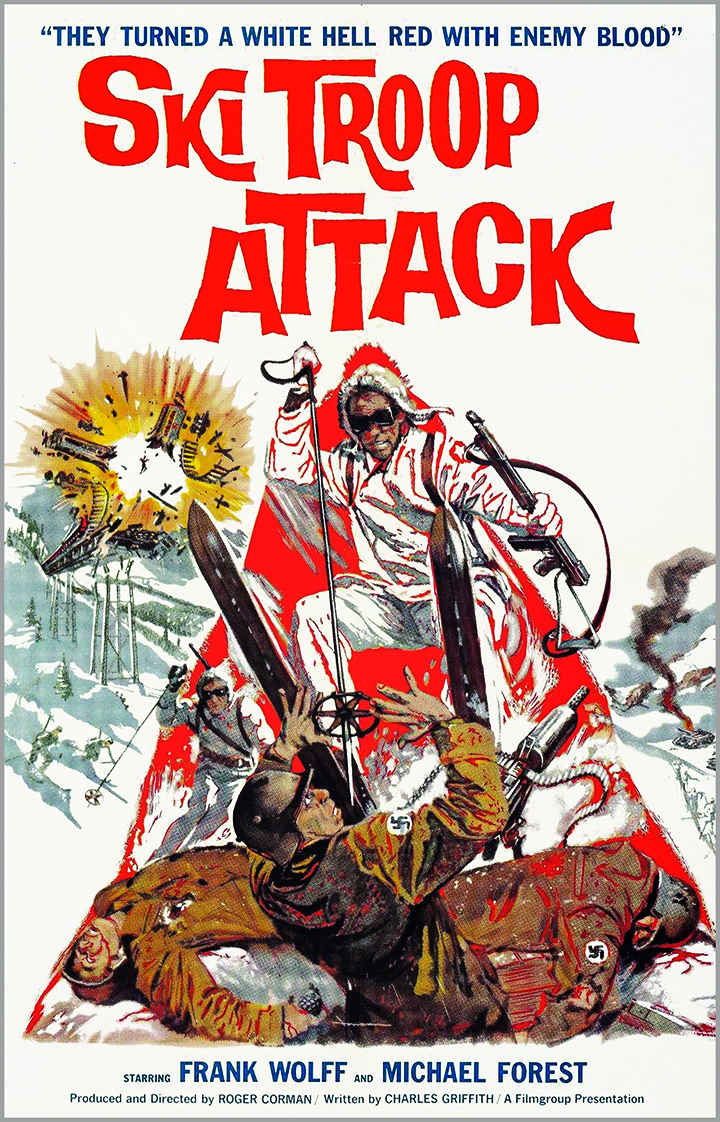 Alas, the movie isn't nearly as exciting as the poster.