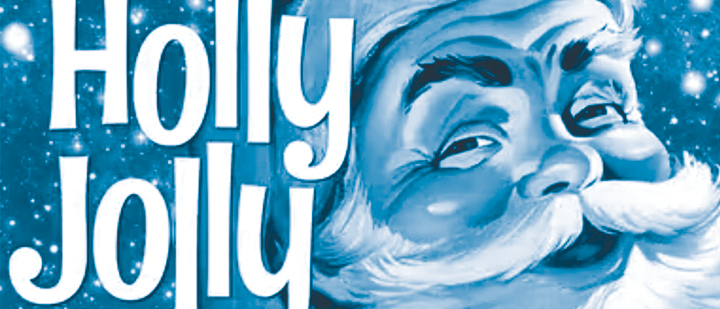 A history of Christmas in 1:01
PRE-ORDER "Holly Jolly" at TwoMorrows, Barnes & Noble, Amazon and other outlets.
---
My genius-filmmaker nephew, Ian Voglesong, has created another masterpiece for his awestruck uncle. (I guess drawing all those Batman cartoons for Ian when he was a little squirt has paid off.)
If the "Holly Jolly" trailer doesn't help sell a few books, it's not the kid's fault. I'm just so lousy at the social media. I'm not with the Twitters or the Facebooks.
WATCH Ian's trailer below:
Ian and I followed our usual protocol. I sent him my favorite pages and images from "Holly Jolly," plus supporting filmclips, and told him my "musts." There were three: the Alastair Sim "Scrooge" (1951), the Mexican "Santa Claus" (1959) and "Santa Claus Conquers the Martians" (1964). Even a split-second of these would do the trick. Just so they're somewhere in the DNA of the trailer.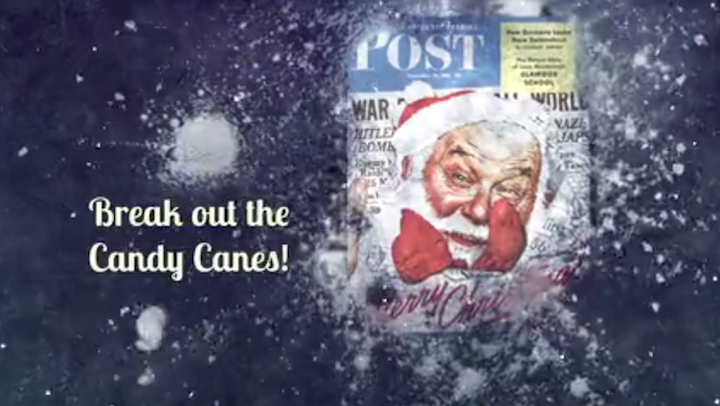 I also supplied Ian with the "thumb" – that is, the frame which represents a given video (often a screenshot of a significant moment within). I made it a closeup of the "Holly Jolly" cover boy: a comic-book Santa Claus from 1958, artist (sadly) unknown.
From there on out, it was All-Ian-All-the-Time.
For music on the "Monster Mash" and "Groovy" trailers, my brother Brian recorded and mixed original instrumental tracks that I wrote and performed, on which Brian added bass. We had planned to do the same for "Holly Jolly," and I was working up a rock arrangement of "Jolly Old St. Nicholas"/"O Come, O Come, Emmanuel." (Sounds weird, but I swear it would've worked.)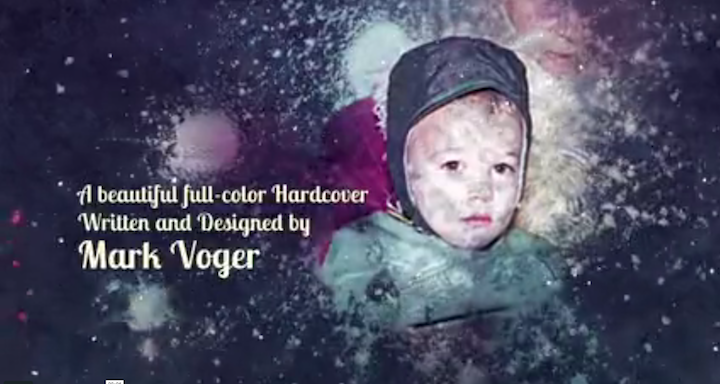 This would've had my sister, Barbara, and my niece, Maggie, singing oohs and aahs. I was very close to finishing the arrangement when I struck upon what was, in my heart of hearts, a better idea.
I decided to go with the "Russian Dance (Trepak)" section of Tchaikovsky's "The Nutcracker." It's short, brisk, has many opportunities to punctuate action, and it's in the public domain. Ian located a likewise duty-free orchestral performance of the piece, and we were off to the races.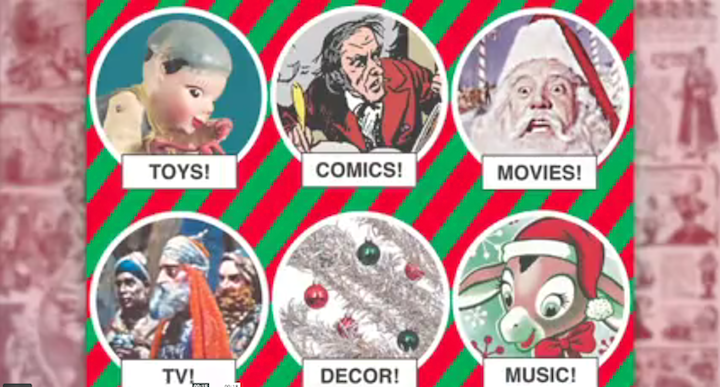 Ian uses a "snowball" effect with onscreen type to open the video. He then painstakingly times the "Trepak" to the onscreen action. Even Jimmy Stewart's "That-a-boy, Clarence!" wink happens right on the beat.
My favorite example of this is Laurel and Hardy frantically exiting the toy factory as the wooden soldiers march out, accentuated by Tchaikovsky's frantic coda.
Please have a look!