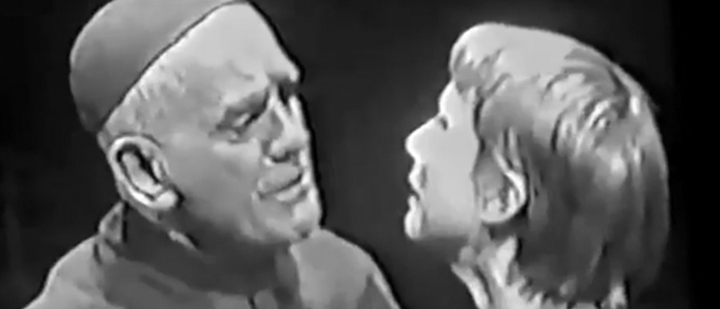 Actor's late-career triumph on Broadway and TV
Blogger's note: Feb. 2, 2019, will be the 50th anniversary of Boris Karloff's death. I'm marking the occasion with a recommendation. Please read on.
Unless they build that time machine, I'll never see Boris Karloff in "The Lark" on Broadway.
But thanks to YouTube, I can finally watch Karloff recreate the role for television.
Julie Harris starred as Joan of Arc and Karloff played Bishop Cauchon in "The Lark," which was adapted into English by Lillian Hellman from the French drama "L'Alouette" by Jean Anouilh. The play ran for 229 performances from Nov. 7, 1955, until June 2, 1956, at the Longacre Theatre on 48th Street (where "The Prom" is now being performed).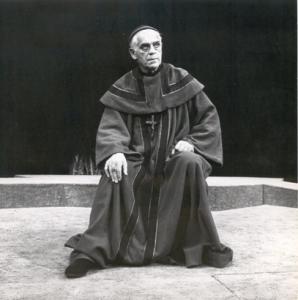 Harris won a Tony Award, and Karloff was nominated for one — not as a supporting actor, but for the big enchilada, what was then called "Distinguished Dramatic Actor." For Karloff, it was a crowded field, to say the least: Paul Muni, Ben Gazzara, Michael Redgrave and Edward G. Robinson. Karloff lost to Muni, his fellow player in Howard Hawks' "Scarface" (1932).
So this was a late-career triumph for the actor, with some sources citing Cauchon as Karloff's favorite role. Though I've yet to see a direct quote to that effect, you get a sense of it in an unattributed quote from Richard Bojarski and Kenneth Beals' "The Films of Boris Karloff" (1976, The Citadel Press). Said Karloff: "Professionally, and you may not realize it, Cauchon here in 'The Lark' is the first solid, successful, serious acting part I've had on Broadway … and what a distinguished company. All of them, especially Julie Harris. She plays Joan with the hand of God."
The following year, Karloff and Harris recreated their Broadway roles in a TV production for a Hallmark Hall of Fame special. The TV "Lark," directed by George Schaefer, aired on Feb. 10, 1957. I'm blown away by Karloff's performance. I now believe Cauchon is his third-best role, after "Targets" (1968) and "How the Grinch Stole Christmas" (1966).
Above is the broadcast. With a mere click, I can watch something I've wanted to see since I was a teenager. Isn't technology grand? (I mean, besides the robot apocalypse and irreparable ideological divisions it has abetted.)
The video is kinescope-y, to be sure, but you get used to it. The supporting cast has some real ringers, including Denholm Elliott, Eli Wallach and Jack Warden. The production has a "live" feel; it was taped for broadcast, but in long takes with several cameras, like a play. I highly recommend you give it a spin. (Note: There is one commercial interruption about halfway through, and the special is book-ended by long spots, all for Hallmark cards, which are included in the video.)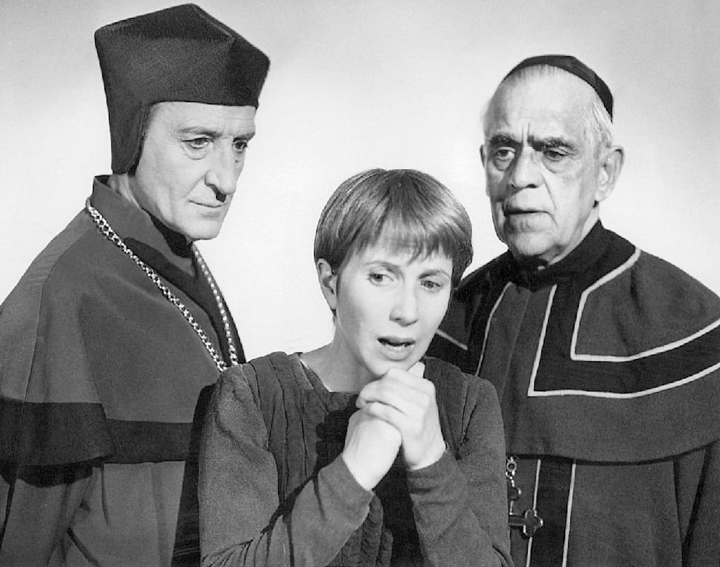 Another happy consequence of the TV "Lark": Karloff was reunited with Basil Rathbone, with whom he previously played in "Son of Frankenstein" and "Tower of London" (both 1939). Above is a lovely promotional still of Rathbone (as the Inquisitor), Harris and Karloff.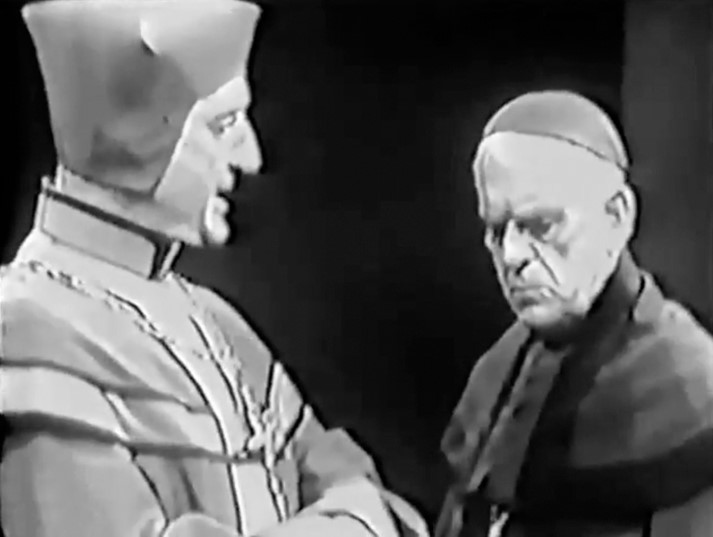 Rathbone as the imperious Inquisitor delivers a veiled threat to Karloff as the distraught Cauchon. It's fascinating to see Karloff, then 69, and Rathbone, then 64, adapting to this newfangled format, which was kind of a blend of what they'd done all their careers — stage and film acting. The old pros are right on their marks at all times, giving their best.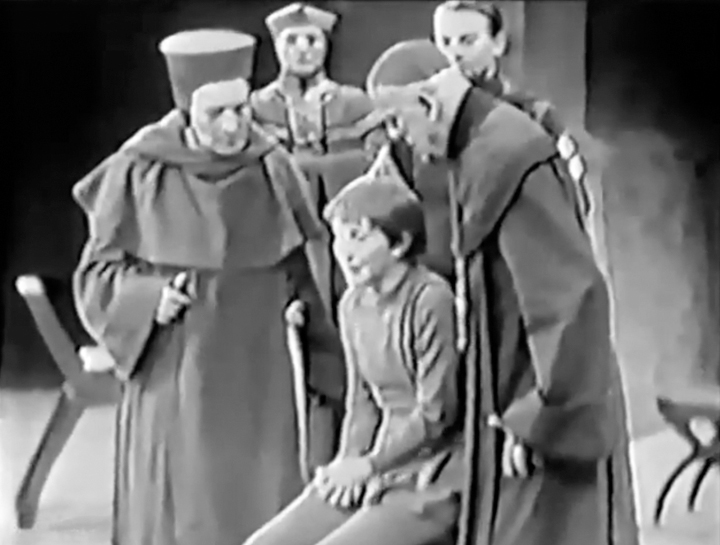 A brief speech of Karloff's gets to the heart of his character: "Joan, look at me! I am an old man. I have killed people in the defense of my beliefs. I am so close to death myself. I do not wish to kill again. I don't want to kill a little girl."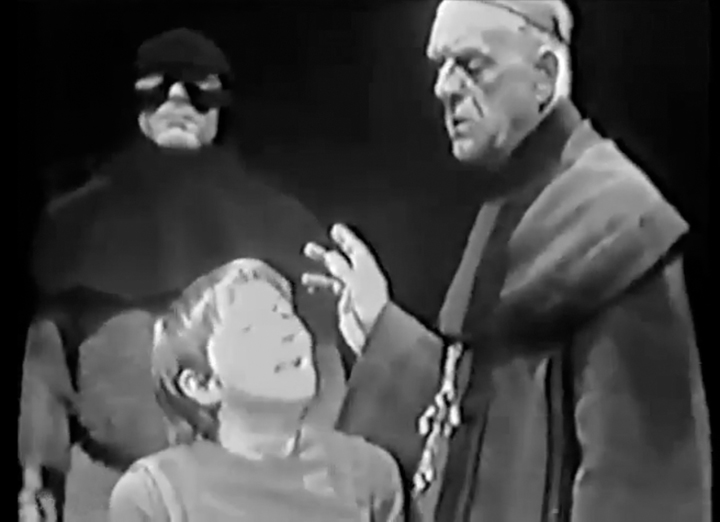 From left: Ralph Roberts as the Executioner with Harris and Karloff.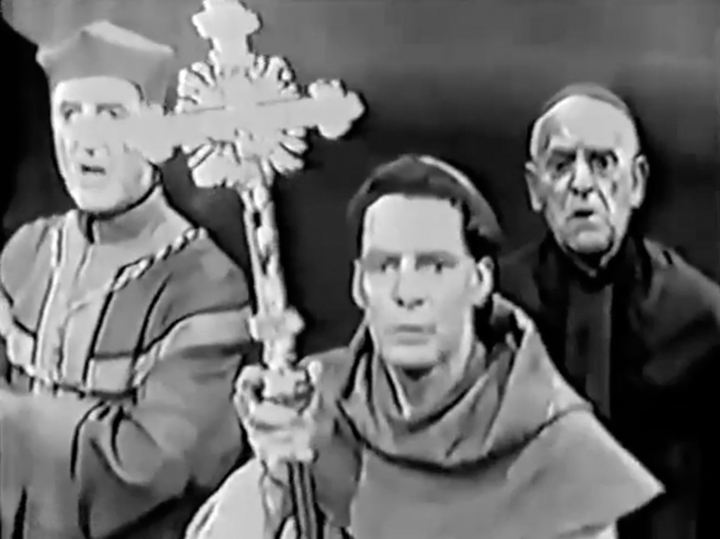 The Inquisitor, Brother Ladvenu (Michael Higgins) and Cauchon watch in horror as Joan is put to death.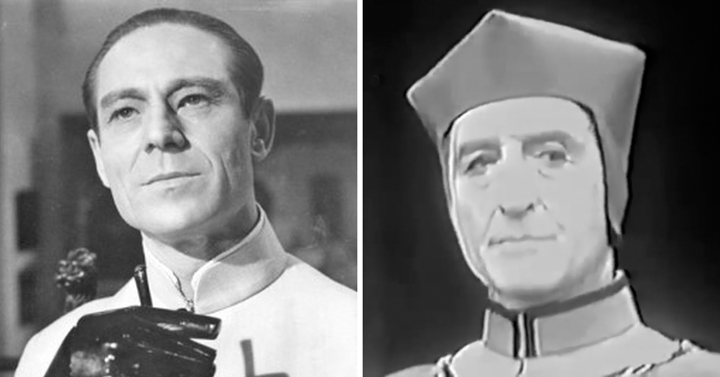 It's interesting to note that in the Broadway production of "The Lark," the Inquisitor was played by Joseph Wiseman, shown at left. And so, this villainous role was played by two of the screen's great villains — Dr. No and Sir Guy of Gisbourne!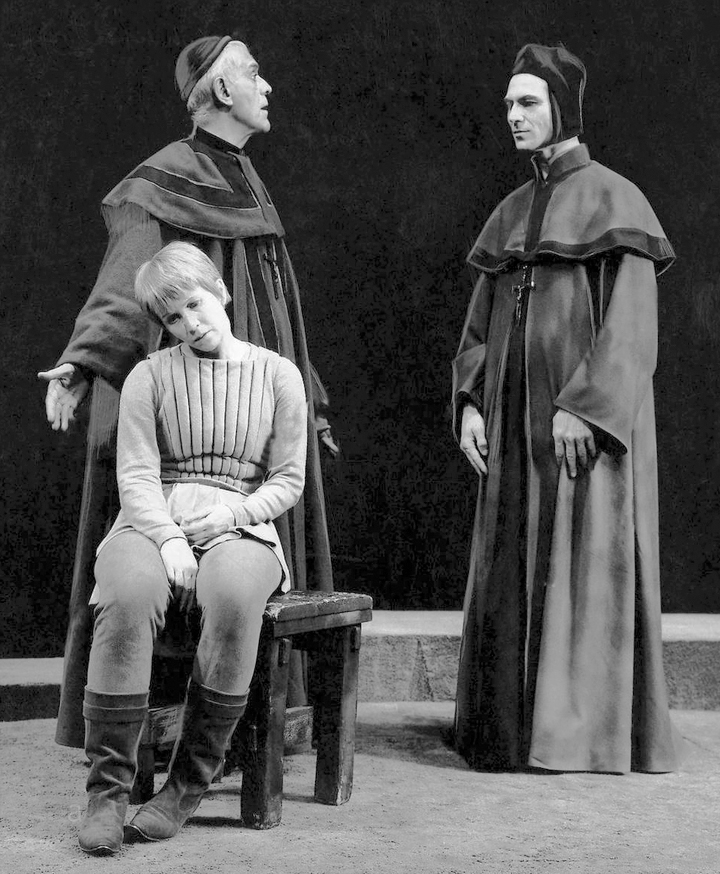 Here is Karloff, Harris and Wiseman in a promotional photo from the Broadway production. Oh, for that time machine!
Christopher Plummer was in the Broadway production as well, in the role of Warwick (played by Elliott on television). An interesting digression: In 1997, Harris and Plummer were interviewed together in The New York Times, and they reminisced about "The Lark." At one point, Plummer spoke about his decision to have only one child, due to his nomadic lifestyle as an actor. Harris replied that she never forgot Karloff once saying to her, "Only have one child." (Karloff followed his own advice.)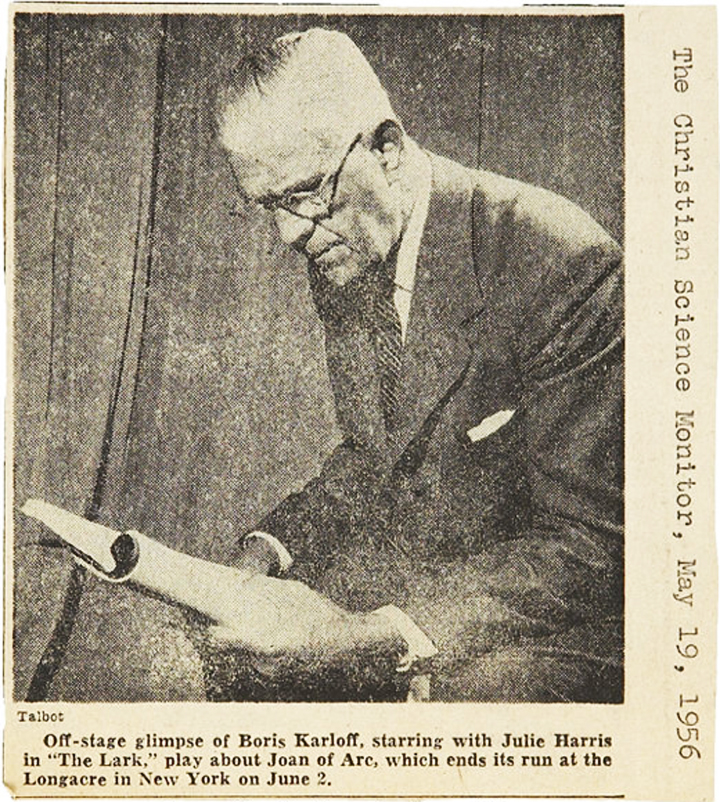 The caption in the above clipping tells us that Karloff was in the Broadway production for its entire run.
I'd like to point out here that by 1955-56, Karloff was showing signs of the mobility problems that would plague him for the final decade of his life. (He died at age 81 on Feb. 2, 1969.) It is very likely that Karloff was in pain while playing Cauchon for those 229 performances.
In 1963, a TV interviewer asked the actor if he still had any career ambitions left to achieve. Karloff grew a bit melancholy and replied, "Yes, one that won't be achieved. I'd love to be in a play in London. I've been in New York; I've had 10 years in small stock and 'rep' (repertory) in the States. I haven't appeared on the stage in London. And I don't think that can happen now, because I've got a bad knee, which would make it rather difficult. But I would love to have done that some time." He added with a sad smile: "However, you can't have everything."