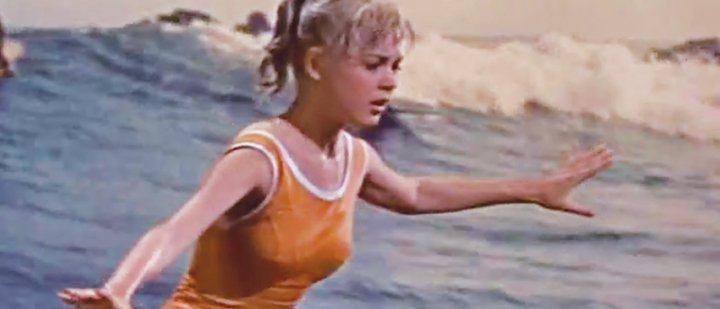 Beach-movie genre's big bang
What was the first "beach party" movie? The answer depends on semantics. Are you talking about a film series or a film genre? The beach party film series began with American International Pictures' "Beach Party" (1963), which had Frankie Avalon and Annette Funicello in supporting roles billed beneath oldsters Bob Cummings and Dorothy Malone. (Hey, Fred Astaire and Ginger Rogers didn't star in their first teaming either.)
AIP's film series ran for seven or eight films, depending on whether you count "Ski Party" (1965), a beach party movie set at a ski lodge but without Harvey Lembeck as Eric Von Zipper, or "Ghost in the Invisible Bikini" (1966), a beach party movie set at a pool-equipped haunted house with Lembeck as Von Zipper.
Me? I count 'em both. After all, the series had wonky continuity. Case in point: Jody McCrea played essentially the same character in most of them, but under three names: Deadhead (three times), Bonehead (twice), and Big Lunk (once). And, go figure, Avalon often called him Goo Goo.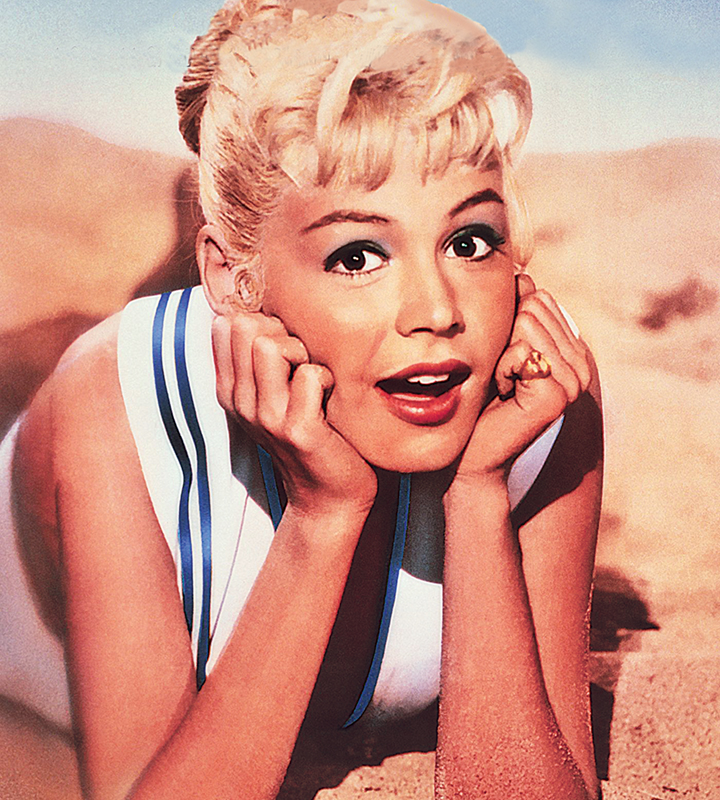 Ah, but as a film genre, what movie came first? I give it to Paul Wendkos' coming-of-age romantic comedy "Gidget" (1959).
Adapted from Frederick Kohner's YA novel (before there was a category called YA), with a lead character based on Kohner's real-life surfer daughter, "Gidget" is, in my humble view, the movie where it all came together: boy-girl rituals on the beach and lotsa surfing. No Dick Dale solos or Buster Keaton pratfalls as yet, but "Gidget" deserves recognition as the seminal cinematic surfing safari. (Who am I, Stan Lee?)
Sandra Dee stars as Francie, a gangly, awkward only child who is "pushing 17." Francie's older, more experienced girlfriends — who are boy crazy and, shall we say, filled out — decide their young charge had better snag a boyfriend this summer, or she won't be able to face her classmates in September. Word leaks to Francie's parents (Arthur O'Connell and Mary LaRoche) that their little girl is on her "first manhunt," but this is hardly the case. Those older girls are projecting. Francie is not ready to chase boys.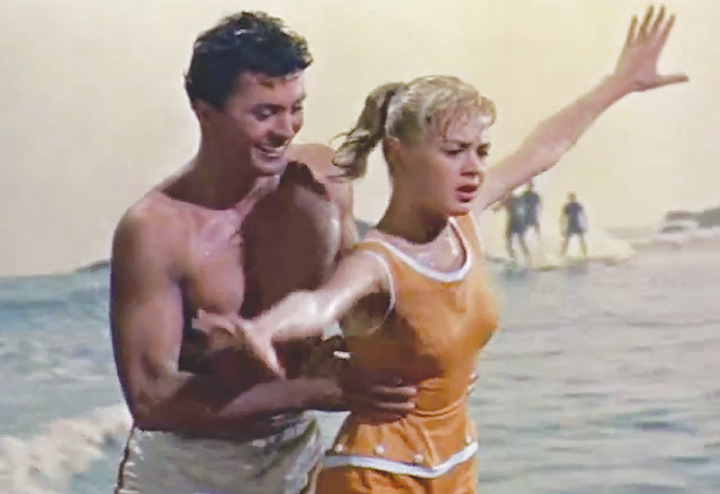 And guess what? For all their suggestive sashaying in the sand at Malibu Beach, Francie's friends fail to draw they eyes of the surf-obsessed boys. Then it happens: While swimming in the ocean, Francie starts floundering, and she is rescued by local legend Moondoggie (James Darren), who whisks her back to the shore on his surfboard. Well, that does it. Gidget has caught the surfing bug.
The surfer boys initially ridicule this pesky little squirt who wants to take up surfing. But her persistence in mastering the sport makes her the celebrated mascot of the beach, gangliness be damned. The boys even bestow upon her a nickname: "Gidget," an amalgam of "girl" and "midget."
Gidget meets another local legend, the Big Kahuna (Cliff Robertson), who likewise takes interest in this new addition to surfing society —though not romantically, as Kahuna is a bit older than the other boys.
Then, romcom stuff happens. While suffering with a high fever, Gidget realizes she has fallen in love with Moondoggie, who has recently acquired a rather territorial girlfriend (Shary Marshall). The suddenly competitive Gidget becomes image conscious, engaging in, well, bust-increasing exercises. (It was a thing in the olden days.) Meanwhile, Gidget's father wants to introduce her to the nice young son of a friend, but she won't hear of it.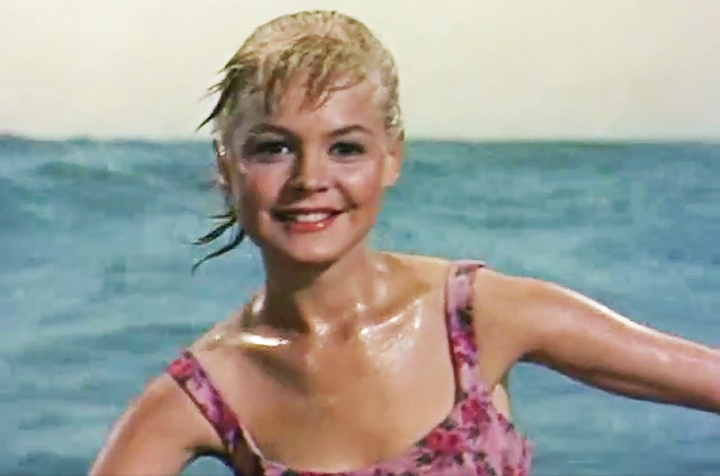 To make Moondoggie jealous, Gidget bribes a random surfer dude to escort her to the big luau, and feigns interest in Kahuna, even retreating to his (gasp!) shack. Kahuna throws a scare into her by acting all seductive, but we know he'd never really take advantage of young, innocent Gidget.
It's a real soap opera, this is.
Cute if sometimes corny, with occasionally skeevy anachronisms, "Gidget" preceded the Avalon-Funicello movies by a comfortable four years. Yes, there were a few beach-movie harbingers prior to "Gidget," but the genre coalesced here.
Be on the lookout for two future stars. Tom Laughlin, who played the surfer Lover Boy, was later Billy Jack in four movies. Yvonne Craig, who played boy-crazy Nan, was later TV's Batgirl.
---
TRAILER
---
MOVIE POSTERS