From "Monster Mash: The Creepy, Kooky Monster Craze in America 1957-1972" (TwoMorrows Publishing) by Mark Voger

 It was sensory overload: For the first time, kids were seeing classic horror films such as "Dracula," "Frankenstein" and "The Mummy," thanks to the 52-film "Shock!" TV rollout in 1957 and '58. And just maybe, they were noticing some cast redundancies among the films. (White-haired, bespectacled Edward Van Sloan, for example, was in all three aforementioned movies, spouting wisdom as professorial types.) Or perhaps they were noticing earmarks in the directorial styles of James Whale or Tod Browning or Reginald Le Borg. Or differences in production values between 1930s and '40s films.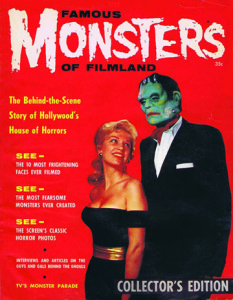 Without realizing it, these youngsters were becoming movie buffs. The more they learned, the more they wanted to learn. So if ever a publication came along at the right time, it was Famous Monsters of Filmland — a magazine all about monster movies.
It all started, as so many thing do, with a girlie magazine.
James Warren — a fledgling publisher based in Philadelphia (and an admirer of Hugh Hefner) — put out the Playboy clone After Hours, for which Forrest J Ackerman, then a writer and writers' agent, was a contributor. In Ackerman's recollection, Warren folded After Hours due to some transgression on the part of a partner, but had enough financial reserves to publish one more "one-shot" magazine (perhaps on Marilyn Monroe or Elvis Presley).
"I met Forry through the pages of After Hours, which was a shabby imitation of Playboy," Warren told me in 1997. "He was a literary agent for Hollywood-based writers. He had submitted some material for After Hours, and I bought it. I liked him right away, because we got along over the phone and through the mail. We both had the same sense of humor.
"We met, finally, in New York City in 1957. He brought back with him, from England, a French magazine called Cinéma 57. The entire issue of this magazine was a pictorial history of past and present horror movies — American as well as foreign. I looked through that, and my eyes just opened up wide, because I went back to my youth, to my Saturday afternoon movie matinees, when I saw 'Frankenstein' in 1938 or '39."
While paging through, Warren had a "Eureka!" moment.
He recalled: "The more I looked through it, the more I said, 'My God, if the kids out there are gonna respond to this like I responded in the movie theaters, we just may be able to take one medium — motion pictures — put it into this magazine, and give them a magazine of Saturday afternoon at the horror movies.'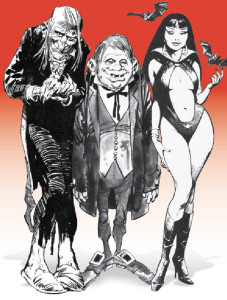 "I said, 'Forry, can you write this thing for me if I tell you exactly what to write? Are you knowledgeable enough about this?' Of course, I was talking to the man who was probably more knowledgeable about this than anybody on the planet. That was a stroke of terrific luck, because Forry Ackerman was the greatest writer ever created by God to tell the story of the history of horror movies."
The men agreed that a monster-themed publication might sell. When Warren said he would contact the French publisher to obtain the movie stills, Ackerman said: "Why go to the publisher in France? I've got 'em myself in my own house. I've got 35,000 stills."
Theirs was a winning team. Ackerman had the encyclopedic knowledge of fantasy films and the seemingly endless supply of movie stills. And Warren — who developed a reputation for sometimes being mercurial (if also for getting things done) — had the production savvy and a disposition for risk-taking.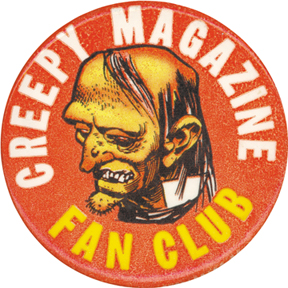 At the time, John Zacherle was doing his thing in Warren's hometown of Philly. Recalled the TV host: "Jim told me that he and Forry just locked themselves in a room with all the photographs that Forry had, and put the magazine together in three days. They didn't even think there was going to be more than one."
The result, Famous Monsters of Filmland, sold out during a Feb. 27, 1958, snowstorm in Philly.
"I went out in that snow and I made the rounds of newsstands and I saw the newsstand guys," Warren recalled.
"The word got out that this was something hot, and it was selling out. They tacked it right up there in front, three or four of them, right up there over the Time magazines and over the Esquires and over the Playboys, even."
Ackerman told me in 1998: "That 35-cent edition, for which I was paid $400 to create, now goes for $1,300."

Warren followed up with stealth distribution in other major cities. Wherever it appeared, FM sold like wolfsbane in Vasaria. Warren later decided to make Famous Monsters a regularly published, bona fide magazine.
Wearing monster masks, Warren posed for the first two covers of FM, and his painting of Lon Chaney Sr. as the Phantom for issue #3 became FM's first painted cover. From #3 on, most of FM's covers boasted paintings by such artists as Albert Nuetzell, Basil Gogos, Ron Cobb, Maurice Whitman and Vic Prezio.
More of a sci-fi guy than a monster guy, Ackerman nonetheless enjoyed playing monster-mag editor. "FJA" shamelessly self-promoted in FM; not an issue seemed to go by without his photo (often alongside genre celebs such as Vincent Price, Lon Chaney Jr. and Caroll Borland) and references to the "Ackermansion," his memorabilia-filled home. At Warren's direction, Ackerman punctuated his prose with puns.

Famous Monsters was like porn for monster fans. Often, paging through an issue of FM was akin to an illicit thrill. Mothers tossed them out; nuns confiscated them. There was some dark stuff in those pages … even a little gore every now and then.
FM paved the way for all of the monster mags that followed — some innovative, some pale imitations — such as Fantastic Monsters of the Films, Castle of Frankenstein, Horror Monsters, For Monsters Only and Modern Monsters.
But there was only one Famous Monsters of Filmland … the one that started it all.
James Warren on what he contributed to FM's look: "Everything. Do you need anything past that (laughs)? I designed the logo. I designed the book. I designed the interior pages. I picked the type. I designed the two-column format. I chose every picture. And I chose the contents of the magazine completely. I even picked out the staples. Do you have any other questions? Some people generally think that the publisher is a big, fat guy who sits up there behind a desk with an accounting background and doesn't know anything about writing or art or production or printers' ink. I came from the creative end; I became a businessman. It wasn't the other way around."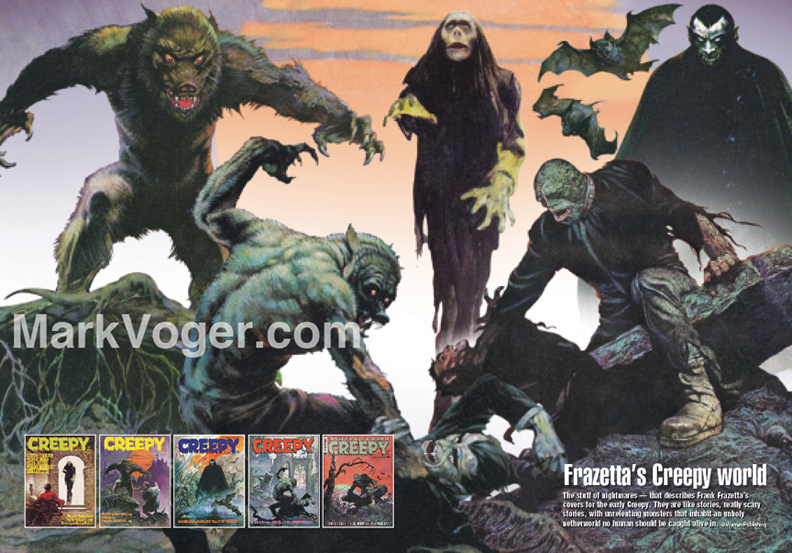 Forrest J Ackerman on embracing monsters despite being a sci-fi guy at heart: "I'm not going to turn my back on monsters at all, any more than Boris Karloff did. No. It's brought me a great amount of satisfaction. It may seem kind of strange in a magazine devoted to death, doom and dismemberment that I would sneak in little morals like, 'Hey, kids, don't smoke, and don't dope, and don't drink.' Now, the bread cast upon the waters is coming back to me. Almost daily, I'm getting letters from readers who have children of their own who say, 'I never would have paid any attention to anything my dad or mom said, but if Uncle Forry said don't dope, that was gospel.' So I guess I must be rather hated by the tobacco industry and the liquor industry for all the customers I lost them."
View "Monster Mash" 34-page preview