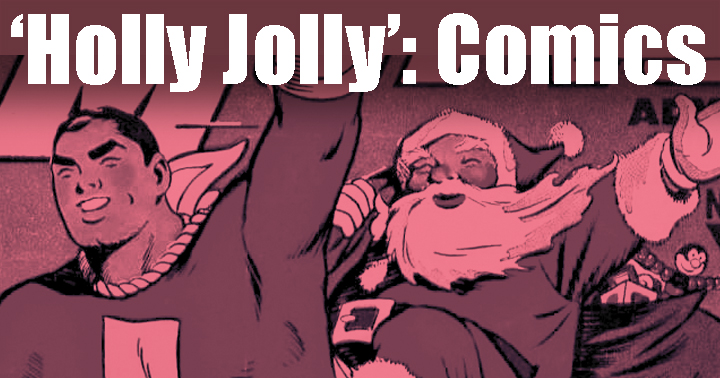 Following are excerpts from "Holly Jolly: Celebrating Christmas Past in Pop Culture" by Mark Voger ($43.95, TwoMorrows Publishing, ships Nov. 4).
PRE-ORDER "Holly Jolly" at TwoMorrows, Barnes & Noble, Amazon, and other online outlets.
---
Santa's super summits
Not to sound crotchety, but there was a time when a simple thing like some newsprint — with illustrations printed in cyan, magenta, yellow and black ink, held together by two staples — could create excitement on Christmas morning. (Back then, the old folks groused that all they ever got for Christmas was an apple and some nuts, so it's all relative.)
The comic books of yore sometimes featured Christmas-themed editions, many of which found their way into stockings or under the tree. For the most part, such books honored the separation of church and state; they were more about candy canes and reindeer than hay-strewn mangers and gift-bearing wise men.

Notable exceptions were Educational Comics' Picture Stories From the Bible, New Testament Edition #1 (1944) and Complete Life of Christ Edition (1945), published by Max C. Gaines, the acknowledged "father" of the comic book. Another was the Classics Illustrated special edition The Story of Jesus (1955).
Christmas editions were a mainstay of Dell Publishing, via its long-running Four Color Comics. (The title — a reference to the aforementioned cyan, magenta, etc. — was a "catch-all" for this anthology series.) The most visible of Four Color Comics' holiday editions was its annual Santa Claus Funnies, which ran for 20 years beginning in 1942.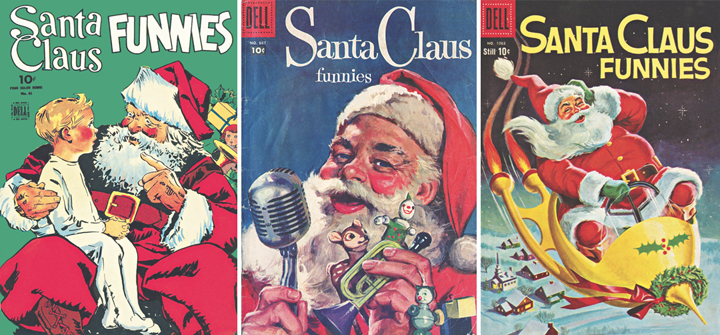 Most Santa Claus Funnies covers depicted Santa in traditional settings, but modernity crept in. Santa rode an Army jeep (1942), a rocket-powered sleigh (1959), and a convertible (1960). The uncredited cover artists occasionally imitated Haddon Sundblom, whose painted incarnation of St. Nick sold a lot of Coca-Cola.
Santa — no stranger to colorful costumes and supernatural abilities — also interacted with the comic-book medium's superheroes.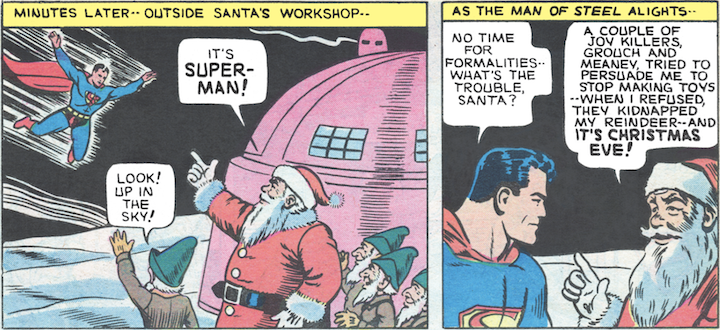 In 1940, two years after Superman's debut in Action Comics #1, DC Comics produced the department-store giveaway Superman's Christmas Adventure. In the story, Superman trades lines with Santa, visits Santa's workshop and hoists Santa's sleigh above his head. The story was written by Superman co-creator Jerry Siegel and illustrated by early Superman artist Jack Burnley.
Scrooge himself would have admired the business ingenuity on the part of DC's competitor Fawcett Publishing. In 1941, the company behind the Captain Marvel line of comic books gave itself a Christmas present by removing the covers from unsold issues and binding them together, five at a pop, with a new Christmas-themed cover, essentially repurposing them as stocking stuffers. The result, Xmas Comics #1, must have seemed more like a phone book than a comic book at a whopping 324 pages.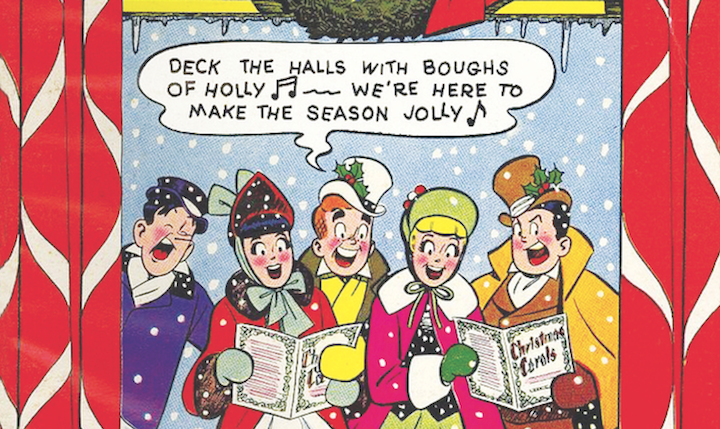 Archie Comics gave readers an annual Christmas present starting in 1954, when it began publishing "giant" editions titled Archie's Christmas Stocking, which spotlighted the holiday hijinx of the hormonally charged Riverdale gang: girl-crazy Archie, girl-next-door Betty, spoiled rich girl Veronica, goof-off Jughead and wise guy Reggie.
One of Santa Claus' strangest appearances in the comics was based on one of his strangest appearances in the movies: Dell's adaptation of "Santa Claus Conquers the Martians" (1964). But in true Santa fashion, he conquered them with good cheer.
---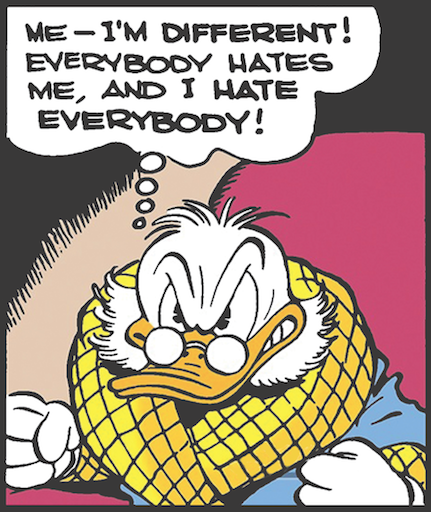 Donald Duck artist Carl Barks (1901-2000) on introducing Donald's wealthy uncle, Scrooge McDuck, in Four Color #178 (1947): "Uncle Scrooge was needed as part of the plot for Donald in (the story) 'Christmas on Bear Mountain' in 1947. Everyone dreams of having a ridiculously rich uncle. I never gave a thought as to whether I would use Uncle Scrooge again. I was populating Duckberg with a cast of characters. These characters went on stage only as needed to suit a particular story. It was a surprise to me that a few months later, Uncle Scrooge fit right into another story." (At right is a panel of Barks' artwork from Scrooge McDuck's 1947 debut, @ Walt Disney Productions.)
---


PRE-ORDER "Holly Jolly" at TwoMorrows, Barnes & Noble, Amazon, and other online outlets.