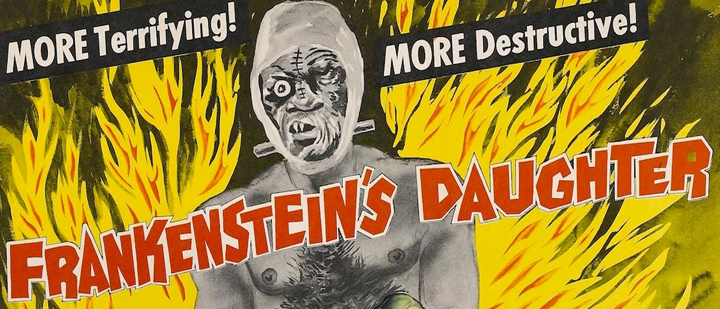 Monsters on Main Street
---
'Frankenstein's Daughter: Special Edition'
The Film Detective
$24.95 (Blu-ray), $19.95 (DVD)
85 minutes plus special features
Not rated
---
By Mark Voger, author
"Holly Jolly: Celebrating Christmas Past in Pop Culture"
---
Richard E. Cunha's thoroughly enjoyable horror quickie "Frankenstein's Daughter" drops the grandson of the original Dr. Frankenstein into modern-day suburbia, where teenagers are always up to sexual hijinks, and rock 'n' roll music is played at pool parties.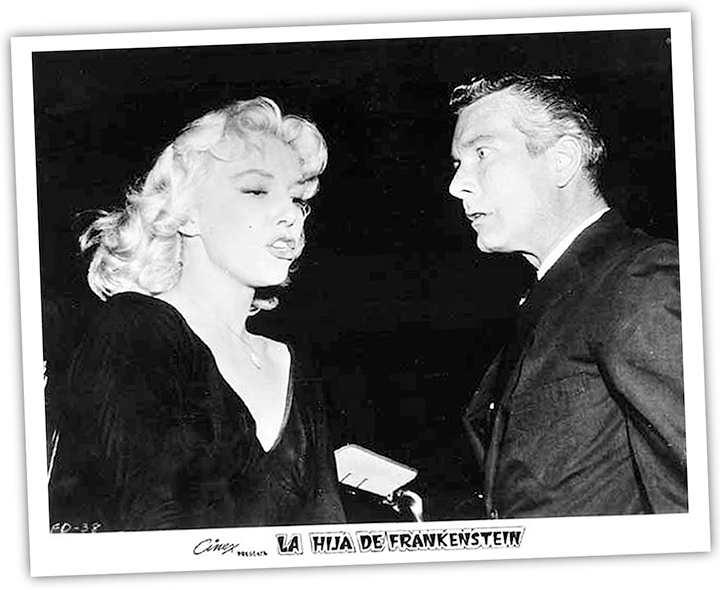 Frankenstein's descendant (played by Donald Murphy in an over-the-top performance) goes by the name "Oliver Frank," so as not to attract attention to the once proud, now poisonous, name of Frankenstein. As a screen villain, the arrogant, sociopathic and, it must be said, dapper Oliver is all over the place. Every word out of his mouth is a lie. He has several mad desires: to have sex with teenage girls; to develop a serum that turns people into monsters; to create a female monster from scratch; and to restore the name of Frankenstein to its former glory.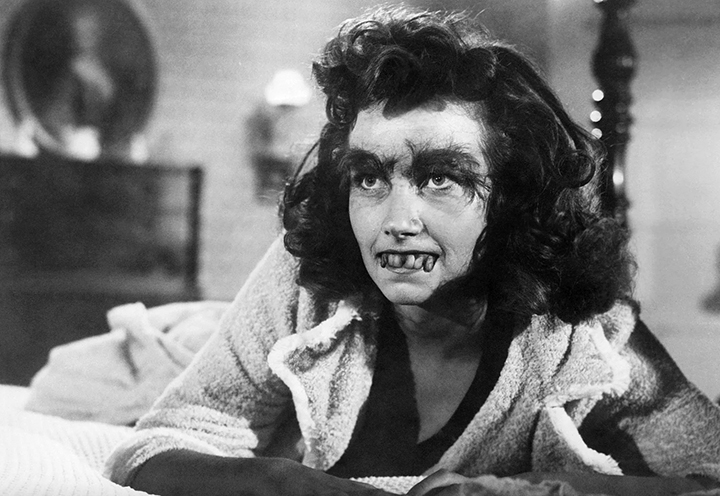 Oliver is the live-in assistant of Professor Morton (Felix Locher), who is at work on nothing less than a cure for all disease. Morton's fetching young niece, Trudy (Sandra Knight, the first and only Mrs. Jack Nicholson), lives at her uncle's laboratory- and swimming pool-equipped home.
When not hitting on Trudy, Oliver plies her with "fruit punch" that transforms her into a gnarly, bug-eyed monster. When Trudy wakes up after a night of monstering, she has a bad hangover and can't remember what she did, kind of like Otis on "The Andy Griffith Show."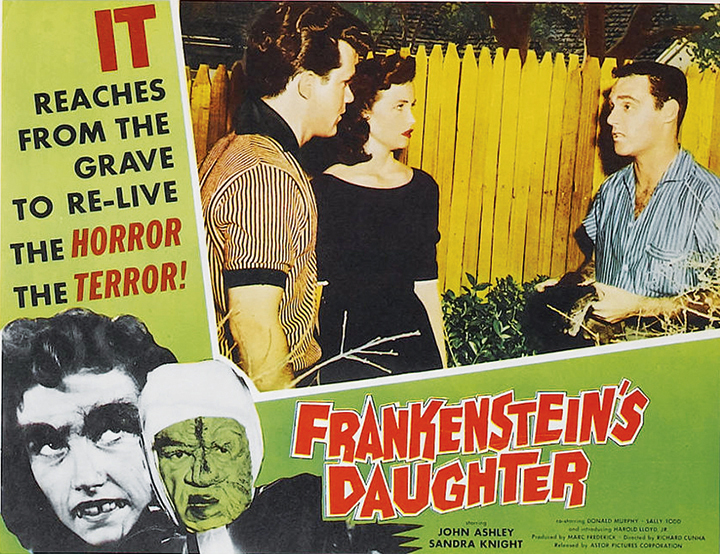 Trudy's boyfriend, Johnny, is played by genre superstar John Ashley, who looks like Elvis Presley's little cousin. The couple's BFFs are sexy Suzie (Sally Todd) and goofball Don (Harold Lloyd Jr.). Suzie does a "switch-walking" scene that, I would bet, temporarily halted amorous activities at drive-ins in 1958.
Morton's elderly, limping groundskeeper, Elsu (Wolfe Barsell), is secretly assisting Oliver in his unholy mission to create a female monster. It turns out that Elsu used to work for Oliver's father, and he remembers Oliver's grandfather.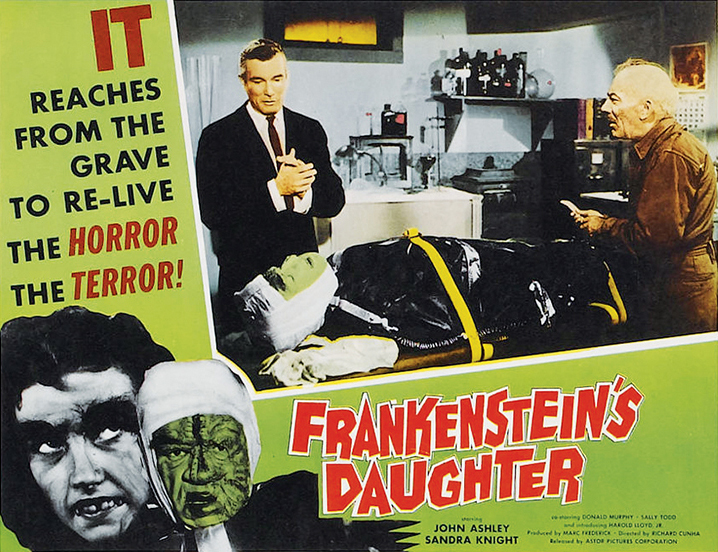 "A female? That's never been done!" Elsu exclaims when he first lays eyes on Oliver's new monster. (Obviously, this is a different Frankenstein Universe than the one in which the Bride of Frankenstein lived, if ever so briefly.)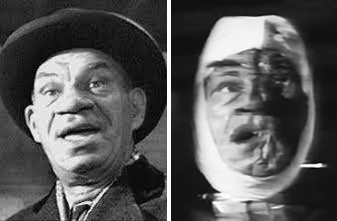 But only Oliver and Elsu recognized, on sight, that this monster was female. The audience sure didn't. And neither did Harry Thomas, the makeup artist who wasn't told the monster was supposed to be a woman, before he slathered the gunk onto actor Harry Wilson (who, not for nuthin', was a man). This is one more fun, "Plan 9"-esque aspect of this engaging cheapie.
For those who keep score on the gore front, "Frankenstein's Daughter" moved the (bloody) needle. There are several notable scenes that were harbingers of the Fangoria era, including a bloody dismembered hand, a security guard who dribbles blood when crushed behind a door, and an acid facial.
Attention, Frank Sinatra buffs: Performing poolside is Page Cavanaugh and His Trio, who backed Sinatra onstage and in the studio. They're not exactly rock 'n' rollers, but they try, kind of.
The Film Detective's new release is the miracle that "Frankenstein's Daughter" fans couldn't have dreamed of. A crystal-clear 4K restoration "from 35mm archival film elements" of this obscure 85-minute oddity? Pure genre bliss.
Extras include "Richard E. Cunha, Filmmaker of the Unknown," a short doc built around self-shot VHS footage of Cunha from 1983, answering questions on camera that had been mailed to him by author Tom Weaver; and "John Ashley: Man From the B's," an overview of Ashley's career from his J.D. movie origins to his reinvention as a TV producer (with, for better or worse, "The A-Team" as his best-known resume entry). An Ashley renaissance is long overdue.
There's also breezy, informative commentary by Weaver interpolating "guests" such as filmmaker Larry Blamire and writer Steven Cronenberg. A common theme emerges among the commentators: that they're "unashamed" to tell the world that they love "Frankenstein's Daughter." Here, here!
---
TRAILER
---
POSTER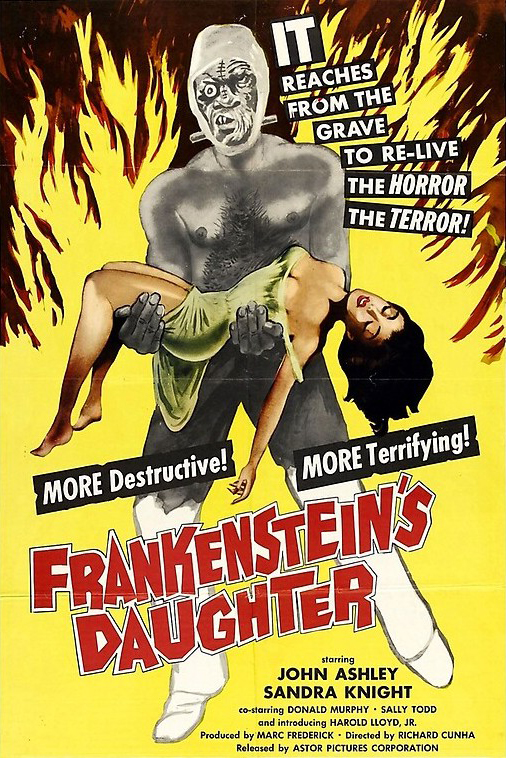 ---
POSTSCRIPT
OK, now I'll tell you my little "Frankenstein's Daughter" non-story. In the summer of 1972 when I was between eighth and ninth grades, my family took a road trip from South Jersey to Phoenix. We stayed at many Holiday Inns along the way. I was obsessed with monster movies. I used the situation to bolster my monster-movie scholarship. In whatever city we stayed in, my dad would buy the local newspaper. I would scour that evening's TV listings, to see if I could catch at least a few minutes of a cool monster movie.
Some city out West was showing "Frankenstein's Daughter" (which I had never seen) at, like 1 a.m. While my family slept, I took a bold gamble and tip-toed in the dark toward our motel room's TV set, turning it on (making certain the sound was down), just to catch a few precious seconds of "Frankenstein's Daughter."
I happened to tune in at the moment when Donald Murphy, as the maddest mad doctor in the movies, closed in on Sally Todd, whose body he coveted — and whose brain he needed for his female monster. Murphy's eyes were all psycho. I could only watch those few seconds without waking my family and getting busted. I turned the TV off and snuck back into bed.
I didn't get to see the rest of "Frankenstein's Daughter" until it came out on VHS in the late '80s (in a lousy print transfer, by the way). But I've never forgotten that one scene of Donald Murphy's psycho eyes!