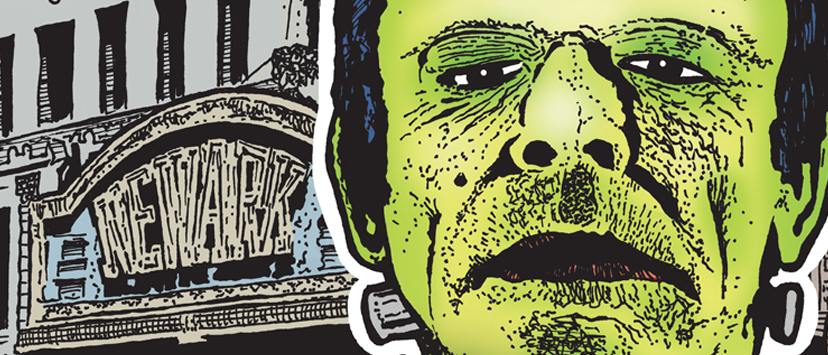 Here come old flat-top, he come groovin' up slowly
By Mark Voger, author, "Monster Mash: The Creepy, Kooky Monster Craze in America 1957-1972″
I won't bore you with the details, but I've been drawing a bit more lately, and I recently finished a piece I call "Frankie in Newark."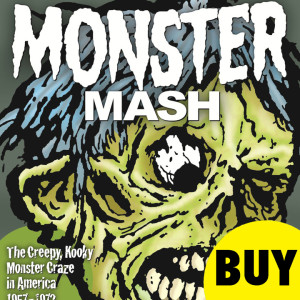 I worked in Newark for close to six years, and I really miss the city. There's no place like it. So much going on. Best people-watching in the world. I was recently invited to do a Frankenstein-themed piece. I decided to put Frankenstein in a Newark setting.
I've always been fascinated by the old Paramount Theater on Broadway near the train station — the one with the big, rusty, art-deco "Newark" sign. So old-school. It looks like the kinda place "House of Frankenstein" would have played first-run in 1944.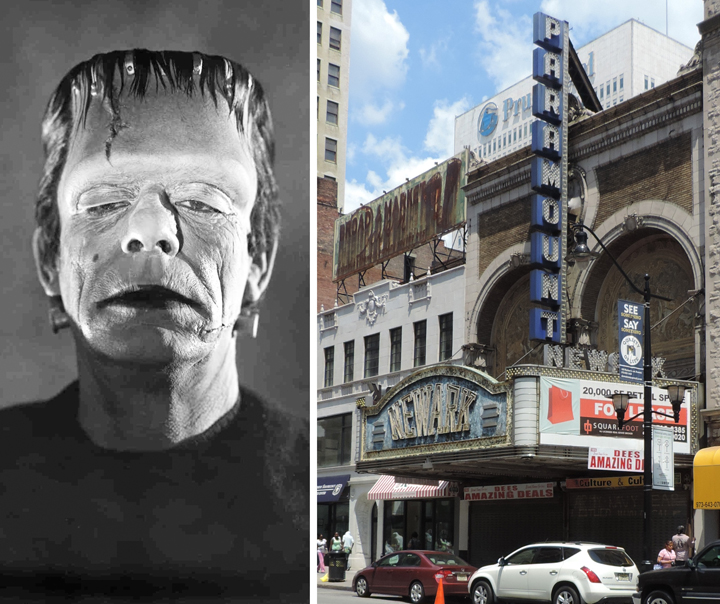 First, I found a still of Glenn Strange as the Frankenstein monster (left). This iconic still was the basis for much Monster Craze imagery, including the Famous Monsters 1965 Fearbook cover and Aurora's Gigantic Frankenstein, a.k.a. "Big Frankie," model kit art. Next, I dug up a photo I once took of the Paramount (right).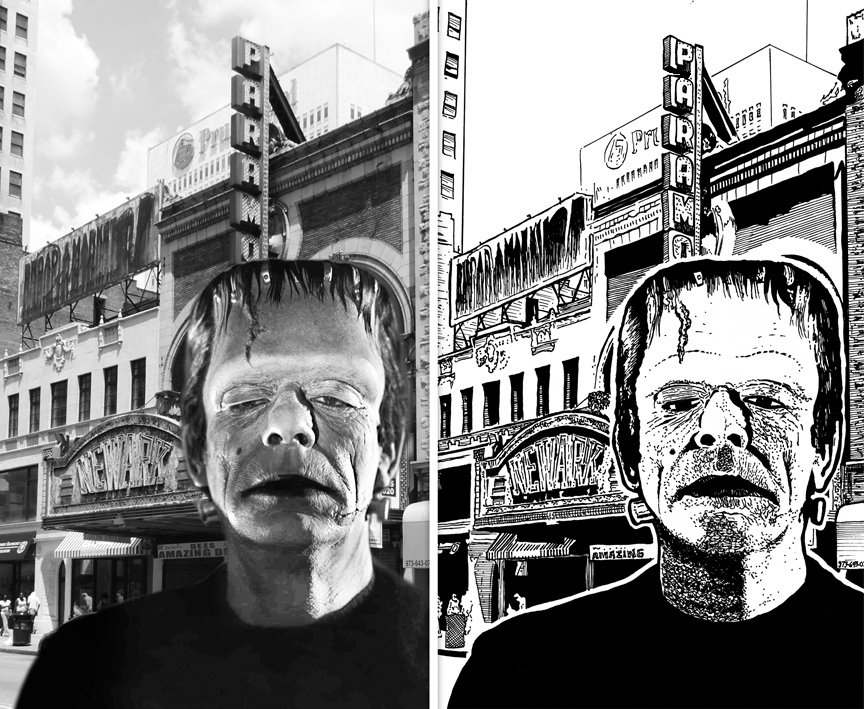 I silhouetted Frankie and "placed" him in the Newark photo (left), which I black-and-white-icized to match Frankie. That gave it a weird, cool effect. I considered making this "the" piece, but I had a hankerin' to do actual artwork. It had been so long. So I did an ink rendering of the photo collage (right). I think it's fairly obvious that I did it on a light table. But the piece is real, actual, boner-fide ink-on-paper, which I scanned and colored — not something drawn on a whack-off tablet, or whatever they're called.
Below is the finished piece titled, as I said, "Frankie in Newark." (There have been lots of Frankies in Newark, including Frankie Valli.) As you will see, I used the real sky from the photo in the artwork. I wrestled with this. I wanted it to be "pure" artwork, so I tried and tried to replicate the clouds. But it just looked so much cooler with the real sky. So I gave myself over to it. I cheated. But I feel I did the right thing.