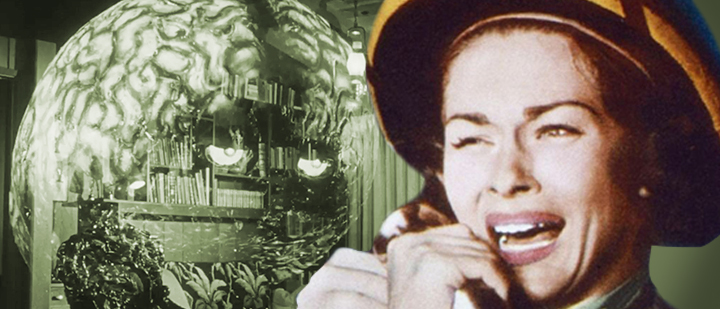 'The Brain' and I
---
By Mark Voger, author
'Britmania: The British Invasion of the Sixties in Pop Culture'
---
Fans of vintage science fiction films are a loyal lot. If an actor makes one, just one, of these films, we don't let them forget it.
Joyce Meadows — who co-starred as the plucky fiance of John Agar in "The Brain From Planet Arous" (1957) — made this one loopy, low-budget sci-fi film early in her career. As the actress told me recently, that film has since followed her "like a little puppy."
Fans refer to Nathan Juran's film as "The Brain," as if they are on a first-name basis with it. The premise concerns an attempted takeover of the world by Gor, an evil brain from the planet You-Know-Where. Meadows reflects with admiration on her co-star Agar, whose career was then on a downward slide after his messy public divorce from Shirley Temple and a series of drunk-driving offenses. Agar died in 2002.
Meadows was born Joyce Burger in Alberta, Canada. When she was 10, her family relocated to Montana, and she later attended high school in Sacramento. A special edition Blu-ray and DVD release of "The Brain From Planet Arous" is due out on Tuesday from The Film Detective. To mark the occasion, Meadows and I spoke during a telephone interview yesterday.
---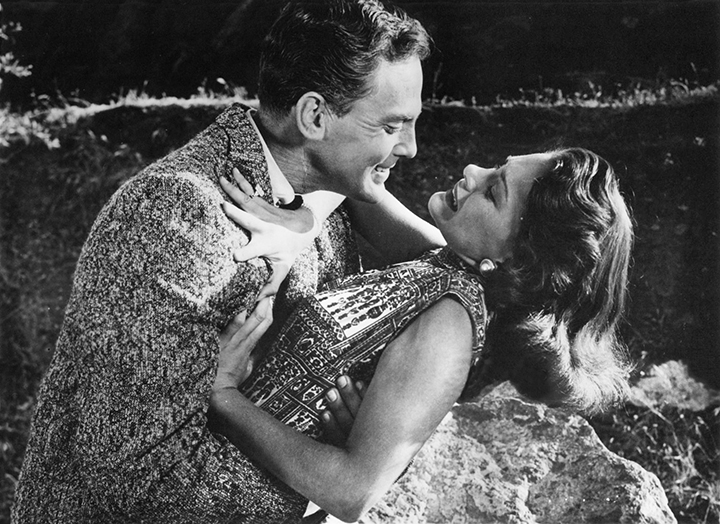 Q: Does it surprise you that "The Brain From Planet Arous" still has a devoted following after 65 years?
MEADOWS: Absolutely. I am just totally amazed. I'm fascinated by the fact that you younger people are bringing back the older films. I keep getting all of this fan mail, not just about "The Brain," but for a lot of the television work I've done. Of course, "The Brain" has followed me around like a little puppy all my life.
Q: You grew up in a remote area of Canada. What did you do for fun as a girl?
MEADOWS: We were surrounded by all these little towns that had populations of no more than 150 people. Some had populations of 20. We were outside of Calgary, way out on the prairie. No modern conveniences. I never saw a movie! That was the way of life back then. My grandparents on my mother's side had escaped out of Siberia. They were quite interesting people, though they never talked about the past. My grandfather played the squeeze box (an accordion). My auntie taught me to sing when I was 3 and a half years old. It was Christmas, and I sang "This Little Light of Mine." It was the first time I ever performed in front of people.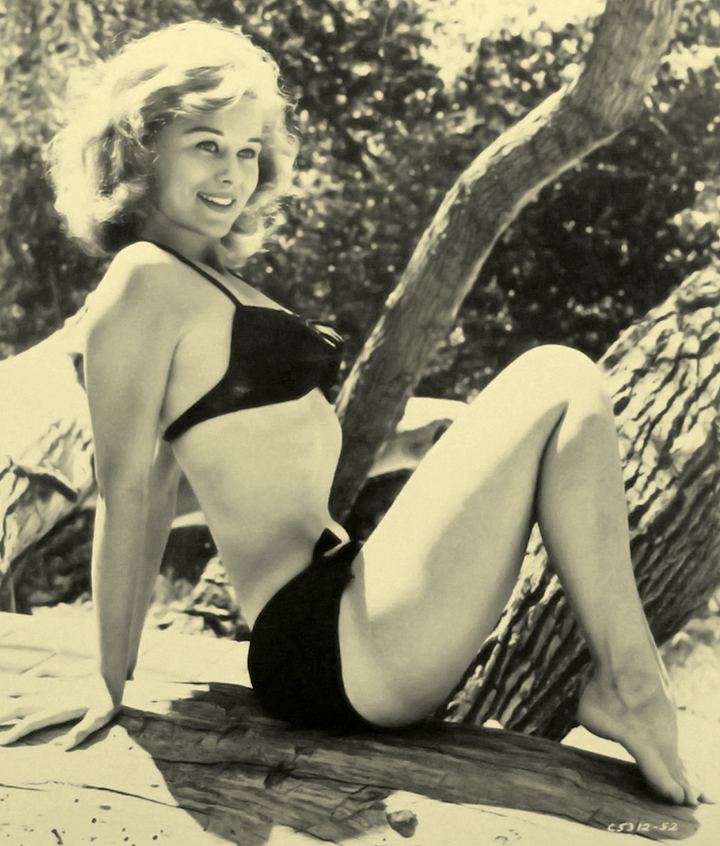 Q: You were Miss Sacramento 1953 and Miss Hollywood 1954. How did you get involved in the beauty queen world?
MEADOWS: Through the chamber of commerce, like with most places. You auditioned. Mostly, you displayed your talent. Then they would pick people to run. But I was somewhat reluctant, I should say. I was getting involved with theater, so I was not your most enthusiastic beauty person.
Q: What was your introduction to theater?
MEADOWS: Theater started for me when I was in high school. I did high school plays, and I knew right away that this was my first love. But I was up against all kinds of opposition. No one in my family was involved in the theater in any way, shape or form. I sang also. I started to get singing jobs up at Lake Tahoe when I was 18. Then I came down and lived at the Hollywood Studio Club (a dormitory for actresses, est. 1916). I saw and met a lot of actresses there — Kim Novak, Rita Moreno, Barbara Eden. I lived in a particular room that was once occupied by Marilyn Monroe.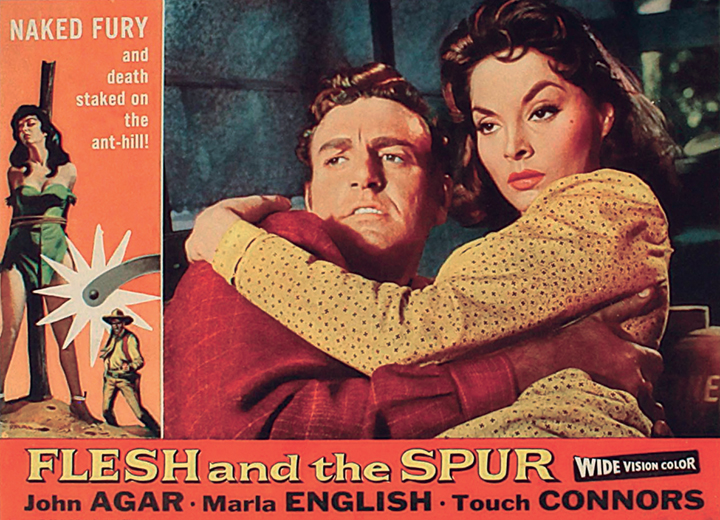 Q: What do you recall of making your first film, Edward L. Cahn's 1956 western "Flesh and the Spur"?
MEADOWS: I got killed pretty early in that one. Jacques Marquette was the camera person, the first or second cameraman, I think. He ended up doing some TV shows. I was on "Dr. Christian" (a series starring Macdonald Carey) a couple of times. Jacques was the cameraman on that. He said to me, "I wrote a script. It's for a science-fiction film. I've been watching you as an actress." He just offered me the part. I didn't even have to audition. I had an agent. I was playing a theater-in-the-round in Glendale when he saw me. His name was Allen Connor. He got my foot in the door. That's how it all started.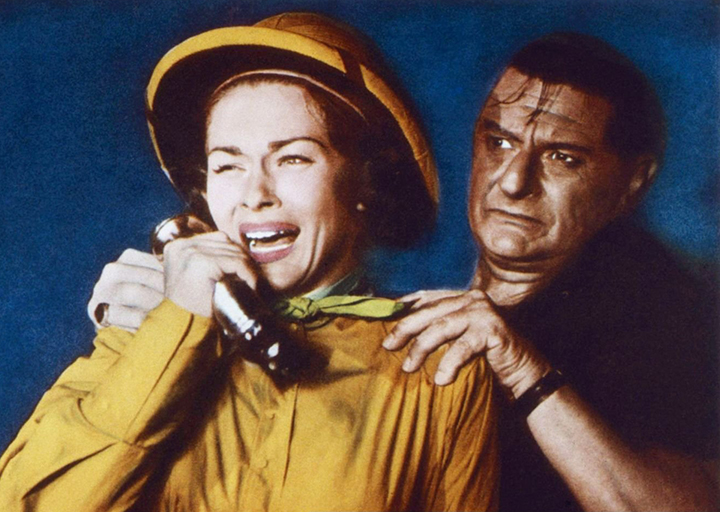 Q: Did you have any reservations about doing a science-fiction film?
MEADOWS: No reservations at all. I was always interested in outer space and aliens and you-name-it. So I was totally committed.
Q: You improvised during some scenes, such as when you plopped the pith helmet on John Agar's head to punctuate a line of dialogue.
MEADOWS: Actually, prior to all this, I'd done quite a bit of theater. On the set, we had a five-page scene. They were all very concerned about it, because I was so young. I had to rehearse my marks, but I wasn't a bit worried about my dialogue. I said, "It's no problem." But inside, I was thinking, "Why are they so concerned? Didn't I tell them that I just did Juliet in 'Romeo and Juliet'?" So I was very up on being able to handle a lot of different things. Theater is my first love. I read (Konstantin) Stanislavski when I was in the eighth grade. I studied with Stella Adler. It doesn't get much better than that.
Q: While making "The Brain," was it strange for you to react to things you couldn't see, like when the brain melded into your pet dog?
MEADOWS: Well, I saw the bad brain. Gor was the bad brain. The good brain, Vol, went into the dog. They set him up inside the cave. After that, it was all acting until the end. When the brain attacked me, and John hit it with the ax, then we saw the brain. But when he got the brain on the floor, it was not really on the floor (laughs). We had to do something else. So a couple of times, I did see the brain. The rest of the time, we responded and used our imagination.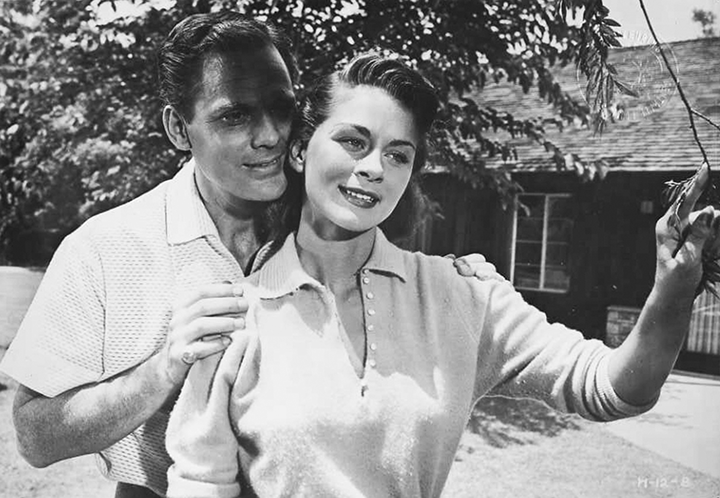 Q: Did Agar seem at all bitter about his career? He started off in John Ford movies and ended up in "The Brain From Planet Arous." You made three movies with him …
MEADOWS: And I even did some "memorabilias" (fan conventions) with him afterwards. He was what all of the gals who worked with him just absolutely loved him for. He was just a sweet, sweet man. He went though a terrible tragedy with the Shirley Temple thing early in his life. There were stories about him being an alcoholic, which I'm sure you've heard. He came out of that. He was not a theater person. When he did "She Wore a Yellow Ribbon" (1949) with John Wayne, he had just gotten out of the service. He and Shirley Temple had a child, but he never saw the child. He told me once that he saw her when she was 40. But he was sober and charming and he loved working in front of the camera. He was a gentle, sweet man. He did not have John Wayne's personality. I adored working with him. Even though he wasn't a stage actor, he had an innate way of committing himself to a role.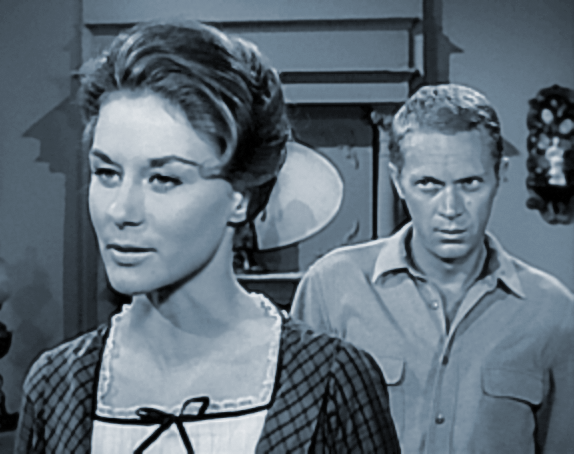 Q: You did a 1960 episode of "Wanted: Dead or Alive" with Steve McQueen. It seems like a rare opportunity to work with someone on the brink of stardom.
MEADOWS: He was from the Actors Studio in New York. Lee Strasberg and Stella Adler and (Stanford Meisner) were all Stanislavski's students, but they went in three different directions. At that time, people in the movie industry were getting frustrated with these trained actors. They didn't understand the Actors Studio. They would warn the actresses (about McQueen). They'd say, "You never know when he'll say his line." But this didn't throw me. I had an interesting role. I asked him to marry me; it later came out in the plot why.
I admired his technique. Marlon Brando, who studied under Stella Adler, was not a Method actor like Steve, but they were from the same time. Their whole style of acting was different from the older actors, who were used to one way of performing. But I was young; I went right along with it. Steve saw that and we talked about it, the art and the craft of acting. He was chit-chatty between scenes. He told me what he was going to do with his life. He was very ambitious. It broke my heart when he died so young. (McQueen died at age 50 in 1980.)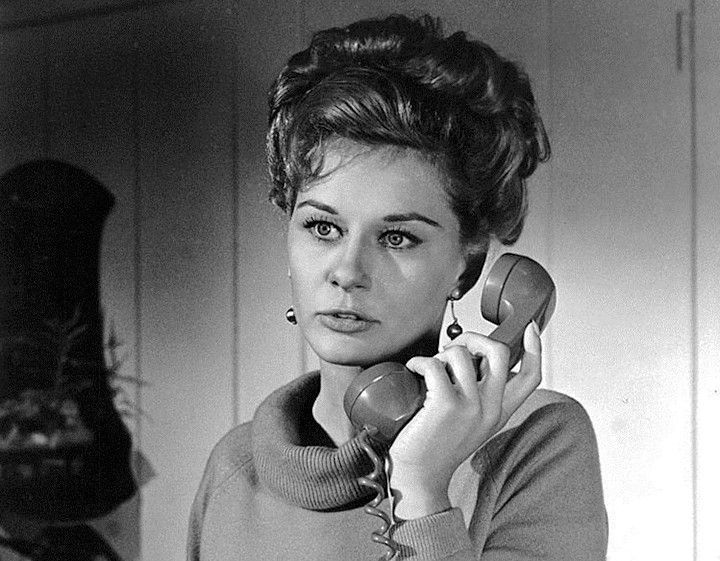 Q: Speaking of older actors, you had a small but memorable role in a William Castle horror film starring Joan Crawford: "I Saw What You Did" (1965). Early in the film, John Ireland stabs you to death in the shower. It's very violent. It seems like a ripoff of Alfred Hitchcock's "Psycho" (1960).
MEADOWS: It was the Alfred Hitchcock thing again. The way they do those scenes on the set are so different from what you see on the screen. I saw "Psycho." I was kind of worried. How are they going to do this? Are they going to put another body over me when they're chopping me up? But the way they did it, it just was so technical. You'd have a closeup of the knife, and me screaming, but you never saw the knife go in. They had a dummy there. It was all very technical. So that was a relief to me.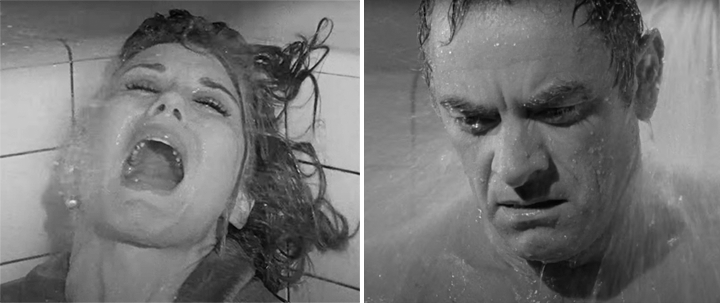 Q: You and Joan Crawford are never in the same shot, but she walks in on John Ireland immediately after the shower scene. You've said that once, when you observed Crawford filming, she spotted you and ordered you to "get your ass off this set!" What was that about?
MEADOWS: When she did come on the set, she made sure I was not there. Some older actresses were like that. They wanted no communication with younger actresses, or even to have them around while they're working. My agent had lunch with me at the commissary; Joan would wait for me to be finished before she came in.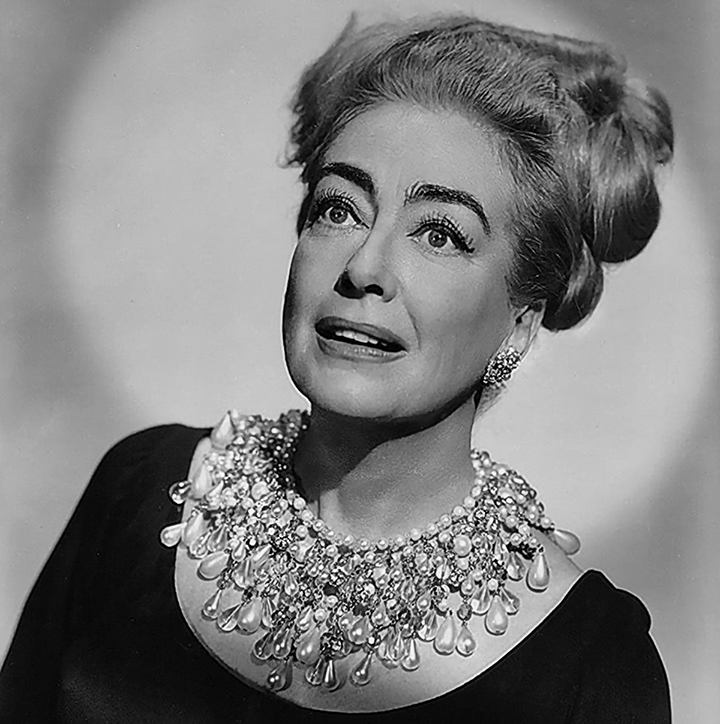 Q: I'm not a bit surprised. Perhaps you can consider it a badge of honor that you played a character that, per the script, Joan Crawford called a "childish, empty-headed little tramp."
MEADOWS: She did do a movie as a character like that. It was called "Rain" (1932). She played the floozy, yes. Rita Hayworth was in the remake (1953's "Miss Sadie Thompson").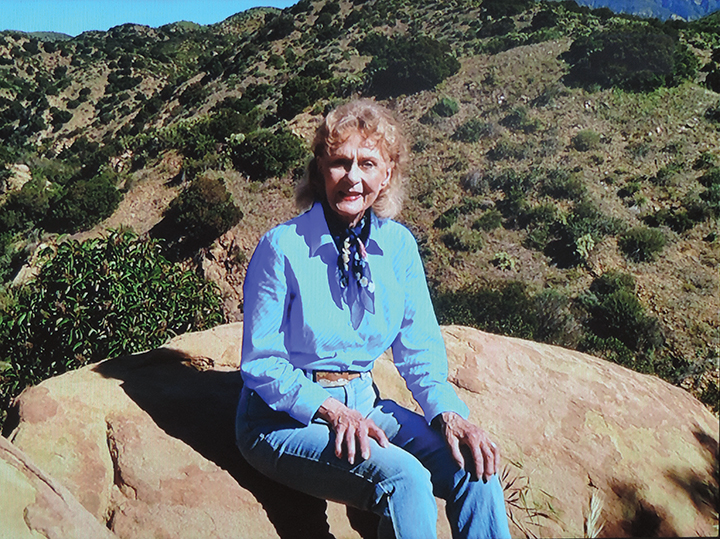 Q: For the upcoming home-video release of "The Brain From Planet Arous," you made the short film "Not the Same Brain," in which you recreated your "Brain" role of Sally Fallon. It's very funny. You're a good sport.
MEADOWS: I got to play both characters there — Sally and Joyce. David Schecter, who wrote and directed it, said to me, "When you're Sally, wear the pith helmet. When you're Joyce, don't." It's all very tongue-in-cheek, as I'm sure you realize. We were up in Chatsworth, with all of those weird rocks and weird formations.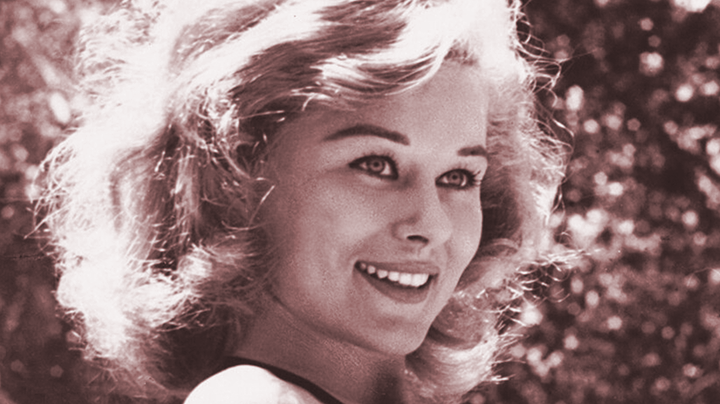 Q: What do fans say when they meet you at memorabilia shows?
MEADOWS: The young people come up, look at the pictures and say, "That was my favorite sci-fi movie." Lovely thoughts like that. Or "I liked you on 'Tales of Wells Fargo' when you had to do that fast gun." Very out there. Some of them bring up "Sea Hunt," older stuff like that. They chit-chat. Sometimes (the event organizers) have you come onstage, and people ask questions. They just show a great interest. Their observations make it clear that they really see you, they really remember you.
Read my review of "The Brain From Planet Arous" HERE. Visit Joyce Meadows' website HERE. More about The Film Detective's release of "The Brain From Planet Arous" HERE.
---
VIDEOS
The Film Detective's trailer for "The Brain From Planet Arous."
Meadows' shower scene from "I Saw What You Did."