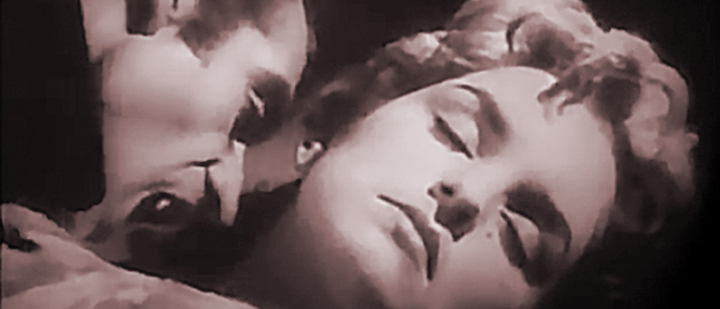 a.k.a. 'El Ataud del Vampiro'
---
By Mark Voger, author
'Britmania: The British Invasion of the Sixties in Pop Culture'
---
The main difference between "El Vampiro" (1957) and its sequel? It boils down to town and country. The action shifts from the remote, old-fashioned Sierra Negra of the first film to a modern city with a hospital, police station, theaters, cafes, a wax museum, and many darkened streets in which El Vampiro can stalk his victims.
In a 007-style pre-title sequence, a coffin is extracted from its crypt by Dr. Mendoza (Guillermo Orea) and his hired muscle, Barraza (Yerye Beruite). An inscription reveals Count Lavud's first name, in case you were wondering: Lazlo. Returning from the first movie is Maria Teresa (Alicia Montoya), a skittery Van Helsing surrogate who attempts to thwart the removal of the coffin, alas in vain.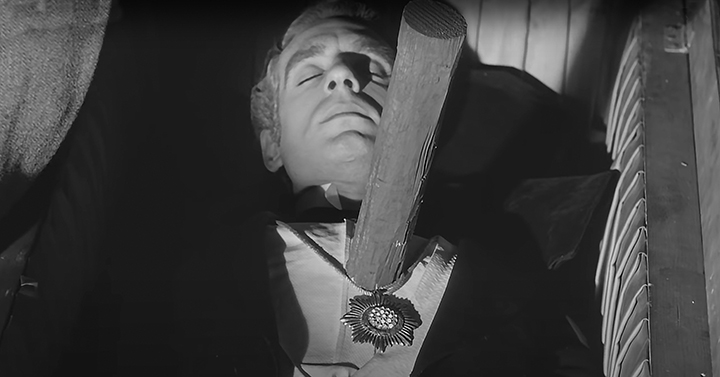 The coffin is transported to the hospital in a van. Barraza, that scoundrel, extorts another 1,000 pesos from Dr. Mendoza for his silence. Employed at the hospital are two more characters from the first film: Dr. Enrique Zaldivar (Abel Salazar) and Marta (Ariadna Welter), a nurse who comforts her frightened little patient, Nina (Irma Castillon). This is the final night at the hospital for Marta, who will soon star in a modern dance revue. (How's that? Marta's show-biz talents were never referred to in "El Vampiro.")
Dr. Mendoza, unaware of Enrique's history with El Vampiro, marvels aloud, "There's an incredible scientific mystery hidden in that coffin." The two medicos open it to find the dead Count Lavud (German Robles) perfectly preserved, albeit with a very large wooden stake jutting from his chest.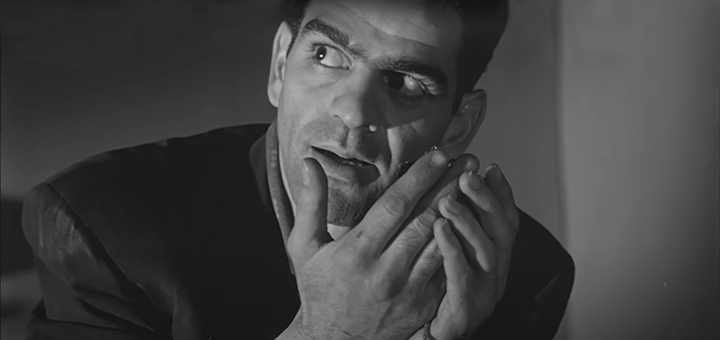 Later, Barraza removes the stake in order to steal a sparkly amulet from Lavud's body, and the vampire rises anew. (Even his shirt no longer has a hole.) Always in the market for a Renfield-like slave, Lavud puts Barraza under his hypnotic control.
The two doctors re-enter the room to find the coffin empty and the wooden stake on the ground. Maria Teresa shows up to urge caution, but she's too late. Lavud puts the bite on little Nina, and hypnotizes Marta.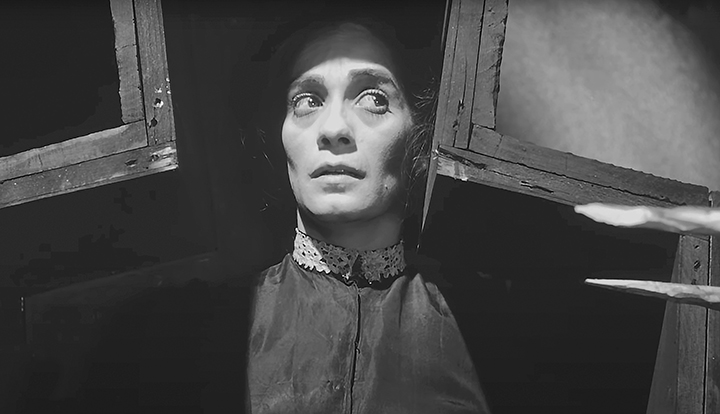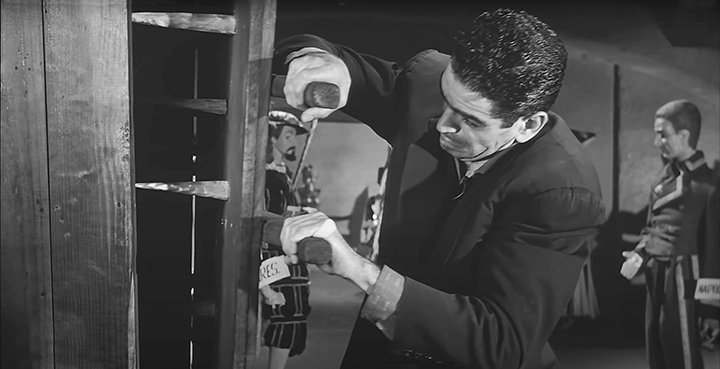 Barraza hides Lavud in the basement of a wax museum. (The count should be comfortable here; it's got atmosphere to spare.) Recalling that Barraza was once a security guard at the wax museum, Dr. Mendoza materializes with the ever intrepid Maria Teresa. Lavud strangles Mendoza — deservedly so, wouldn't you say? — while Maria Teresa ill-advisedly hides in an iron maiden complete with long metal spikes.
There's an unnerving standalone sequence in which Lavud pursues an aspiring blond actress with cute bangs (Lourdes Azcarraga) along darkened back streets. The sequence is largely wordless and extremely noir. (This was a specialty of director Fernando Mendez, who also helmed the moody first film.) Enrique is later summoned to the body of the actress, and to his alarm, finds telltale marks on her neck.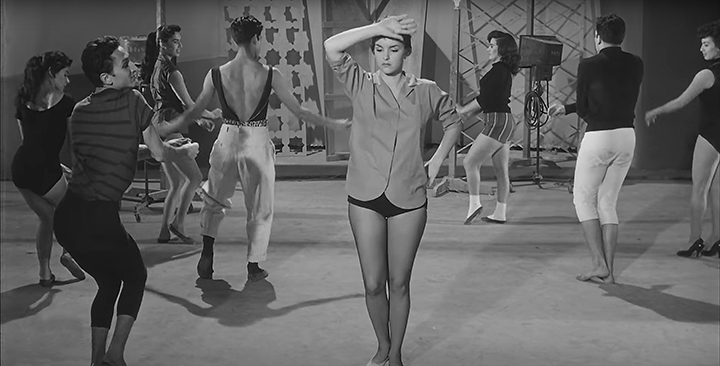 At the theater, Marta rehearses for her dance revue wearing sheer black stockings. (Ooh, la la!) On show night, Lavud watches her from an opera box, conjuring "Phantom of the Opera" and "Mad Love." When Marta is raised to the rafters via a pulley — it's all part of the act — she is snatched by Barraza, and the theater is thrown into a panic. Once again, old rivals Enrique and Lavud are locked in battle, with Marta's fate in the balance.
---
Post script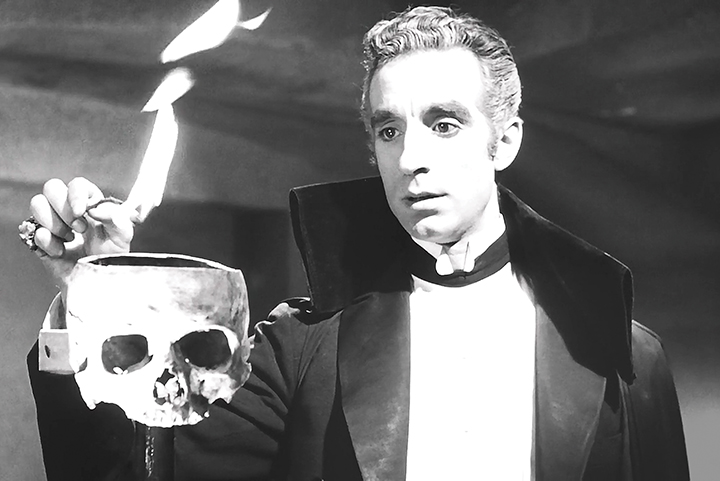 No further "El Vampiro" sequels would follow, but that same year, Robles donned his Count Lavud getup as a vampire in "El Castillo de los Monstruos," a horror comedy starring Antonio "Clavillazo" Espino. Also on hand were the Frankenstein monster, a mummy, a werewolf and a Black Lagoon-esque creature — a true monster rally with more than a passing resemblance to "Abbott and Costello Meet Frankenstein" (which was a huge hit in Mexico).
Beruite played shifty, hissable Barrazo to perfection. He later acted alongside "el maestro del terror" Boris Karloff in "The Fear Chamber" and "The Incredible Invasion" (both 1971), two of four Mexican horror films starring Karloff, which turned out to be his final theatrical releases. Beruite died on Christmas Day 1972 at the shockingly young age of 44.
---
VIDEO

The complete movie en español.
---
LOBBY CARD