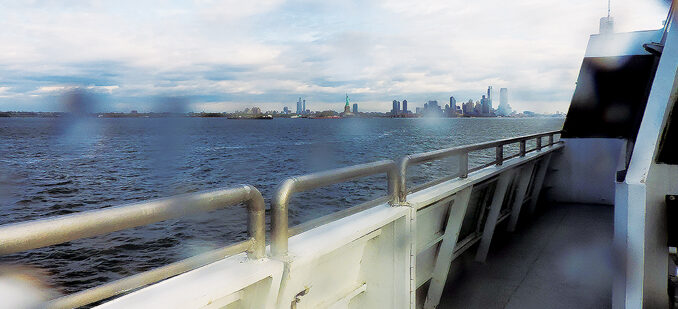 Long held 'wish list' item
Recently, a special occasion had us fulfilling a long held "wish list" item: to ride the ferry to and from New York City. Yeah, it's a simple wish, but in this life, the trick is to make the time.
We boarded the ferry in Belford, New Jersey, on a sunny, chilly morning. We were the sole tourists; everyone else was commuting. This was not a good day to be on the rocky, misty decks, so guess what? While commuters joylessly stared at their phones inside, I was the hillbilly running around on the decks snapping photos (and getting my Nikon Coolpix P520 wet in the act), as if this wuz muh first vizit to Noo York Citee.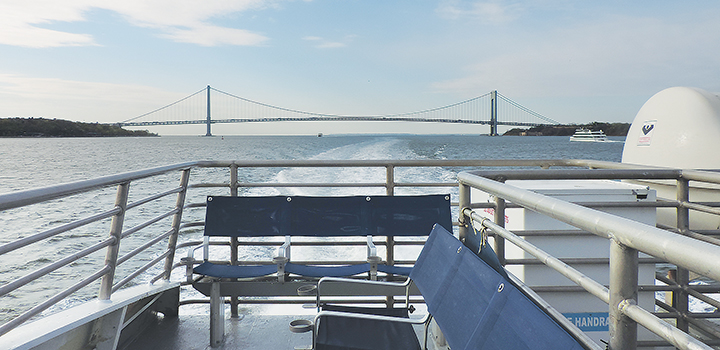 Here's the Verrazzano-Narrows Bridge (opened 1959), a marvel of architecture which I crossed twice a year throughout my childhood for summer and Thanksgiving visits to my Aunt Peggy's in Centereach, Long Island.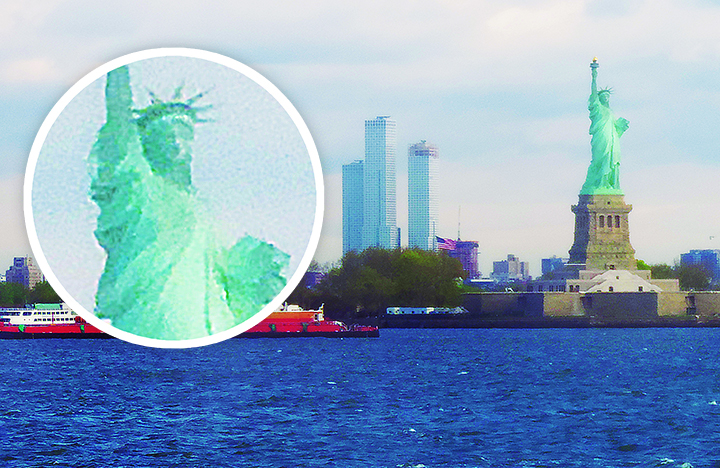 Here's the good old Statue of Liberty. If I haven't mentioned it before, I once walked up the claustrophobic spiraling staircase of its interior, all the way to the spiky crown atop Lady Liberty's head, from which you could see an endless vista through short, wide openings. This occurred in May 1972 when I was 14, during my eighth grade class trip to the city from Holy Rosary School in Ashland, New Jersey.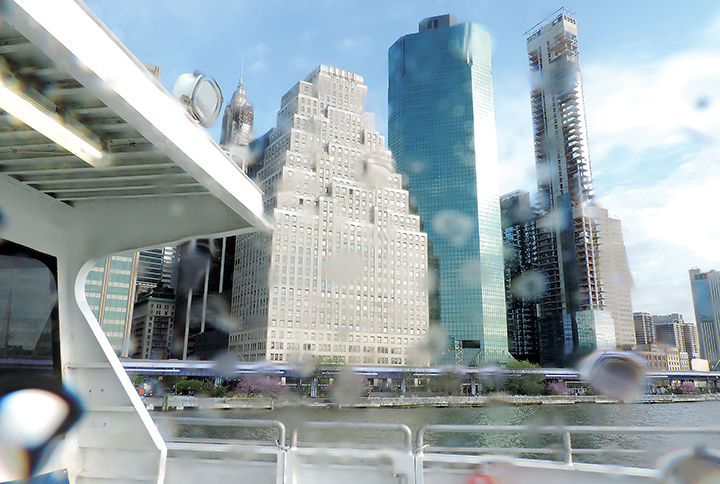 An NYC city scape comes into view to the east. Sorry about the splashiness! (Yes, that's a word.)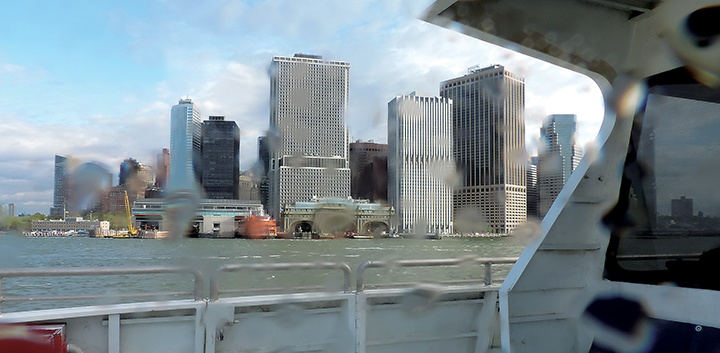 A New Jersey skyline comes into view to the west. I can't identify the city, but we figure it to be Jersey City or Hoboken.
That day, we hopped two ferries, two shuttle buses, two trams, and did one helluva lotta walking. (I hadn't trained, and was limping by the end of the day.)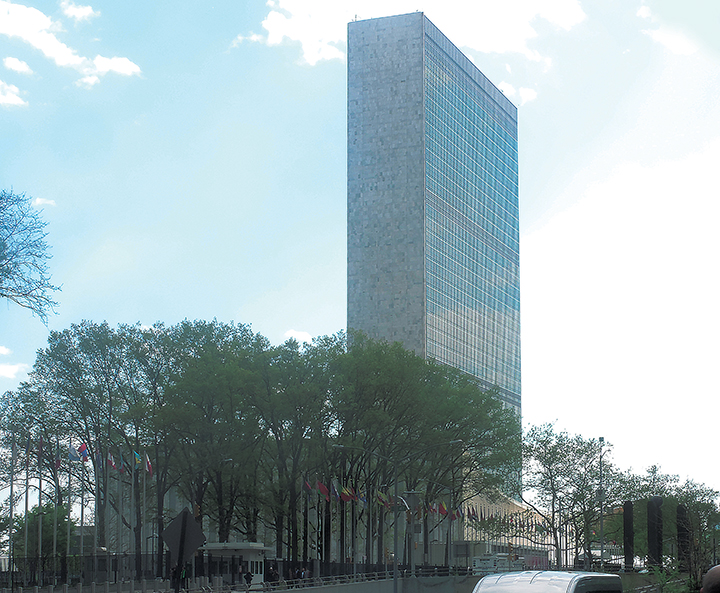 We strolled by the United Nations building (opened 1952), which I believe is seen in the 1966 movie "Batman." (That kind of stupid stuff is all I really care about, though I'm aware that pressing global problems are discussed there.)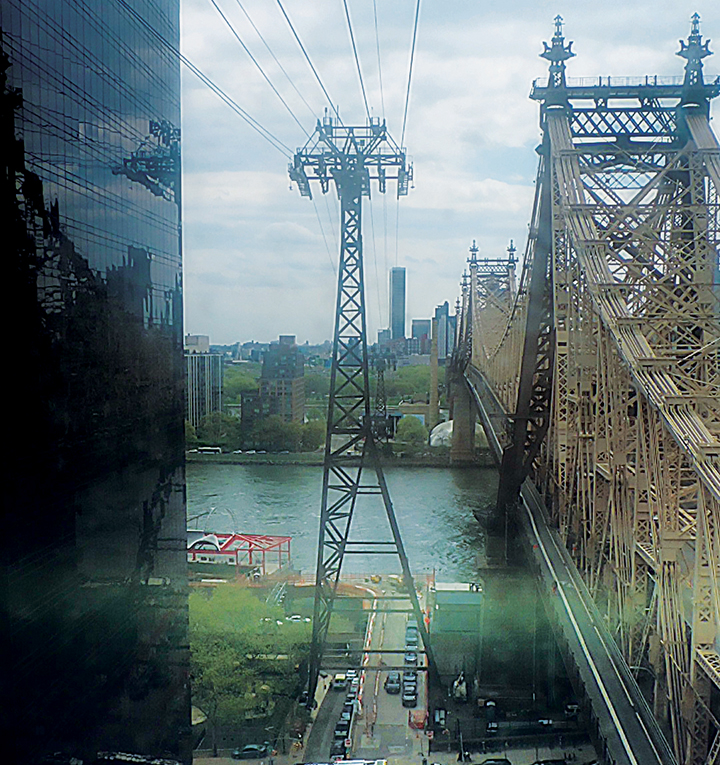 Above is another view from the Roosevelt Island Tramway. Being in the small, packed tram was the only time we felt COVID paranoid during our trip. We were double-masking, bruh!
Flashback: In 2011, when I was a young lad of 53, I walked with my nephew from Brooklyn through Queens and across the Roosevelt Island Bridge. So basically, we traversed three boroughs on foot. While my nephew attended a business meeting at a private residence on the island, I took in the sights when I wasn't reading the "Beneath the Planet of the Apes" paperback I toted along.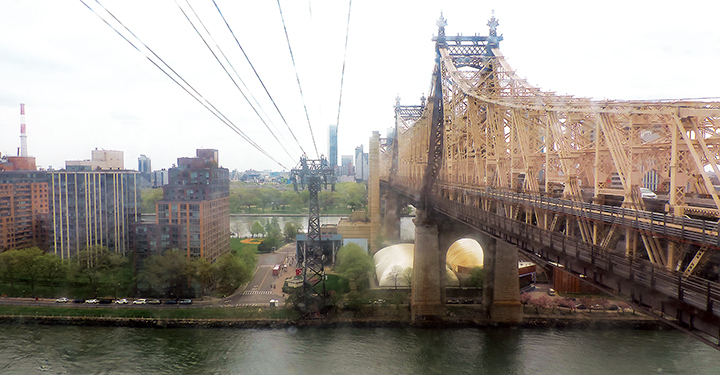 Another view from the tram, which is the oldest commuter tramway in the United States.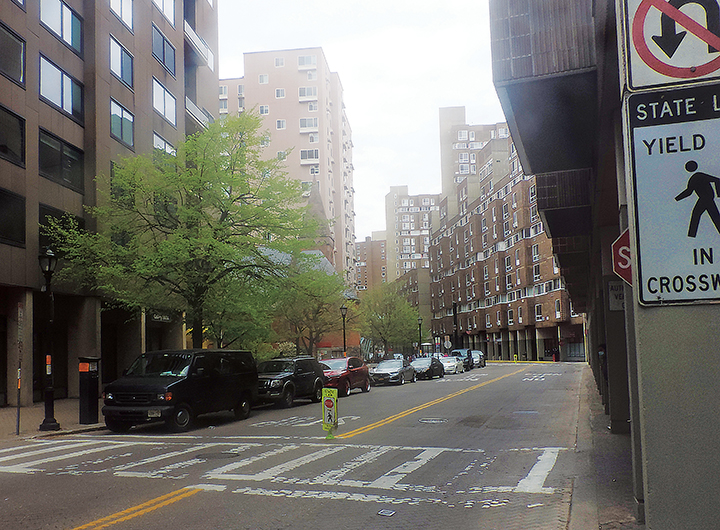 I was so fascinated with this 2-mile-long narrow strip of self-subsisting society. In my unscientific observations, demographics on the island seemed to tend toward older Eastern Europeans and hip, young Asian, Black and Latino people. From the island's vantage point in the East River, you can stand in one spot and see Manhattan to the west and Queens to the east.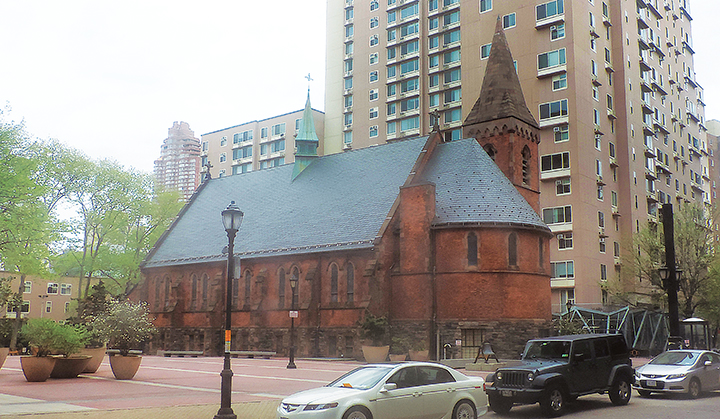 Here's the Chapel of the Good Shepherd Church (est. 1888). It was designed by Frederick Clarke Withers, an accomplished English architect. Revisiting Roosevelt Island has made me think about this singular destination all the more. I've resolved to read up on it, absorb a little history and, if the fates allow, visit once more.
---
VIDEOS
Above: A drone's-eye view of Roosevelt Island.
Above: A ride on the Roosevelt Island Tramway