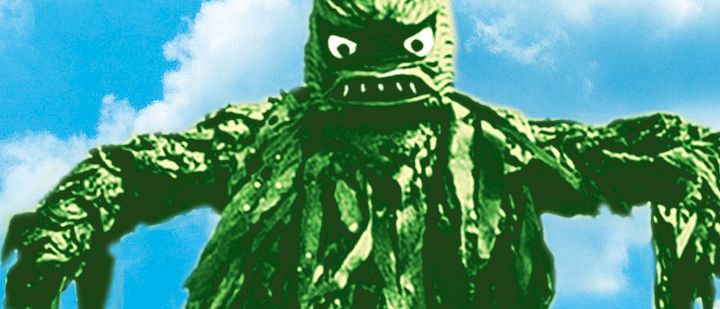 AIP laughs at this movie
This movie is terrible, terrible, terrible. It's also awesome, awesome, awesome.
Jon Hall's "The Beach Girls and the Monster" straddles two genres — horror and "beach party" — and vacillates wildly in tone from musical comedy to adult drama (or an attempt at same) to low-budget horror represented by a laughable monster.
But No. 1 among the film's myriad cinematic sins is the fact that it was shot in black-and-white. This works for "juvenile delinquent" and "hot rod" movies, but not beach party movies. You've gotta see the blue Pacific. You've gotta see the tanned skin and bleached hair. You've gotta see the pink polka dots.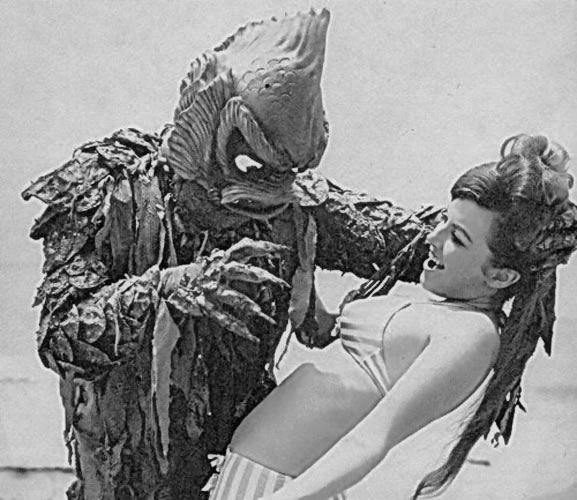 The plot has the surfing community rocked after Bunny (Gloria Neil) is found clawed and strangled to death in a cave off the beach. Local oceanography expert Dr. Otto Lindsay (top-billed Hall), when shown a footprint taken from the scene, says, "It looks exactly like the South American fantigua fish that's a carnivorous maneater. It can live in or out of water." But the doc doesn't have much sympathy for the beach gang: "The boys are a bunch of loafers and the girls are little tramps!"
Little does he know, the real "tramp" is his second wife, Vicki (Sue Casey), who lounges around in sexy outfits with sheer black panels and stockings to match. More clues: She's always sipping a cocktail and accompanied by sultry saxophone. Vicki hits on her stepson, Richard (Arnold Lessing), and his sculptor friend, Mark (Walker Edmiston). Mark limps due to a car accident during which Richard was driving.
There's more family drama. The doc wants Richard to be a scientist; Richard wants to surf. Also, Mark attracts suspicion by sculpting a small statue of Bunny as a mermaid, and a bust of Vicki, with whom he is smitten. Though Vicki kisses Mark during her posing sessions, she won't let him seal the deal: "Did you think I'd make love to a cripple?"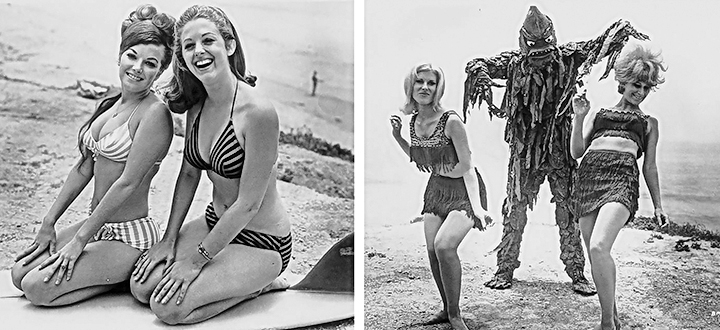 As low-budget as it is, "The Beach Girls and the Monster" has some interesting credits. Director-star Hall was the dashing, shirtless hero opposite Dorothy Lamour in "The Hurricane" (1940). You've really gotta wonder about his motivations here. "TBG&TM" was his final film.
Casey was in many real-deal Hollywood movies, often in likewise sexy roles. She swam alongside Esther Williams in, by her estimation, five films. Frank Sinatra Jr. is credited with the film's music, and co-wrote its ear-worm theme song, "Go, Baby, Go." (Frank Sr. must have been so proud.) Elaine DuPont, who played Richard's girlfriend, Jane, was a regular on "The Adventures of Ozzie and Harriett." In "TBG&TM," she sings a rock song in an affected baby voice that is muy cringe-worthy.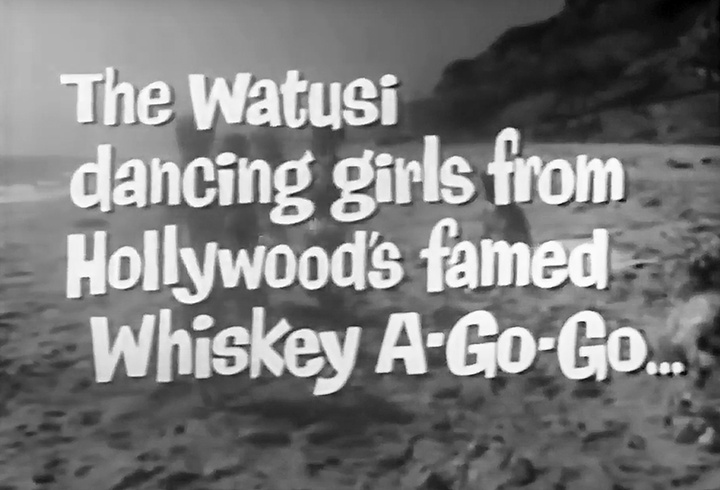 Speaking of interesting credits, the trailer drops a tasty tidbit: Some of the female frolickers are played by "The Watusi dancing girls from Hollywood's famed Whiskey A-Go-Go (sic)." Hmmm … beginning the following year, the (pre-fame) Doors played a career-boosting residency at the Whisky. Were the Watusi dancing girls still on hand?
---
'THE BEACH GIRLS AND THE MONSTER'
Starring Jon Hall as Dr. Otto Lindsay; Sue Casey as Vicky Lindsay; Walker Edmiston as Mark; and Elaine DuPont as Jane
Written by Joan Gardner | Cinematography by Hall
Produced by Ed Janis | Directed by Hall
[American Academy Productions]
---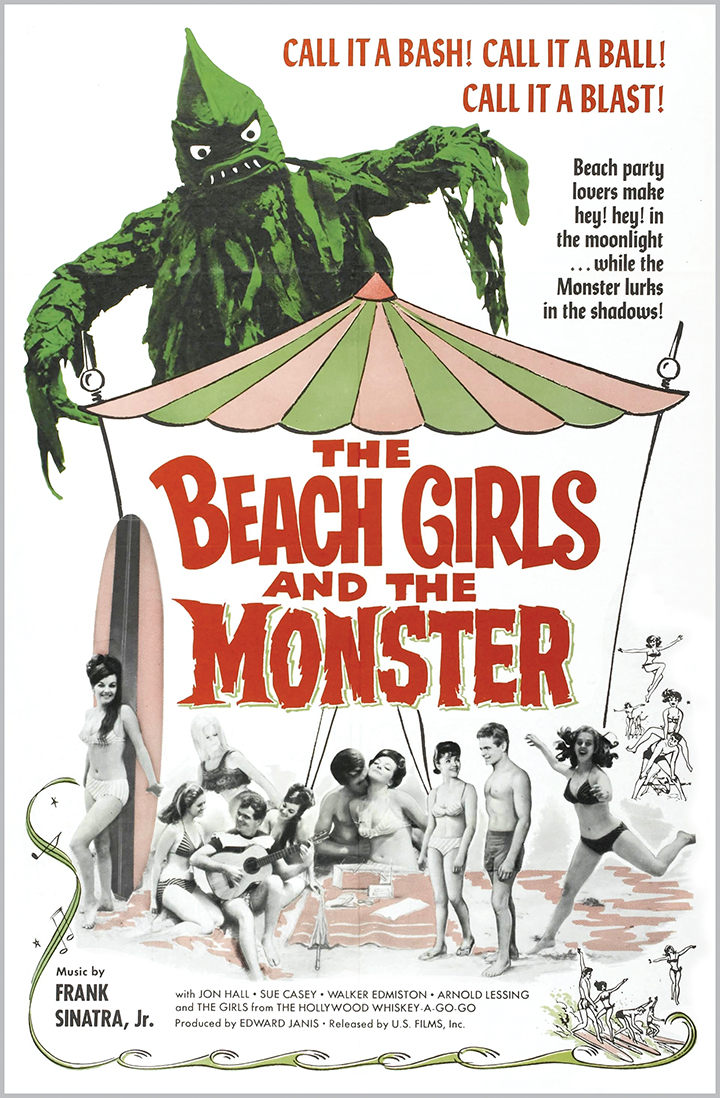 ---
TRAILER