From "Monster Mash: The Creepy, Kooky Monster Craze in America 1957-1972" (TwoMorrows Publishing) by Mark Voger

Excerpts from "The Addams Family" section
I'll never forget it. I was 6 when "The Addams Family" debuted on a Friday evening in 1964. I had no idea it was coming on. Out of the blue, just prior to the premiere episode, there was a short commercial for it. At the end of the spot — it's etched in my memory — Morticia looked at the camera and said, "We're dying to meet you." I was a monster-loving kid, and the idea of a TV series starring a ghoulish family filled my heart with a sudden rush of joy. The "Monster Mash" section on "The Addams Family" features interviews with stars John Astin (Gomez), Lisa Loring (Wednesday), Ken Weatherwax (Pugsley) and Felix Silla (Cousin Itt). Following are five short excerpts from "Monster Mash."

"The Addams Family" was based on macabre cartoons by Charles Addams published in The New Yorker magazine. The cartoonist had been featuring the characters since, roughly speaking, 1938 — little by little, they coalesced into something resembling a family — but he never named them. As producer David Levy developed the show for TV, he prevailed upon Addams to finally christen the characters. Likewise, certain aspects of Addams' characters were tweaked, tightened or fleshed out. In the cartoons, Addams placed his oddball family in a dark, cobwebby, dilapidated house; on TV, the Addams homestead seemed more Victorian, more eclectic, more tinged with old money.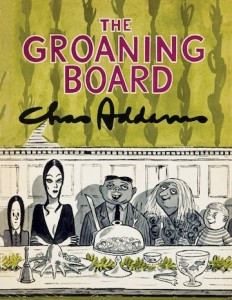 John Astin played patriarch Gomez Addams with a lusty zeal, rolling his eyes, brandishing his cigars and slobbering all over his wife if she uttered but one syllable in French.
Carolyn Jones played Morticia, a dark temptress with saucer eyes in a tight black dress with intriguing floor tentacles that gave her, to quote the Big Bopper, a wiggle in her walk.
Jackie Coogan — the title urchin in Charlie Chaplin's 1921 masterpiece "The Kid," and a former Mr. Betty Grable — played Uncle Fester, who had the pallor and raccoon eyes of a shut-in.
Add to that Blossom Rock as withered hag Grandmama, Ted Cassidy as Frankensteinian butler Lurch, and Ken Weatherwax and Lisa Loring as the Addams' deadpan kidlings Pugsley and Wednesday. The catchy theme song by Vic Mizzy — complete with the cast's finger-snapping — was the cherry on top.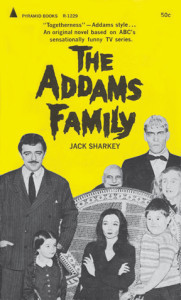 John Astin on creating the role of Gomez Addams: "Charlie (cartoonist Charles Addams) gave us about a paragraph to work with. There wasn't a heck of a lot, except for suggestions of names for that character. He recommended either Repelli or Gomez, and we chose Gomez. David Levy, the creator of the series, named some of the other characters. It's really to David that we owe the whole concept of 'The Addams Family.' The title, I recall, was David's idea originally. So I embarked upon creating this character. I decided, with David's approval, that Gomez would be a character that was romantic and passionately in love with his wife. On that, Carolyn (Jones, who played Morticia) and I were able to build a great many things.
Lisa Loring on winning the role of Wednesday Addams: "There were about 75 little girls. I didn't know how to read. David Levy, the producer, recalled this to me years later. He was not aware that he was seeing kids who didn't know how to read. I was probably one of maybe two. You know, it was from my age, 5 and a half, up to 13 years old. He liked me so well. He said, 'You had little white gloves on and a patent-leather bag.' He said, 'I asked you to pout.' He said, 'You just won me over, so I read the "sides" (script lines) to you.' He said, 'This is who I'm going to be. This is who you're going to be. This is what I say. This is what you say.' And he was going to go through that with me a couple of times, he said. And the second time, he said, I came back with the lines verbatim."

Ken Weatherwax on the downside of fame while playing Pugsley Addams: "You know, at the end of the day, you want to take off your work clothes and go home and be normal. But I wasn't wearing that much makeup, and I couldn't very well hide my face — you know, put on a goatee and go out in public. So that's when it started to become a problem, is when the show got so popular that I couldn't go out in public without two or three people with me to take me out of situations. I've created a few riots just showing up at a couple of places. Unless you've ever been at the center of a riot — it's unbelievable. People pulling your hair and so on and so forth."

Felix Silla (Cousin Itt) on the many "Addams Family" remakes: "The reason they're remaking it, I think, is to try to make it better than the original TV show. I don't think it's gonna happen. They'll never make something better than the original 'Addams Family.' No way."
"Monster Mash" also features four pages of "Addams" memorabilia.

The Uncle Fester hand puppet (manufactured by Ideal in 1964) shown above right is the manifestation of a childhood memory. A school buddy had one, and I never forgot the exquisite sculpture of Fester's face. (I still can't describe Fester's expression on the puppet. It's as if he is pleased with something horrible that just happened.) While working on "Monster Mash," the memory of the Fester puppet unexpectedly came back, and I made it a mission to include it in the book. I finally had to buy one on eBay for 85 bucks. Worth every penny.