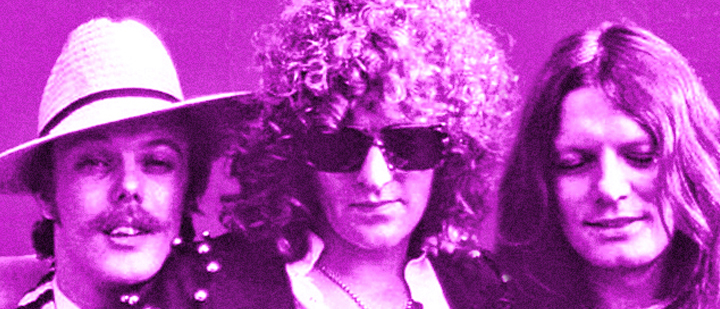 Still freakin' on Mott
Yup, it's true: One month and seven days after seeing Mott the Hoople '74 in Glenside, Pa., I'm still on a deep-dive Mott bender. I've been listening, listening, listening. Like a crazy man.
Some day, I swear, I'll do a non-Mott blog post again.
But for the moment, here's a little something about a banner I made for the Mott show — kind of a companion to the T-shirt. The idea was to have Fro toss it onstage at the Keswick, just like Zar used to do in the old days at the Spectrum and the Tower.
Well, the best laid plans went astray. I won't bore you with the details, but a family emergency prevented me from bringing the banner and wearing the T-shirt. I wore my Koss shirt instead. There's a slight Free/Mott connection, if you think about it.
Anyway, here's how I cooked up the banner …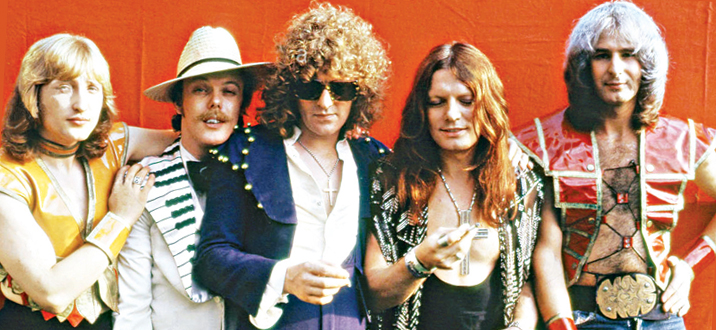 First, I used the vintage '74 photo above as a reference. I thought it was so cool that the three dudes in the center — pianist Morgan Fisher, singer-guitarist Ian Hunter and guitarist Ariel Bender — are the very three dudes who played the Keswick. (R.I.P., Buffin Griffin and Overend Watts.)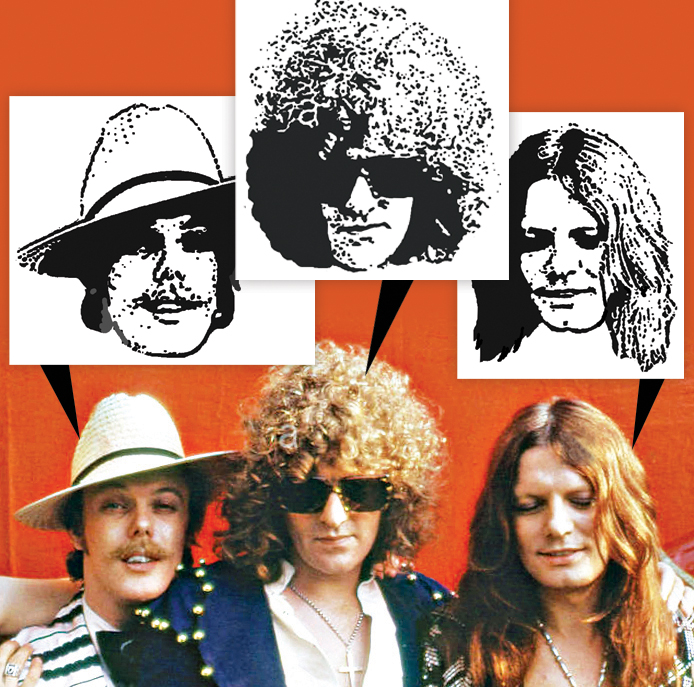 Then, I ran the heads through a high-contrast filter …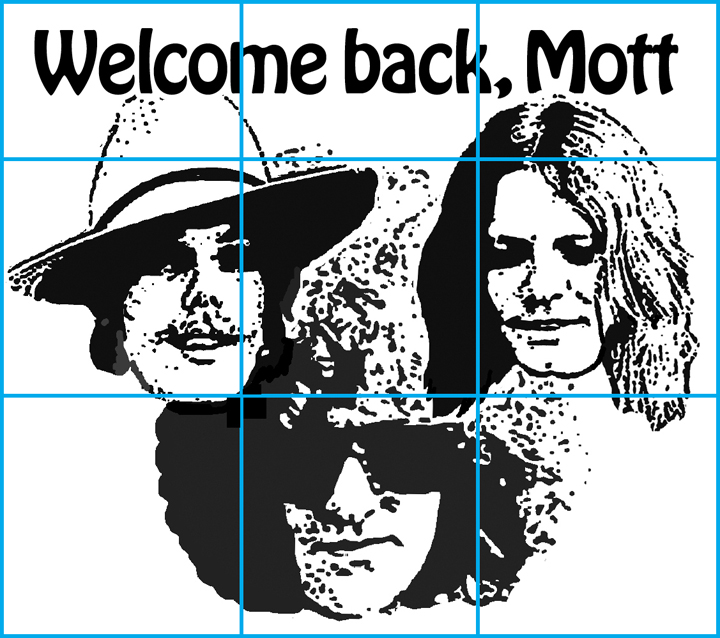 Then, I assembled the heads in a grid that matched the banner material proportionately …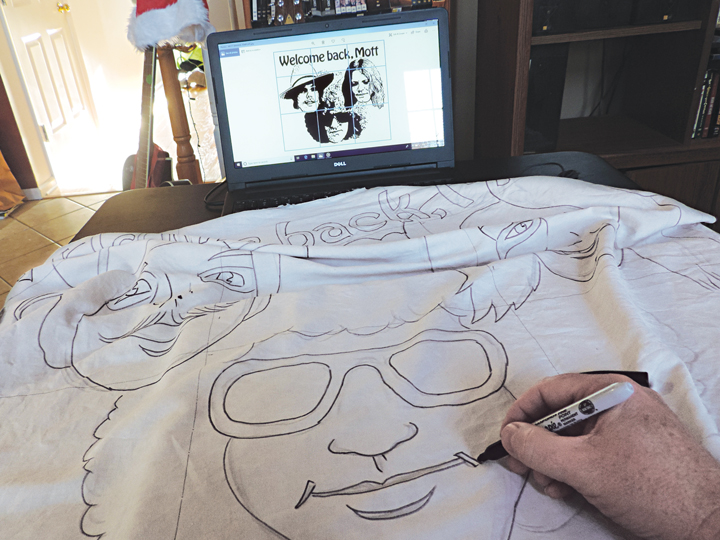 Then, I displayed it on my desktop. I pencilled the grid on the material, and inked it freehand with marker, using the laptop-screen grid as my guide, square by square …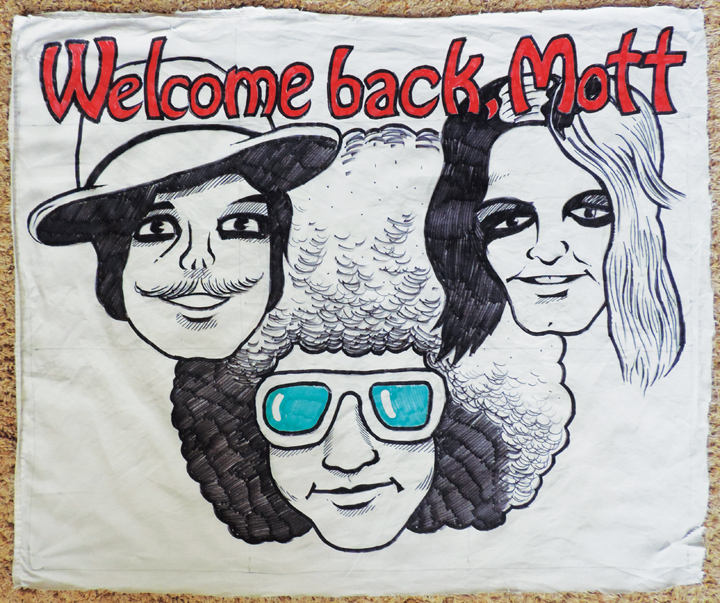 And here's the result. It shoulda been tossed onto the Keswick stage by Fro (who lived across the street from Zar back in the daze)! It's tradition!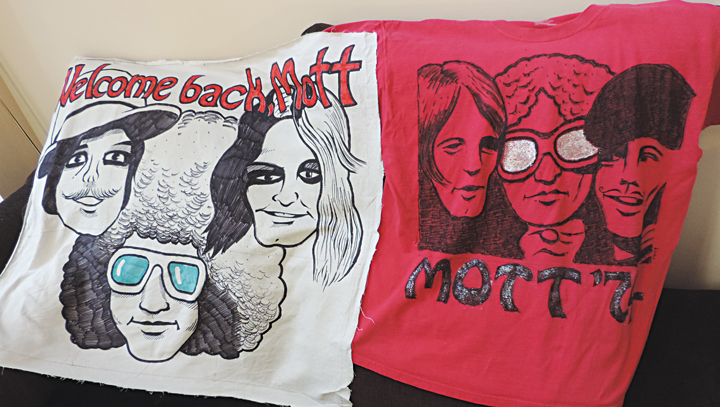 Here's the banner next to the T-shirt. I wore it only once — to Fast Eddie's Super Bowl LIV party, the one with JLo and Shakira.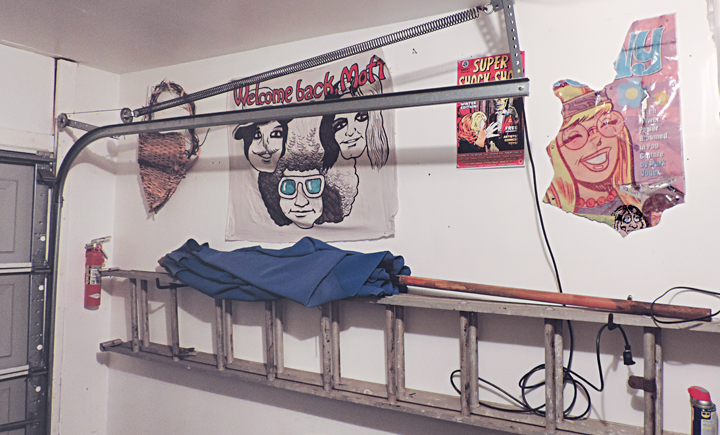 Here's the banner hangin' in my garage. I later gave it to Fro as a suggested souvenir for his drumming room. Or, he could tear it into rags for the bucket under his kitchen sink. Or, if Mott the Hoople '74 ever tours again …