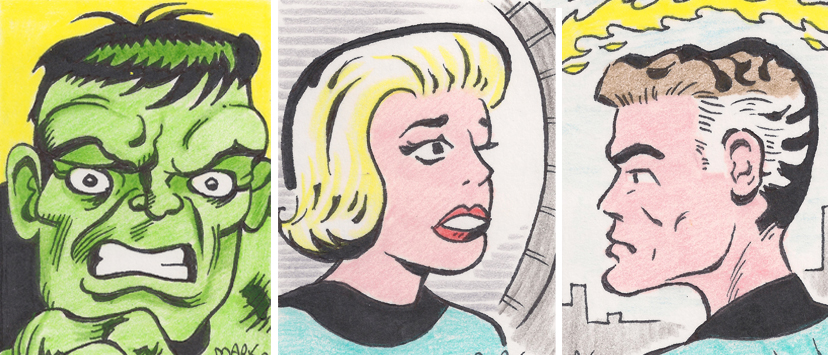 Semi-official superhero-drawin'
By Mark Voger, author, "Monster Mash: The Creepy, Kooky Monster Craze in America 1957-1972″
I was recently invited to draw five sketch cards for a charitable organization called Be a Superhero for Babies, which raises funds for March of Dimes. The effort was kicked off in 2008 by a gentleman named Steven L. Frank; this is the sixth card series Steven has organized, and the fourth in which I participated.

I jumped at the opportunity for two reasons.
One is that, for gosh sakes, if you can do something for a worthy charity, do it. It's just good mojo. Ron Howden, the founding (and only) drummer for British prog-rockers Nektar, once told my brother Brian Voger that he loves it "when art is used to help people." (Howden backed up his words; the drummer contributed percussion and spoken word to a song on "From the Heart," a CD recorded and produced by Brian to raise funds in the fight against Spinal Muscular Atrophy.)
The following is from Steven's message on the goals of Be a Superhero for Babies: "Prematurity is the No. 1 killer of children in the United States. March of Dimes is working to change that, and give every baby the fighting chance she deserves. From polio to prematurity, March of Dimes has focused on researching the problems that threaten our children, and finding both treatment and prevention for them."
My second reason for joining in is more selfish.
Contributing artists are permitted to draw any character "your heart desires." It's unlikely DC or Marvel will ever greenlight a book written and drawn by myself (although, DC co-publishers Dan DiDio and Jim Lee should give serious consideration to my pitch for a Metal Men miniseries set during the Cuban Missile Crisis). So here's an opportunity to draw some favorite characters in, at least, a semi-official setting.
Yeah, I admit to a bit of straw-grasping here.
This time around, I was in a Marvel mood. Marvel aficionados will notice that I heavily referenced specific panels from Silver Age comic books (usually those by Jack Kirby).
For earlier card series, I drew the Metal Men (are you sensing a pattern?), the Inferior Five and a bunch of Archie characters. I had fun doing the Archies, but the card stock was glossy, so you could only really color with marker.
Anyway, following are samples of my past sketch cards. I hope you get a kick out of 'em (and I hope they make a little scratch for Be a Superhero for Babies).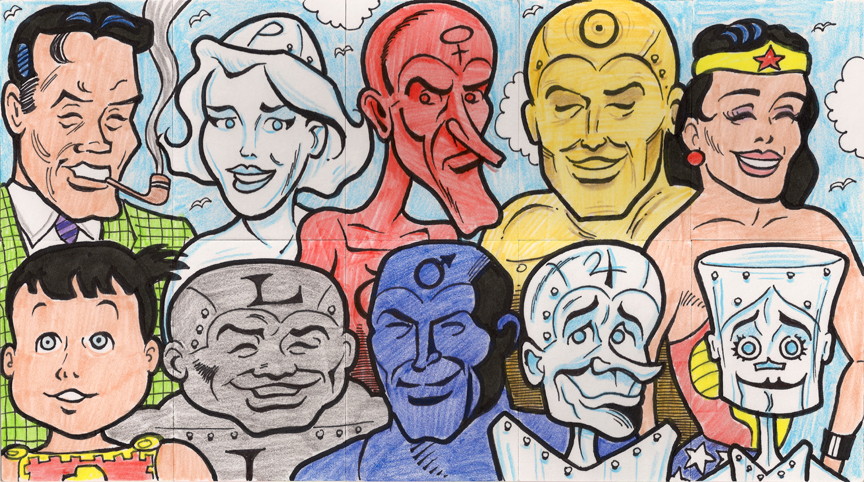 Above are my Metal Men cards. I threw in Wonder Woman and Wonder Tot, two characters also drawn by the fabulous, undersung team of penciller Ross Andru and inker Mike Esposito (the guys who co-created the Metal Men with editor/writer Robert Kanigher). I drew the cards sort of like a puzzle — each card is a standalone, but together they form a little scene.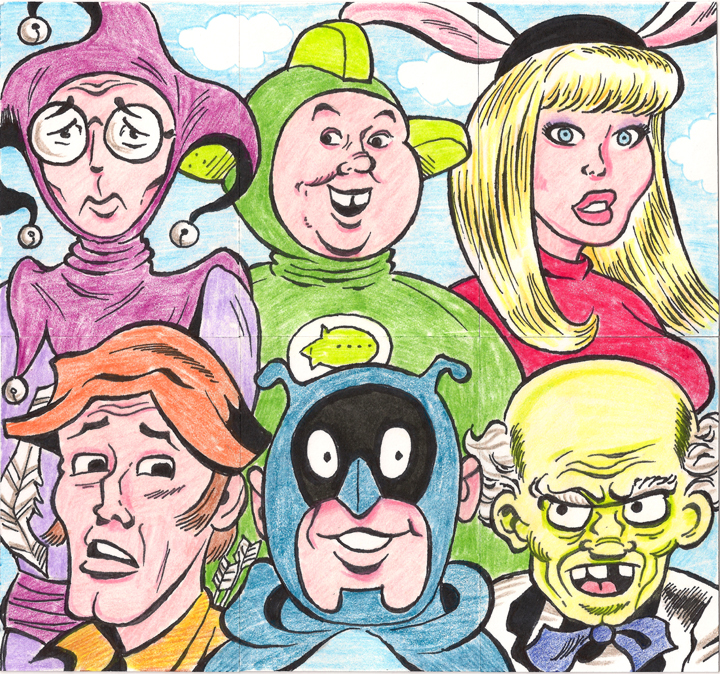 I also drew the Inferior Five. The baddie at bottom right is from their debut in Showcase #62 (1966). His name escapes me. (Sorry, Inferior Five baddie! Everyone remembers the Joker and Dr. Doom … but nobody remembers you! Not even me!)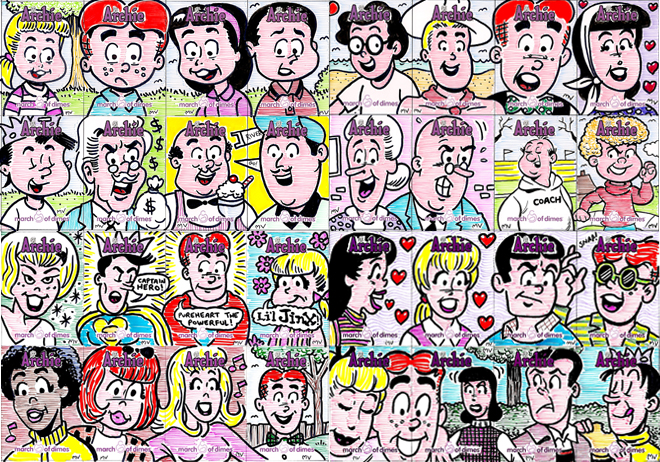 I drew a whole bunch of Archie characters for March of Dimes. As you can see, the coloring is not so hot, due to the glossy stock. But I had a ball.
---
2022 UPDATE
I just did a commission of five Sketch Cards based on my 1993 series Detective Comics Trading Cards, which introduced the Sketch Card format. (Read about that historic moment HERE.)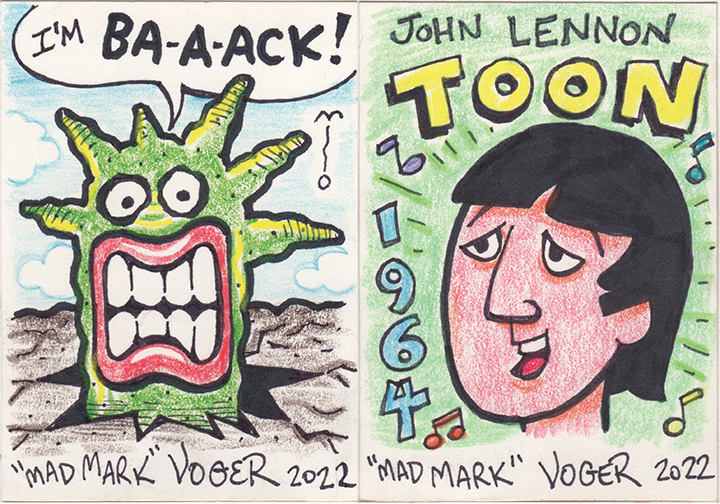 Above left is Spikey, the Defective mascot based on Kirby's monster from the cover of Fantastic Four #1. Basically, Spikey is just an annoying monster who is stuck in the ground; he has no particular powers. Above right is the cartoon John Lennon from the animated series "The Beatles."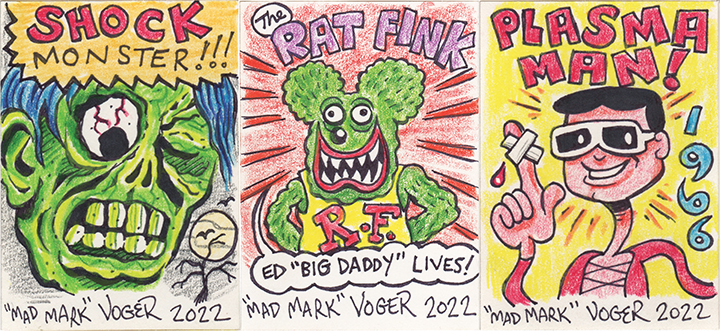 From left: A recreation of Keith Ward's iconic Shock Monster art; Ed "Big Daddy" Roth's Rat Fink, drawn off of the 1990 Rad Rod toy; and a (stupid) parody of DC's 1966 Plastic Man revival by Gil Kane.
---
VIDEO
Hey, man, it's the eve of Christmas Eve. Time to watch Alastair Sim as Ebenezer Scrooge! You'll laugh, you'll cry! The perfect movie! Merry Christmas!
View 34-page "Monster Mash" preview
Order "Monster Mash"