Following are excerpts from "Holly Jolly: Celebrating Christmas Past in Pop Culture" by Mark Voger ($43.95, TwoMorrows Publishing, ships Nov. 4).
PRE-ORDER "Holly Jolly" at TwoMorrows, Barnes & Noble, Amazon, and other online outlets.
---
'It's a Wonderful Life' (1946)
Going in, we must acknowledge three things about "It's a Wonderful Life." No. 1, George Bailey is kind of a jerk. No. 2, Pottersville is a much cooler place than Bedford Falls. No. 3, Frank Capra's movie classic is basically a two-hour "Twilight Zone" episode.
"It's a Wonderful Life" centers on idealistic George (James Stewart) who, when contemplating suicide at his darkest hour, learns what the world would be like had he never been born, with the help of a dotty angel-in-training (Henry Travers). It's an exquisitely told story that spans American milestones from the Roaring '20s through the Great Depression and World War II, all swirling around a small, bucolic everytown.
So what makes George a jerk? Let us count the ways. He constantly disparages Bedford Falls in front of fellow lifers, with refrains like "I'm shaking the dust of this town off my feet." George calls his Uncle Billy (Thomas Mitchell) a "stupid old fool," his daughter's teacher "stupid" and "careless," and terrorizes his family, kicking furniture and yelling at another daughter to "stop playing that silly tune!" The prosecution rests.
And how is Pottersville — the alternate-universe town from a world where George was never born — so much hipper and less repressed than Bedford Falls? The chief entertainment in Bedford Falls is "The Bells of St. Mary's" at the Bijou. But Pottersville? Billiards … bowling … fights every Wednesday night … dime a dance … burlesque with "20 gorgeous girls" … "Welcome, jitterbugs" …
This is a town that knows how to party.
---
'Miracle on 34th Street' (1947)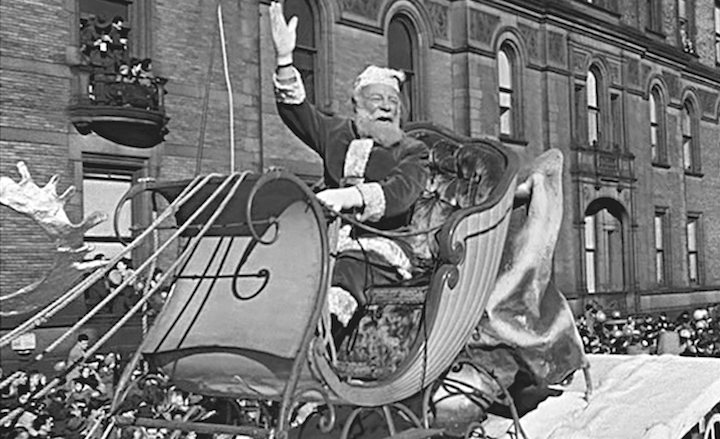 A rising attorney convinces a New York City court that an eccentric senior citizen is the "one and only Santa Claus" in George Seaton's "Miracle on 34th Street." But the real miracle is how the film nearly convinces the viewer of the same.
Movie Santa Clauses are generally a homogenous lot. They live at the North Pole. They wear the requisite fur-trimmed red costume and shiny black boots. And their efforts are meant to satisfy one overriding concern: to deliver joy every Christmas Eve.
In Seaton's film — which the director scripted based on a story by Valentine Davies — Santa is conceived in real-world terms. Kris Kringle (Edmund Gwenn) wears tweed civvies and resides in an old folks home in Great Neck. On those occasions when Kris dons the familiar costume, it's understood he is "playing" Santa, like any department-store, Salvation Army or parade surrogate.
By outward appearances, Kris is, as a little girl named Susan Walker (Natalie Wood) puts it, a "nice old man with whiskers." The fact that he believes he really is Santa Claus is regarded as a charming idiosyncrasy by some — and a dangerous delusion by others.
We first see Kris as he strolls through Manhattan on Thanksgiving morning to, we assume, take in the Macy's parade, then in its 22nd year. While instructing the parade's faux Santa (Percy Helton) in the proper technique to crack a whip ("It's all in the wrist"), Kris discovers that the gentleman is stinking drunk. Outraged, Kris reports this to Doris Walker (Maureen O'Hara), the Macy's executive in charge of organizing the parade. Doris takes note of Kris' parade-ready physiognomy — white beard, a bit of girth, twinkling eyes — and asks if he's had any experience playing Santa. Kris says with understatement, "Oh, a little."
---
'White Christmas' (1954)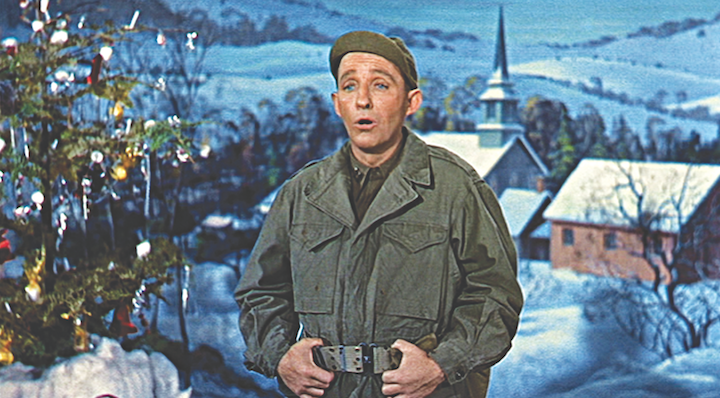 World War II nostalgia — that's what "White Christmas" is all about. And since Michael Curtiz's glossy, color, VistaVision movie musical was released in 1954, it was not even 10 years out from the epic historic conflict.
"White Christmas" is a fantasy — not so much for those who kept the home fires burning, nor for later generations looking back on World War II, but for the boys, by then men, who once bid farewell to their families and sweethearts, and left home to face the dangers that come with defending America and the free world. It's a fantasy about getting together with your old war buddies and putting on your uniforms one more time.
The heart of "White Christmas" is tied into devotion to "the Old Man": General Waverly, masterfully underplayed with humor, authority and a well-placed silver toupee by Dean Jagger. Hasn't everyone had an authority figure who was tough but fair? Who made you a better person? Who you would drop everything for?
"White Christmas" opens with a Christmas Eve 1944 flashback depicting American troops in an overseas war zone watching makeshift entertainment — not a USO show, but a modest little by-soldiers-for-soldiers holiday revue — surrounded by rubble in the midst of ongoing bombing. It so happens one of the performers is Bob Wallace (Bing Crosby), a famous stage professional in civilian life who is just another soldier here — albeit, one who can coax a tear from his fellow GIs with his rendition of, meta alert, "White Christmas," while his somewhat goofy buddy Phil Davis (Danny Kaye) accompanies him on a plinky windup music box.
The plot thickens when a Jeep arrives with General Waverly and his replacement, General Carlton (Gavin Gordon), a fresh-from-the-Pentagon wonk who aims to enforce the rules. (He's sort of an alternate-universe version of Captain Queeg.) First order of business: no entertainment in a war zone. But Waverly manages to temporarily divert Carlton, and the Christmas Eve show continues.
Until the bombing starts anew.
---


PRE-ORDER "Holly Jolly" at TwoMorrows, Barnes & Noble, Amazon, and other online outlets.