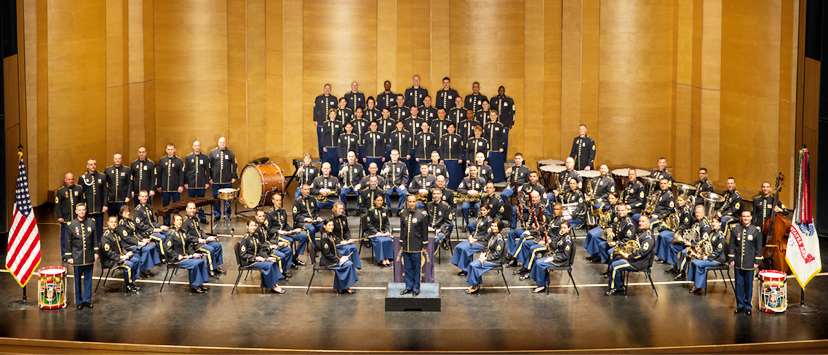 'That's my niece!'
By Mark Voger, author of
"Groovy: When Flower Power Bloomed in Pop Culture"
In my family, we're proud as punch of my niece Michaela Shelton, who is a soprano in the choir of the United States Army (known officially as the Soldiers' Chorus).
The choir travels all over the country performing for heads of state and plain folk like you 'n' me, accompanied by the Army band (known officially as the United States Army Field Band), in their role as the "musical ambassadors of the Army."
Gosh, I can remember my little niece coloring on my dining room table with her little sister Margaret, as they harmonized in German. These girls were raised, like veal, to be singers. Their parents — who met at Hartt School of Music at the University of Hartford — hardly gave them a choice. Classical music was playing in the delivery room during both births, or so I'm told.
Michaela has played Carnegie Hall in New York City. Me, I played Moby Dick's Seafood Saloon in Lindenwold.
When I tell people my niece is in the Army choir, they often say, "She's not really in the Army, right?" To which I reply, "She's a sergeant in the Army and she can kick yer ass."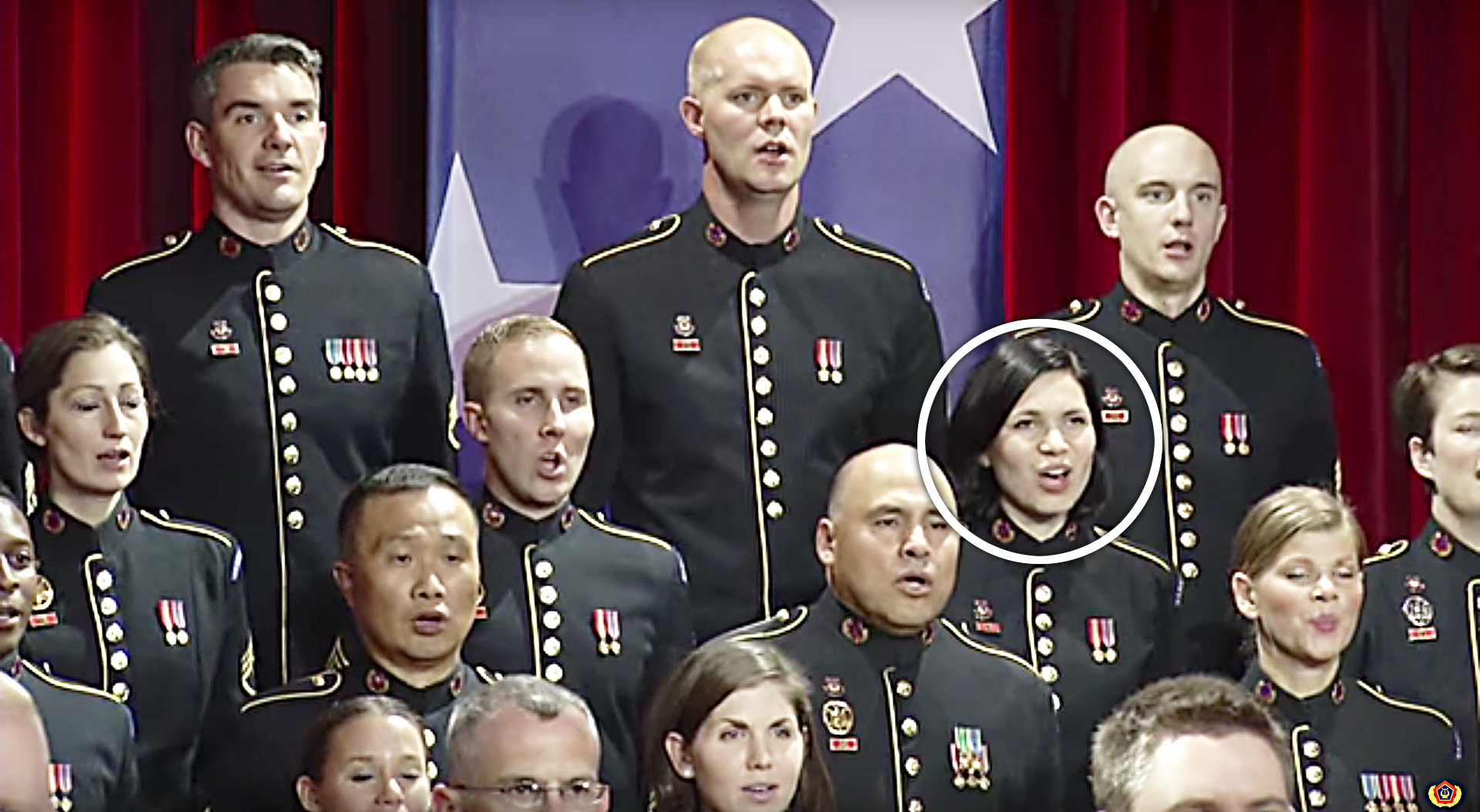 I attended a good number of Michaela and Margaret's school musicals through the years, but I finally got a chance to see Michaela perform with the Army on June 29, 2017, on a lovely Thursday afternoon at the PNC Bank Arts Center in Holmdel, New Jersey. I worked out an iffy deal at my newspaperin' job by which I could report to the office three hours late, so's I could see the big show (or most of it).
Being back at PNC conjured lots of memories. As an entertainment reporter, I've covered dozens of shows there — more then 50, less than 100, I'd say. I got to know every corner of that venue: the stage, backstage, the dressing rooms at stage level and beneath the stage, the backstage cafeteria, the bus depot around the back where the tour buses idle, the offices, the VIP areas, all of the fields, the works. That was another lifetime.
So there I was, walking around the venue for the first time since 2011. PNC seems to have added a lot more booze vendors, though none were in operation at this event, which was touted as a concert for senior citizens.
READ ABOUT MY LAST PNC VISIT HERE
Miraculously, I got the front-row-center seat. (This was a free event, and, well, the seat was available.) I kept thinking: This is the stage where I saw Clapton, Skynyrd, Purple and Poison. (They weren't all good shows.)
Michaela spotted me before the concert, and we shouted a quick conversation at one another. She told me she'd once been to PNC as a child, when she saw the opera "Carmen" and ate a bag of Starbursts.
Meanwhile, the band was warming up … the cacophony was incessant … it sounded insane … like, "Sgt. Pepper" insane … it was its own, little, crazy show … when the group finally settled on a C, the audience applauded.

The band had a full complement of horns (including five French horns), plus vibes, harp and tubular bells. Placed on either side of the stage were, to my untrained eye, Revolutionary War-style drums with the band insignia. (These are called "field drums," the kind with exterior roping.)
The musicians wore crisp white shirts (adorned with name tags, medals and epaulets) and navy-blue trousers with a gold stripe down each leg, though some of the ladies wore black skirts. One flutist had tattoos on both arms.
When we all stood for the National Anthem — a tradition at every PNC show — for once, the music wasn't canned. This was the United States Army Field Band playin' it, Jack. It was done right.
The band — and its animated conductor, Col. Jim R. Keene — stood and faced the audience as they played the anthem. I've gotta say, it was inauguration-worthy.
More than a few people assume the Army band plays a program of all patriotic songs. Of course, patriotic songs are played, but the group's show is more eclectic, more entertaining, than that. They mixed it up, bringing in classical, American Songbook, swing and pop. Among selections performed:
Edwin Franko Goldman's "Chimes of Liberty" (1937) was followed by Stephen Melillo's "Godspeed," which was brisk and inspiring. It sounded like the great lost Irwin Allen TV theme.
We got our Irish on with "Garyowen," aka "7th Cavalry March," which had a sprightly, flawless solo on tin whistle. You felt like you were in the opening credits of a John Ford movie.
The Chorus then sang a medley of World War I-era songs: "Keep the Home Fires Burning" (1914) and "Pack Up Your Troubles in Your Old Kit-Bag" (1915). These were followed by two Cole Porter songs, "It's De-Lovely" (1936) and "So in Love" (1948).
I could actually pick out my niece's voice. Well, I've been listening to her sing all her life.
Next up was Franz von Suppe's "Overture to Light Cavalry" (1986). Around this time, Keene passed the baton to another conductor, 1st Lt. Alexandra Borza, who was funny and kept the audience engaged.
After an intermission, the choir returned for the gospel spiritual "Didn't My Lord Deliver Daniel" (which was popularized by Paul Robeson in 1936), followed by "Soldier, Soldier, Will You Marry Me" (1903) and "This is My Country" (1940).
The band then performed a tribute to the circus, "Thunder and Blazes" (1901), and the choir took front-and-center for a medley of two Latin-style songs meant evoke to the summer, "The Girl From Ipanema" (1962) and Santana's version of "Oye Como Va" (1971). Michaela sang harmony on "Ipanema," and the entire choir did a spot of light, fun choreography on "Oye."
After Glenn Miller's swing classic "Pennsylvania 6-5000" (1940), World War II veterans were asked to stand, to resounding applause. I counted about six vets, bless 'em. (Michaela's grandfather, my dad Charles, was a Marine during WWII who fought at Iwo Jima. He would have been over the moon about Michaela's accomplishments.)
Onstage, different people emceed, and spoke about the band's history and objectives. One such person asked something of the audience that got me wondering.
If we are enjoying the show, this person said, could we write to our elected officials, which he called "our neighbors down the street" (as the musicians are based in Washington), to "let them know that programs like this one are needed in our country today."
That comment made me wonder if this plea was related to the current slash-all-spending mania in Washington.
In any case, a salute to all branches of the service followed, during which veterans and family were invited to stand when their particular branch was recognized in song.
And then, I regret to report, I had to split.
Michaela had tipped me off that Tchaikovsky's "1812 Overture" would be the finale. Once I heard some of the familiar "1812" refrain — which is played softly at first — that was my signal to sprint up the stairs to exit the venue.
As such, I cannot say whether there were explosions (or faux explosions) timed to the music as the overture reached its climax, which Tchaikovsky's piece traditionally calls for. Me, I had to beat it out of the venue, out of the parking lot, and onto Garden State Parkway North, to the hustle-bustle of Edison, New Jersey, in order to get back to my own still-important, still-sacred mission, namely newspaperin'.