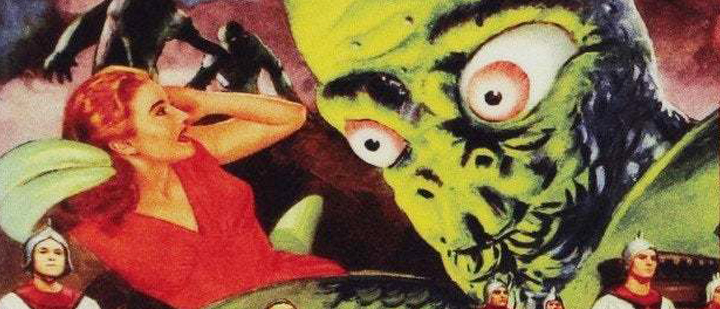 Underground cinema
We 1960s monster freaks have always thought of "The Mole People" as a monster movie. But is it, really? From the distance of decades, it seems more like big-studio, medium-budget science-fiction film that happens to have monsters.
At heart, Virgil W. Vogel's film is about a team of American archeologists who discover an underground civilization. These subterraneans are human beings who are milk-white from lack of sun, and subsist on mushrooms farmed by slaves. Said slaves happen to be scaly, bug-eyed mole men. (Bud Westmore is credited as the film's makeup artist, but that doesn't necessarily mean he created the look of the creatures.) The title and movie posters certainly played up these monsters, but most of the movie concerns interactions between modern men and a lost civilization. In tone, "The Mole People" is almost like an Italian "sword-and-sandal" movie, or a Cecil B. DeMille knockoff — albeit, with corners severely cut.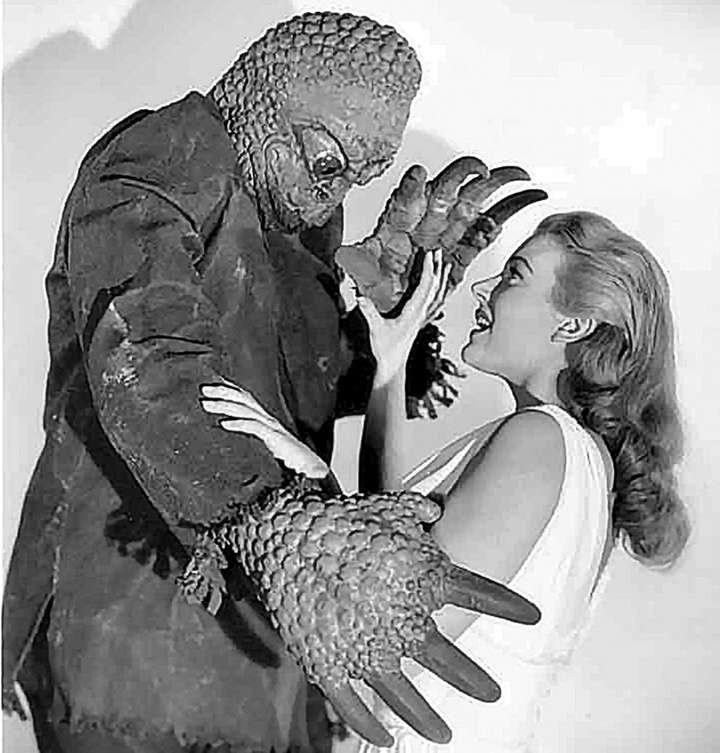 John Agar — who started off in the John Ford company and ended up in "Zontar: the Thing From Venus" — plays the lead archeologist with as much charm as he can muster. (Reportedly, fellow up-and-comer Rock Hudson visited Agar on the "Mole People" set, looked around, and said something like, "How did you get yourself in this thing?"). Hugh Beaumont — later Ward Cleaver on "Leave It to Beaver" — is Agar's wing man. Model-turned-actress Cynthia Patrick plays beautiful Adad, the one subterranean with "dark" skin. (So, of course, she is an outcast.) Unquestionably, the film's highlight is the performance by Alan Napier — later Alfred the butler on "Batman" — as Elinu, a conniving, imperious high priest who acts more like a king. When Napier is on screen, "The Mole People" becomes Shakespeare.
So, getting back to my original postulate: Why do we think of "The Mole People" as a monster movie? During the '60s Monster Craze, movie monsters were, for the first time, adapted to other forms such as toys, model kits, and masks. This phenomenon shaped my generation's earliest perceptions about monsters. For instance, in our initial thinking, the Creature From the Black Lagoon was a contemporary of Dracula, since their proximity in the toys, model kits, and masks told us so. Later, we discovered that Dracula first haunted screens in the early '30s, and was long gone by the time the Creature came along in the mid '50s.
So it was with the Mole People. We kids were shown two things — just two things — that made us equate the Mole People with the rest of Universal's celebrated pantheon. One was a magazine, the other a mask. Both were seen interminably in Famous Monsters of Filmland magazine ads. So, we little ones came to our flawed (clawed?) conclusion that the Mole People and the other, more established Universal monsters were One Big Happy.
THE MAGAZINE: Warren Publishing, the company that brought us Famous Monsters and Creepy, put out three issues of Famous Films in the middle 1960s. These magazines presented movie adaptations in a format often referred to as fumetti. These are comics which utilize photos rather than artwork, that are likewise presented sequentially with word balloons and narration boxes to convey a story. Warren's "Mole People" adaptation, spearheaded by founding Creepy editor Russ Jones, is surprisingly faithful to the movie. You can practically read along as you watch "The Mole People." (Actually, that sounds like a fun exercise.)

THE MASK: In the 1960s, Don Post Studios marketed superbly crafted (and expensive) masks of the classic Universal monsters such as Dracula, Frankenstein and the Wolf Man. The Mole People — or should I say "a Mole Person" — was one such mask. The above photos are from an ad that appeared on the Famous Monsters back cover (hence the spiffy color reproduction). Wouldn't you have assumed, if you were 10, that the Mole Person was a member of the club in equal standing?
---
'THE MOLE PEOPLE'
Starring John Agar as Roger Bentley; Cynthia Patrick as Adad; Hugh Beaumont as Jud Ballamin; Alan Napier as Elinu; and Nestor Paiva as Etienne Lafarge
Written by László Görög | Cinematography by Ellis W. Carter
Produced by William Alland | Directed by Virgil W. Vogel
[Universal International Pictures]
---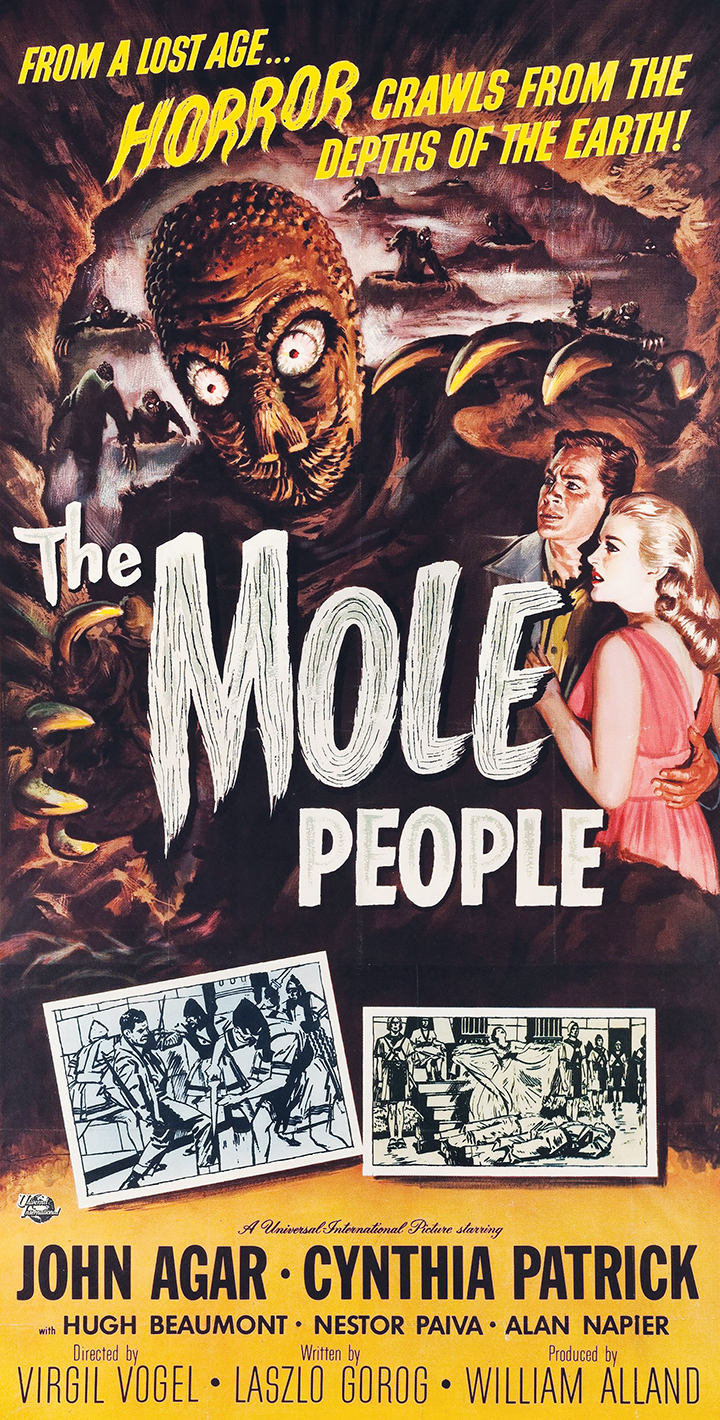 ---
TRAILER