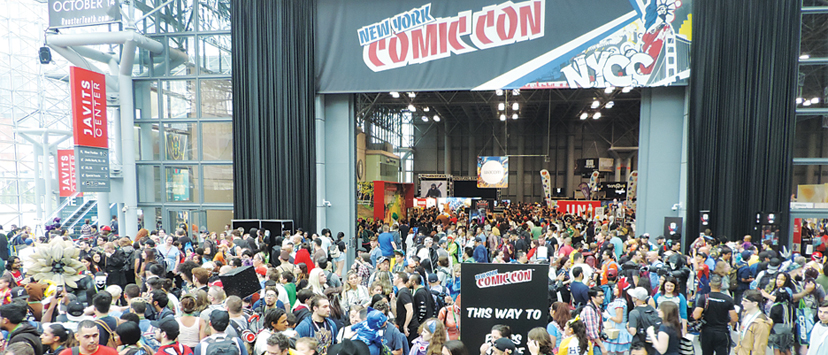 What happened on Sunday
Blogger's note: "Groovy" world-premiered at the New York Comic Con held Oct. 5-8, 2017, at Javits Center in Manhattan. I was on hand at the TwoMorrows booth on that Friday, Saturday and Sunday to scrawl my name on advance copies. Following are my memories of my third day at the con: Sunday, Oct. 8, 2017.
By Mark Voger, author,
"Groovy: When Flower Power Bloomed in Pop Culture"
Friday and Saturday were summerlike, and very friendly to cosplayers trudging along 34th Street toward Javits. But Sunday was drizzly and showery in the morning, putting a slight damper on Batgirl's yellow wings.
On my last day, I had one little goal besides being an ambassador for "Groovy": I wanted to buy one comic book, dammit.
In the old days, I'd come home from a con with an armload of treasures. But on Sunday, I didn't have much time to shop — nor a strong enough memory to know which books I already have.
But I wanted at least one book as a memento of New York Comic Con. I was envious of writer-designer Eric Nolen-Weathington, my new buddy from TwoMorrows Publishing, who found a 10-cent issue of DC's The Adventures of Jerry Lewis for three bucks. Eric told me where to find this dealer, who had three-dollar boxes filled with beat up Silver Age books. That's my jam!
I ventured to the massive dealer area twice, and picked up seven books — a mini-splurge.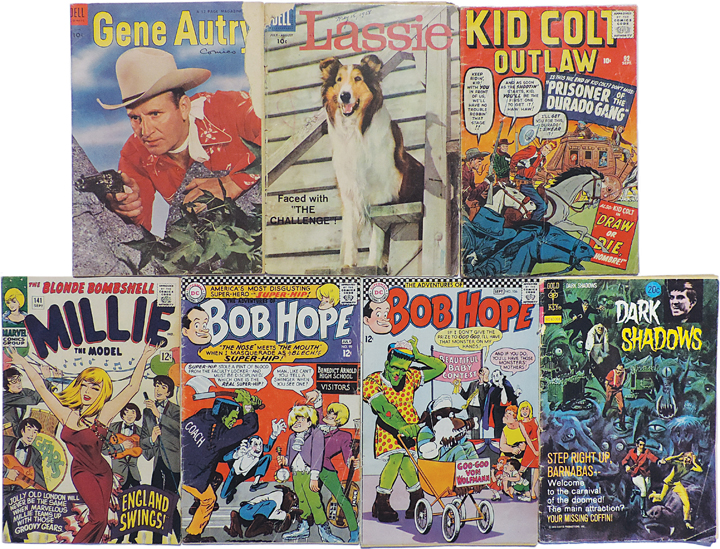 For the record, they are: Gene Autry Comics #88 (1954), Lassie #41 (1958), Kid Colt Outlaw #92 (1960), Millie the Model #141 (1966), The Adventures of Bob Hope #99 (1966) and #106 (1967) and Dark Shadows #21 (1973).
I paid five bucks each for the Kid Colt (a 10-cent Marvel with a Jack Kirby cover and Stan Lee stories) and Millie (set in London and featuring a fictional faux-Beatles band). The rest, I paid two bucks each for. Jealous, Howard Bender?
Y'see, the $3 guy was having an end-of-final-day sale: five for $10. That's right, Howard, two bucks apiece! And this guy had great (albeit, tattered) Silver Age stuff. If I only had a checklist, I could have really filled in some gaps in my collection, both Marvel and DC. But I had to limit myself to 100 percent "safe" books — ones I'd bet my 'nads I don't already have.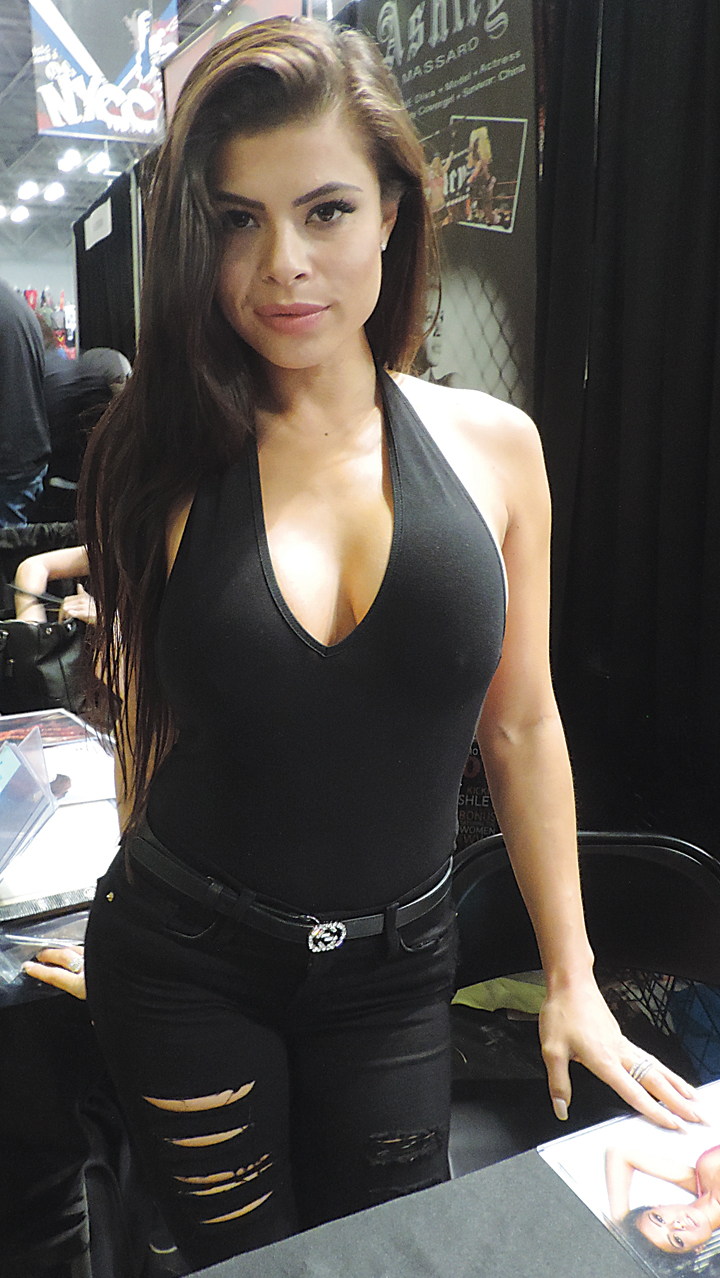 Yep, it's down to that. Gettin' old's a bitch.
Wacom had a huge display, and I'd hoped to sample a Wacom tablet for the first time in my life. But it was just too busy all weekend. Nuts! Yes, I've always been anti-Wacom tablet; I'd rather draw with ink on paper. But then I thought of how this newfangled technology could save me a ton of time I would have spent scanning and cleaning up my scans. The Wacom dude told me I'd have to go to B&H in the city for a demo. I doubt I'll do that, but maybe?
Visitors to Booth #1038 included a dude who goes to so many cons all over the country, he maintains a separate bank account just to cover the travel, lodging, admission and merch. "It's the only way to do it," he said. P.S.: This dude says he sometimes gets mistaken for Laurence Fishburne, which I suggested he should parlay into some sort of advantage.
Another visitor was Deborah Herman, a writer-publisher and Dianne Lake's co-author for the upcoming book "Member of the Family: My Story of Charles Manson, Life Inside His Cult, and the Darkness That Ended the Sixties" (William Morrow), which is due out Oct. 24. Deborah turned to the Monkees memorabilia spread in "Groovy" and said,"I had all this stuff!"
The con was closing early on this, the final day: 5 p.m. As you can imagine, the nerds were in no hurry to split. All of us exhibitors were feverishly tearing down our displays, consolidating boxes, flattening unwanted boxes, making trash and recycling runs, all with great urgency. It was a fun whirlwind of activity, almost like preparing for an imminent storm.
Maintenance crews were actually rolling up the rugs by, like, 5:20. Comic Con staffers were screaming at the nerds to depart the premises. One gal was yelling, "I see you! Tryin' to get a last minute deal! It's time to leave! Comic Con is over! Go home!"
I was scared of this lady. I said to Eric: "If she asks, you'll tell her I'm an exhibitor just like you, won't you?"
Below are some photos I took during my comic-shopping sojourns …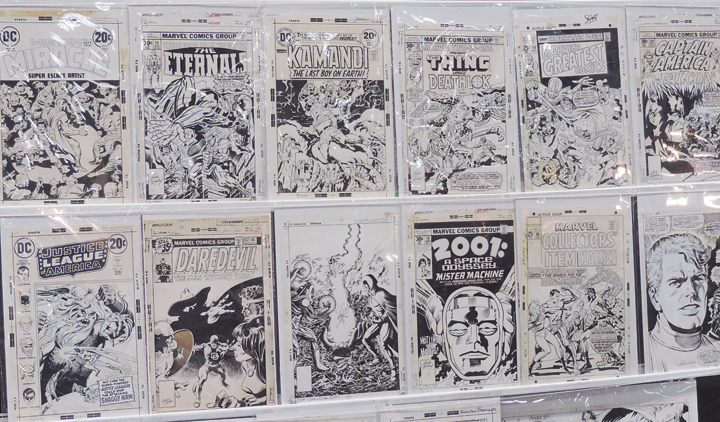 Artwork for sale included '70s Jack Kirby covers.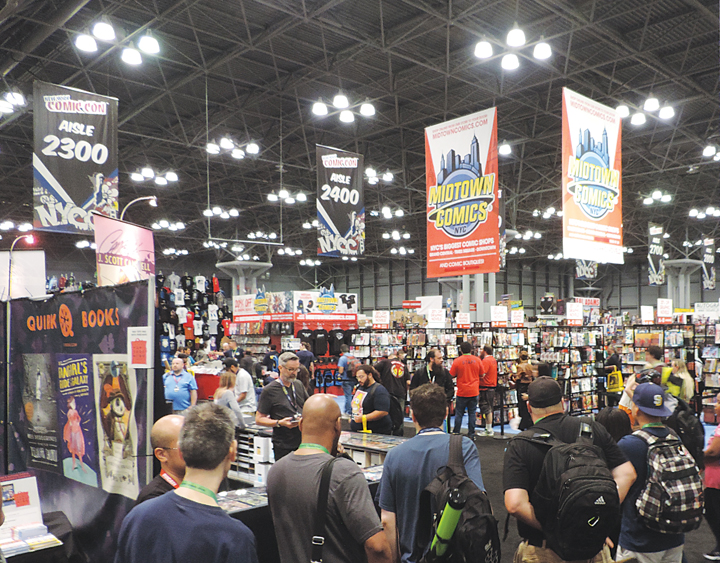 Midtown Comics had a looming presence at the show.
Read about Friday at the 2017 New York Comic Con HERE.
Read about Saturday at the 2017 New York Comic Con HERE.
COSPLAY-PALOOZA! Check out New York Comic Con cosplayers HERE.