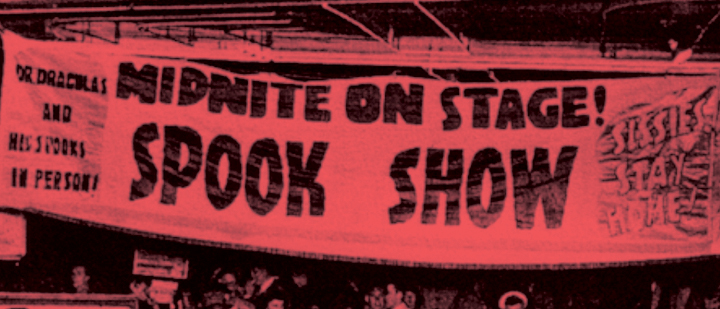 Mexi-monsters, Hypnoscope & sullen teens
In 1971, when I was in the seventh grade, I attended an afternoon double-feature of two Mexican monster movies, "The Vampire's Coffin" and "The Robot vs. the Aztec Mummy" (both 1958), with my little brother, Brian Voger. I had already seen both films on television — thank you, Dr. Shock of Channel 17 in Philadelphia — but this was an occasion. Seeing a movie on The Big Screen with an audience is a much more powerful viewing experience than seeing it by yourself on TV. And this particular double-bill promised more than just the two movies.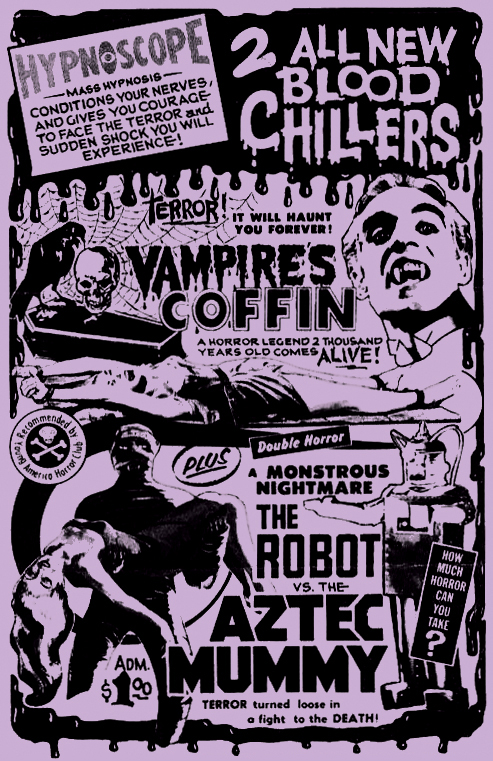 It turns out that this program was nearly the end-of-the-line for what were once called "spook shows" — live presentations of magic tricks and monster-themed reenactments accompanied by past-their-prime, low-budget horror films.
It was ballyhoo, a way for theater proprietors to attract (dupe?) ticketbuyers into watching old prints that were practically in shreds.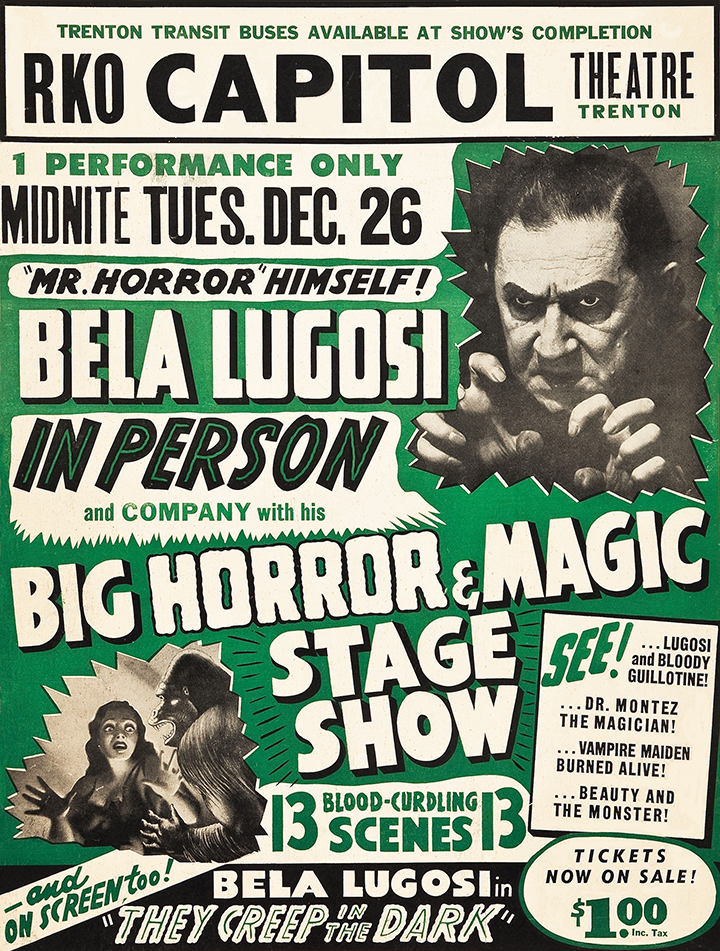 The spook show has a long history that dates back to the '30s. Bela Lugosi, the great star of "Dracula," used to do them when offers for roles in movies and summer stock dried up. (Above is a 1950 ad for an appearance by Lugosi in Trenton.) Hey, work is work.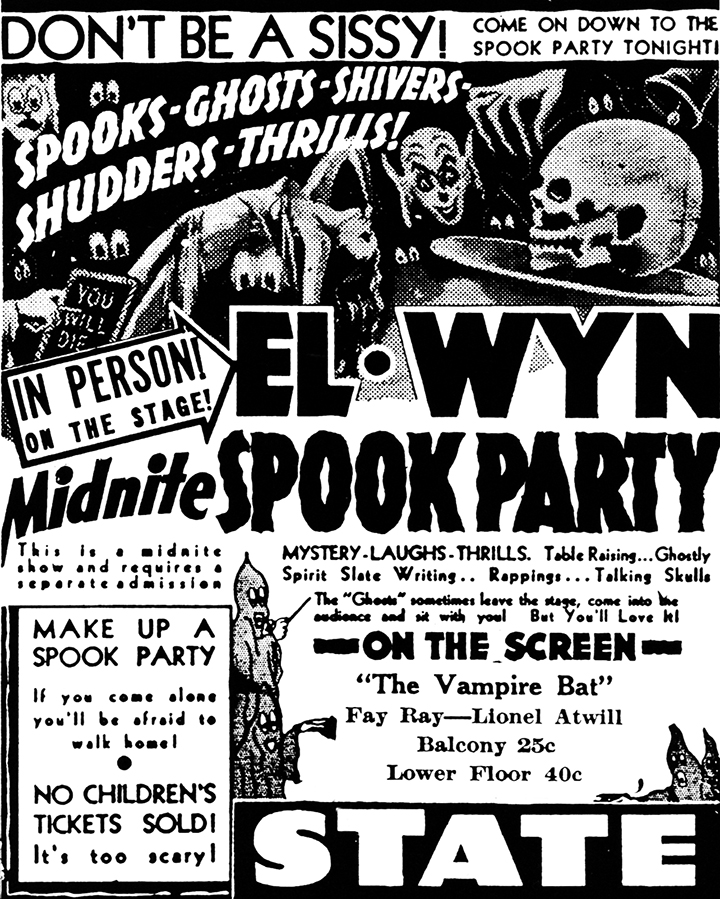 In his Den of Geek article about the old spook shows, Jim Knipfel traces the tradition back to 1929, when stage magician and spiritualist El-Wyn presented a live revue he called "Midnite Spook Party." Its success inspired many imitators, and over the decades, the shows morphed into something less about seances and more about straight-up horror.
Matt Novak, too, wrote an informative account of the spook show phenomenon for Paleofuture.
---
The miracle of Hypnoscope
Later spook shows advertised something called "Hypnoscope," and the promise that live monsters would walk among the audience. Hypnoscope was a likewise tattered reel showing a swirl of concentric circles in a constant loop — picture "The Time Tunnel" — with spacey music and a voice commanding you to submit your will.
If you followed the narrator's instructions, you indeed became disoriented. Above is a hypnosis reel posted by Something Weird, which is very much like the one I saw in 1971. In my memory, they added closeups of Lugosi as Dracula toward the end of the reel, right at 4:14 when it cuts to Ed Wood-style lighthing, in order to enhance your disorientation.
---
Enter the monsters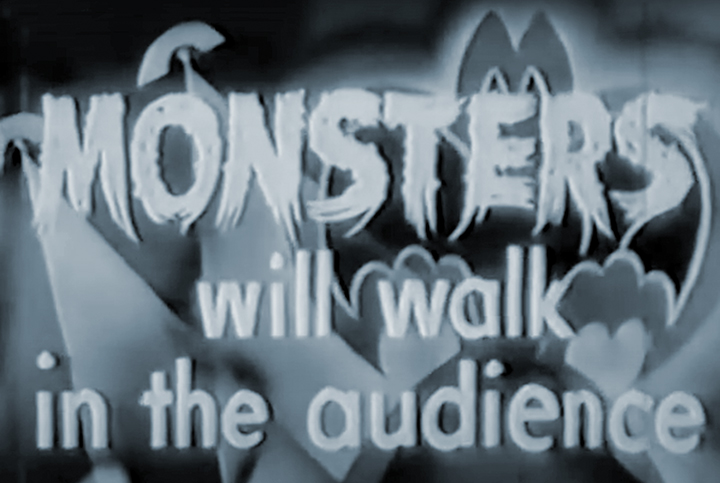 After sitting through the Hypnoscope reel, it was time for the live monsters promised in the newspaper advertisement. On cue, the "monsters" entered the theater from the back, walking along the aisles. They were three teenagers wearing Topstone masks — well, I knew these masks weren't from Don Post — atop their T-shirts, jeans and sneakers. They weren't acting like monsters. They were acting like sullen '70s teenagers who wanted to be somewhere else.
Recently, Brian and I reminisced about that afternoon. (It's the first time we've ever discussed it in the 51 years since.) Recalled my brother: "I was so psyched. I thought monsters were gonna come off the screen and into the audience. But it was just these kids who didn't care. One of them was a girl in shorts. I actually saw her put the mask on; you could see her long hair under the mask. Someone yelled 'Frankenstein!' and she put out her arms like a monster for a second."
My brother remembers asking me: "That wasn't it, right?" And me answering: "I think that was it."
---
Post script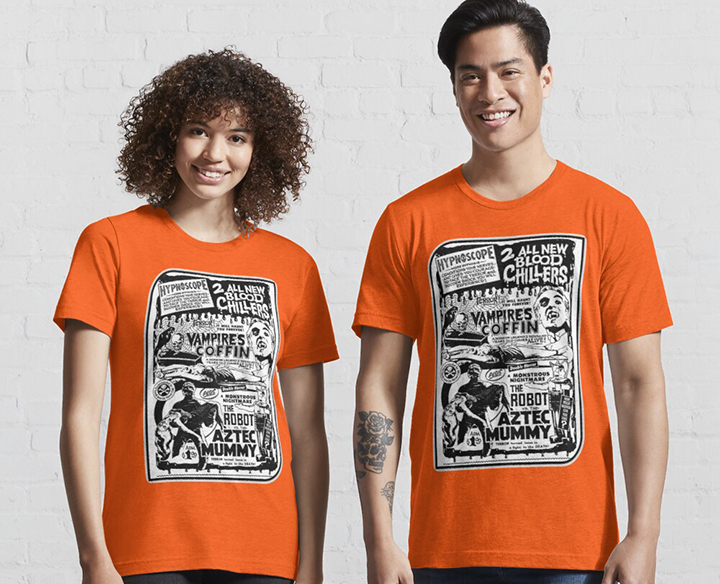 Was that the last of the spook shows? Not quite, but close. Wrote Knipfel: "After 'The Exorcist' (1973), as the very nature of horror movies changed dramatically, audiences suddenly demanded more than cheap magic tricks and some guy in a Frankenstein mask. The spook shows, struggling already by that time, seemed quaint and old-fashioned and dull, and the crowds vanished. The last true traveling Midnight Spook Show I'm aware of was Philip Morris' show, which gave its last tour in 1977."
Anyway, it was a weird, disappointing afternoon from my childhood. But it turned out to be a nanosecond in horror history. Who'd have guessed?
---
VIDEOS
This vintage spook show trailer encapsulates the phenomemon.
Dig it! 23 minutes and 41 seconds of spook show ballyhoo.
---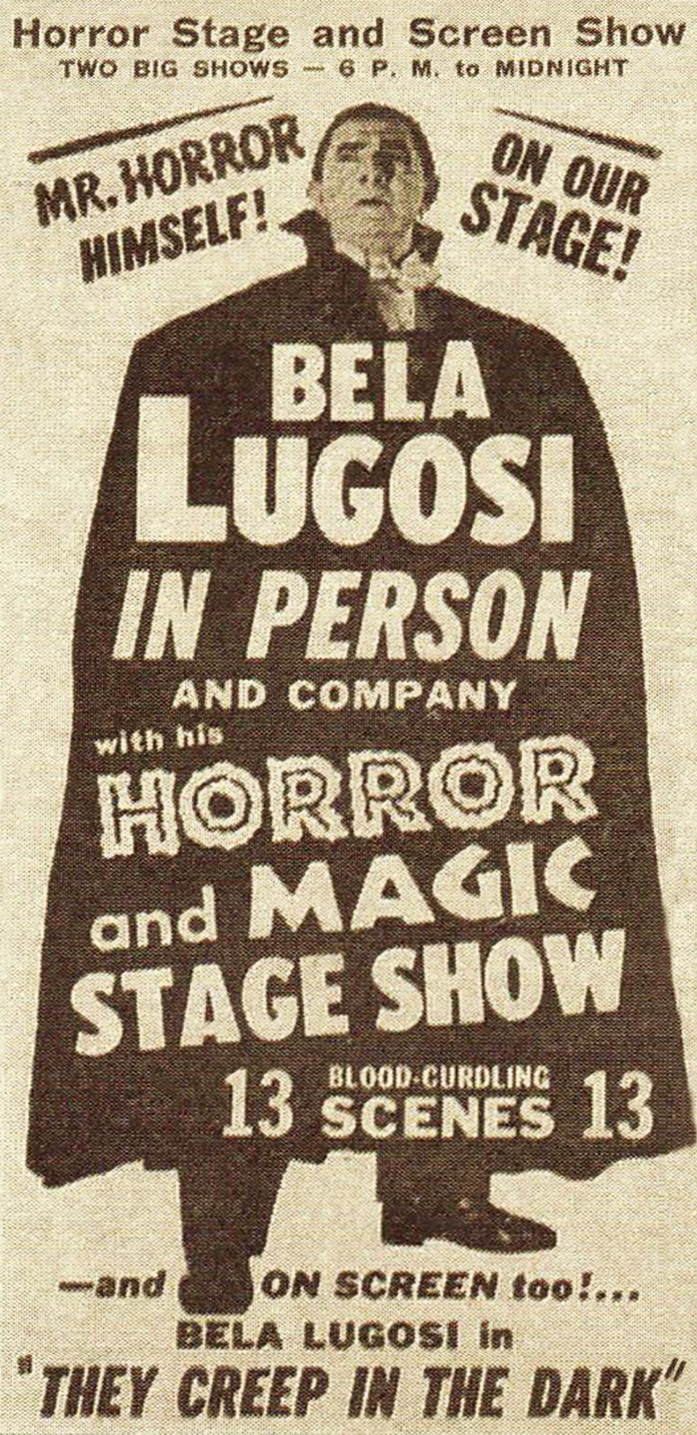 Another Lugosi spook show ad. (Sigh) If only there really was a time machine, you could see "Mr. Horror Himself."
P.S.: "They Creep in the Dark" is probably "The Ape Man," which was based on a story of that title by Karl Brown.