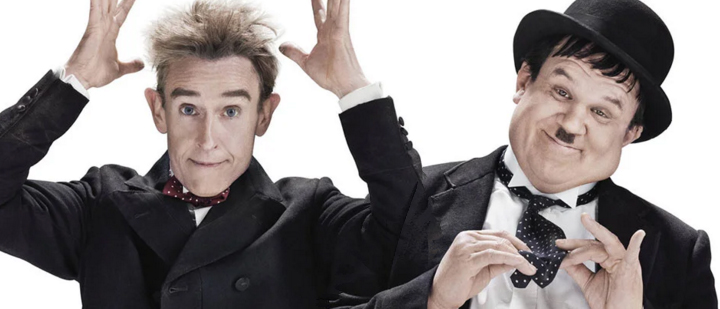 The boys done proud
By Mark Voger | Author, "Groovy"
---
I've loved Laurel and Hardy since I was little. So I was psyched when I saw the promising trailer for "Stan and Ollie," Jon S. Baird's biopic centered on the boys' European stage tour at the end of their careers.
Well, I finally caught the film, and give it a qualified rave, if such a thing is possible.
On the plus side, the stars Steve Coogan (as Stan Laurel) and John C. Reilly (as Oliver Hardy) truly capture their subjects. That's a miracle. Their dialects are uncanny. Even Reilly's "fat suit" prosthetics are convincing. Coogan and Reilly have good chemistry, and prove adept at recreating Laurel and Hardy's delicate routines — no small feat.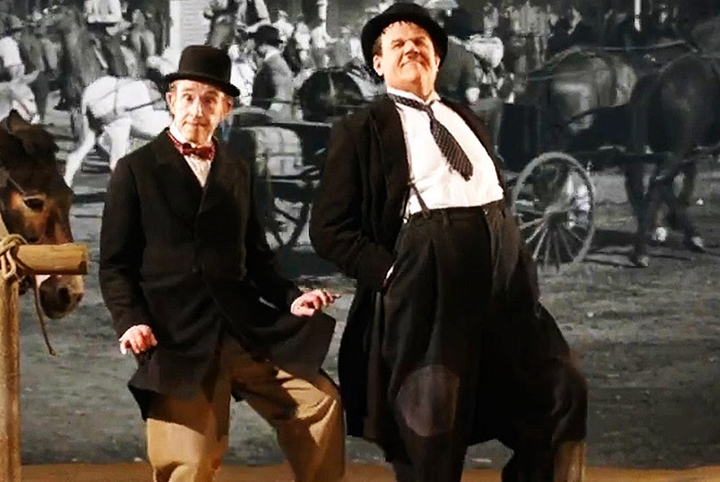 My complaints: I don't buy the opening exchange of dialogue between Stan and Ollie as, in one long shot (whether achieved digitally or in actuality, I can't tell), they joke at length about their failed marriages just before shooting the famous dance sequence in "Way Out West" (above), with a detour to squabble with Hal Roach (Danny Huston), the producer who first teamed them.
I don't believe the boys were quite so forthcoming with one another, nor so nonchalant with their personal business in general. Laurel, especially, was very private, I've always read. In their movie heyday, he and Hardy were just "work buddies," not really offscreen friends. This situation was corrected during the European stage tours which give "Stan and Ollie" its jumping-off point. Travelling together for extended periods in such close proximity — with their wives along, to boot — finally made Stan and Ollie real-life pals.
I understand that movies are not documentaries, but this threw me off from the first moments of the film.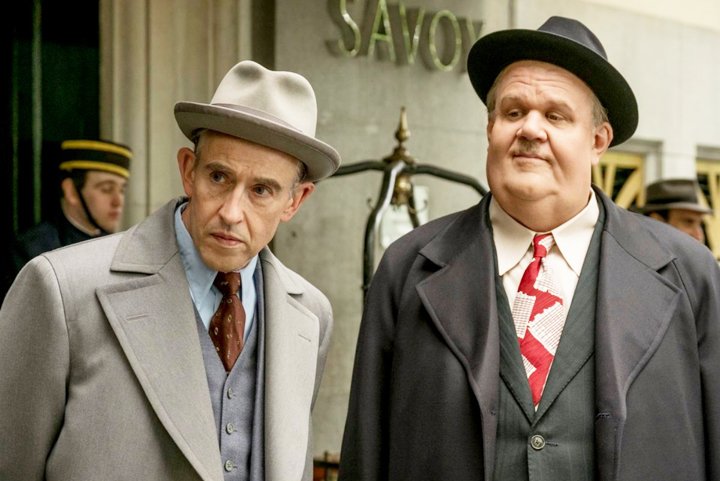 Also, I was surprised when the movie made a big, dramatic point about Laurel carrying a long-held grudge, because Hardy made a movie without him for Roach titled "Zenobia" (1939), referred to as "the elephant movie" in "Stan and Ollie."
My impression was that Laurel — a taskmaster who created all of the team's gags, and worked closely with scriptwriters and editors while Hardy went to the racetrack and the golf course in his free time — was having one of his periodic standoffs with Roach, and OKed Hardy's solo excursion. Also, their contracts with Roach were staggered at the time; Laurel's was up, Hardy's was still active.
Again, biographical movies take licenses. We all know that, or we should. But this film hung too much on something I'm not convinced is accurate. The grudge is, basically, the dramatic crux of the film.

But I love when Coogan and Reilly reenact the bits. Above left is the "boiled eggs and nuts" skit from "County Hospital" (1932); above right is the stage recreation from Baird's film.
The movie also has Stan and Ollie doing bits off stage — once, even, for an audience of one, in a hotel lobby sequence. It's charming. And when the boys' trunk slides down the train-station steps as they watch helplessly, well, it's "The Music Box" all over again.
I also love the plot device of the "Robin Hood" film that Stan is trying to get off the ground throughout the tour. I have no knowledge of such a project, but it makes perfect dramatic sense. When, toward the end, Baid's film presents a fantasy sequence from the movie-within-a-movie, we see the younger, more vital Laurel and Hardy in period garb as Hood's merry men. (Ollie wears the same hairstyle from 1932's "March of the Wooden Soldiers.") As intended by the makers of "Stan and Ollie," it becomes a poignant farewell to this great screen team.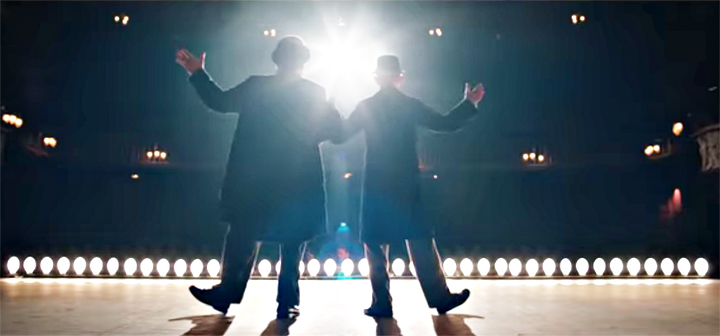 Reilly and Coogan take a final bow as Hardy and Laurel in Baird's film.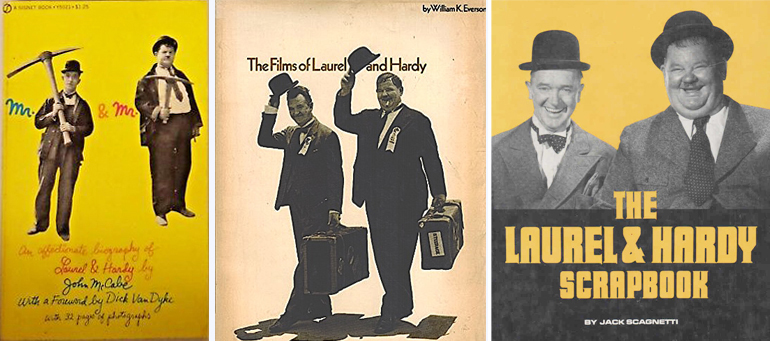 From left are my primary Laurel and Hardy sources: "Mr. Laurel & Mr. Hardy" by John McCabe (1968, Signet); "The Films of Laurel and Hardy" by William K. Everson (1972, Citadel Press); and "The Laurel and Hardy Scrapbook" by Jack Scagnetti (1976, Jonathan David Publishers). I have not read "Laurel & Hardy: The British Tours," which inspired the film. Perhaps it will clear a few things up for me.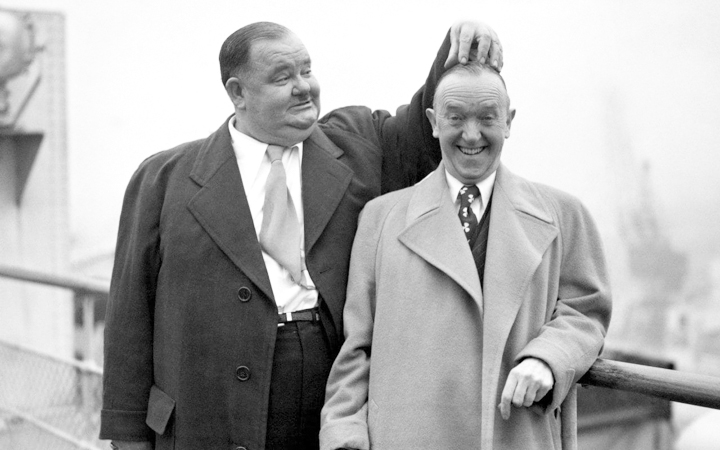 Here's the real Hardy and Laurel during one of the tours. At least "Atoll K" (1950) wasn't their final farewell. (I don't hate the film, but the boys looked awful in it.) The many publicity photos from their European tours make us wish that Stan and Ollie did make another film or two.
Alas …
---
VIDEO: Below is the "Stan and Ollie" trailer. Warning: If ever there was a "kitchen sink" trailer, this is it. The trailer is virtually a summary of the film, beat for beat, right down to the climax. Spoilers a'friggin' plenty!